In our digital age, networking and making a memorable first impression is crucial for professionals and business owners.
We will show you an easy and cheap way to make business cards on Google Docs and print them online.
Introduction to Google Docs for Business Card Design
Google Docs is a widely used cloud-based word-processing platform by Google. Although not a complete design program, a simple and effective method exists to create business cards on it. Also, it provides a collaborative environment, with various creative tools, for making hassle-free card designs.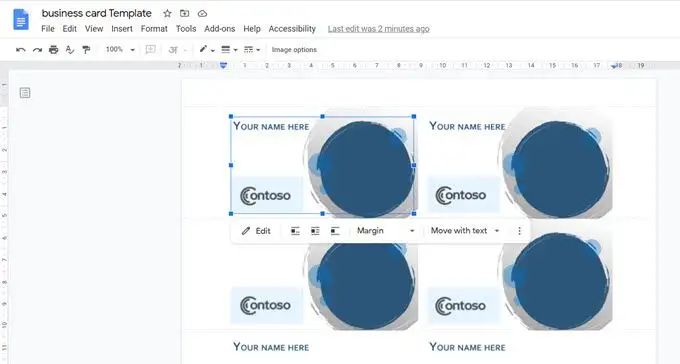 How To Make Business Cards On Google Docs?
Here is our guide detailing how to make business cards on Google Docs:
Setting Up Your Document in Google Docs
Follow these steps to start creating business cards on Google Docs:
Open Google Docs and create a new document.

Set the page size to match the dimensions of a standard business card (3.5 inches by 2 inches for the USA).

Adjust the margins and orientation under File > Page setup as needed.
Choosing a Template or Creating a Custom Design
Google Docs lets users create and upload custom templates, but the custom template feature is only available for Business Standard and Business Plus, educational and non-profit accounts.
To work with templates, click "Template Gallery" and then choose the Submit template option to upload a template you created or downloaded. Alternatively, you can select from the template list or search for suitable alternatives.
Templates are convenient for quickly completing a design, but you can design your business card from scratch using shapes and text box elements.
Adding and Formatting Text on Your Business Card
Double-click on the card or highlight a specific element to start editing.

Add your name, job title, company name, and contact details on a text box and drag them to position them on the design.

Experiment with font styles, sizes, and colors to match your brand identity.
Inserting Images and Logos
Click on "Insert" in the menu, then select "Image."

Upload your company logo or any relevant images.

Then resize and position the images accordingly.
Customizing Colors and Fonts
Use the "Custom" option in the color palette to match your brand's color scheme or a specific color.

Ensure the color combination consistent and visually appealing.

Experiment with the various font combinations to find a professional and easy-to-read style.
Arranging and Aligning Elements
To maintain a clean layout, use the alignment tools to align elements left, center, right, and justify alignment.

Align the text and images for a polished look.
Printing and Exporting Your Business Cards
You can export or print your cards once you're satisfied with the design. Follow the below steps to do this:
Go to the "File" menu and select "Print" to print the cards using a high-quality printer and business card paper.

Alternatively, save the file as a PDF and use an online printing service like 4OVER4 to print and deliver your orders.
And that's how to make business cards on Google Docs. But if you want a simpler and easy-to-use business card maker, try our free online designer tool with over 10,000 templates to choose from, custom fonts, colors, chips, and millions of free stock images.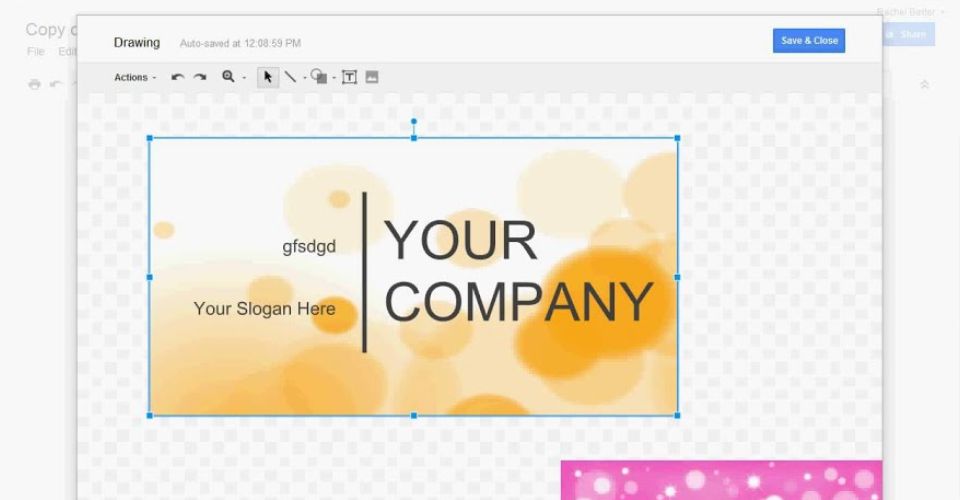 Tips and Tricks for Designing Professional Business Cards
Use the below tips for designing professional-looking business cards:
Keep it simple: Focus on essential details and avoid cluttering the card with too much information.

Use high-quality images: Ensure all images and logos are high-resolution for a crisp-looking end product.

Test before printing: Preview and test the design before printing. Ensure there are no typos and that the elements align nicely.
Conclusion
Now you know how how to make business cards on Google Docs. Go ahead and create personalized and captivating cards to enhance your networking efforts.
Is your card design ready? You can order Standard business card prints online at low-cost prices. Alternatively, you can browse our business card catalog for custom cards.