Feb 17, 2023 Clap 1085 ViewCopy Link
What is a soft touch business card? Sturdy and rigid business cards are common. However, the rarer card with a distinct velvety or suede-like feel starts conversations and increases engagement when you hand them to partners or prospects.
They involve using uncoated papers pre-cured/treated with a special Soft feel effect, making them appear carefully contrived and irresistible. What's more? The scuff-resistant surface ensures your card stays smooth after multiple handling. These cards are a sleek yet highly durable solution for the upmarket client.
What Material Is Soft Touch?
Like traditional business cards, we produce them business cards from paper or cardstock. However, the soft feel curing gives it the desirable soft and velvety texture. The tactile, friction feel that comes with running your fingers through the stock is an advantage.
You can pick from 16pt , 32p, 48pt, 64pt, and 80pt Soft Touch Uncoated for your prints
Choose from the convenience of slimmer or thicker business card options to always make a lasting first impression.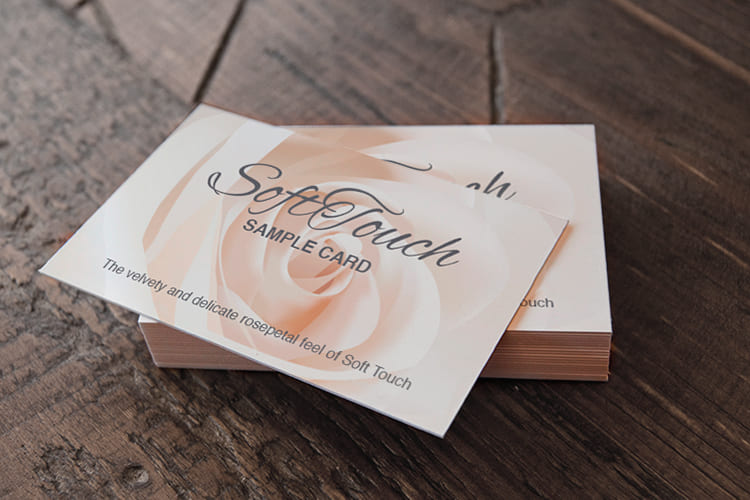 How Does Soft Touch Work?
They are made from a special curing technique that is used to treat uncoated papers. This technique gives the paper a rose-petal-like feel when touched. It also has an overall uncoated look with a pearly sheen that gives your artwork a unique effect.
Is A Soft Touch Business Card The Same As Matte?
Matte and soft touch cards are similar in their non-glossy appearance. However, there are differences between the two. What is a soft feel business card? They are soft and velvety to the touch due to the special pre-treatment of the card stock. Also, they are usually thicker and more durable than standard business cards.
In contrast, matte cards lack the soft and velvety texture of soft touch. However, the non-glossy finish gives the card a subtle but sophisticated look. As a result, matte business cards are popular with businesses that must convey a professional, understated image.
So while the soft touch and matte business cards share some similarities, they have distinct differences in texture and finish that impact the card's look and feel.
How Do You Get A Soft Touch Finish?
You can get a soft finish in one of the following ways:
DIY

Order online with a professional printer like 4OVER4
Soft touch finish is achieved by pre-treating the paper with a special curing process. This process works by using heat, pressure, and an adhesive to create a thin, smooth finish on the paper. This is then dried, giving it a feel of velvet or suede. This finish can also be enhanced by adding a topcoat of varnish or aqueous coating, resulting in an even more luxurious feel.
However, such a job may look uneven, shoddy, and unprofessional. Therefore, a better option is to use a reliable online printing service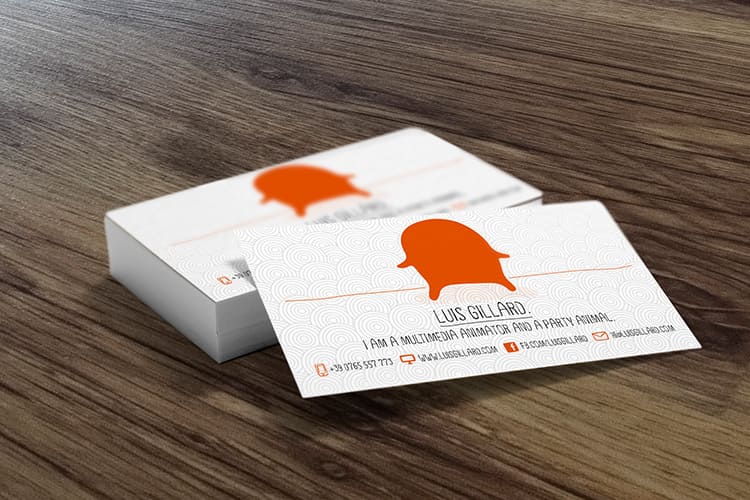 Yes, you can order these business cards on 4OVER4. We process low minimum orders, such as 50 or 100. Alternatively, you can order in bulk to save on cost. Also, our same-day printing option means your urgent jobs get immediate priority.
In addition, we offer customization options that allow you to pick your business card size and paper type.
Finally, selecting the online print option means you'd get a preview of your card design before we print them. Then, you can review your design and make necessary changes so it's print-ready.
Conclusions
So, what is a soft touch business card? These cards are a great choice for brands that seek to make a lasting impression on the minds of their customers. Our business cards leave an impression of class, luxury, and attention to detail. These qualities will put your brand's name on your customer's lips, ahead of competitors.
At 4OVER4, we offer several custom options to give you exquisite, well-crafted business cards at affordable prices. Allow us to surprise you with compelling quality. So order soft touch business cards today, or check out our impressive catalog of business card printing options.