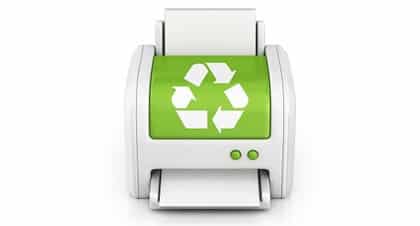 Today more
 and more people are trying to do the least amount of damage possible to the environment... 
and

 that's what being eco-friendly
is all about
! When you start reading about all the chemicals and factors responsible for polluting the world we live in, you'll probably want to get on the green wagon and do your part as well.
How does professional printing affect the environment?  
There are several factors in printing that  may end up damaging the environment, such as the paper used for the final print, inks, waste generated in 

production

 and the chemicals used in the process.  Those are somewhat obvious, however, there's also the issue of the carbon footprint companies generate, depending on their size, number of employees and the type of machines and residual waste that they may produce.
Other causes of pollution or negative environmental impact due to printing companies are the use of alcohol-based products, volatile organic compounds generated by gases emitted by certain chemicals, chlorine and the derivatives used in paper whitening in addition to cardboard packages that cannot be recycled or reused.
What can printing companies do to fight such environmental impact?
Printing companies can use eco-friendly printing products, soy and other vegetable based inks, have a solid recycling program that reuses as much of the resulting material as possible and a real commitment to green causes,  planting trees per number of paper or prints used, donating part of its profits or having solid alliances that is some way  help give back to the environment. These companies can also get certifications to show consumers they mean business.  At 4over4.com we try our best to follow the guidelines above, with surprisingly vibrant soy inks, a robust recycling program and number of recycled papers,  
the support of the FSC
 (Forest Stewardship Council), which is an organization that is committed to the responsible use of the natural resources and reforestation of the woods, where companies that obtain its approval have to fulfill a series of obligations and go through a chain of custody, where the manufacturer, merchant and the printing company have all to acquire such certification. 4over4.com also contributes to other reforestation programs, such as t
he America program of the Arbor Day Foundation
, with the use of the special code GREEN15, up to 15% of a purchase can go to plant some lovely trees.

Does green always mean eco-friendly

 ?
Unfortunately, no. There are a lot of companies claiming they are "green" just to attract more customers, that is why you should look for the proper certifications on the packages or sites  or on the product's tags. Many dishonest businesses use this to take advantage of environmentally-conscious consumers.
How Can Businesses Be Green with  Professional Printing?
Printing products are necessary to everyday business activities, from  

mailing labels

 ,

 to branded 

packaging tape

, all the way through 

custom business envelopes

 and corporate stationary.  From

 large format prints

 to tiny 

labels 

-you name it, the 

print

 word is not going anywhere.
So what can you do? You can choose to work with a 
printing company
 that follows your Green 
ideals
, order more products on recycled paper and create your own recycling program  and getting your, staff, clients and community involved. We hope you take  these facts and tips into consideration next time you choose a company to print your projects with. Let us know if you have any doubts about the FSC, Soy Inks or how can beautiful papers actually be recycled in the comment section below - we'd love to answer them!