The cleaning services niche can feel competitive. However, brands can set themselves apart from the competition and appear more credible and trustworthy with a simple business card.
But how do you ensure that your card design is effective? Here are our best business card ideas for cleaning service.
Importance of Business Cards for Cleaning Services
Many cleaning businesses rely on word-of-mouth referrals. Of course, this method has several limitations. It's better to share your card with potential clients and partners.
These are some reasons why a card is crucial to cleaning services:
Professional image: Some property owners may be reluctant to hire if they are unsure of your quality or have had a not-so-good experience with another service. However, a well-designed card can dispel their suspicion and give people the impression that you are professional and trustworthy.
Convenience: Others may not readily remember that you are in the cleaning business. However, a business card will make it easy for them to contact you when needed. Also, you can carry these cards and hand them out when you find opportunities to recommend your services.
Branding: Including your logo, slogan, or other branding elements will reinforce your identity and popularize your brand.
Competitive edge: Having a business card gives you the edge. After all, your clients know that you are serious about business and willing to invest in marketing. This edge is handy when you charge higher than the average market rate for higher-quality work.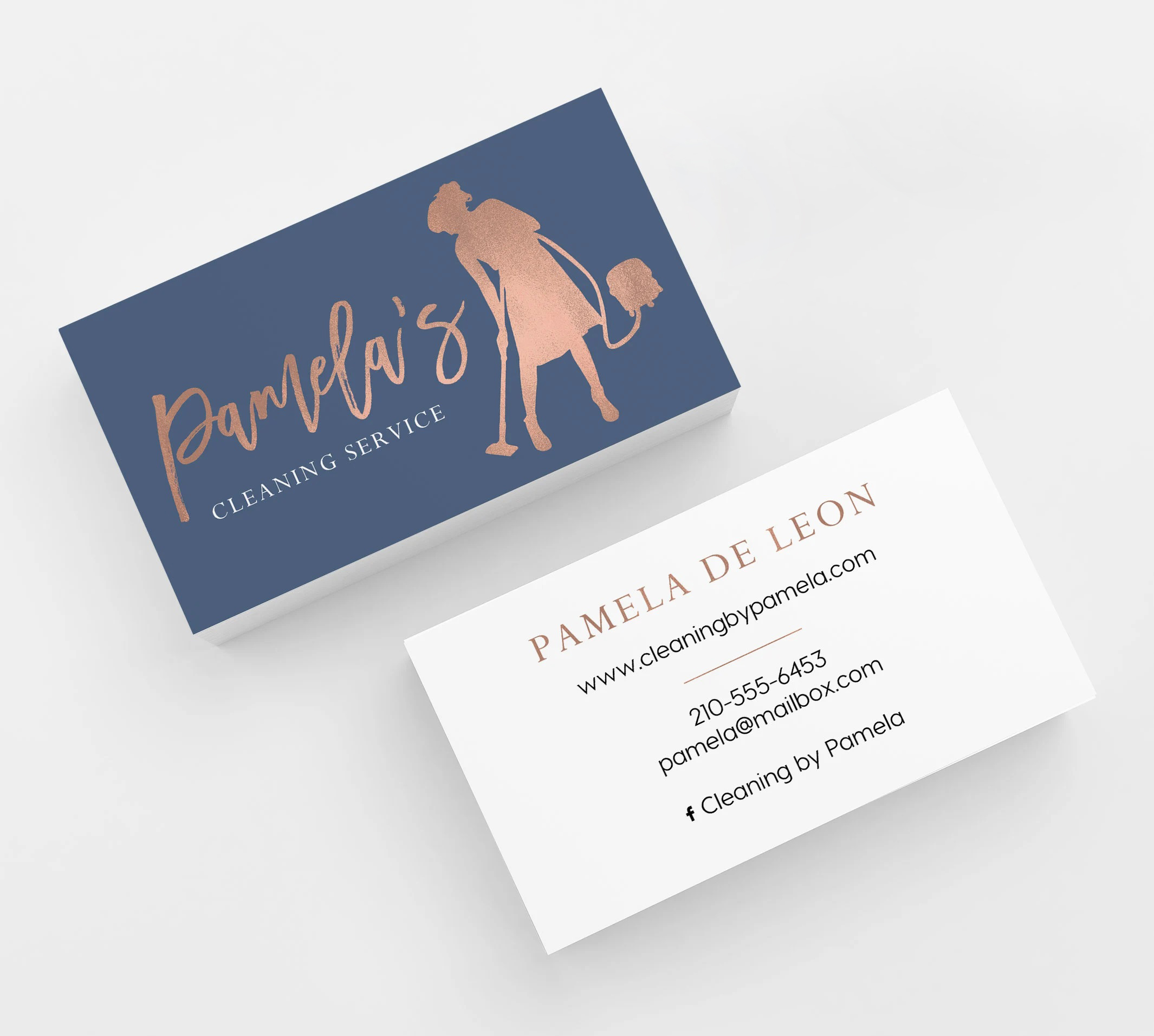 Creative Business Card Ideas for Cleaning Service
True, a business card is integral to your marketing, but some are more effective than others. Here are some creative business card ideas for cleaning service:
Custom-shaped cards: Instead of a rectangular card, consider creating a unique card shape that mimics an instrument such as a cleaning spray bottle or vacuum cleaner. These unique shapes help to make a lasting impression and are great conversation starters.
Eco-friendly materials: Using materials that are considered eco-friendly will demonstrate your commitment to a sustainable environment. Is this one of your values? Then you can order our Cotton business cards; we make them from recycled cotton linter.
QR code: Featuring a QR code that leads to your website or social media page will make it easy for potential customers to access more information about your cleaning service and contact you.
Cleaning tips: Suggest a homemade cleaning solution on the back of your card. This tip will provide value to potential customers and showcase your expertise.
Glossy finish: Consider adding a glossy finish to your card design. The shiny finish will add professionalism to your brand's image and help to protect your card from wear and tear.
Of course, you shouldn't implement all the cleaning services business cards ideas. Instead, find ideas that are closely aligned with your business goal and implement those.
Design Elements to Consider
When designing business cards for cleaning services, here are some design elements to consider:
Color scheme: You may already have a color scheme. It's a good idea to reinforce these colors on your card. However, note that white, blue, green, and yellow colors are associated with cleanliness.
Font: Limit your use of decorative or overly stylized fonts. Instead, choose a font that is easy to read and reflects your professionalism.
Logo: A great logo is simple, recognizable, and reflects your brand identity. Prominently featuring your logo will help others recognize your brand.
Material: Choose a material that reflects your values while being durable and high-quality.
Examples of Business Cards for Cleaning Services
Many cleaning brands eventually niche down for more immediate recognition. These are some of the popular niches:
Residential cleaning

Commercial cleaning

Carpet cleaning

Window cleaning

Move-in/move-out cleaning

Post-construction cleaning

Roof cleaning

Specialized cleaning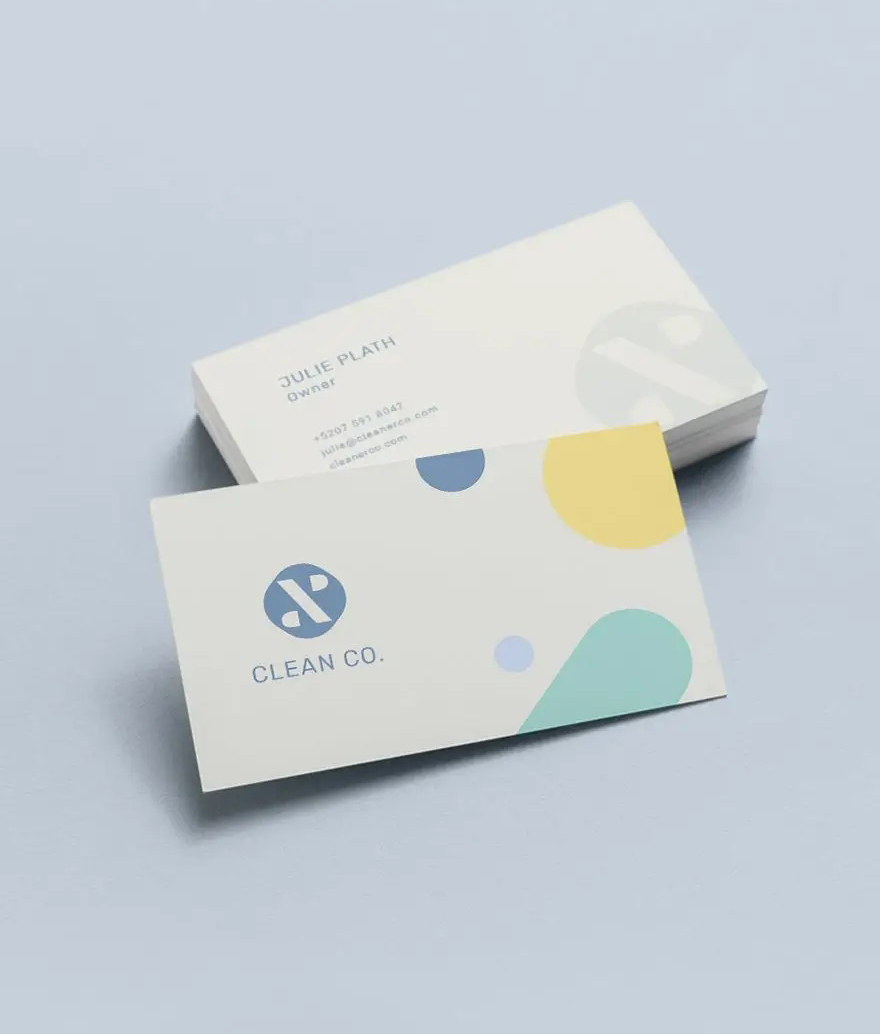 What are some specific examples of business cards for cleaning services?
Residential cleaning services: For this design, you can include a photo of a clean and organized home with a tagline that emphasizes the convenience and reliability of your service. In addition, use warm and welcoming colors, such as light blues or greens, alongside modern fonts.
Roof cleaning services: For a roof cleaning service, you can include a before and after photo highlighting the importance of your service. Also, use a tagline that reiterates your specialty.
Conclusion
These are our business card ideas for cleaning service. You're welcome to browse our business card products and select one that best connects with your ideal customers.
In addition, you can use our professional-looking templates to complete your design and order affordable business cards online. Let customers know you mean business with attractive-looking cards that imbue trust.