Attention plumbers! We know you're tired of the same old, dull business cards that sink into oblivion. It's time to rise above the competition and unleash your plumbing prowess in the most exciting way possible. Welcome to the world of imaginative designs that will instantly get you noticed. So, grab your toolbelt, and let's plunge into the realm of plumbing business cards ideas together!
Design Elements for Plumbing Business Cards: Conveying Professionalism and Trust
We know that professionalism and trust are crucial in the plumbing game. But what are the top design elements for plumbing business cards that will captivate your audience and instill confidence in your services?
Well-organized design: your business cards should be a work of art that puts a smile on people's faces. You can opt for quirky illustrations like animated wrenches or water droplets.
Quality Materials: when you give out your card, make sure it's as sturdy as your plumbing skills. Choose a cardstock that conveys a sense of durability and reliability. Matte finishes, or spot UV can add a touch of refinement and make your design visually striking. You can check out our spot UV business cards. These smooth and sophisticated cards pair glossy, raised areas with a suede-like background.
Font: Don't shy away from bold and dynamic fonts. They exude confidence and reliability.
Interactive elements: Bring some interactive features on board. You can input a QR code that links to your website. This will make it easy for recipients to connect with you faster with the internet.
Consistent Branding: remember to use the same fonts, logo, and colors across your marketing channels. That's how to show that you're a professional and can be trusted.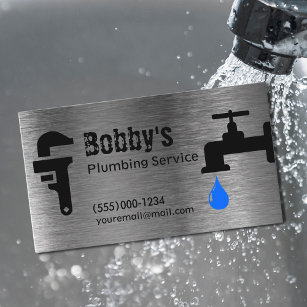 Creative Plumbing Business Cards Ideas
If you want to leave clients and prospects utterly amazed, then you need plumbing business card ideas that go beyond the ordinary. Here are some examples you can borrow from:
Residential Plumbing: Imagine a card shaped like a miniature house, complete with little pipes sticking out from the sides. What about adding a splash of color and a smiling mascot?
Commercial Plumbing: go for designs with a glossy finish. Then include elements like skyscrapers or pipes to showcase your expertise in tackling big projects.
Emergency Plumbing: wow recipients with designs that resemble a mini-plunger or a foldable card that unfolds into a small toolkit with essential emergency plumbing tips. Be sure that your contact information is easily accessible in times of crisis.
Green Plumbing: Opt for a rounded shape or die-cut design to resemble a water droplet or a leaf. Incorporate green hues and natural textures to reflect your dedication to eco-conscious practices.
Plumbing Business Card Templates and Customization Options
As a plumber, sometimes you are busy and can't spend the time designing your card yourself. That is no problem. You can still get professionally-designed and high-quality cards with ready-made design templates.
4OVER4 offers a rich collection of excellent business card templates perfect for your brand needs. So whether you're looking to make a splash with vibrant colors, humor, or unique graphics, 4over4 has a selection of templates that will bring a smile to your face and capture the attention of potential customers.
What more, you can customize the template by importing your logo and other essential information to create a design that is uniquely yours.
While at it, check out our amazing business card category. They can get you started on a journey to designing exceptional business cards.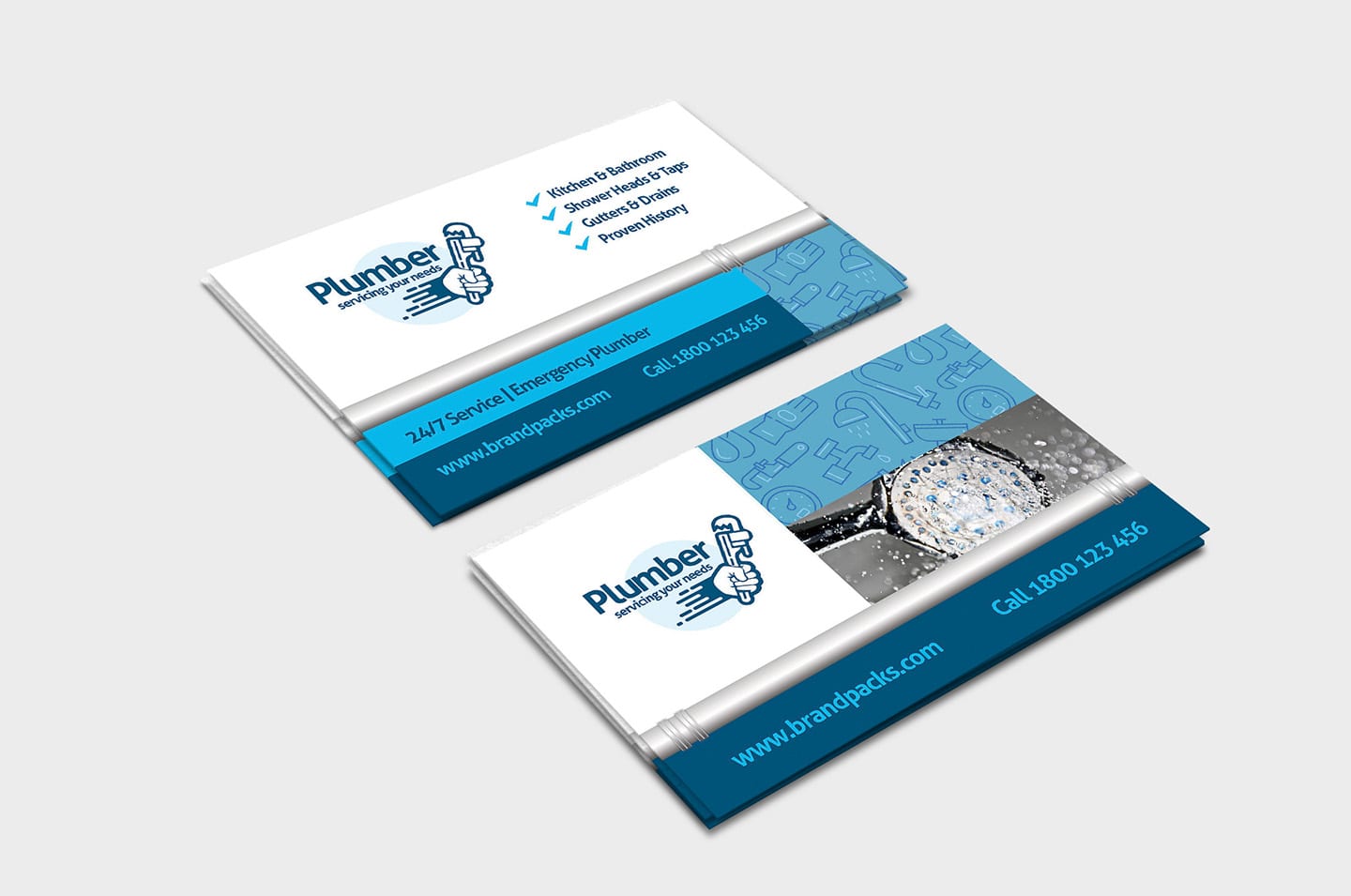 Printing Considerations
You need a printer that will deliver quality and service. So, here are factors to consider before choosing a printer.
Quality: Be sure that they have a track record for quality. Refrain from settling for services that cut corners.

Turnaround time: You don't want a card that takes forever to deliver. 4OVER4 ensures that your card is delivered on time. We also do same-day delivery.

Design options: the more design options, the more creative you can get. We have an impressive variety of designs that is sure to inspire you.
Conclusions
You have seen some plumbing business cards ideas you can explore to create something unique for yourself. The list is inexhaustive. The possibilities are truly endless when it comes to designing an effective and memorable business card. Get creative and start printing.