A well-designed babysitting business card helps build the trust and confidence of prospects and partners in your services.
Hence, this article explores some babysitting business cards ideas that will captivate your audience and stand you out from the competition. From creative child-friendly designs to essential details, we'd cover babysitting business card ideas for designing appealing cards.
Importance of Business Cards for Babysitters
Why do professional babysitters need an impressive card design for their marketing? Consider the following benefits:
Professionalism: Professional-looking babysitting cards help upscale your services and impress parents positively. After all, these cards highlight your trustworthiness and commitment to providing top-notch baby care services.
Direct contact information: A business is a tangible and convenient way for parents to access your contact information and get in touch.
Word-of-Mouth Referrals: Satisfied clients or professionals such as pediatricians can recommend your services to others by sharing your contact details or business card.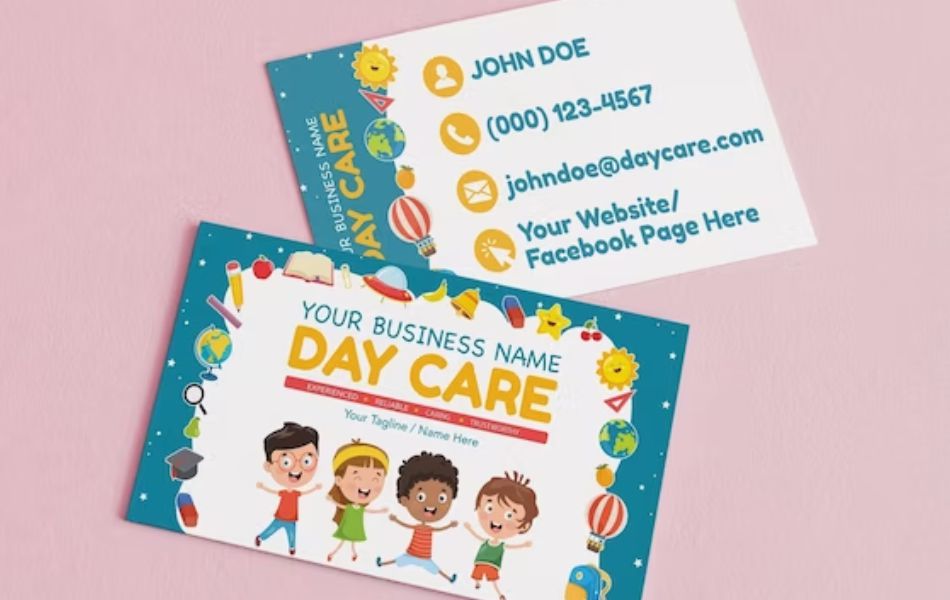 Creative Babysitting Business Card Ideas
Consider these creative ideas for your babysitting card design:
Cartoon characters: Using cartoon characters with a positive reputation can capture the attention of parents and their kids. Also, such designs portray you as fun, playful, and friendly.
Silhouettes: Create silhouette illustrations of a babysitter engaging in various activities with children, such as reading a book, playing with toys, or pushing a stroller.
Toy illustrations: Adding pictures of popular toys will fascinate children and resonate positively with parents.
Photo collage: You can compile joyful and engaging photos of your previous babysitting engagements. Capture moments when you engage the kids in crafts work or other games.
What To Put On A Babysitting Business Card
Are you considering what to put on a babysitting business card? You can feature these details or design elements on your card:
Contact information: You should include your phone number, email address, and website to enable potential clients to contact you.
Services offered: An outline of your services, such as babysitting and after-school care, will help parents understand your services' scope.
Availability: Specify your availability, whether on weekdays, weekends, mornings, or overnight. So parents know when to reach out for your services.
Certifications or qualifications: Relevant qualifications should also be added to the business card as they show your competence in delivering your services and convey trust and safety.
Testimonials or reviews: Highlight a positive review or testimonial from satisfied parents you've worked with. Such proof can help build credibility.
Visual elements: Add engaging and visually appealing elements to your card, such as playful fonts, colors, or illustrations that reflect your warm and friendly style.
Professional logo: Including a professional logo on a babysitting business card helps to reinforce your brand image.
You can check out some babysitting business cards examples.
Printing Considerations
Bear these considerations in mind when printing a babysitting business card:
Design: Your business card should reflect your brand and convey your message effectively. Use designs that keep your work and color scheme clean and professional.
Paper quality: The choice of paper can greatly impact your business card's final outlook and feel. Choose sturdy cardstock for a professional impression.
Size and shape: Standard business card dimensions are typically 3.5 x 2 inches, but you can experiment with different sizes and custom shapes to make your card stand out.
Typography: Choose legible fonts and text sizes and only use a few font styles, as too many fonts can make your design look busy and unprofessional.
The above babysitting business cards ideas will help you stand out from the competition and win customers' trust.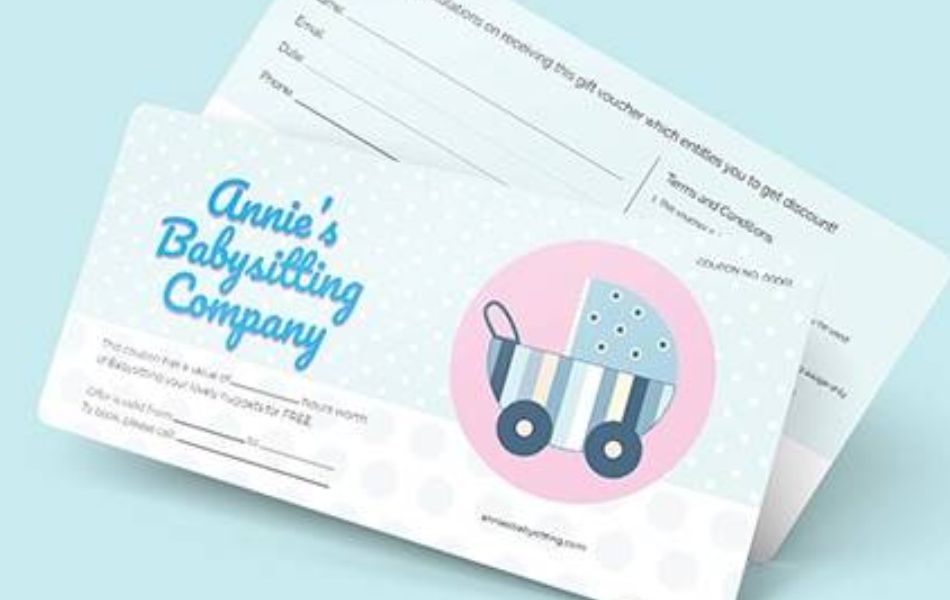 Conclusion
You can implement these babysitting business card ideas by ordering high-quality and affordable prints on 4OVER4.COM. We have over 2 decades of online printing experience and a support team eager to assist you in bringing your ideas to life.
Select your preferred business card product and the customizations (size, shape, paper type, etc.) you'd like to apply. Then upload your card's artwork to complete your order. Some products have a same-day printing option for quicker delivery. But generally, we process your order in a matter of days. What's your idea? Get in touch today!