Why would you place vinyl signages in one location when you can put them anywhere? Adhesive vinyl signs, when printed in large format, have unlimited options and can be extremely useful as marketing materials. Vinyl banner signs, large posters, front adhesive vinyl, and billboards all make excellent advertising materials.
The flexibility of the vinyl material makes it highly versatile. It can be adjusted for various needs such as posters, banners, and even vehicle wraps. You can print high-quality photographic prints on the smooth surface of the vinyl. A wide range of colors is used to brighten up and add extra character to your spaces.
You may use vinyl graphic prints in a variety of ways, and the adhesive vinyl is the most popular amongst all. Here are some strategies to make space for large ideas with vinyl signage.
Billboard Vinyl Signs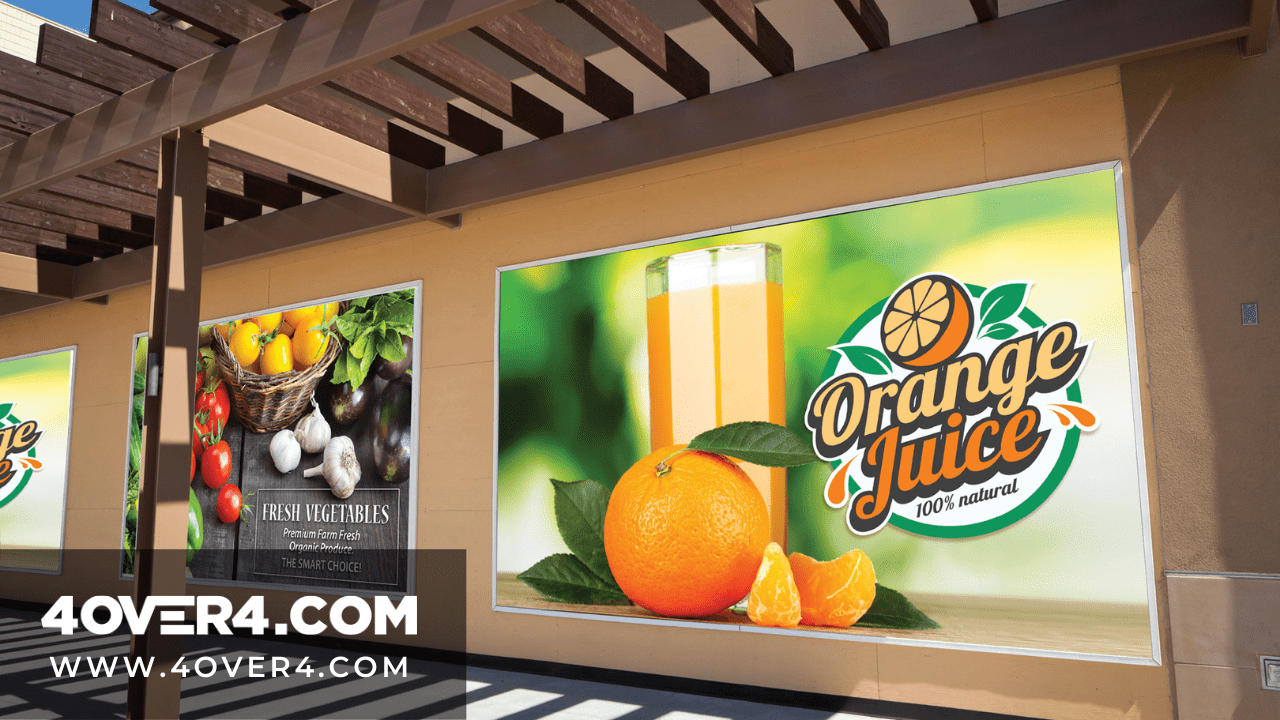 To focus on your target demographic, placing billboards in a strategic location is essential, but it can be expensive too. Printing billboard vinyl signage is quite affordable. But, the monthly rental for the location can dig a hole into your budget expense.
The adhesive vinyl signs are versatile. You can search for sites that let you post the billboard for privileges other than cash. Local events, charity drives, or community billboards are some of the best places to find space for big ideas.
Vinyl Poster Signs
Printing vinyl posters is a great way to showcase your large ideas. They are not just easy to display but also versatile for putting up anywhere. It is vital to check out with the local city regulations before printing a bunch of vinyl posters. Many high-traffic areas let you display the signs for free. Searching for such tactical locations and sponsoring local festivities and activities, allows you to show your large ideas and promote your business.
Adhesive Vinyl Signs
You can use several feet of vinyl to make a billboard advertisement or use it in large format posters printing. The vinyl pasting can be on different surfaces.
Stick the vinyl window graphics on the storefront or paste custom vinyl decals on walls. You may also use banner stands for promotions. The vinyl signs are a great way of showcasing your ideas.
Advantages of Adhesive Vinyl Signs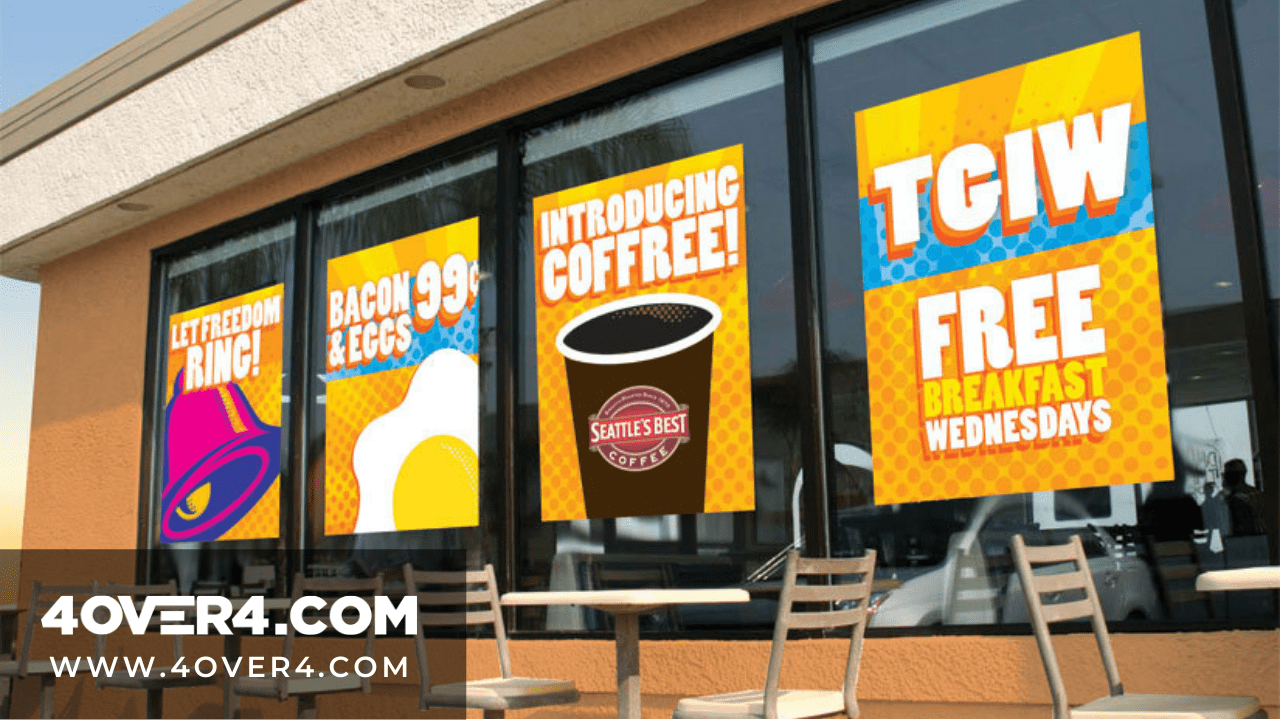 Vinyl signage has evolved over the years and has been used in various ways. Vinyl is highly preferred for advertising in harsh outdoor weather conditions because of its many benefits. The synthetic vinyl material is durable and long-lasting in comparison to the fabric banners, pole banners, or paper endorsement material.
You can find a range of options when it comes to adhesive vinyl signs. Such as clear adhesive vinyl, floor graphics, perforated window decal, vinyl banner, and more. Adhesive vinyl is the best promotional material for big ideas. Checkout 10 benefits of adhesive vinyl signs.
Custom Shapes – As a very bendable material, adhesive vinyl signs are easy to customize. You can give it any shape you want which makes the large format adhesive vinyl signs highly desirable. The power of customization helps the marketers to highlight their large ideas at any place anytime.
Long-Lasting – The adhesive vinyl remains fresh and vibrant for the long-term when applied on any surface. It can even last over 5-7 years because vinyl material offers UV protection and are durable. They are resistant to moisture and humidity.
Bright and Colorful – The paper stock can never give your advertisement the vibrancy that vinyl full-color digital printing offers. You can print bright color high-resolution images on adhesive vinyl signs.
Easy to Change – If you are using custom banner signs for seasonal promotions, adhesive vinyl is the perfect fit. It is easy-to-remove. Place and remove your large ideas as per your timeline and budget requirements.
Effective Advertising – The Adhesive Vinyl material is a powerful way to promote your brand. It conveys your message across to the public easily and also noticeable due to their large format printing.
Versatile – Adhesive vinyl signs are versatile and the best solution for trade shows, parades, fairs, concerts, or any big announcements.
Modern Storefront – Create a revolutionized storefront using vinyl adhesives on to any wall of your store interior. It can help to add a professional and contemporary feel to your business instantly.
Variety of Surface Usage – You can use the adhesive vinyl signs on floors, windows, walls, cars, as well as buildings. It makes it convenient for you to advertise on any surface.
Cost-Effective – The adhesive vinyl is less expensive and a cheaper way to promote your business compared to the costly options.
Low in Maintenance – Maintaining a vinyl hardly needs any care. It is low on maintenance, and just a gentle cleaner can maintain its fresh look.
Printing Adhesive Vinyl Signs with 4OVER4.COM
If you are searching for adhesive vinyl signs printing, look no further. 4OVER4.COM is one of the leading online printing platforms. It offers a range of front adhesive vinyl roll and varied signs printing. The range includes Step and Repeat Banners, White Adhesive Vinyl, Frosted Etched Vinyl, Translucent Adhesive Vinyl, and more.
Whether outdoor advertisements or indoor promotions, we take care of your printing requirements and send you online proofs for approval. No sooner, we get your thumbs up, our team of dedicated professional prints and deliver your order within 4-5 business days.
Our team of efficient professionals can turn any photo paper into custom wall graphics or wall decal. You can apply vinyl on adhesive-ready custom decals. It can easily and attractively make space for large ideas in the business window, office, reception, and other areas.