Saint Patrick's day is a festival of Irish culture celebrated worldwide with grand parades, dancing and people dressed in green. In Ireland, pubs were once closed on March 17th to celebrate this religious holiday. In 1970 that all changed and now this religious holiday has turned into a massive festivity. From Sydney, Tokyo, South Korea, Moscow to Canada, St. Patrick's Day has become a global celebration that attracts revelers from every corner of the world. New York held the first Saint Patrick's Day parade in 1762 due to the great number of Irish immigrants living in the US. Since then, the Chicago River has run green and other cities such as Boston, Seattle and New Orleans organize massive street parades. Many Irish people start March 17th by going to mass and offering prayers, but lots of others around the world take this holiday as an opportunity to drink some beers and listen to live music. Saint Patrick's Day is celebrated in grand style in Ireland, the United States and hundreds of cities across the globe. For example, in Tokyo about 2,000 participants mix their traditional Japanese kimonos with Irish costumes. That being said, Saint Patrick's Day is a tremendous business opportunity not only for bars and restaurants, but any business that wants to take advantage of this popular holiday. So, we've put together some custom printing options along with advertising ideas to help your business take advantage of St Patrick's Day:
#1. Custom Beer Labels for Your Celebrations [caption id="attachment_7216" align="aligncenter" width="1024"] Credit: Stefan Andries for Wicker Barrel Brewery on Behance http://ow.ly/ZCYyU[/caption]
It's no secret that lots of people get into the spirit by drinking beer. There's no better time to introduce a product that's fun and festive. Green beer is always a cool option, add a custom beer label to maximize the impact and influence consumer buying decisions. How can you stand out among the rest? By getting off the beaten path and creating your own label design to wow your patrons, we love the rustic yet minimalist design of this label by Stefan Andries who did an amazing job creating the concept art and building the brand, go check him out.
#2. Green Flyers [caption id="attachment_7218" align="aligncenter" width="400"] Credit: FlyerHeroes on Behance http://ow.ly/ZDgNN[/caption]
When it comes to designing your flyer, start by setting the proper tone and come up with a promotional campaign that grabs your potential customer's attention. This can be achieved by holding a contest, asking people to upload a selfie celebrating Saint Patrick's Day, rewarding random" lucky" customers, doing a referral promotion or asking the question " why do you feel lucky? ". These flyer templates by FlyerHeroes are great. No matter what kind of industry you are in, creating a campaign specifically tailored to your products and services is key. Whether you are a bakery drawing customers in with green frosted cupcakes or a restaurant offering cornbeef and cabbage, custom printed flyers are a great way to promote the coming holiday.
#3. St. Patrick's Day Party Invites
[caption id="attachment_7219" align="aligncenter" width="600"]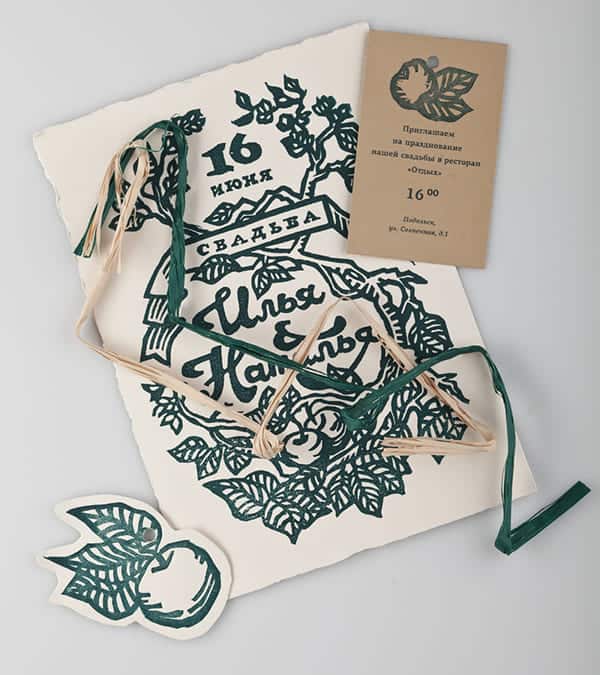 Credit: Elena Bulay, hand made invitations on Behance http://ow.ly/ZDqot[/caption] Throwing a St Patrick's Day party that will go down in history? Add fun and flare with custom invites swathed in green. Go traditional with shamrocks and gold glitter, or create a unique design with a contemporary edge. Try to think like your guests, what will it take to peak their interest? Make it obvious why they should attend your event. Then, unleash your creativity to make your invites pop and get people excited about your party. We cannot rave about Elena Bulay's hand made invitations enough, so we'll just tell you to go get inspired. At 4over4, we offer high quality invitations that come in a wide range of paper options, low minimums of 25 pieces, matching blank envelopes and exclusive finishes. We can have your Saint Patrick's Day invitations printed in no time, in case you are throwing a last minute celebration! (If you like Bulay's idea, you can also add custom printed hang tags to your invites as well)
#4. Funny or Cool T-shirts
[caption id="attachment_7223" align="aligncenter" width="600"]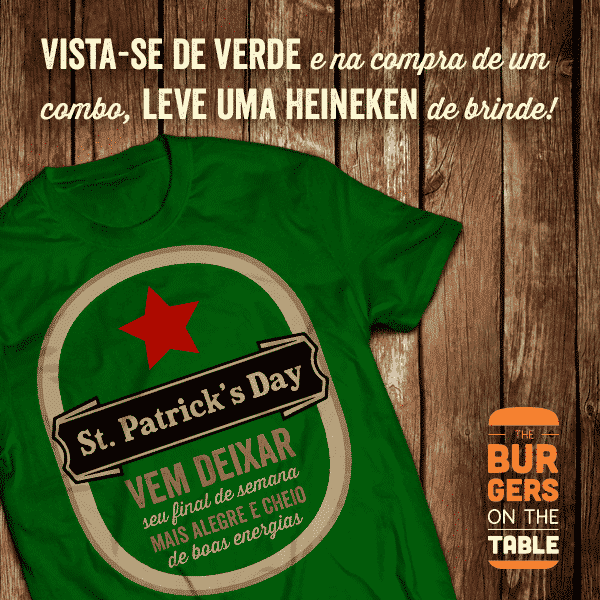 Credit: Caio Texeira for Burgers on the Table, Behance http://ow.ly/ZDs4G[/caption] People love to dress in green clothing to celebrate Saint Patrick's Day. With that in mind, drape your place in green with custom t-shirts for your staff or as giveaways to reward customers wearing the most hilarious leprechaun costumes or festive clothes. Consider adding some humor or cool approach to your campaign to grab your customer's' interest. Think outside the box to make sure your marketing efforts won't go unnoticed. Surprise your customers with Saint Patrick's Day t-shirts! This cool T-shirt is actually part of a venue's promo: people wearing green and getting a burger combo would get a free beer, try giving it a spin for your own promo!
#5. Postcards to Mark The Occasion
[caption id="attachment_7224" align="aligncenter" width="600"]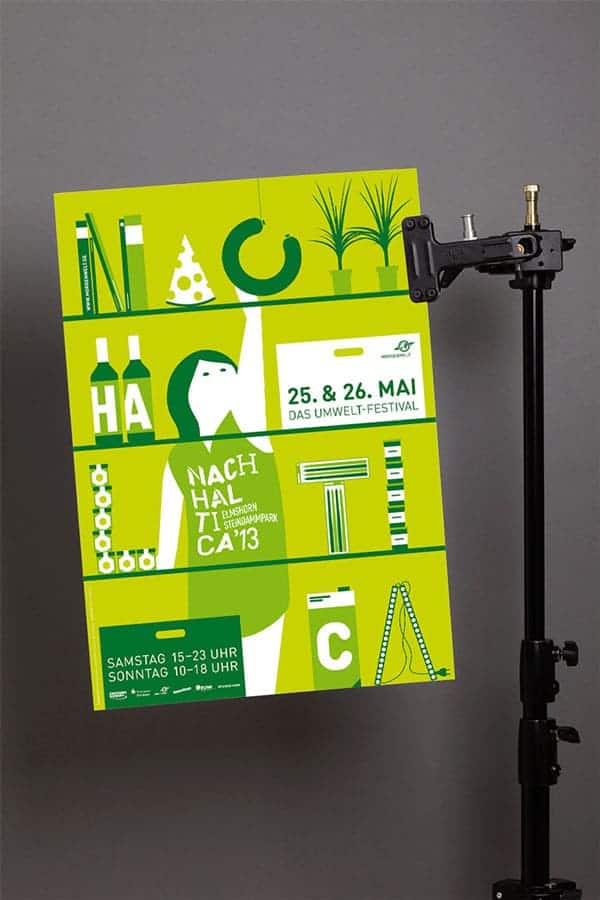 Credit: Studio Una for Nachhaltica Festival on Behance http://ow.ly/ZDswe[/caption] Be ever present in the minds of your customers with custom postcards promoting special events during the holidays. Send postcards featuring Saint Patrick's Day special promotions to increase your foot traffic and build customer loyalty with exceptional products and service. Offer a happy hour, one-time discount on "green" products or mark discounted products with a shamrock hangtag. Even without a discount give out fun postcards, like the ones deigned by Studio Uma for the 2013 Nachhaltica Festival, which stand out in color and creative design. Check out the full project here and get inspired. We have lots of paper options to make your custom postcards stand out. Strengthen your engagement with your audience by using custom printing to celebrate March 17th in a fresh and cost-effective way. We hope we've inspired you to come up with innovative and dynamic St. Patrick's Day marketing efforts. How are you going to stand out this coming March? Share your thoughts and get the conversation going.