Every October, individuals and corporations around the world come together to participate in Breast Cancer Awareness Month. This month serves as an annual international health campaign. Its primary purpose is to inform people about the higher risk of breast cancer in women and raise funds for research into its cause, prevention, treatment, diagnosis, and cure. Pink ribbons and the color pink, in general, are considered the unofficial symbols of this campaign.
According to recent data, 1 in every 8 women in the U.S. will develop breast cancer in their lifetime. In 2019, an estimated 268,600 new cases of breast cancer will be diagnosed in women in the U.S.
The cause of breast cancer is still unknown. Therefore early detection remains the vital element in its treatment and control. With all the terrifying statistics, your participation in Breast Cancer Awareness events may save the lives of many women, including those you love.
4OVER4.COM has created a list of best ideas and practices applicable to individuals and corporations for Breast Cancer Awareness Month.
BREAST CANCER IN FACTS AND NUMBERS
Here's what you should know when taking part in Breast Cancer Awareness Month:
On average, a woman in the United States is diagnosed with breast cancer every 2 minutes.
Female breast cancer accounts for 15.2% of all new cancer cases in the United States.
62% of breast cancer cases are diagnosed at a localized stage, for which the 5-year survival rate is 99%.
There are over 3.5 million breast cancer survivors in the United States.
Although it is rare, men can get breast cancer too. The lifetime risk for U.S. men is about 1 in 1,000.
Throughout October, numerous forums, educational programs, and informational events are used in order to share information with the public. Corporate and non-profit organizations organize special events, including National Mammogram Day in the United States. Other fundraising activities, such as walks, runs, concerts, and auctions are also held in countries around the world. The money collected by these events typically goes to funding for breast cancer research.
Planning to organize an event or participate in a fundraising campaign? Great! 4OVER4.COM will help supply you with all the necessary promotional materials, on unique and exclusive terms.
Besides, during the entire month of October, a portion of ALL PRINT SALES at 4OVER4.COM goes to The American Breast Cancer Foundation. To join this mission, order any print item on www.4over4.com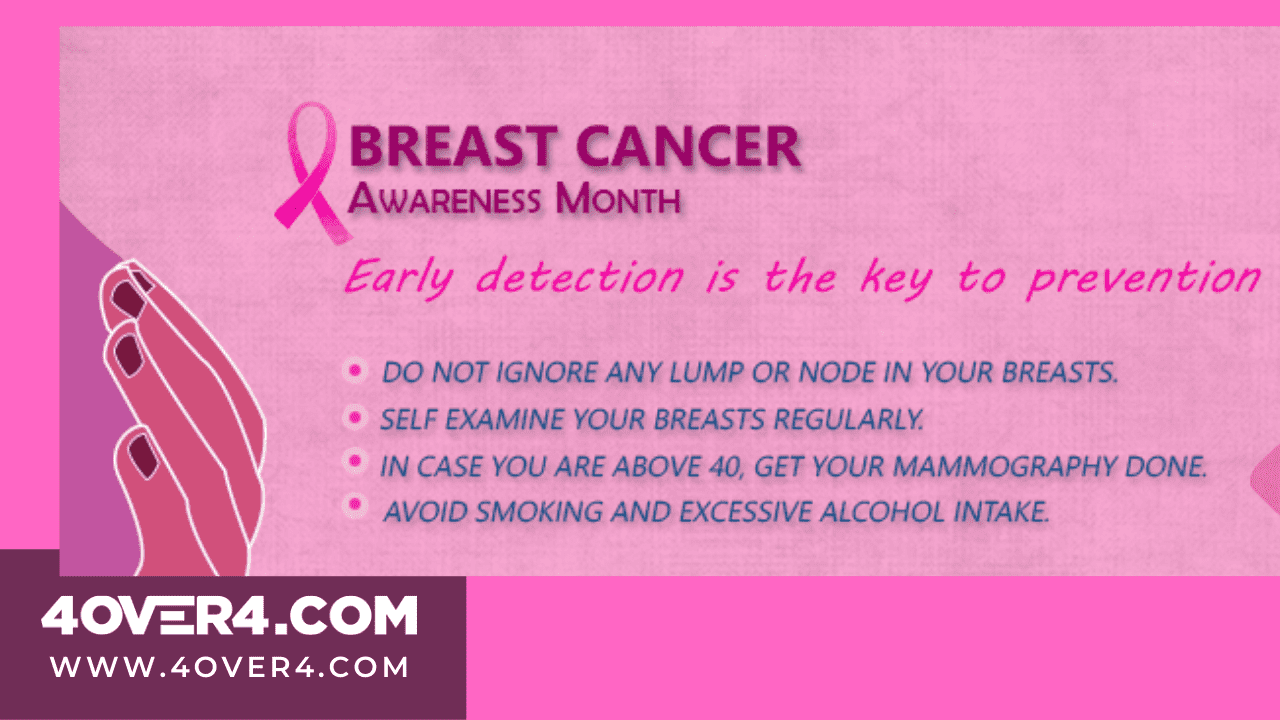 Breast Cancer Awareness Promo Campaign
One of the missions of business is to stay socially responsible for the environment you're working in. However, the responsibility starts with caring about your team. We already know that raising awareness about the problem is one of the best things you can do as a manager and a citizen. In October you get an excellent chance to organize "Wear Pink" days at your office among both male and female employees.
To make these days even more interesting, you can:
1. Order Pink T-Shirts
T-shirts might include your logo and any phrase related to Breast Cancer Awareness Month.
2. Promo Materials
Give out promo materials featuring a pink ribbon, such as:
3. Send Greeting Cards & Reminders
Don't forget to send corporate greeting cards to your clients and partners. Include the picture of your team in pink T-Shirts and information on how you're planning to support Breast Cancer Awareness Month.
Order flyers with your company brand and essential facts about breast cancer. Share them with your clients and partners to encourage that they pay attention to this matter. Talk about the events you participate in, and all the promos you're planning, to encourage people to join your initiative.
4. Hang Banners at Work
Create a banner for your store or office. Even a single stand-alone banner with information on it can attract people's attention and make a change.
5. Raise Social Media Awareness
Change your Facebook profile logo picture, and add a pink ribbon to it. Don't forget to share photos of your team in pink corporate T-Shirts to show your audience and your clients that you support the event. Use the hashtag #posepink to participate in the global campaign.
6. Take Care of your employees
Give your employees a paid day off to go for an exam. A lot of people say that they don't have enough time to go for a check. As a result, some people go to the doctor when the problem is more difficult to treat.
Motivate your staff to go for a mammography check by giving them a day off to do that. Hopefully, that will eliminate a lot of worries and problems in the future.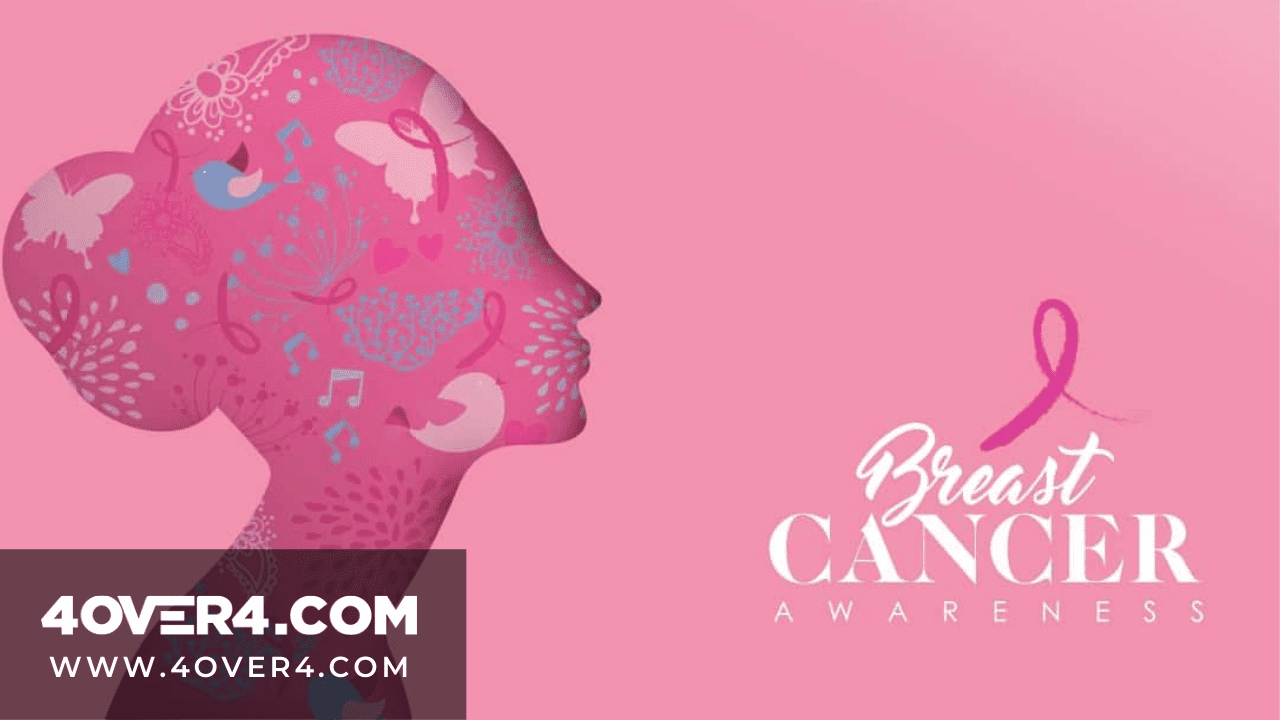 Events & Donations
Here are more ways to make an impact, outside of the office.
1. Volunteer together with your team.
Contact various breast cancer charity organizations and provide the services of your choice, for free. Even the essential office skills like typing, making phone calls, keeping financial records or marketing and event planning might be a great help.
2. Organize a fundraising event.
Help your local charity organization raise funds or come up with fundraising ideas, or do it on your own. Organize a charity sale or special evening charity event.
There are several charity event ideas. Invite your clients, partners, and colleagues, and transfer all the amounts received from the sale of the tickets (or any other income from that event) to the Breast Cancer Awareness organization. Make sure you have in order:
3. Donate.
Commit to transfer part of your monthly sales to the breast cancer charity funds in October. Choose items or services that participate in this campaign. Inform your clients and partners that when they buy something from you, they contribute to the charity as well.
You can use unique campaign stickers for the products that participate in the event. Additionally, you can double any amount your employees donate from their personal funds. It's a common practice among companies to encourage people to participate in the company charity.
4. Participate in Fundraising Walks.
Gather enthusiasts at your work, and participate in one of the most widespread walk-a-thons such as "Making Strides Against Breast Cancer," "Walk to End Breast Cancer," or "The Susan G. Komen 3-Day".
For over a decade, a loop of pink ribbon has been symbolizing breast cancer awareness. Today the image of a pink ribbon can be found embellishing hundreds and thousands of products around the world, from clothes to office supplies. Lives have been saved because a person or a company reminded them to take care of their health, and catch the problem at its early stage.
4OVER4.COM is actively participating in Breast Cancer Awareness Month 2019, and we encourage you to join us. This October, a portion of all print sales at 4OVER4.COM will go to The American Breast Cancer Foundation. Even if you do not plan any other activities on this matter, simply by cooperating with us, you already make your contribution to society.
So let our faith and support be bigger than our fears.