Hologram-printed stickers are becoming a business trend. They complement your product and packaging, give your brand a premium look, and are sometimes necessary.
They change color and intensity when viewed from different angles and are noticeable from a distance. So they can help popularize your product and improve sales. They also serve as authentication proofs and temper proofs.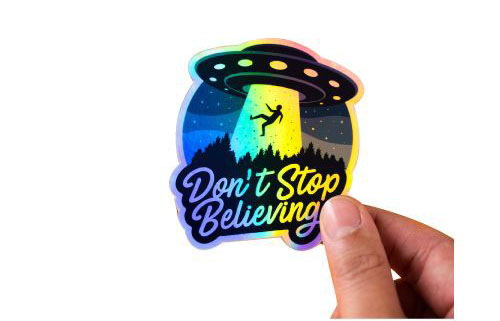 These stickers can contain your brand information, such as a logo, name, or emblem. In addition, they come with a strong adhesive so that they stick on most surfaces. So how are holographic stickers made? Let's see. We'd also see how to print holographic stickers.
What Are Holographic Stickers?
How do holographic stickers work? They work like any other sticker except that these stickers look different. They are printed on iridescent vinyl material so that they glow and let out an attractive rainbow-like shine.
These stickers are more than just fanciful, colorful labels. Customized holographic labels are useful as tamper-proof and can help prevent product counterfeiting.
Holographic labels have a glossy finish, and there's usually a layer of lamination on the stickers. This extra layer creates durable, tear-proof, waterproof stickers.
Besides adding aesthetic value to your product packaging, they are a security for your product. How do hologram printed labels work to keep your product safe? Simply tape your product's opening with your brand's stickers. The stickers are not reusable, and you can only apply them once. When they are removed, they show "void," indicating that the product has been tampered with.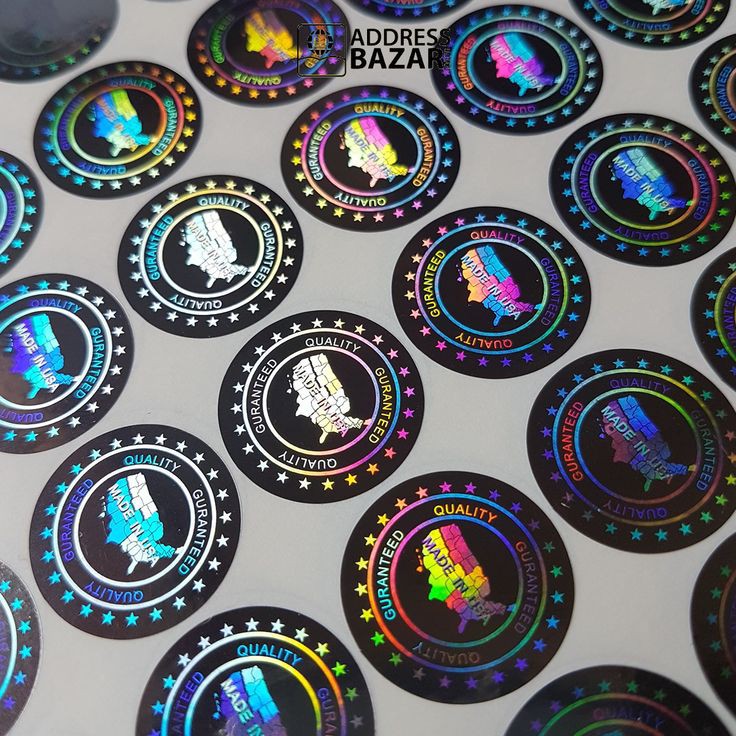 In addition, the pharmaceutical or healthcare industry use custom hologram printed labels to distinguish genuine health product from cheap imitation. Brands that use this detailed packaging protect their image, ensure client satisfaction, and not lose money to counterfeit products.
They come in different foil patterns:
Rainbow foil

Sparkle foil

Cracked ice foil

Void foil

Faceted spin foil

Hyperplaid foil
How to Make Holographic Stickers with Cricut?
The Cricut machine is popular with craft making. It allows you to cut custom prints such as t-shirt designs, greeting cards, stickers, and more. Cricut works with various materials, including paper, vinyl, card stock, or anything your scissors will cut.
How are hologram-printed stickers made using Cricut? The machine uses small, movable blades to cut your designs from printed material. So this machine is a good candidate for accurately cutting your printed designs.
Using Cricut on your holographic sticker design is easy:
First, place your material on the cutting mat, then load the mat into the machine.

Next, export your design to the Cricut design space. Choose the material type and send the design to your Cricut.

Press the button on the Cricut to begin cutting. Later remove the mat from the machine when the process is complete.
How To Print Holographic Stickers?
Alternatively, you can order holographic vinyl stickers on 4OVER4. Simply visit our stickers product page and select the holographic sticker option.
Then choose the sticker size, pattern, and quantity you want. The paper type is set to holographic vinyl for you.
Next, choose a print turnaround time. Choose a short turnaround time for urgent orders. Finally, input the delivery address and select a delivery or pickup method.
You can conveniently track the stages of your order, so you know when your job is ready.
So how are holographic stickers made? You can print and cut them yourself using Cricut. Or you can order on 4OVER4.
Conclusions
Now you know how to print holographic stickers. These stickers are not just good to have; they're sometimes necessary. They help your brand stay unique in today's marketplace and help fend off counterfeit or imitation products.
Your product packaging may be incomplete without these stickers. Enjoy its many benefits when you order custom hologram printed labels today.