Custom tablecloths are covers used on tables to give them an elevated look either for themed occasions or for marketing and advertising purposes. A good example is trade show table covers made of polyester which are a great alternative to table linens because there's less extra fabric when draping them on table corners. They're popular with publishers and companies organizing book signing events and product launches. In such instances, it's important to have the logos printed on the tablecloths because of the visibility aspect and also because the prints can withstand several washes. Nevertheless, they're also a perfect fit for the following occasions:
Wedding reception decorations

Outdoor Easter decorations

Party table decorations

Christmas table decorations

Birthday table decorations

Flower table decorations

Table setting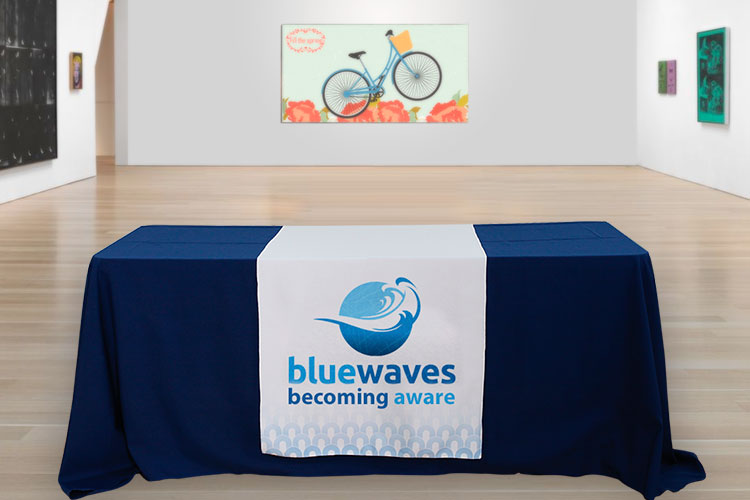 How to print table cloths
Now that you are settled on getting custom tablecloths, it's time to decide on what you want to be printed on them. Custom fitted table cloths are a fantastic promotional tool for any business. At 4OVER4 you can get custom-made table cloths to fit a 6ft or 8ft table which when branded with the company's logo or business name. Thanks to the convenient sizes, your designs will become more visible especially when used to cover tables in a big space or room. This will make your brand easier to recognize and more memorable which is key when marketing your business.
You can also add your company's motto or vision statement on the printed tablecloths to make them more personalized.
How to care our custom tablecloths
After investing in your tablecloths, you will need to make sure they remain in good condition for the longest time possible. You can do this by keeping them away from heat as they can easily catch and spread the fire. Table cloths are easy to clean first because they're stain-resistant and therefore washing them in warm water then drying them under low temperature will ensure they are well maintained and keep them looking vibrant. However, caution should be taken not to bleach them.
Types of custom printed tablecloth
We have two types of custom table covers:
Printed tablecloths from 4OVER4 come in two convenient sizes that stretch as is the nature of polyester fabric. These are 6-ft and 8-feet custom table covers made of 9oz premium polyester. They're perfect for tradeshows since they droop perfectly on tables. Plus, they have a 1" hem. You won't need to worry about ironing them every time as they're wrinkle-resistant. Expect your designs to look vibrant when printed on these table throws as they have superior dye sublimation.
Create a professional and organized display and extend a warm welcome to visitors with custom printed table throws from 4OVER4.COM! Businesses big and small have long been using customized throws at events to initiate profitable connections and start important conversations.
Made from 100% premium polyester, our table runners are wrinkle-resistant and come in multiple convenient sizes. For exclusive events, promotions, trade shows, and corporate gatherings, well-crafted, uniquely designed table runners can be the difference between success and failure. Grabbing attention is your number one focus which is why your custom table runners should look professional and vibrant.
Personalized tablecloth tips
Ensure it is branded- Branding is what differentiates a regular table cloth from an outstanding one. Having a tablecloth with logo makes it marketable and memorable.

Always keep the table covers clean- Remember you only have one shot at making an impression. Make it count! You don't want to be the business that is known for being untidy and messy. Table covers can make or break your business that is why before spreading them, ensure they are clean and without wrinkles.

Be creative- As a business, being creative is what sets you apart from your competitors. So when customizing your table cloths, make sure they are eye-catchy and impressive to customers.

Store your personalized tablecloth flat- You should iron your tablecloths only with a low heat iron. To help avoid creasing and save you a lot of effort and time when you want to spread them, fold them properly after use.

Align your text and images at the center- The whole purpose of getting a custom made table cloth is to increase your company's visibility. This is why if you are having a tablecloth with logo or text, then they should be at the center within an assigned area where everybody can see and not on the fabric edges.
Table cloth design options
Open or closed back tablecloth- You can choose whether to have your table cloths open which allow for chairs to be easily placed underneath and are common in restaurants and trade shows or you can have closed back tablecloths that provide maximum coverage around the table and are mostly used in offices.

Sizes- You can have your table covers in size 84 x 126.5 which will cover a 6 feet table or have it in a size 84 x 150.5 which will cover an 8 feet table. The size depends on how big the table is or how fitting you want your tablecloth to be.

Material- As a business owner, you want a long-lasting custom table covers, and having your table cloth made out of 9oz Premium Polyester will make it durable and wrinkle-resistant!

Add personalized images- have your business name, photos, logo, or message displayed on the cloth to make it unique.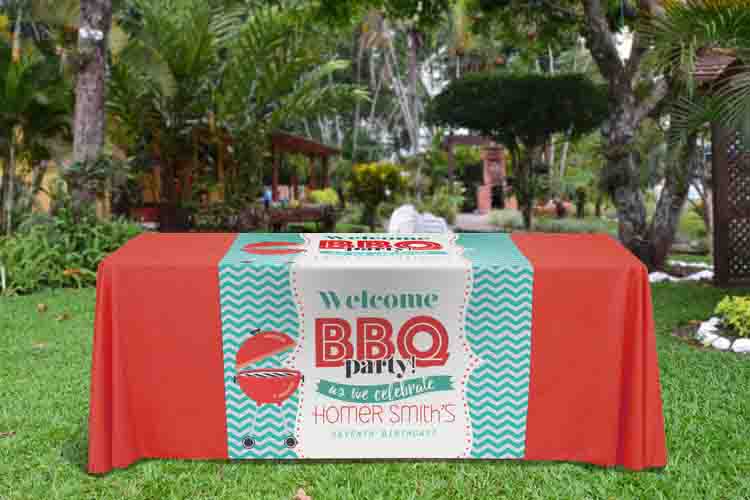 Get your own personalized tablecloth today
If you value quality and at the same time are looking to save money then without a doubt 4OVER4 is where you should be looking for all your custom tablecloth needs. If you want, they will also provide you with free online proof for you to approve before they print your product. This is so that you can alter anything beforehand until you get the exact table cover design you want. There is also no minimum quantity and so if you're ordering just one piece, it's perfectly fine. You also get rewarded with 4OVER4 coins with every purchase and so you will earn coins with every purchase. You can use the coins to get free business cards or redeem them for our products and amazing gift cards from other stores.