Posters are printed graphics used for wall decorating but are mostly used for promotional or advertising purposes both indoors and outdoors. Posters printing online is common, especially during this internet era. With the increase in digital ads, people are becoming more drawn to printed forms of advertising that are less crowded than digital media.You can buy posters online from online printing companies.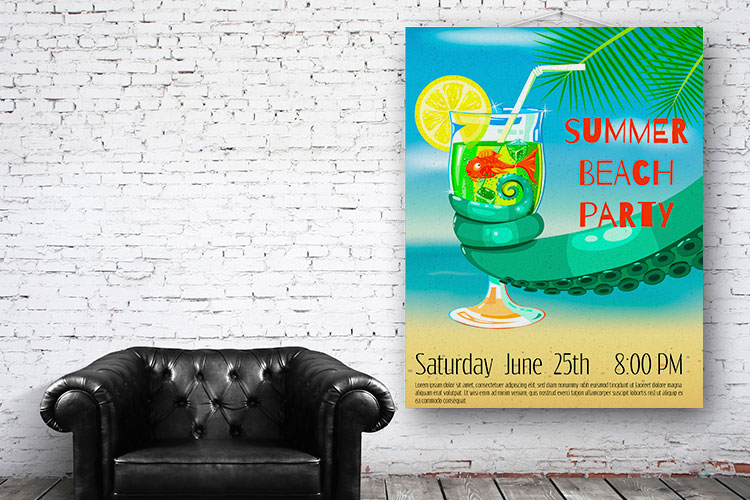 Reasons why you should order poster prints online include:
You have an array of options: Unlike shopping in physical stores where you are limited to a few options, with online posters, you get many good websites that sell posters. This helps you weigh your options and settle on the best posters that suit your company.

It is cheaper to order poster prints online: There is a website to buy posters, where you can compare prices and settle for one that matches your set budget. Buy posters for cheap at 4OVER4. Generally, online printing companies charge less for their prints compared to companies that have physical stores. That's why you can get cheap posters online.

The process of online printing posters is easy: You will just have to upload the details you want and select the options given in terms of paper type, size of poster, and colors. You then pay and wait for your order to be processed. It's as simple as that.

You can track your poster's printing process: Most online printing companies give customers the option to see how far along their prints are. They can see when they are in progress, when they're dispatched, and when they are expected to receive them.

You can place your order at any time: When you want to buy posters online, unlike physical stores, you can order anytime. The websites are functional every time, meaning you can order posters online when it's convenient for you..
Places where you can effectively use printing posters
Announcing a sale: Most posters are used for sale announcements. If placed strategically, posters grab the attention of passersby and existing customers, therefore, giving you a good return of investment as many people will see and come to make purchases.

Advertising an event: If you are having any event coming up like a fundraising or a national holiday celebration, then posters are what you need to get the word out. Large format print posters are especially effective at tradeshows.

If you are a new business or in a new location: There is no better way to make people curious about what you are offering than with creative posters. Add information like the services you offer, company name, contact information, and location to make your posters more substantial and effective.
How to make your posters pop-out
How many posters have you seen in your life? Uncountable, right? But how many actually stuck in your head? A handful, right? This is because it's not enough to just have a poster, you need to have a great poster. Some of the things you can do to make sure they stand out include:
Add your brand colors- Don't just randomly use any color in your posters. Use colors that resonate with your brand. For instance if your brand is promoting summer products or events, consider using warmer colors such as yellow and orange.

Use great graphics- Images make posters more engaging and unforgettable. Use fantastic graphics that are clear and of high quality.

Use your brand tone- Every business tone is different. Use the tone that your customers can relate to you the best.
Popular types of posters
3D lenticular posters- these posters are unique and are sure to turn heads. The motion effect that they have makes them memorable and your message more unforgettable.



Dry erase posters- If impersonal, standardized messages are not your cup of tea, then maybe what you're looking for resides in yourself and your talent to create a new, unique design every day. These posters are most common in restaurants that showcase the day's special or any promotion that might be happening.



Large format posters- such types of posters are popular at trade shows as they reach a wider audience. They are big enough in a way that the message displayed will be visible to people from afar and will stand the test of distance, size and time.


Other types of posters include:
4OVER4: Place to buy posters online
If you are looking for cheap custom posters or looking to order posters online then look no further than 4OVER4! Not only do we have a wide range of posters but we have cheap poster printing. You can buy one poster at a minimal price of $25. We save you cost and time. On top of getting cheap custom posters, you can get the same-day print turnaround time. We also have top-notch services and if you are stuck anywhere or need any clarifications then our customer service team is always here to assist. Order high-quality posters to sell your products or services in a more effective way! Remember, you get 4OVER4 rewards coins with every purchase you make. These coins will allow you to redeem free business cards, our print products, or even amazing gift cards from other stores. There's great value in shopping at 4OVER4.