As a business owner, you know that in order to set the tone for anything, the packaging matters. When sending letters or cards whether they're brochures or simple Christmas cards, the best way to compliment them is with envelopes! A business sized envelope is a standard size of envelope used in businesses. The standard business card envelopes are size 4 ⅛" x 9 ½". For mailing business documents like inventories, a standard business sized envelope of 8 ½" x 11" is best. They're perfect for adding that finishing touch that gives your correspondence an element of sophistication which creates anticipation for the contents inside. This is what gaining mailbox visibility is all about.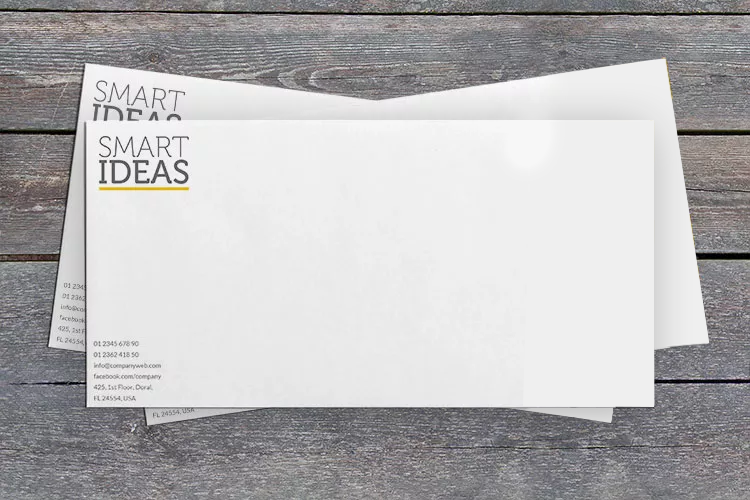 Custom business sized envelopes featuring your logo and address
Just like any other promotional print in a business, envelopes should be personalized. This is because they help create a professional brand and make your card pop more. Envelopes for business should have a company's logo and address in the company's brand colors so that they can be identified easily. The logo and address should be added on the upper or down right or left.
How to make your envelope stand out from the rest
Add the recipient's name- Always have your recipient's name properly displayed on the envelope. It's the little things that make them feel special and in return make them loyal to your business.

Use your brand colors- Avoid using any color you like when it comes to your envelopes. You want customers to easily identify your card from every other envelope and using colors that they associate with your business will do just that.

Add your logo, address, and contact information- Give your envelope a professional look by adding your logo, business name, and contact information.
Types of the envelopes for business we make
You can get custom printed envelopes that will be designed according to your needs and at the same time if you prefer blank envelopes you can get them too.
Our high-quality envelopes will keep your correspondence professional and help you build an impeccable reputation. Ideal for commercial purposes as well as private events, we have a large variety of blank envelopes for every purpose. These must-have tools will allow you to communicate effectively with customers, colleagues, and all types of recipients.
Get your own envelopes in bulk today!
By letting 4OVER4 take care of your envelopes, you will get your envelopes in bulk as they are bulk envelope mailers not to mention you can get free online proofs before they go to production. By shipping envelopes bulk, you save on cost and time. Another huge bonus is that if you want custom printed envelopes, you can choose from 5 different paper types:
White Wove: This is a writing paper with a uniform surface, not ribbed or watermarked. This is a popular paper for statement mailers and direct mail alike.

Royal Laid Bright White: Featuring a tactile, antique look in the bright white color. Usually recommended for annual reports.

Royal Laid Natural White: Featuring a tactile, antique look in natural white.

Royal Laid Gray: Featuring a tactile, antique look in gray color.
You are also able to upload files that will help add personalization to the envelope. There are over 10 stock sizes you can choose from. Since time is crucial for every business, 4OVER4 has an envelope print turnaround time of 1 business day which is fantastic for those days when you need them fast! Don't hesitate, place your envelope order now! Remember, you also earn 4OVER4 rewards coins for every purchase. Later, you can use the coins to redeem 200 free business cards, our products, or amazing gift cards from other stores.