Do you want effortless advertising that is budget-friendly and lasts for a whole year? Then getting custom calendars is the answer.
Custom calendars are great for helping customers recall your brand because they will hang them in their personal spaces, giving you free marketing for your brand. A custom made calendar is a calendar that is tailored to suit a specific company. Printing a custom calendar is an inexpensive and effective promotional tool for both small and large corporations. Things to include in your personalized calendar include: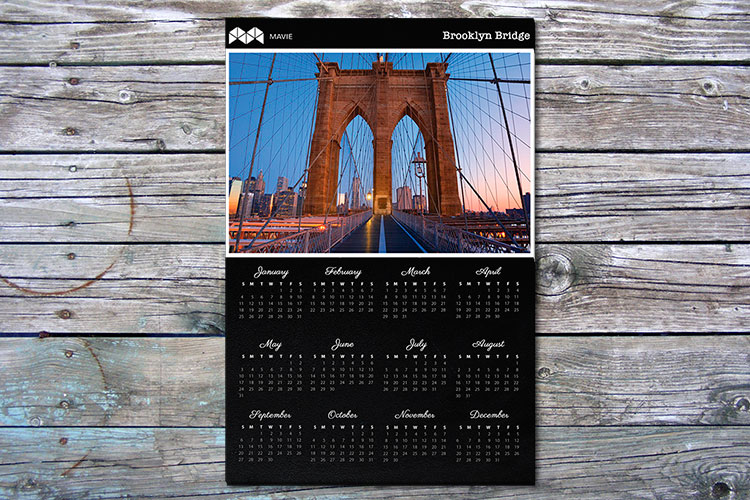 Business name- Your business name should be very visible on your calendar. It doesn't have to take much space in the calendar but it should always be noticeable.

Contact information- Remember you are using your personalized calendars for business. Meaning just like any other promotional tool like a poster or brochure, it should provide your audience a means to reach out to you. This can be something as simple as your email, telephone number, or social media pages.

Catchy graphics- The best and most memorable calendars are those that have a great photo. This is because, apart from making the calendar more lively, they give a business the opportunity to display their products. However, be sure to use high quality photos that are in line with your business and that will best tell your brand story.
Where custom calendars are used
Calendar printing custom can be used in the following areas:

They can be used as office decorations. You can get desk calendars personalized to spruce up your office desks. This will capture the attention of customers while simultaneously making your workspace more beautiful. You can also hang personalized wall calendars to make your office space more unique and professional. It is the little and simple things that make a difference. A custom printing calendar that matches the theme of a certain environment definitely makes the space pop. Be sure to include special events so you don't miss important dates or appointments.

Customised calendar printing is perfect for corporate gifts or souvenirs. Are you stuck on what to give your clients as an appreciation gift that will accompany their packages? Then add custom calendars together with their package. This is a great gift because, on top of it showing appreciation, clients will hang them or place them in their homes which will constantly keep you on top of their minds all year long. You can also use your calendar custom printing to reward your employees for a job well done.
How much does it cost to get your calendars customized
Printing a custom calendar will not cost you a lot compared to what you get in return. Remember this is an investment towards marketing your brand for 365 days a year. Personalised calendar printing varies in price depending on how many you want and the type of calendar. Buying personalized calendars in bulk will cost less in the long run than buying in small quantities as you will get them at a wholesale price.
At 4OVER4, for 25 personalised calendar printing, you get them at a minimum price of $739.80. The price will vary depending on the quantity you want, the number of pages, size, and if you want a hanger.
Getting personalized calendars in bulk will also save you time as you won't have to go back and forth making new copies every other time.
Most popular types of personalised calendars
Here is a list of popular calendars:
Desk calendars- These calendars add style and function to your work space. Most businesses prefer to get these custom calendar printing bulk for each desk to have a calendar. Customize your calendar with team photos or unique designs and take advantage of the three available calendar layouts we have.

Wire-O-Coil Wall calendars- They are placed on walls not only in offices but also in homes. Wire-o-coil wall calendars are particularly resistant with plastic coils, half moon thumb cut and hangers which make them easy to hang and last all year. They are sturdy, convenient and beautiful gifts that work well for corporations and friends or family. Add some personality to the walls with customized calendars -simply add a photo, a logo or a custom-made design and you're done.

Pocket calendars- These are small calendars that are pocket size. They can be carried anywhere and everywhere as they are not bulky, not to mention they can also be rolled. They are ideal for people who are always on the go and need reminders of appointments and events.

Mini-sticky calendars- These calendars are economical and have adhesives at the back that help them stick on any surface. They can be stuck on company tracks and shelves.

Magnetic calendars- As the name suggests, these calendars are magnetic so they stick on magnetic surfaces. These types of personalised calendar printing are commonly stuck in fridges and metal file cabinets.

Reference calendars- These are calendars that are mostly found at business receptions and offices that make appointments frequently. They are used to view a whole month and also have space where one can add notes concerning events of a particular day. They can be monthly, yearly, or even daily calendars.
Get your own personalized calendars in bulk today!
Get your custom calendar printing bulk from 4OVER4! If you buy from us, you will have a pool of options to pick from:
Different quantities- You can get low minimums starting at 25 calendars to 5000 calendars. This is great as you will get them in bulk meaning you will get a good price that will allow you to make a profit when selling them on eBay or Etsy.

A variety of paper types- A cover weight paper is going to be thick, similar in feel to cardstock. Text weight papers are thinner, more similar to catalog and magazine paper. We have 100# gloss text, 70# gloss text, 14pt gloss cover and 14pt Uncoated Cover (30% PCW) for our wire-o-coil calendars. For our saddle stitched calendars we have 100# Gloss Text, 100# Silk/Matte Text and 70# Uncoated Text.

Hole drilling options- You can choose whether to have a hole on your calendars or not.

Proof options- With 4OVER4, you can get free online proof or next-day hardcopy proof before your calendar is printed out. You're assured of getting exactly what you want.

Print turnaround- Time is of the essence and that's why we will work with your schedule. You can choose from 1 business day to 7 business days as your print turnaround time.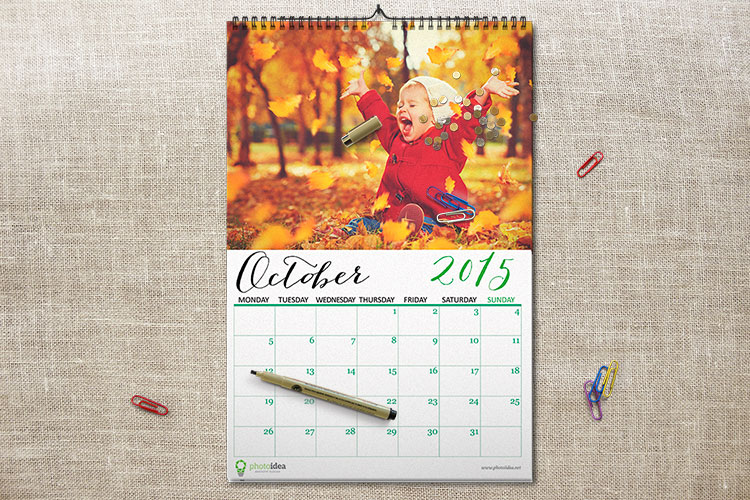 We make our calendars with quality in mind meaning that they don't tear off easily, therefore, making them durable. Getting custom calendar printing bulk will ensure that you have enough calendars to distribute to different clients and employees.
For your order in personal calendar printing whether large or small, consider us as the perfect partner to get it done well and fast. Remember, you get 4OVER4 rewards coins with every purchase you make. These coins will allow you to redeem free business cards, our print products, or even amazing gift cards from other stores. There's great value in shopping at 4OVER4.