Print and digital marketing are often portrayed to be at odds, fighting over superiority in some made-up rivalry that spurs articles discussing whether or not print is dead and why mobile marketing is the best thing since sliced bread. Well, no offense to the writers out there but
, the Printing Industries of America found that 67% of online searches are driven by offline messages, with 39% of shoppers making a purchase
. According to a study,
websites supported by catalogs yield 163% more revenue than those not
supported by catalogs. In addition, shoppers who receive a direct mail piece directing them to an online site spend an average 13% more than those who do not receive a printed piece. And even the search giant Google is using direct mail to drive sales, so why shouldn't you?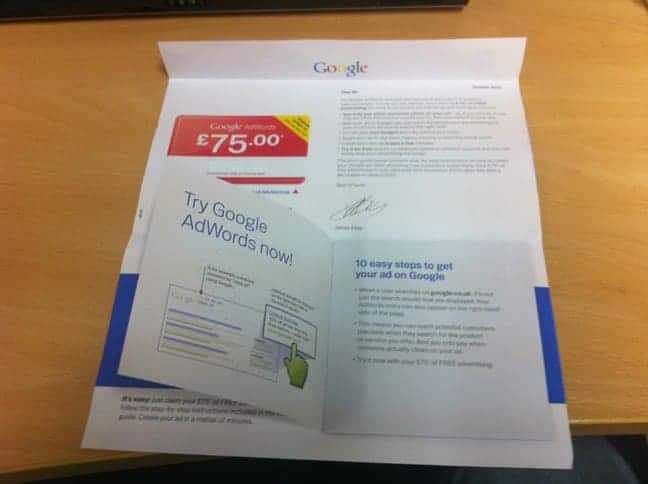 Google Understands the Power of Print
Taking advantage of multi-channel marketing, Google uses direct mail pieces to sell digital services. Google's tactile marketing techniques to drive digital action are great examples of how the two mediums are best together. Amazingly, even Google, the powerhouse of the digital ecosystem, understands the power of print as it's more engaging and impactful. Google's personalized offline pieces tease with tips, tempt readers with gift cards to redeem online, always speaking directly to each business. Even if your business isn't as highly recognized as Google, all businesses, no matter the size, should rely on multi-channel marketing. Therefore, if you want to stand out from your competitors, you must combine print with digital in order to have a greater impact and reach.
How to Use Direct Mail Effectively
Now that we've discussed the power of print, let's talk about a few tips to help you use direct mail effectively, getting the highest response rate possible.
1. Define Your Target Audience
Spend as much time as you need figuring out which companies, freelancers or customers you need to talk to. People who don't define their audiences clearly can have awful response rates. Whenever you have your target audience defined, create the right list to talk to your target audience by working with a data company. Keep in mind that you must be willing to spend more time and money on a highly targeted list. If you can't afford that, directly mail the list you made with highly personalized envelopes or postcards.
2. Match Your Promotion to Your Target Audience
Make sure to offer your target audience something they truly want if you're going to make a promotion or special offer. Even if this seems obvious, sometimes this basic element is neglected. Keep in mind that you must always offer something really unique, instead of something ordinary that they can either get themselves or your competitors are using already. It's imperative that your special offer or promotion has a deadline so that customers don't' set it aside and call right away.
3. Offer Several Ways to Respond
Give your clients numerous ways to follow up with you as not everyone responds the same way to an offer or promotion. Just make sure to include a call tracking number on your direct mail piece's call to action. Check out the different ways you can provide people to respond:
Create a landing page on your site with engaging content that gives readers local numbers to call.
Create a video on one of the landing pages to enhance the connection with your potential customer. Make sure to add the custom tracking number along with a contact form in order to be able to tell who is coming from which direct mail piece in particular.
For those readers who love the mail, give them a way to mail something back to you.
4. Test a Small Demographic
If you want to see how different messages work before making an investment, test a small demographic- that's one of the greatest things about direct mail marketing. Start by sending different messages to different groups in your main list. After you've determined the one that works best, go all out with the long mailing list.
5. Track, Track, Track
It is absolutely crucial that you track what is being done with direct mail advertising. Get a telephone call tracking number and check out the analytics to see what direct mail pieces worked best. If you have landing pages, a separate tracking number must be created.
6. Be Consistent
Even though direct mail provides businesses with great rewards, you must be consistent as customers aren't delivered magically. Create a powerful marketing strategy by performing several mailings to the same list over and over again. This builds on your message wonderfully.
7. Convert Responses to Clients
After you've done everything in your hands to generate a great response rate, the final task is to convert those responses into loyal clients. That's why it is absolutely vital that the people answering the phone or meeting with them are well trained and get this part right. Since your company's sales team is the first interaction potential clients have with your business, you must make sure they know exactly what to do. Do you want to ensure your team is properly handling this important role? Record your sales calls in order to listen to each call when you have a chance. This way, you can see how each call was handled and further train your staff to enhance customer service. We hope this blog post comes in handy. As you can see, you have an effective, successful direct mail campaign on your hands. Just make sure to have a coordinated effort across your direct mail and emails. If you want your message to get through and people to take the actions you desire, you must be coordinated across print and electronic communications. Ready to start your direct mail campaign? Start with to-the-point postcards and go from there. Choose between 
3D postcards
, 
die cut postcards
, 
folded postcards
, 
mini cards
, 
oversized postcards
, 
postcards
, 
the prestige collection
, 
silk postcards
, 
soft touch postcards
and 
spot UV postcards
.