What does it mean to you when you hear Die-Cutting? It is a process of fabrication that involves different specialized machine tools used to transform the material by shearing, cutting, forming, and customizing to an array of shapes and sizes. Apart from being customizable, it is also a versatile application process, suitable for a range of materials. The custom-designed dies are attached to a specialized tool and die cutting machine to give shape to the excellent designs out of the stock material.
With such versatility, this technique can help you improve your already creative business cards. Wondering how? Business cards and other marketing materials like postcards, posters, wall graphics, etc. are some of the most affordable and eye catching marketing tools for any business. Being one of the most unique ways to enhance any kind of material, the die-cut process can help create some of the most unique shapes and designs and a great first impression.
4OVER4.COM offers a range of products including die-cut business card, custom die-cut hangtags, die-cut posters, window clings and more that create demand and buzz among users. Do you want to create an exclusive space for your business? Learn more about the capabilities of this process and application by reading on.
Cutting Capabilities of The Die-Cut Process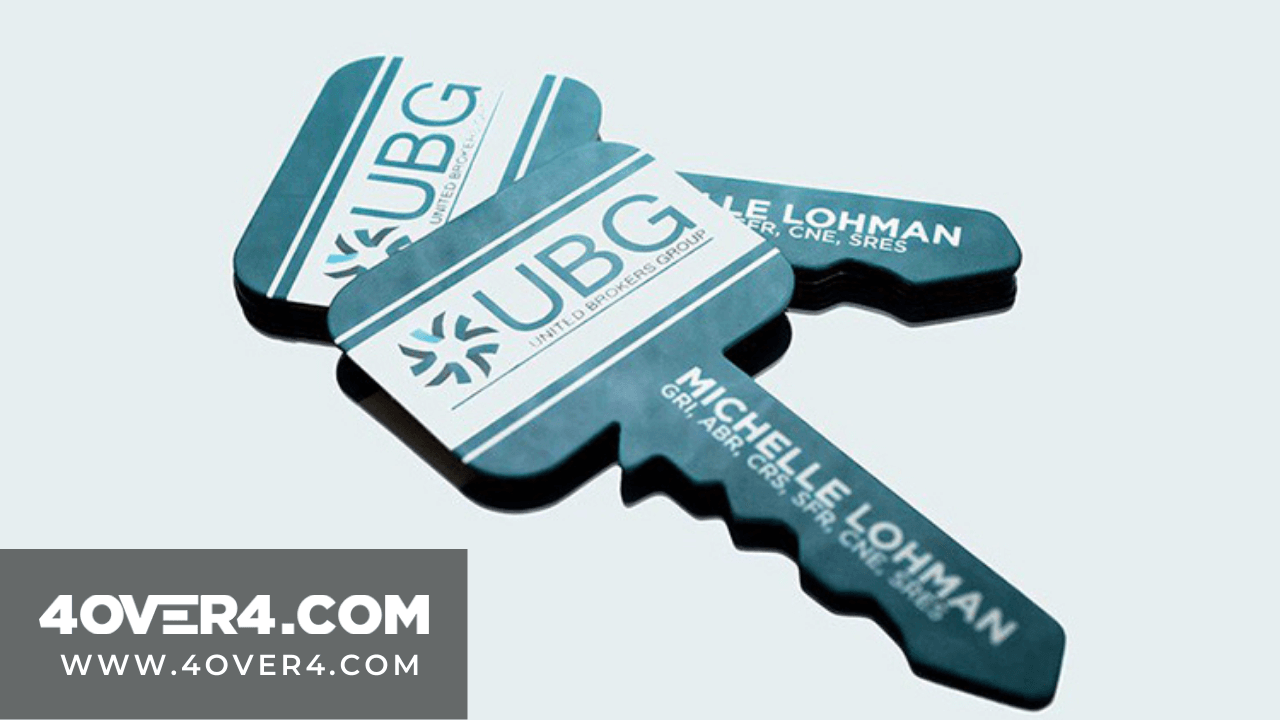 Die-cutting requires a range of printing techniques and a host of applications to produce the extensive product range. The 4OVER4.COM team is well versed with every nuance of the custom die cut business card applications and offers great range die-cut business cards, invitations, hangtags, and more. The cutting capabilities of the die-cut process and application include-
Through Cutting – Through cutting is also known as metal to metal die-cutting where the complete material is cut according to the custom design. In through cutting, the die-cut design or shape is completely removed from the stock material.
Kiss Cutting – In kiss cutting, the custom design is cut through the adhesive layers and the face. But, it is not cut through the backing material layers. You may remove the back layer easily but cannot fully separate the die-cut design from the stock material.
Perforating – In this die-cut process and application, a sequence of punched in holes are produced that fix the die cut design on stock material. Along the perforated lines, you may separate it from the stock material but cannot fully remove it.
Other abilities this process offers are creasing, scoring, bending, swaging, broaching, curling, and coining.
Uses of Die-Cutting for Business
There is a range of die-cutting processes and applications that include rotary, flat-bed, and digital. Each die-cut process has its own benefits in terms of material abilities, costs, output, tolerances, and manufacturing applications. 4OVER4.COM is not limited to just standard die-cut, but also our team can custom die-cut any shape you want. The various kinds of die-cutting are:
Flat-bed – Also referred to as the steel rule process, it uses the flatbed die-cut custom label printing and press steel rule dies to transform the stock material into different designs. For working on the thin materials and short productions, this process is the ideal one.
Rotary – In this process, the cylindrical dies are attached to a rotary press in order to convert the stretchy material. The application that requires high accuracy and precision in designs and also has high volume production depends on the rotary die-cutting process.
Digital – In the digital process, various designs are made from stock materials without the use of dies. It functions on lasers controlled by computer, blades, and tool bits for producing scores, creases, and cuts. The low shear materials that require instant lead times and economical prices while keeping high accuracy needs digital die-cutting application.
Benefits of Die-Cutting in Business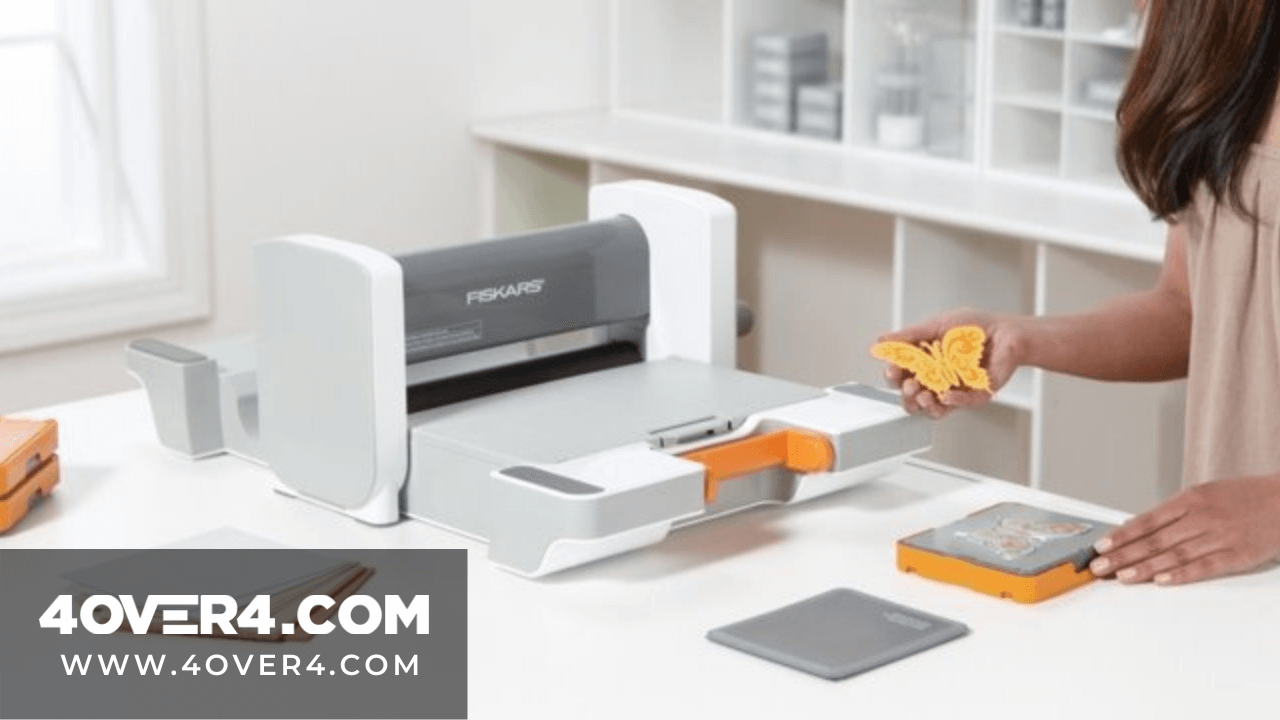 Why do you need the die-cut process and application in your print strategy? It has several creative and practical uses when applied in professional strategies of printing. You may use the die-cut process for embossing logos of your company on various office stationery like pens, coffee mugs, dairy, etc. and also in a range of mass production for gifting purpose to your clients. You may use this process to design an out of the box business card to engage your customers and create a great first impression.
Here are some of the reasons why die cut process and application can help your business –
Distinctive – If you want to make your business stand out, opt for the die-cutting as it helps you to personalize the brand designs and shapes. For example, normally you might have had a rectangular shaped business card. But, the die-cut tools allow businesses to create business cards in any dimension or shape.
Persuasive – Your business can get easily noticed because the die-cut process allows you to create a unique business card design. It offers a range of design options and flexibility that are unmatched and exclusive to each brand. Die-cutting is a cost effective way to enhance your products and make them more compelling.
Appealing – The die-cut application in printing helps your brand to create engaging and interactive features making it more appealing to the users. You can draw the customer's attention and engage them by implementing various shapes, ultra thick cards, and cut-outs in your project.
Effective – When you think of print marketing, die-cutting is the best and the most effective choice. One punch is enough for the die-cut process to create numerous uniform cut-outs. As you just need one tool to make the cuts and less wastage occurs, often die-cut is considered a less expensive option.
Customized Die-Cut Cards Online
Are you looking out for some exclusive designs to be printed on materials other than paper? 4OVER4.COM offers die-cut printing that is completely apt for printing die-cut roll labels, die-cut round business cards, die-cut decals, and several other unique choices. With our fast turnaround times we can meet any of your printing needs.
Even if your choice is not available within our standard list of available die-cut options, you can order custom die-cut from 4OVER4.COM now. By filling a simple form with all your requirements and specifications, you can receive your custom die-cutting marketing material online and get it delivered at your doorstep. Order your customized die-cut material now, and get noticed within your industry.