The product's appearance plays a vital role in the modern world of marketing. People examine the products several times, even before it reaches the store shelves. As soon as the product is launched, the buyers start their research work. It is because there are several companies offering similar products with different names. In such neck to neck competition, high-class finishing of the product becomes mandatory, and labeling plays a significant role in it. But why should you choose waterproof
labels or vinyl stickers
over simple paper labels?
Waterproof Labels Vs Paper Labels
[caption id="attachment_14377" align="alignnone" width="1366"]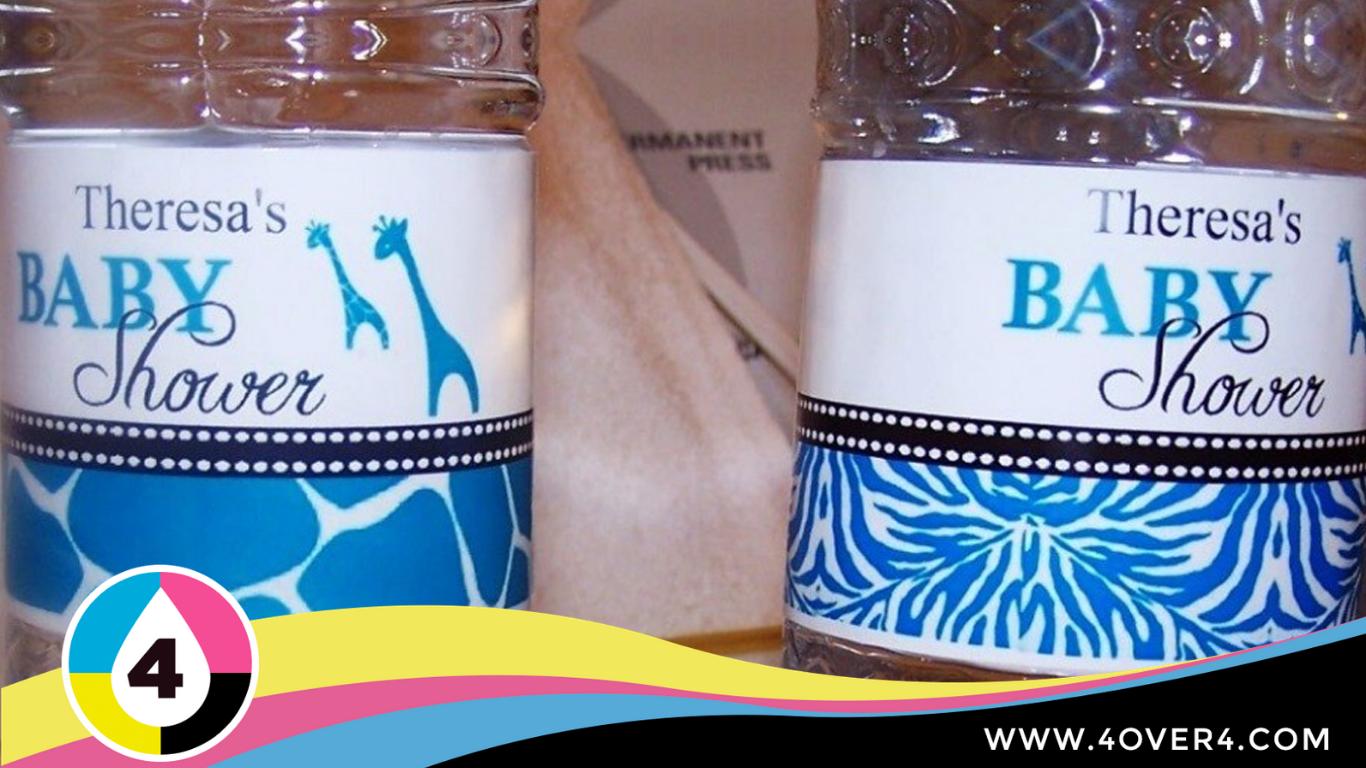 Matte laminated custom waterproof labels on shower gel jars[/caption]
Source
Vinyl or coated labels are waterproof, tear-resistant, weatherproof, scratch, and UV-resistant. It is only the polypropylene vinyl that safe to use and recyclable when it comes to packaging choice. Though the vinyl
clear waterproof labels
are a bit expensive than the paper labels, the benefits and uses of waterproof labels remain unmatched. People love the plastic like clear finish of the custom labels over the paper finish. On the contrary, the paper labels can easily tear or get wet. Although matte or gloss laminate finish papers look good, they are not sturdy enough. The waterproof labels are generally reliable, durable, and best for outer packaging. 4OVER4.COM is one of the leading and trusted online platforms that offers all types of custom labels like coated, uncoated, vinyl, semi-gloss, clear, and fluorescent custom printed labels. Read on to learn more about the uses and benefits of printing waterproof labels.
Benefits of Water-Resistant Labels
The waterproof labels are highly durable
Even in extreme temperatures, the water-resistant labels can hold up
Any customized printed information or Logos remains legible in spite of the harsh weather or outdoor sun rays
Irrespective of the wear-and-tear, the adhesive labels are strong enough to endure for a long time
No need to sacrifice the aesthetics to make the labels functional and strong because the labels are designed to be highly sturdy and durable
Along with the strength of the waterproof labels' material, the permanent adhesive is also strong enough to endure long-term wear and tear
The water-resistant labels are environmental-friendly and reusable, which reduces the need for harmful and expensive waterproofing sprays
When you choose 4OVER4 for customizing and printing waterproof labels, you can be assured of the color – it will never runoff and is completely smudge-proof
You can easily make the labels rub-proof to prevent them from worsening
Uses of Waterproof Labels
[caption id="attachment_14376" align="alignnone" width="1366"]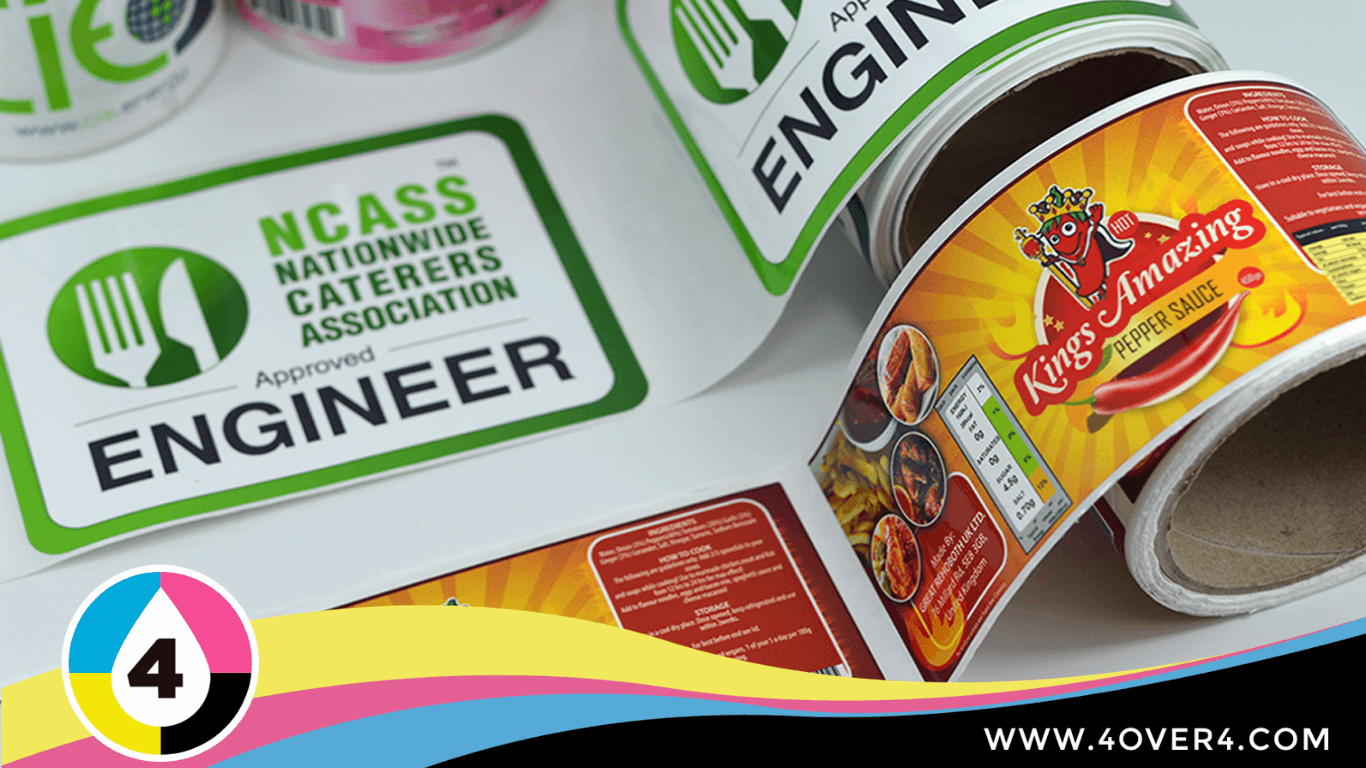 Waterproof stickers[/caption] There are several uses of waterproof labels and have become a very popular option in the recent times. The versatility of the end uses makes the water and weather-resistant labels one of the most preferred choice for packaging. Here are some of the uses of water-resistant labels.
Use of Waterproof Labels in Food & Beverages
Are you selling drinks or food that you need to store in the fridge? You would definitely like to ensure that your labels don't come off when you hold it with wet hands. You would also like to check that the labels are in place while condensation takes place from going in and out of a refrigerator. 4OVER4 offers attractive waterproof stickers and labels to help you advertise your frozen products like jelly, jam, sauces, etc.
Body and Bath Product Labels
Any products that need to be placed in the bathroom or by the washbasin or sink needs to have proper packaging label. When the label is waterproof, it can endure the soap residue, heat, and humidity of baths, and also if there's any wetness on the lotion bottle while you hold it with wet hands.
The Coats and Jackets for Children
[caption id="attachment_14375" align="alignnone" width="1366"]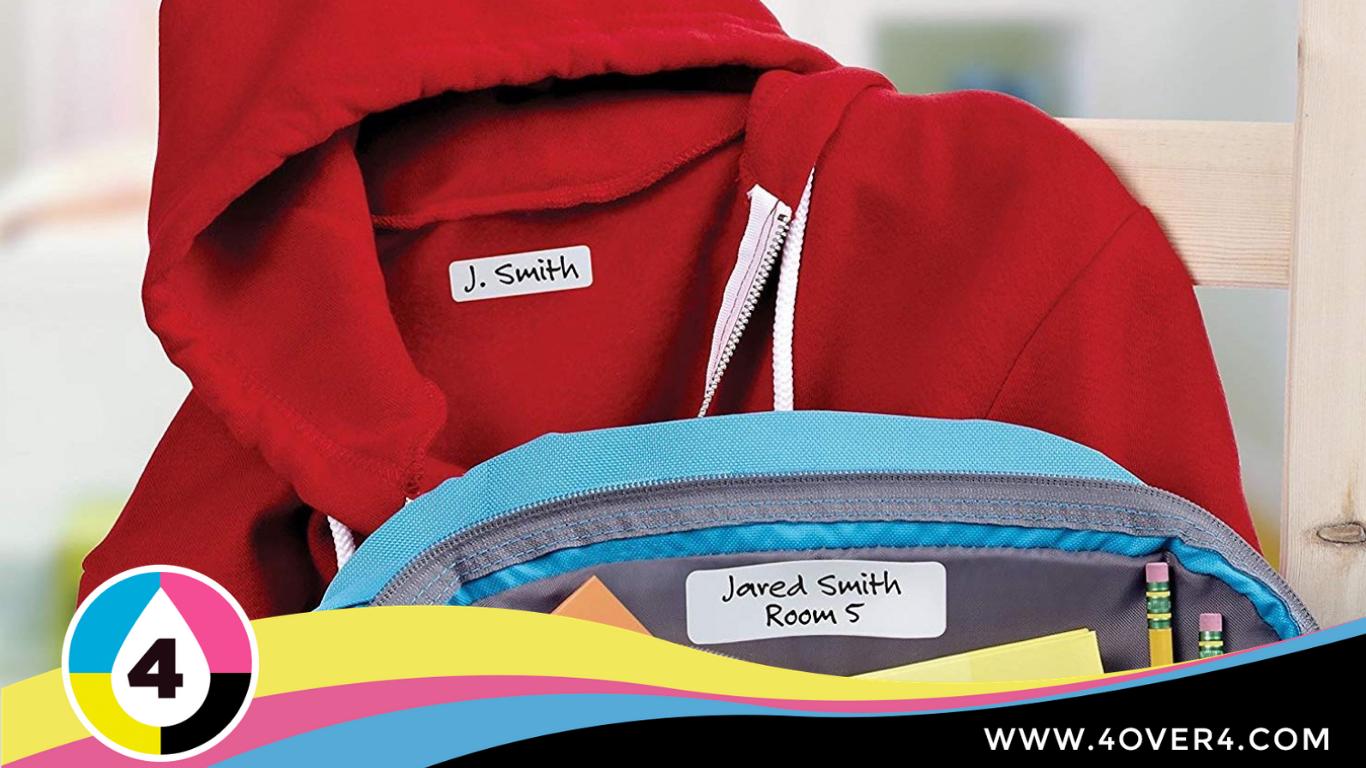 Water-resistant labels on kids bags and jackets[/caption] You must have noticed that small children usually wear similar looking jackets, so it is essential to make it identifiable. Labeling or color-coding the jackets from outside helps the children to quickly identify their things, especially if they are too small even to read. Children often tend to spill water on their clothes, and thus, a waterproof label is a must.
Boating Supplies Need Waterproof Labels
Do you have a boat or a ship? For designing the boat or labeling the boating supplies like tool kits, lifejackets, etc., the waterproof labels are a great option. When you add picture stickers or labels, you can keep track of your things easily. It also communicates the ideas quickly which is needed when you are on open water.
Outdoor Dangerous Equipment
Safety must always be of prime concern. Therefore, whenever you need to put up any instruction on the outdoor equipment that might lead to danger, considering waterproof sticker labels printing is the best thing. High-pressure washers are one such power equipment that needs to have water-resistant labels.
Outdoor Vehicles and Machinery
[caption id="attachment_14374" align="alignnone" width="1366"]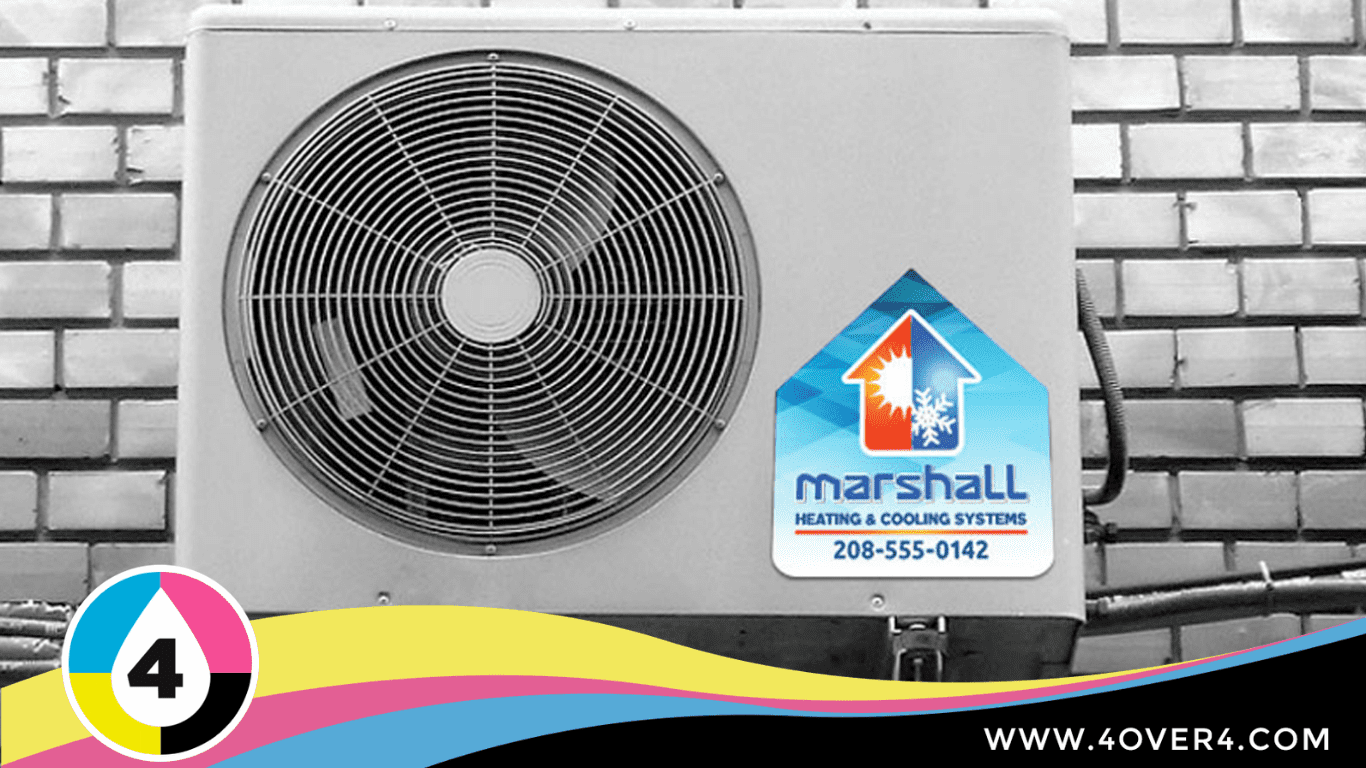 Water-resistant labels for outdoor machinery[/caption] By using sturdy and robust labels for identifying your vehicle or outdoor machinery, you can safeguard your assets. When you use the these labels, sunshine, rain, or snow cannot affect it. Added UV resistance makes the stickers last for several years. Whether custom print
wine labels
or premium roll labels, 4OVER4.COM is an online platform for high-quality printing labels for both personal and business needs.
4OVER4 – Customization at its Best
If you want to get the best water-resistant labels, choose from our wide-variety of
Premium range of waterproof labels
. 4OVER4 offers you superfast turnaround and same-day delivery. Get in touch with our professional and friendly customer service team for any queries related to your product. Order your customized waterproof labels now and ensure an attractive look for your product packaging.