Your business cards reflect you and your company. It tells a story about who you are and what your business is all about. And, most importantly, it helps you make a great first impression.
Are you still flinging flimsy, 12pt stock business cards? It's time to create beautiful, affordable cards that stand the test of time, and stand out in a stack. Are you ready to make a great first impression with a perfectly designed and crafted luxury business card?
Now it's time to dive into the details. Do you want a silk laminated business card that runs smoothly through the fingers and flashes a little shine? Or perhaps you need something a bit heavier to make your business stand out in a recruiter's pile.
Regardless of how you want to make your mark, you can find a wide selection of magnificent materials and finishes at 4OVER4.com. Keep reading to discover the benefits of a luxury business card design and a few of our favorite business card materials and finishes that will help you stand out.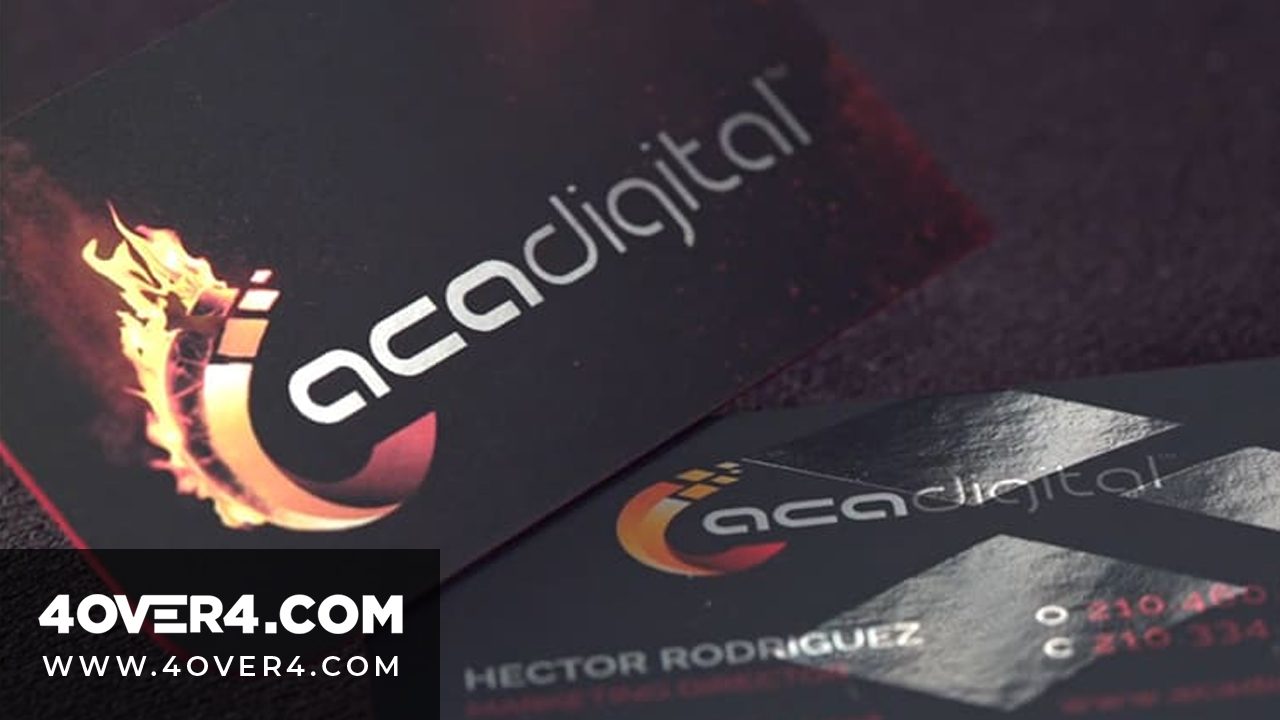 The Benefits of a Luxury Business Card
We carry a wide array of business card printing materials and printing finishes, from silk lamination and spot UV coatings to metallic foils and stand-out embossing. Before we run through our 5 favorites materials for luxury business cards, let's look at the benefits of using premium paper, full color printing, and luxury finishes. A luxury business card will:
Make you stand out. Let's face it, when it comes to interviews, networking events, and conferences, cards are all too easy to discard. You need to stand out in the crowd. Thicker, higher quality paper and premium finishes look and feel different enough to set you—and your business—apart.
Give a great first impression. A great business card speaks volumes. Lamination and metallic foil are two ways to catch the eyes and make a lasting impression. 4OVER4.com offers a range of colors, materials, styles, and finishes helping you make a lasting impact.
Serve as a touchable, tangible reminder. When considering business card materials, never underestimate the sense of touch. Soft-touch coatings, embossing, and lamination can spark subtle emotion and communicate value in different ways. Few finishes surprise and delight more than our velvet laminate, which replicates the feeling of suede.
Give you an edge in more ways than one. Have you considered an edgier look? From artfully painted edges to rounded plastic, you can always draw the eye and delight the touch with clean, beautiful corners. Rounded edges and thicker paper really stand out, and above, the competition.
Look great. In the end, you want your business to look and be the best it can be. A polished, premium business card can help enhance your reputation and accelerate your career.
Gloss, Velvet, and Silk Laminated Business Cards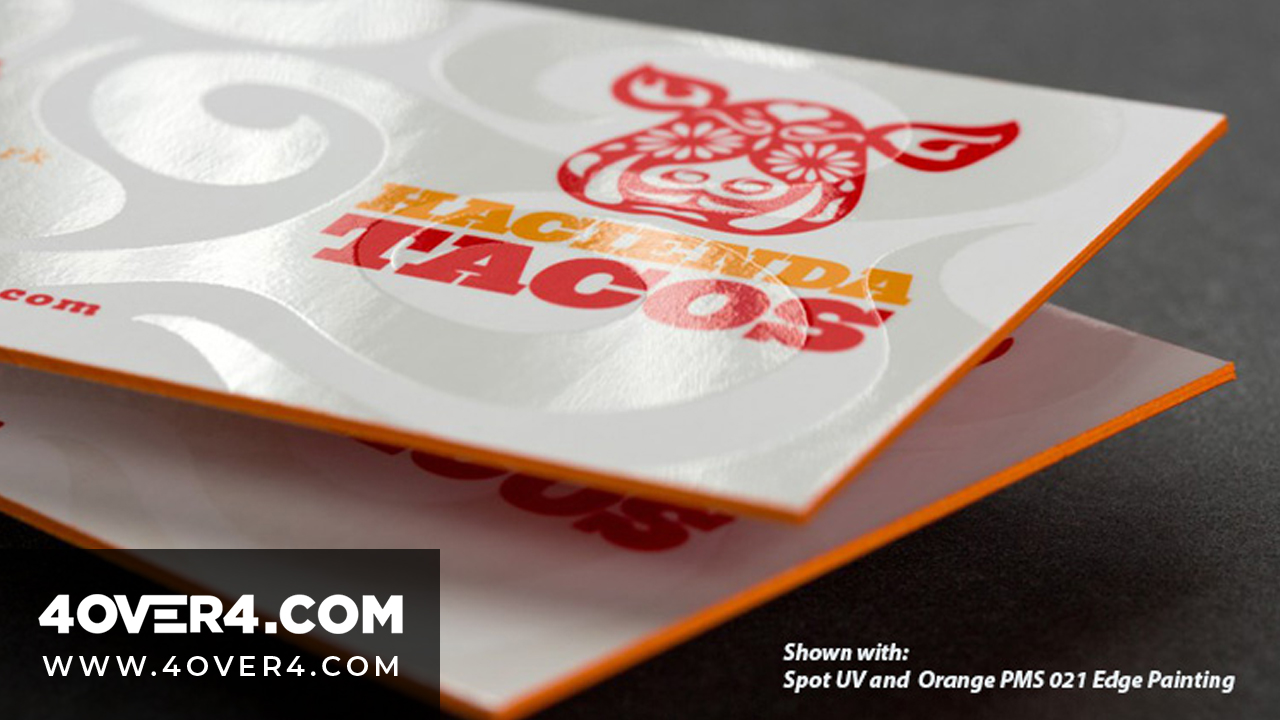 Our luxury lamination is a sure-fire way to please the eye. So, which laminated finish should you choose? It's a matter of purpose and preference. Let's start with gloss and high gloss.
Our bold, thick, and vibrant gloss laminated business cards boast luxurious, double-sided lamination with optional rounded corners. Gloss is a classic look, especially for seasoned professionals. The finish provides a timeless, elegant touch.
We don't like to pick favorite finishes. But if we did, it just might be silk lamination. Silk coatings create a luxurious, matte finish, enhancing look and feel while increasing tear resistance.
If you want your cards to be both durable and unforgettable, opt for our velvet business cards. It's scratch-resistant, suede-like finish makes it a step above all others — even silk. The finish softens colors and reduces contrast for a lighter appearance.
Edge-Painted Business Cards
A colorful edge can really set you apart. Standard business cards are printed on lightweight white or off-white paper. A painted edge can create clear visual separation, captivating the eye and holding its gaze.
Our edge painted business cards are the highest in luxury. Using 32pt ultra-thick and Ultra White card stock, our edge painted cards feature artfully colored edges that convey one-of-a-kind style. Thanks to the bright edge tones, these uncoated, premium business cards can stand out in any crowd.
For a multi-toned edge, you can add color insert seams to select luxury business cards at 4OVER4.com. We also offer a wide variety of colors to suit your needs and preferences.
Black Business Cards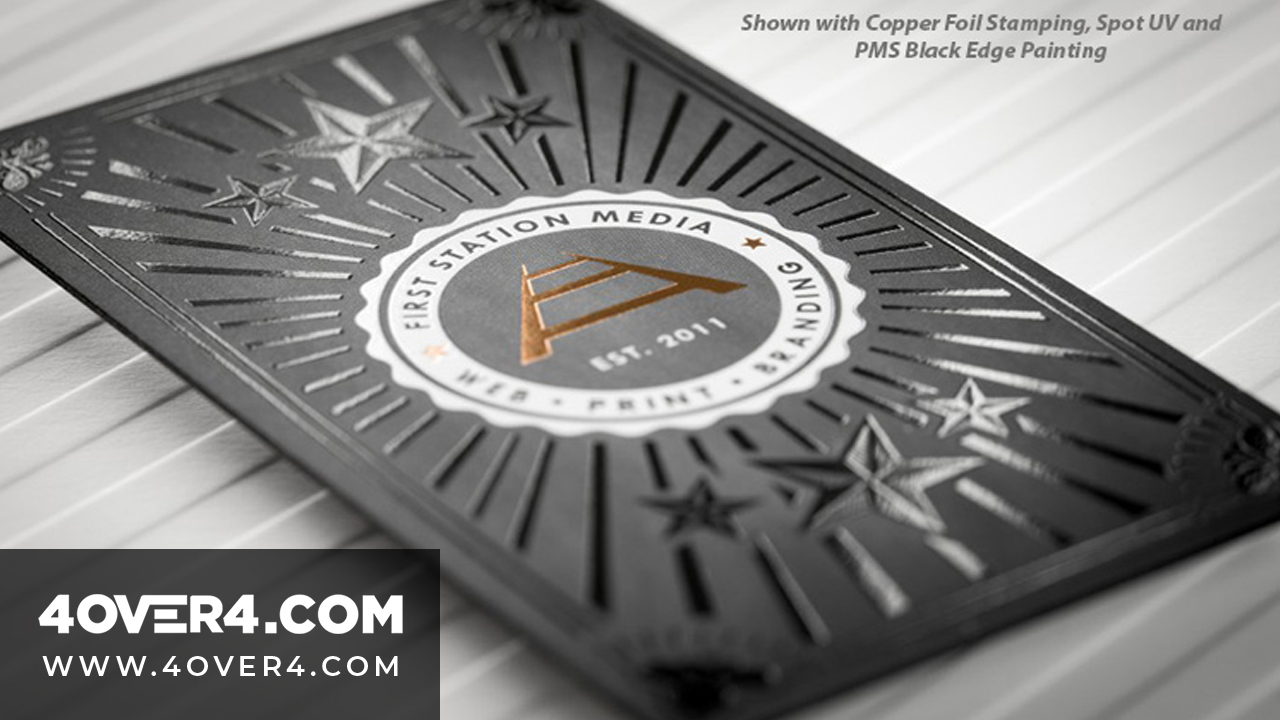 Black business cards exude power, professionalism, and prestige. And nothing catches the eye quite like white text on ultra-thick premium black card stock. Black also conceals wear and creates a certain level of intrigue and an unmistakable sense of refinement. Whether you choose to go with all black or black with white edges, there's no denying the allure of impeccably printed black cards.
Ultra-Thick Uncoated Business Cards
Is thicker better? It just depends. In the case of ultra-thick cards, however, we would have to say thicker is better. While edge painted cards stand out for their color, ultra-thick business cards make an impact through their weight, "hand-feel," and texture.
If you want to stand tall in a stack of competitors, try our ultra-thick cards from the Premium Prestige collection, which features a high-quality paper in the 32-point to 72-point range. This will also increase your card's lifespan, thanks to its thickness of up to 8x that of the standard business card.
Delight-of-Hand: The Soft-Touch and Spot UV Coatings
For minimalist card designs, we recommend soft touch printing. Known for its velvety finish and delicate, refined tone, soft printing makes cards more attractive and visually interesting. Using fingerprint-resistant paper, a soft touch coating adds a rose-petal layer to the paper, which creates a plush texture. If you go for our soft touch cards, don't be surprised to see potential clients and colleagues joyfully running your card through their fingers.
For added appeal, add a colorful insert seam to your card's edge. Want to make a few more heads turn? Try our spot UV business cards. These smooth and sophisticated cards pair glossy, raised areas with a suede-like background.
Bold and Bright Metallic Foil Business Cards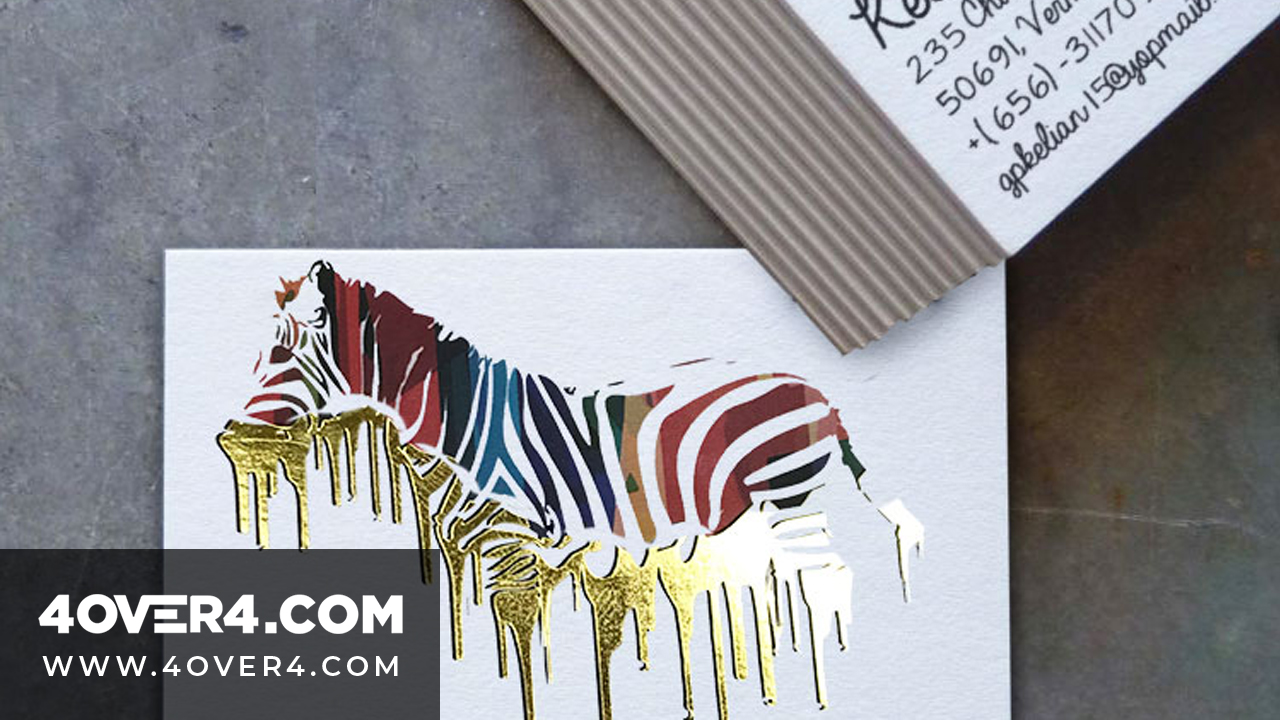 The metallic look isn't for everyone. But if it's attention you're after, you can't go wrong with a metallic foil business card. The shimmer of foil is part crowd pleaser, part conversation starter. Metallic foil business cards feature a metallic finish, also known as hot foil printing.
These remain the most sought-after of all finishes due to their striking beauty and unique, textural accents. At 4OVER4.com we offer gold, copper, red, black, silver, and blue metallic finishes.
The hot foil printing process requires the use of pressure and heat to apply metallic foil to paper stock. Before being heated, an imprint of your card design is mounted on the stamp machine. The foil sheet is then run across the paper's surface, where it becomes affixed when pressure is exerted. The result is remarkable and memorable, with a level of dimension and shine unmatched by any other finish.
Order Your Luxury Business Cards
4OVER4 has been in printing custom paper products for over 20 years. We have remarkable, high-quality products and a devoted customer support team to help you create the perfect promotional items.
From black and embossed to gold and bold, you can find the perfect luxury cards for any of your needs at 4OVER4.com. Browse all our business cards today to make a better first impression tomorrow.