Did you know there is an array of marketing trends being forecast for 2019? Some relate to video advertising.
Others to content marketing and SEO. But they all can help you boost your business. 
Many focus on direct mail and mobile. But, what about print marketing trends?
Even if some people believe print is on the way out, it is still a relevant practice!
In fact, according to
ALLEGRA
, "As marketers look for ways to circumvent digital clutter, they are turning to a tried-and-true channel: print." People even continue to use business cards despite the growth of social media platforms and internet users, showing the power of print advertising.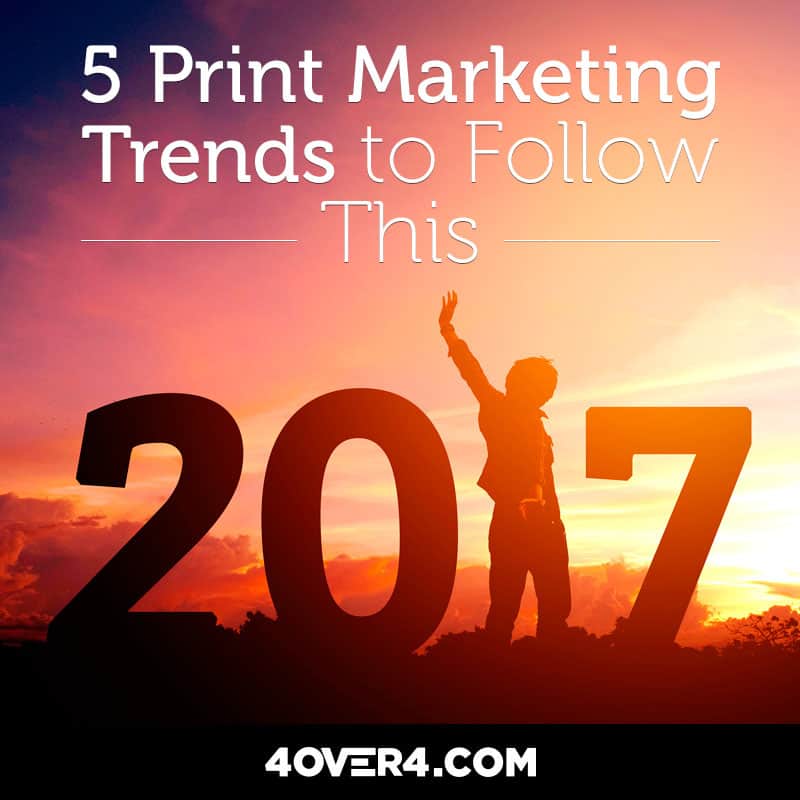 But, why is print marketing so powerful? Because, "print engages more of the senses than digital media, making it memorable. As customers feel and smell paper, they gain tactile memories to associate with you," as stated by 
Katherine Halek on 
Entrepreneur.com.
 As a marketer, you're surely aware that one of the main objectives of any marketing campaign is connecting with customers to build long-lasting relationships.
Using Print Marketing Trends for Unique Campaigns
To be successful, you should implement a wide range of strategies to create meaningful relationships. Every effort must be made to ensure there is something one-of-a-kind about your campaign, something that captures the attention of potential customers. This can be done with many different aspects of a marketing campaign. 
Combining the needs of your customers and the spirit of your business is the perfect way to get the best use from print products. If you're looking to give your print marketing campaigns an overhaul this year, try incorporating these five print marketing trends for 2019.
Trend #1: Personalized Prints
Want to get noticed? Personalize your prints! Consider adding the recipient's name to the design when sending out direct mail pieces like 4OVER4.COM 
custom printed catalogs
, postcards or flyers. Want to go even further and show consumers you pay attention to the details? Gather data about items consumers have been viewing on your website and come up with a curated catalog that instantly reminds them of these items or other coveted alternatives.  
Trend #2: Unique Coupon Codes
Coupon codes have long been used by marketers to attract new customers while dramatically boosting sales. Nevertheless, unique coupon codes offer higher return on investment than generic coupon codes. Why?
Not only do unique coupon codes prevent them from being shared with other customers, they also provide detailed insights, making customers feel truly valued as individuals. Everyone loves a good deal and with a coupon code you can even convince some potential customers that are on the fence. 
Trend #3: Enhanced Digital Engagement
Digital marketing and print marketing should not be viewed separately, but as strategies that complement each other to increase sales and overall engagement. Print marketing trends must be used to effectively drive customers to your social media channels or website, as many marketers view print marketing as much more trustworthy than digital. Perhaps you can offer website users some kind of incentive for their time, from a discount to a gift card – the possibilities are endless!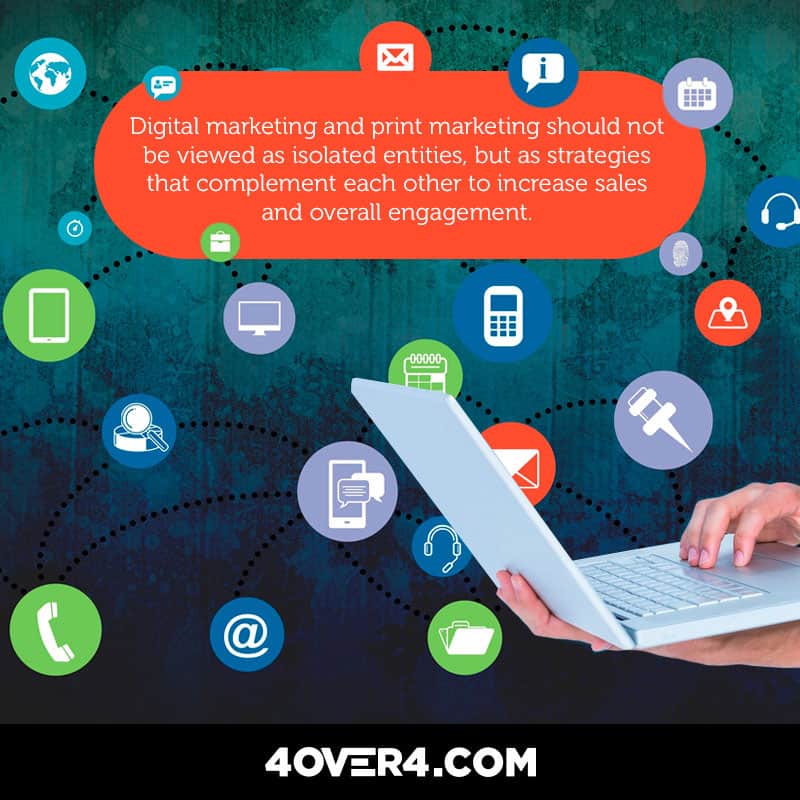 Trend #4: Use of Texture, Color, and Smell
Want your print marketing materials to stand out? Make it appeal to consumers' five senses! After making sure your branding is consistent across all marketing materials,  just add detailed touches such as embossing or debossing, scented paper, intricate folds, special inks and metallic foils to give your
custom flyers
or catalogs a ''collectible'' look and feel. The longer consumers hold onto your printed piece, the more likely you are to cultivate brand loyalty.
Trend #5: Innovative Packaging
Innovative packaging helps brands stand out on the shelves, immediately sparking interest, conversation, and sales. To stand out from your competitors, we recommend following this trend and designing packaging with a strong creative narrative. Just as leading brands do, we suggest using packaging to ensure you meet your business goals. 
To spark dynamic conversations, you might also want to go for large format packaging just as Louis Vuitton and Adidas are doing this year. By following the trend of innovative packaging, you'll excite customers in no time! Every customer will feel special as the packaging is the first element they see.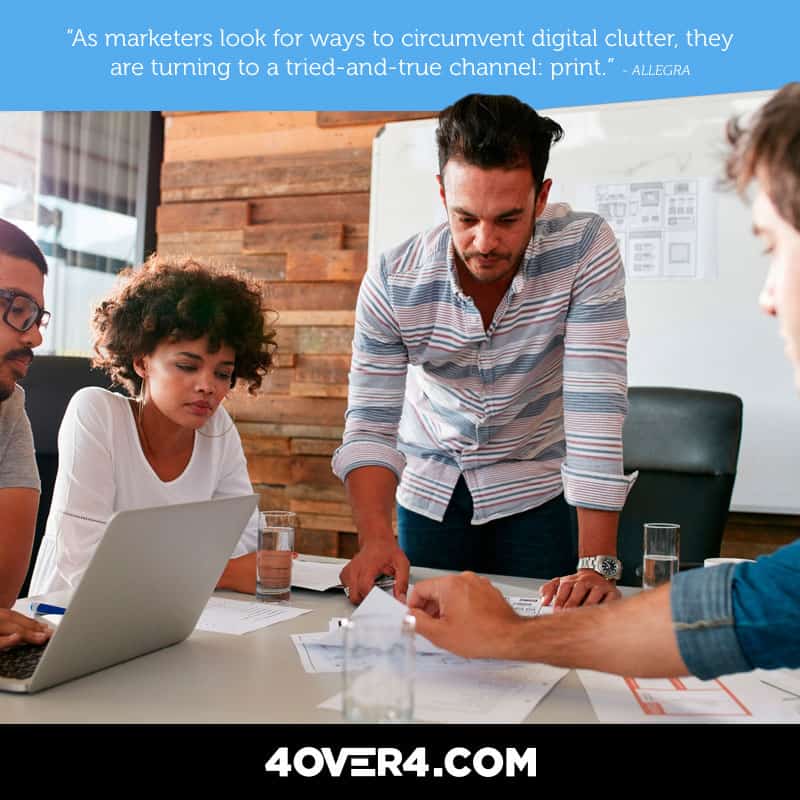 As you can see, these top five leading print marketing trends are helping major brands connect better with their customers and can do the same for you. 4OVER4.COM can help with our extensive printing services from small businesses to any target audience.
Sharing marketing ideas and trends is always a great way to help everyone thrive. Did we miss any trends? What are your print predictions for 2019? Please feel free to kindly leave us a comment below about any print marketing ideas and to continue this discussion.
Don't hesitate to take your marketing campaign to the next level without breaking the budget! Now it's time to
sign up and get 30% OFF your first order with 4OVER4.COM
!