Holographic stickers are becoming a business trend since they make your product and packaging look attractive. Also, consumers associate these stickers with premium brands, and they can be a useful security measure for your product.
They give off a rainbow-like shine when seen under light. When competing products sit on a counter at a supermarket, consumers will pick the product with the most attractive packaging. Therefore the colorful shine of these stickers will catch the customer's eye and help improve your sales.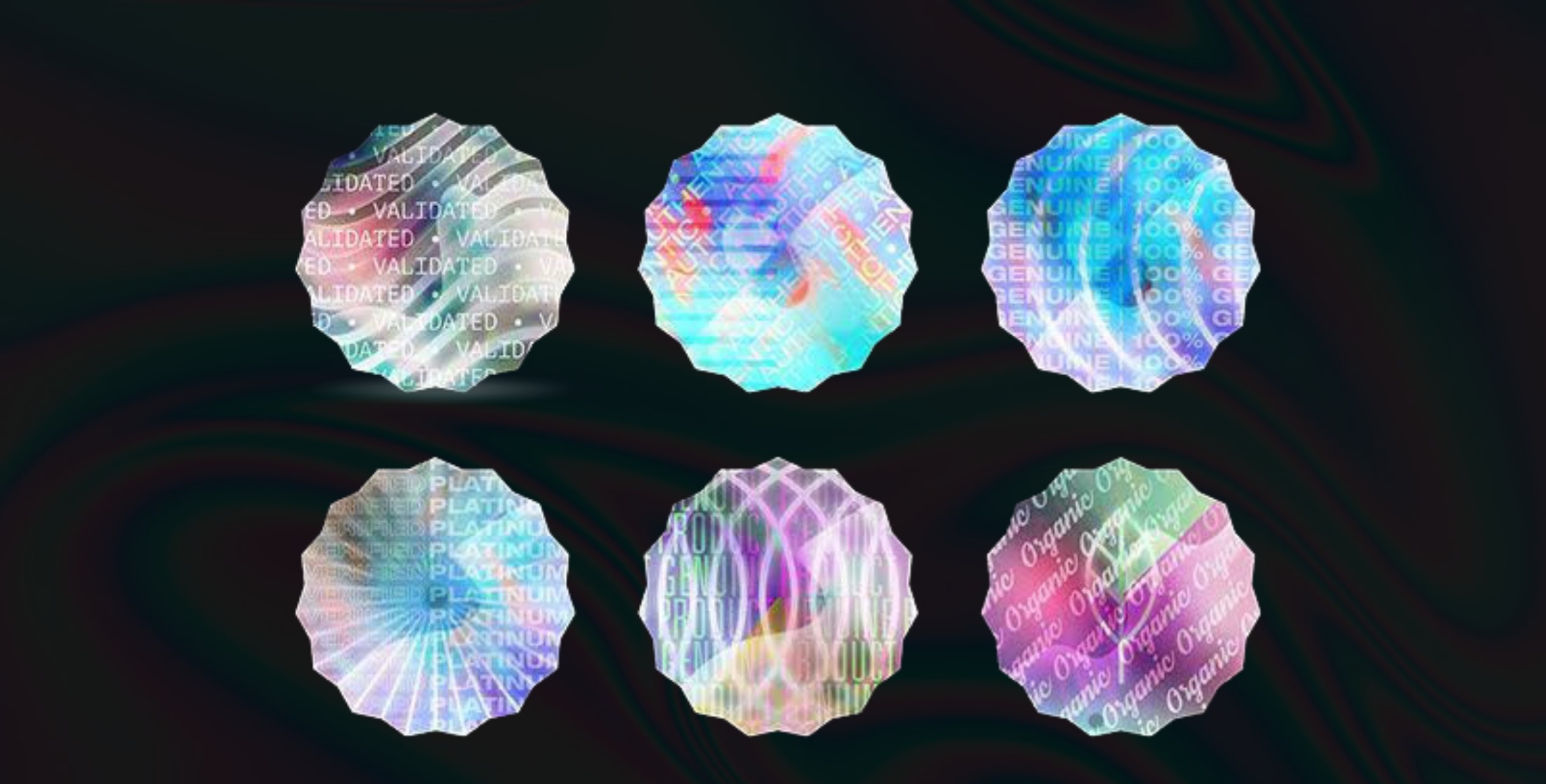 Print brand information such as name, logo, or emblem on these stickers. Also, you can peel and apply these like regular stickers, and they'll adhere to most surfaces. We'd later reveal how to print holographic stickers.
What Are Holographic Stickers?
We print holographic stickers on unique cardstock, so it has a shiny, iridescent glow.
Holographic stickers aren't just fanciful but can serve a functional and crucial role. These custom stickers will help prevent product counterfeiting and can be tamper-proof for your product or packaging.
Beauty brands, pharmaceuticals, and the healthcare industry use custom hologram-printed stickers to help customers distinguish genuine products from cheap counterfeits. Since these stickers are difficult to replicate, and unoriginal brands will simply stop at mimicking your product, but with an absent, or poorly made sticker, customers know the deal. As a result, brands protect themselves, recover money lost to imitation brands, and ensure customer satisfaction.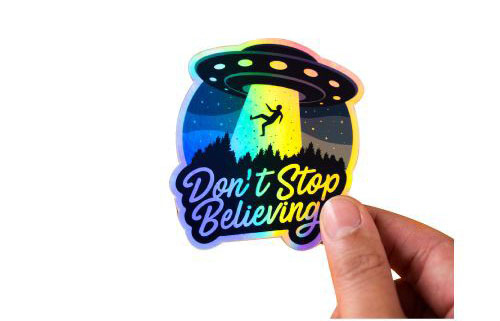 The extra layer of lamination on the stickers ensures they're durable, waterproof, tearproof, and thus suitable for indoor or outdoor use.
So, an effective holographic sticker is:
Impossible to replicate

Durable with strong adhesion

Weather and water resistant

Tamper-proof and

Attractive
How to Make Holographic Stickers with Cricut?
The Cricut machine is versatile and popular with craft making. The Cricut will cut printed designs with precision and uniformity. Hence, you can print and cut stickers, labels, greeting cards, and t-shirt designs from home. In addition, Cricut will cut materials such as vinyl, paper, cardstock, or anything you'd cut with scissors.
The Cricut machine has small blades that move about to cut your designs from the printed material accurately. So they're suited for creating hologram-printed stickers.
After printing out your sticker design on holographic cardstock, use Cricut to cut out the stickers in these steps accurately:
Ensure to place your printed material on the cutting mat, then insert the mat into the Cricut.

Export your design to the Cricut design application. Choose the material type you're cutting and send the design to the Cricut.

Finally, press the start or go button on the Cricut to cut.
That's how to make holographic stickers with Cricut. Ensure to remove the cutting mat when the process is complete.
How To Print Holographic Stickers?
Alternatively, you can order custom hologram-printed stickers on 4OVER4. Visit the sticker product page and choose the holographic sticker product.
Then input the sticker size and order quantity. We'd select the paper type for holographic sticker printing for you.
Next, select a turnaround time and proof option for your order. We ensure your orders are available on schedule, and we'd send you free proof if you choose the online proof option. You can make changes to your proof as you please, and we'd print it when you're happy.

Finally, upload the sticker artwork. Again, we accept popular design formats and recommend a PDF file for the artwork.
Print and cut the stickers yourself. Or order custom holographic stickers on 4OVER4. That's how to print holographic stickers.
Conclusions
Now you know how to print holographic stickers. These stickers will put your brand in a good light while fending off imitation or competition.
Your product packaging may be missing these stickers. So utilize its benefits when you order custom hologram-printed stickers today.