Direct mail postcard campaigns are one of the most cost-efficient and successful ways to promote your business in recent times. Whether a big established company or a start-up, everyone can take advantge of the direct-mail marketing postcards to attract new leads and enhance profits.
Marketing with postcards has also emerged as one of the most significant ways to rope in your targeted buyers to your website. According to the Forbes report, 57% of people consider postcard marketing valuable as it helps in creating genuine relationships. Discover some direct mail postcard design ideas to get a head-start effectively.
Direct Mail Postcard Design Ideas
Simplicity in Direct Mail Postcard Design
For the newbie marketer using a direct mail postcard, the best strategy is to keep it simple. You must decide the purpose of the notecard as clearly as possible. Use the free direct mail postcard templates to help make the process simple. They may seem boring at first, but they also help you come up with the best ideas for postcard direct mails quickly and easily.
Precise and Particular
Whether you wish to create brand awareness, sell a product, invite people for events, or promote a service, you must always stick to one single idea. Your postcard design must have an image, the detail of your company, and a call-to-action. Those 3 elements are enough to convey your ideas to your target audience. Trying to say more through these 5.5 x 8.5 direct postcard mail marketing campaigns can ruin the primary goal of your postcards.
Avoid Designer Cost
You can avoid the cost of designing the direct mail postcard by choosing from various postcard templates available online. You can find multiple online sites to choose your postcard mailers. For instance, 4OVER4.COM has a range of custom postcards, card stock options, and more. We also offer wide-ranging design print options like 3D, raised spot UV, folded cards, etc.
We provide clean, industry-specific, and hundreds of professional direct mail postcard size template designs for print and mailing services. This way, you can create customized ready to mail postcards in just a few minutes instead of spending a lot of time trying to brainstorm design ideas for postcards.
Specific Reason Based Postcard
The card mailers with a particular interest like "10% off on your next purchase" or "Thank You for Your Business" are all reason based postcards. It has a specific purpose and a call to action. Giving a brief about your business or your products is not enough. You must be able to attract and motivate potential customers to get back to you or your website.
Such ideas help you to get started with effective marketing mail. Check out some inspirational direct marketing mail designs to help with your next campaign.
7 Inspirational Designs for Effective Direct Mail Postcard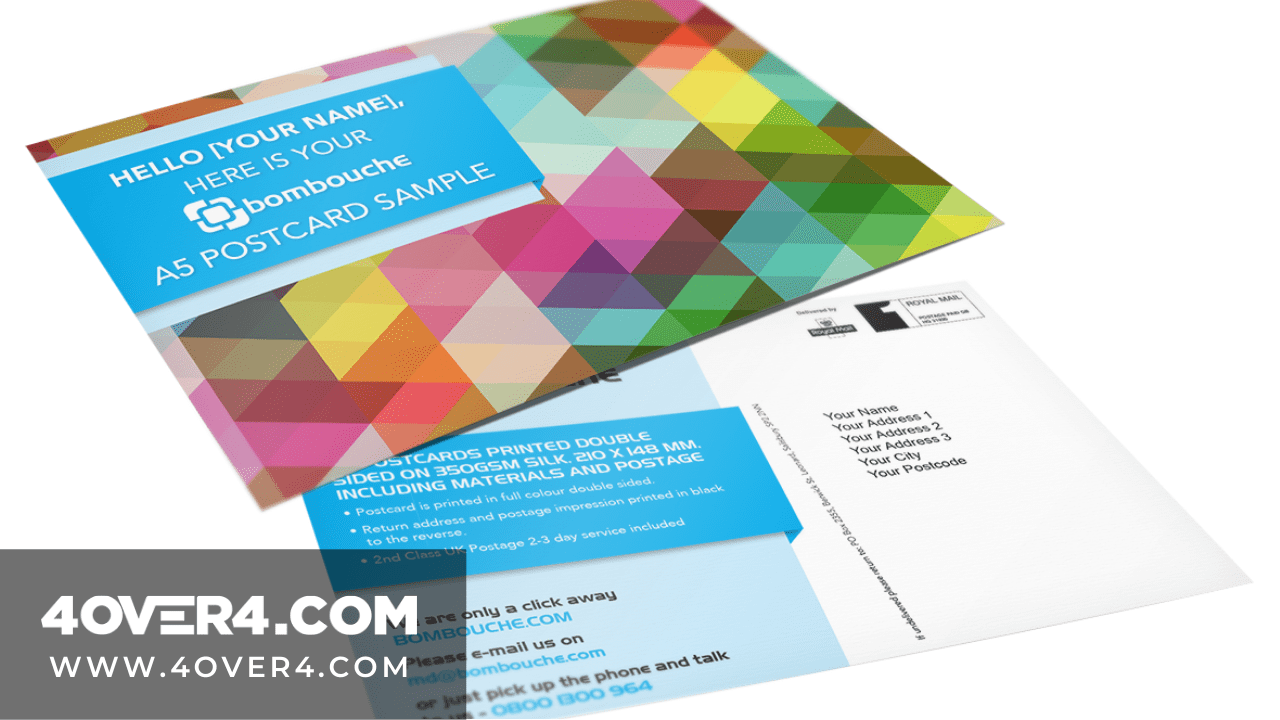 Skoda Direct Mail Postcard
In this Skoda postcard, you can see a penny added on it. The penny helps to raise the inquisitiveness of the customers and also draw their attention. It is something unusual, and people would love to know more about the penny. It is one of the ways out of many to invoke interest successfully.
Kaufman Dental Postcard
Kaufman Dental's hilarious direct mail postcard for dental implants is a mix of wit and the general human instinct for grabbing the attention of the readers. When you successfully use such humor to build your brand, you can easily retain your message as well as share it on social media.
BITE Marketing Postcard
This BITE postcard gives a feel of the bite on the postcard with cutouts. The die-cut cards are a great way to attract the viewer's attention, stand unique, and boost your brand.
Smart Car Direct Mail Postcards
When marketers want to endorse big and oversized products, they often make use of the size. Like the marketers used mini postcards to advertise how nimble and small smart cars are for the cities. The small full-color postcard size also helps you to stand out.
Optical Direct Mail Postcard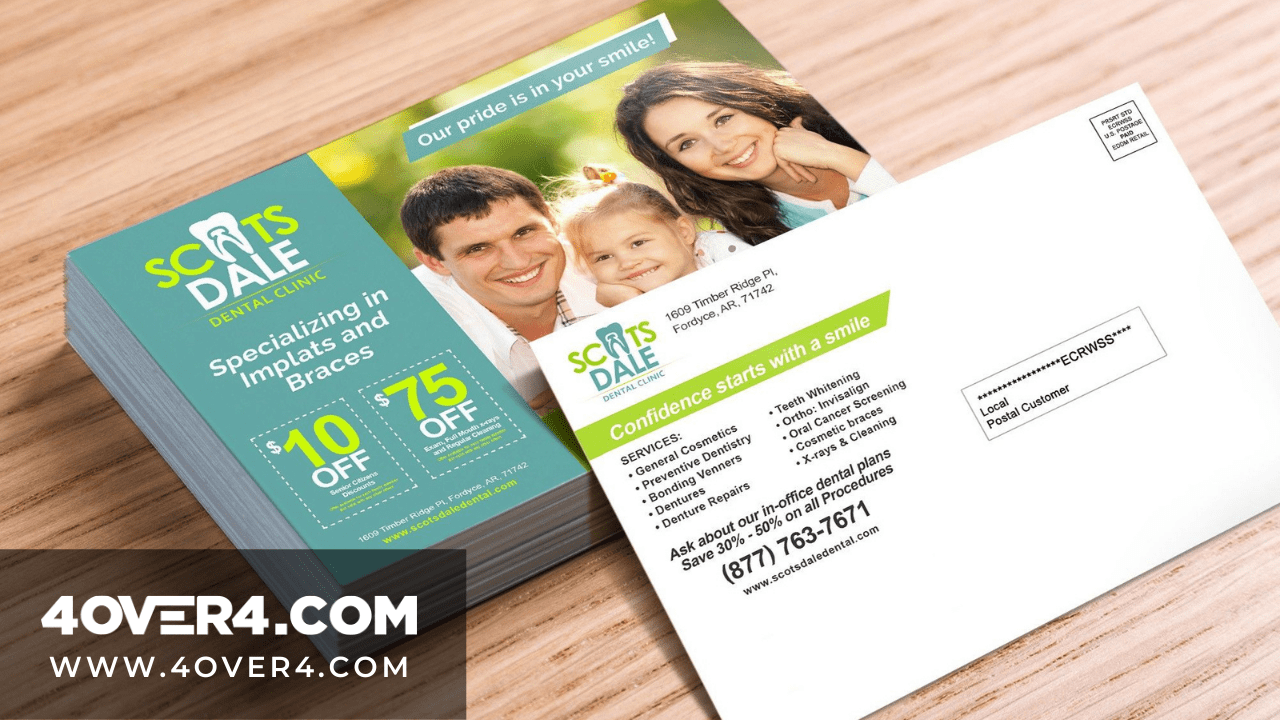 This personalized direct mail postcard can make your client's special day even more happy and distinct. Not just the message on the postcard, the timing of sending the message or offer matters a lot too. When you send the marketing mail postcards on your customer's birthdays or anniversaries, it makes a more significant impact.
Gigaclear Colorful Postcard
When your customers receive a bright-colored direct mail postcard on their doormat, they are bound to give it a look. For instance, this bright yellow colored Gigaclear postcard will catch your attention as soon as you see it.
Papa Johns Pizza Mailers
When you send the unusual shape postcards to your mailing list, your customers curiously open it for sure. For example, this Papa Johns direct mail postcard in pizza shape and color with offer printed at the back makes it one of the most enticing mailers for the consumers. You can use any number of shapes for the mailers.
4OVER4.COM – Your Printing and Direct Mail Marketing Partner
When you choose the mailing postcards, you may like to select various techniques for printing and other unique aspects like green printing to stand out. Sending a full color and unusual shape postcard can be a great idea for sending direct mail postcard.
4OVER4.COM is one of the best platforms for a range of printing and paper options. Our excellent customer service team makes your printing journey easy and smooth. Send us your specifications and relax as we print and send it to the post office directly. Your customers receive the direct mail postcard through us.