If you are looking forward to advertising your business, nothing is better than the custom bookmarks. Whether your customers are avid book readers or just casual readers, custom made bookmarks are loved by all. Every reader loves to remember where they left off with a stylish reminder.
Instead of placing any random piece of paper, a personalized bookmark adds a look-good element and feel-good factor. What do you think when you hear the term custom bookmark?
It's a wonderful page saver but do you know that custom printed bookmarks can be a business tool as well? Bookmarks are one of the easiest, simplest, and most creative strategies to promote your business and brand.
Marketing Your Business with Custom Bookmarks
If you are always on the lookout to enhance your marketing strategies, consider personalized bookmarks as your tool for business promotions. Bookmarks go beyond just remembering a page number and marking it in a book. It is handy and can be found in a range of finishes and sizes.
If you are looking for inspiration, 4OVER4.COM is one of the best places to be. Whether memorial bookmarks to remember your loved ones or aesthetically pleasing bookmarks, we have it all. We even help you create a fun personalized bookmark that reflects your style and attitude. For any confusion, contact our customer service team who is always eager to help you learn and create.
What makes bookmarks an effective and reliable strategy for marketing and promotional purposes?
Benefits of Custom Bookmarks in Businesses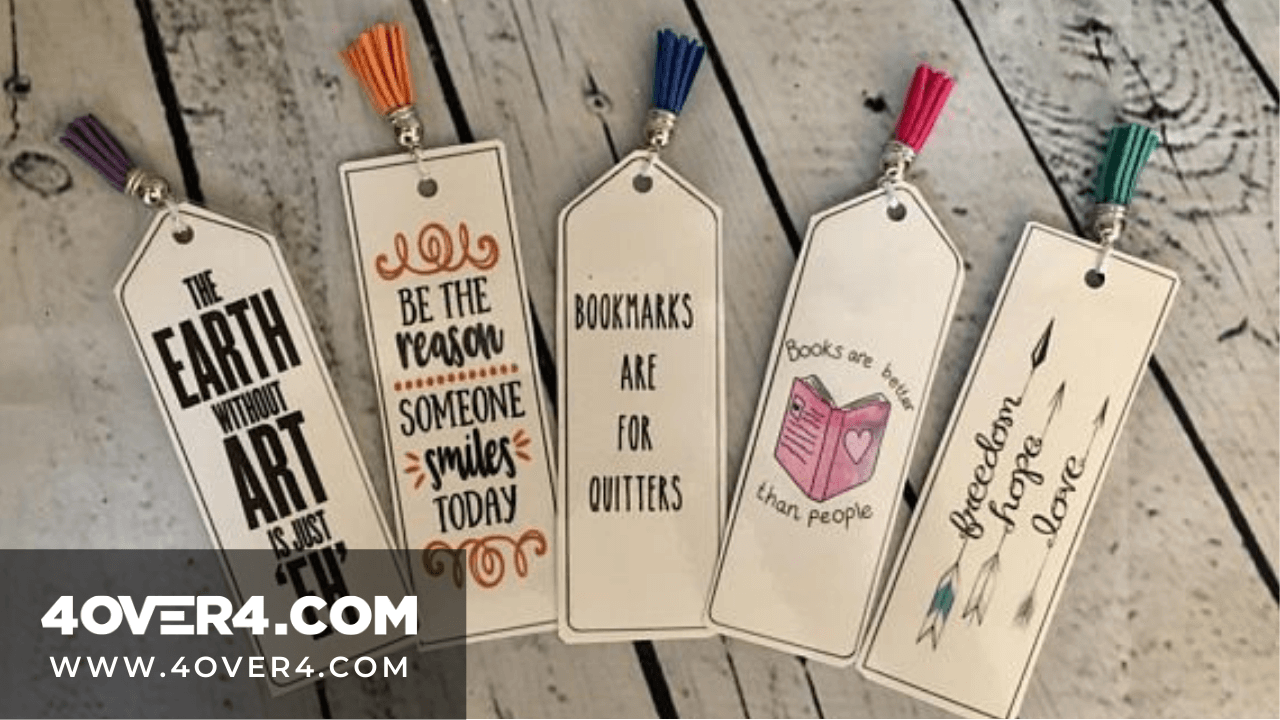 Convenient and Compact – Bookmarks are similar to business cards that take up little space and comfortably fit into your pocket. They can be easily distributed to a wide range of audiences.
Economical – As the custom bookmarks are extremely affordable, you can print them in big numbers. Hand it out whenever the situation arises in special events or while networking. For the success of any business, print marketing plays a big and expensive role. Bookmarks are the perfect print marketing material that doesn't break the bank.
Ease of Use – There are various print marketing tools like billboards that assure huge exposure but are also expensive. With bookmarks, you know that customers will be constantly reminded of your business. When you send bookmarks to your clients, it is considered more of a gift than any marketing strategy.
Uniquely Tailored – Custom bookmarks are the most untapped tool for business promotions. You can easily tailor it to any look, design, or size to best display your products. The bookmark promotion is a unique way to make your products stand out.
Custom Bookmark Promotional Ideas for Your Business
With the right strategy, custom printed bookmarks can turn out to be the most creative and effective business promotion option. Some of the best ideas for promotion with custom bookmarks are –
You can make your business bookmarks attractive by adding some funny quotes, memes, poems, prayers, or simply a calendar. It doesn't need to look too professional, so keep it simple yet impressive.
Another great idea is killing two birds with one stone by making your event tickets bookmarks. They are roughly the same size, so what are you waiting for? Get ahead of your competitors by conducting events at half price of what you would have shelled out otherwise. The bookmark is a great way to help your clients remember a memorable event.
Are you an author or a blogger? A custom bookmark with your image or a quote is a great way to spread your influence. If you create a bookmark that also complements the design of the book, it can enhance your business greatly.
Schools can bulk order custom bookmarks for the achievements of the students. Even academic events, dates, phone numbers, etc can be printed. It will benefit the student in many ways.
Any churches, bookstores or libraries with a small marketing budget can choose custom bookmark printing to meet their marketing goals. Events like fundraisers, book launches, and food drives, can be printed on custom bookmarks.
For the hospitality and tourism industry, brochures have served as souvenirs for a long time. But, custom made bookmarks can be a great tool to remember the customer's amazing experience with you.
Printing Custom Bookmarks with 4OVER4.COM is Easy
If you are looking for high-quality custom bookmarks, 4OVER4.COM is the most convenient tool. From sturdy cardstocks to great finishes in high gloss UV laminated, we have a range that leaves you full of choices. We have various options including the personalized printing of a family member or your image and full-color online printing.
Custom bookmark printing can also be used for a more somber occasion. While it is a sad time when a loved one passes we always want to keep their memory alive. At funerals and memorials, you can print custom bookmarks in the form of prayer cards. This will make the love and memory present at the funeral program stick with all of the attendees.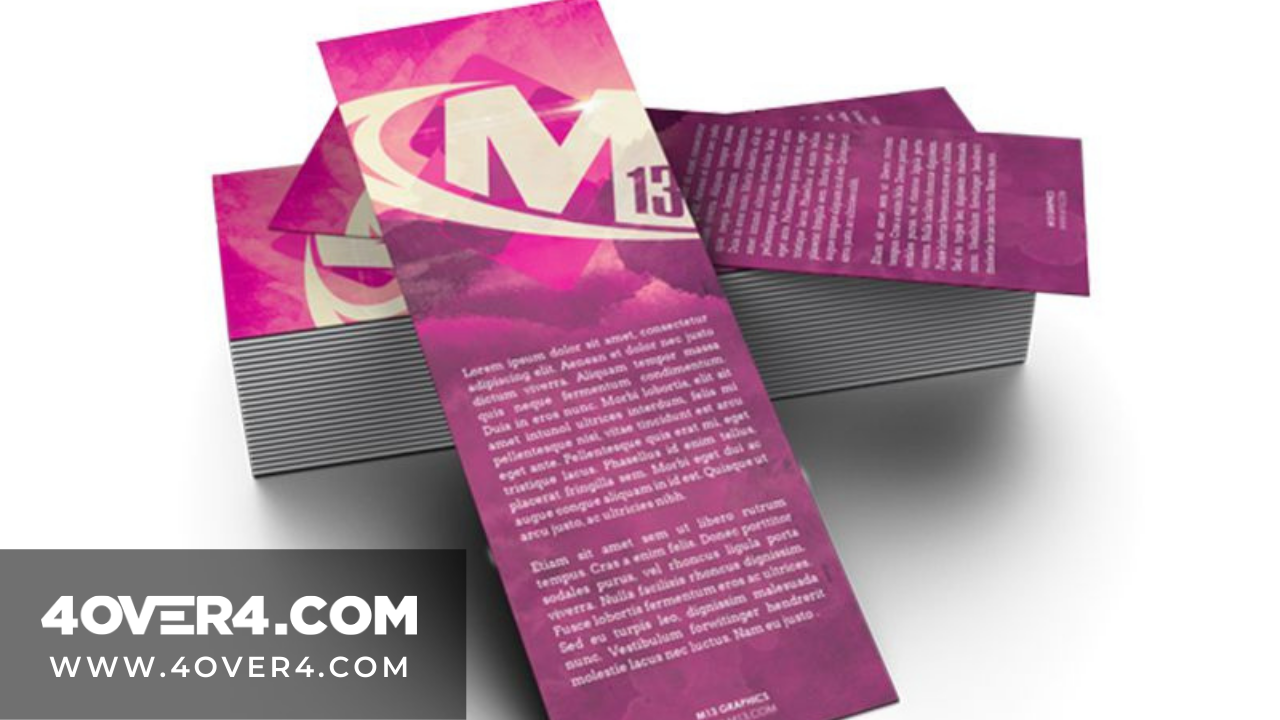 Paper Stock and Finishes of Custom Bookmarks
Whether you want to print on raised spot UV coating or soft touch, 4Over4 never gives you an option to complain. We are an online destination and available 24 hours for all your printing needs. You may choose from our range of templates to design your unique custom bookmarks. You may also fill out the form with your specifications to bring your design to life.
Based on the finish and paper options for your orders, our delivery turnaround times can vary between 1-7 business days. Don't leave your shopping cart. We use advanced custom printing techniques and offer high-quality 14PT or 16PT paper stock.
Enthrall your customer with an attractive design on the one side and your business info on the other side. We have you covered for all your printing needs right from finalizing the design or starting from scratch. Visit us for more information.