Coroplast or the corrugated plastic signs are cost-effective, waterproof, and sturdy plastic sheets. It is also known as Correx or Corflute signs. The corrugated plastic sheets have a hollow-fluted design. It make the corrugated plastic a versatile material for forming the signs.
It usually looks like the corrugated cardboard that you can easily display and handle in several ways. So, if you are thinking of making signs, no other material is as good as the corrugated plastic.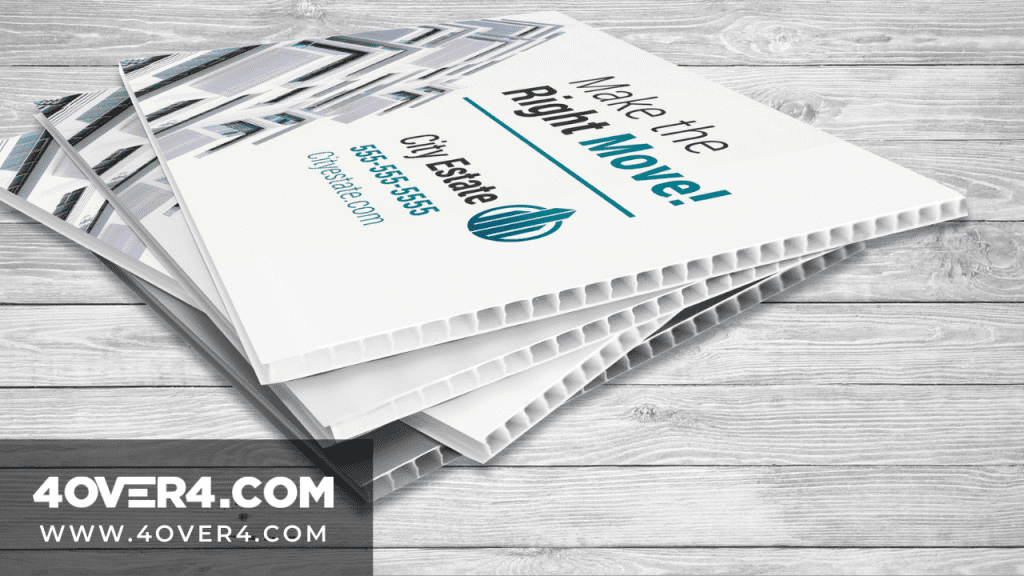 Although it is a cost-effective option, the corrugated plastic never look cheap at all. People get attracted to the graphics, color, and message printed on the custom coroplast signs. When you choose the right color scheme and an attractive design, you can turn a general corrugated board into a highly useful business sign.
4OVER4.COM makes your printing journey easy and flawless. Do you know what are these custom coroplast signs, or where is it used? Are you aware of the importance of corrugated plastic signs? Let's learn about the coroplast signs in depth.
Coroplast Signs - Overview
The custom corrugated plastic sign is an inexpensive tool for advertising. The corrugated plastic is a preferable option for making coroplast signs in comparison to any foam core mount board or cardboard. You can use it in outdoor spaces. It is a great alternative to promote seasonal sales. The plastic signs are made out of three thin layers of substrate polypropylene plastic.
Sizes and Color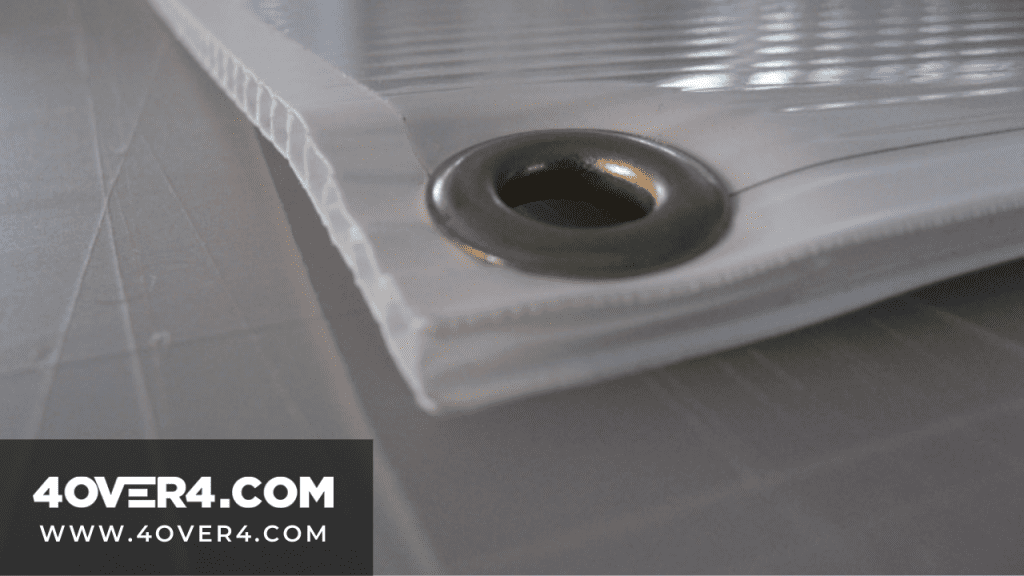 Your need for promotion decides the size of the sign frame. The most popular dimensions for plastic signs or vinyl banners are 10" x 12", 12" x 18", 18" x 24", 24" x 36", 48" x 96". The coroplast sign can be of any color. It is popularly used as lawn signs or yard signs in bright colors to attract the attention of the customers, for indicating direction or putting up some instruction.
While printing with 4OVER4, you get the full-color range to customize your sign material. Whatever art, logo, image, or design you choose, our customer service team can guide you on the ways to personalize it. Our coroplast sign print range includes both single and double-sided printing. 4OVER4 also offers dry-erase coroplast lamination on vinyl banners, poster board, twin wall, and more.
Usually, the coroplast signs are cut into rectangular shapes. If you want to customize it, the 4OVER4 team uses die-cutting to personalize your plastic signs. Do you know the importance of the corrugated plastic signs?
Importance of Corrugated Plastic Signs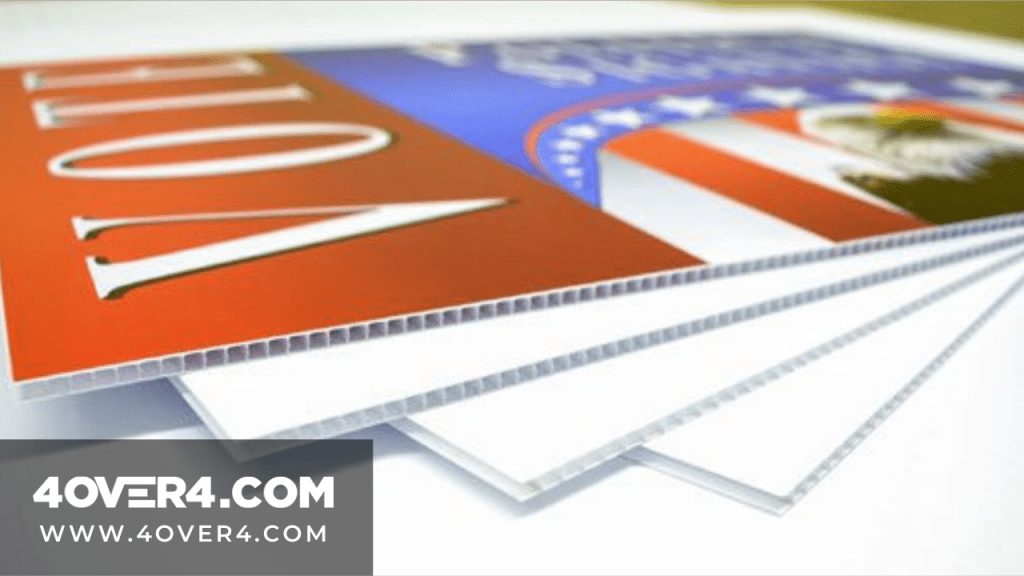 In recent times, promotions and advertisements play a significant role in making your business successful. The banners and signs are the best ways to do it, but you need to find some option that will not exceed your budget. If you are looking for a cost-effective and robust options for short-term promotions, there's nothing better than a coroplast sign.
You may use the corrugated plastic signs for yard or lawn signs featuring political candidates. You can also use it for job site, directions, real estate sales, identification, and sale announcements. Do you know why is it a preferred option for promotions? It is because the coroplast signs are-
Durable
You can use Coroplast plastic board for short-term promotions and not invincible. As it is not a constant display item, the longevity automatically increases. But, even if you display the corrugated plastic sheets for an extended period, it can endure the extreme heat of the sun. Not just heat, it can withstand heavy showers, and even rough human handling for a good amount of time. It can also be resistant to harm from rodents and insects.
Affordable
In the market, the coroplast is the most affordable material available for outdoor promotions. Cutting and printing the coroplast material is easy and also economical. 4OVER4 is equipped with all the specialized tools to customize your promotional content effortlessly.
Lightweight
Carrying the marketing materials from one place to the other or transporting displaying, and distributing it is not an issue with the lightweight coroplast sign. It is smooth and stress-free as the corrugated plastic signs are easy to carry and light in weight. You don't need to worry about the wall collapsing due to the huge signboards or anyone getting hurt because of the coroplast signs.
Pliable
Coroplast is robust enough to endure and lay flat. It is also flexible to offers you a lot of options. You can cut, staple, bend, punch holes for grommets, and do whatever you want as per your needs. 4OVER4 team understands the corrugated plastic material best suited for your promotions. Our experts can customize it as per your mentioned specifications. We offer dry-erase lamination as well as portable and light reflective coroplast signs for maximum visibility.
Effective Promotions with 4OVER4's Lightweight and Handy Coroplast Signs
With 4OVER4, you can customize your promotional material easily. Just send us your artwork, and we enhance your coroplast signs with H-stakes and optional grommets. Our dry erase lamination and retroreflective option make your custom coroplast sign highly suitable for short-term promotions.
We also offer aluminum A-frame, metal rod A frames, and signicade A frames to place your coroplast sign. You can put it on the roadside or in a yard. You may also place it in the front garden for selling your home and grab the attention of the passer-by and the customers.
Now, you don't have to spend a lot of money on promoting your business. Personalize your corrugated plastic sign and achieve your targets quickly. Place your orders now and get delivery within 3-4 business days.