With summer months knocking at the door, yard sale season is almost back. Whether you are looking for great deals and some severe bargains or planning to host one of your own, garage sales are a much-loved event across the country. With about 165,000 thousand yard sales held in the US each week, and
Americans hosting 6.5 to 9 million garage sales
each year, the need for signage is quite evident for the promotion of these events. Letting people know about your garage sale is vital to ensure heavy footfall, and
coroplast signs
are the best way to do it.
What is a coroplast sign?
Coroplast is a brand that produces enduring, waterproof, and sturdy corrugated plastics. The design or the structure of the coroplast that is somewhat like a hollow-flute makes it lightweight and easy to handle in various circumstances. The coroplast signs are cheap and one of the most cost-effective ways for garage sale promotions in your locality. It is made of 3 layered polypropylene plastic board with twin-wall of plastic sheets. Polypropylene is a stable thermoplastic polymer and is 100% recyclable. People choose custom-sized coroplast signs over foam core boards for their garage sale because the former is insect and water-resistant. Unlike the coroplast, foam core or poster board has a sensitive surface that can get easily damaged. Only a coroplast sign can endure the long hours of the outdoor display at garage sale events. There are various choices regarding durable signs, but I feel the coroplast is one of the most adaptable ones compared to its counterparts. The benefits of the coroplast, I think, makes it the most obvious choice.
Benefits of Coroplast Signs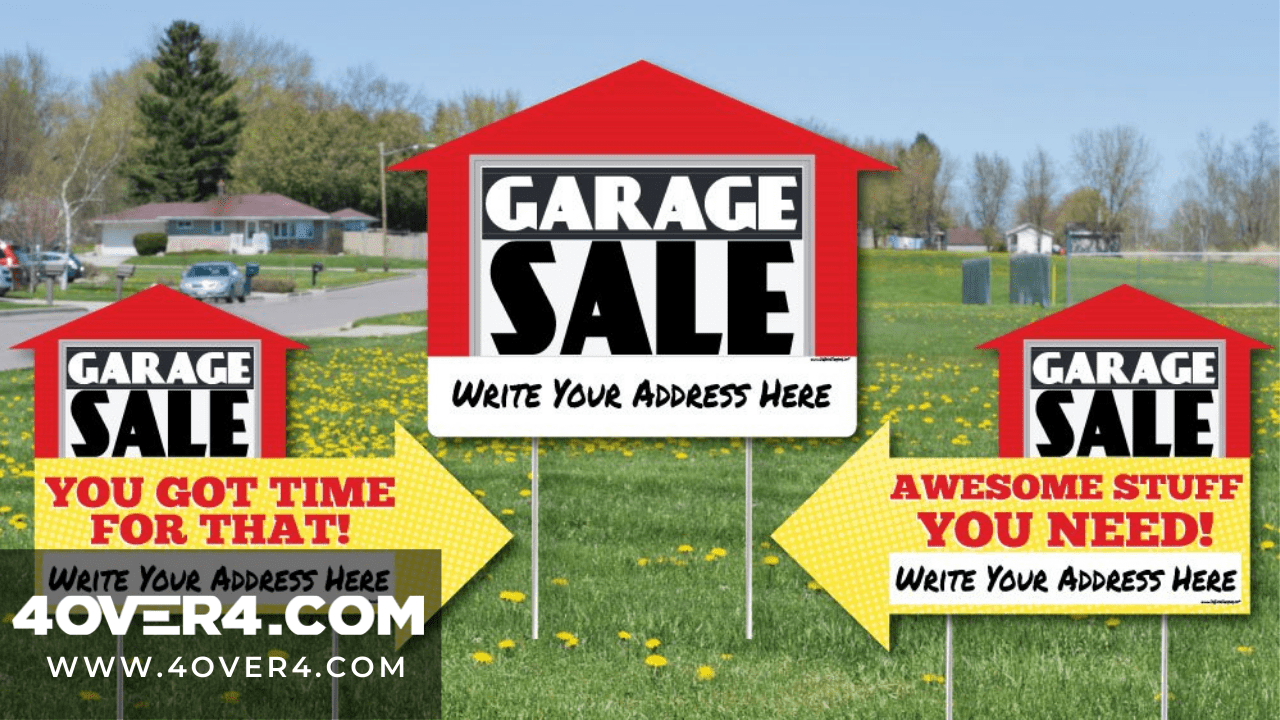 Source
Affordable – Coroplast is the most affordable outdoor sign. It is an inexpensive material, and one can easily print onto it. Cutting the coroplast is simple, straightforward, and highly reasonable. It does not need any extraordinary tools for cutting.
Durable – Although coroplast signs are not displayed forever and are not invincible, they can still endure harsh weather conditions like extreme heat of the sun, heavy rain showers, and unfortunate mishandling. Even if it shows the signs of aging, you can rest assured it will still look good. It is resistant to damage from rodents and insects.
Versatile – It is a combination of strength and flexibility. You can lay it flat without any support or you can bend it, cut, fold, drill or staple to get the shape you desire. It has the strength and flexibility to withstand both. I needed to make a funnel shape out of a corrugated sheet of plastic, and it was quickly produced by 4OVER4 with all the required printing over it.
Light in weight – The garage sale can get quite crowded if you have promoted it well. In a rush, if a heavyweight object falls on your feet, you can get severely hurt or while transporting, carrying massive signage can be quite stressful. Coroplast signs are incredibly light in weight which makes it easy to distribute, display, and transfer.
Ways to Stand Out with Coroplast Signs
What do you need to do to make your coroplast sign stand out for your garage sale?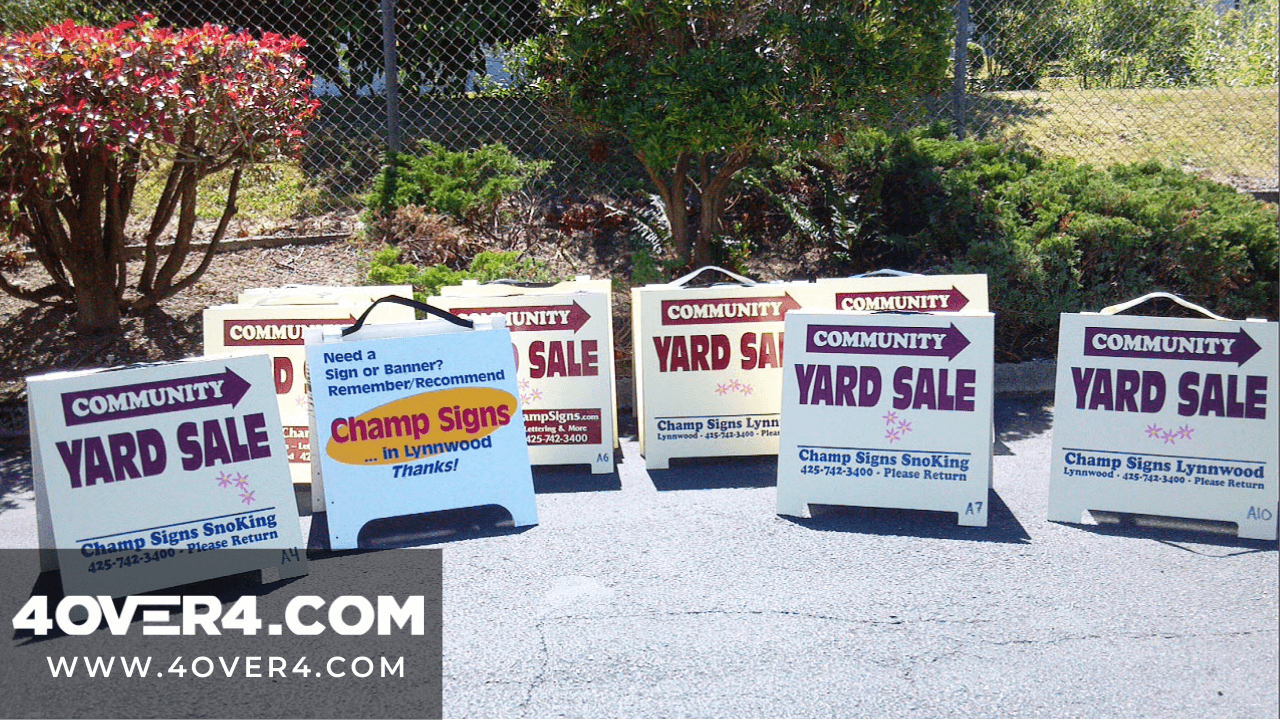 Source
Design of Your Coroplast Sign
To make your garage sale coroplast sign stand out, you need to have a great design. I have seen several corrugated signs loaded with random pieces of information. It can only confuse the prospective sales hunters. You don't have to include all the items on displays and make your signage clumsy. You may even leave out your address until and unless many garage sale events are happening in your direction. Printing double-sided GARAGE OR YARD sign in bold letters with the right mix of colors and fonts and an arrow pointing towards the event is enough to attract potential buyers. Get various eye-catching coroplast sign sizes from trusted printing service like 4OVER4 and place quite a few of them around your yard to see the footfall of the buyers.
Material of the Signage is Important
If you display your garage sale with a handwritten note on a big sheet of paper, will anyone be able to read it? After some time, the paper crumples, and becomes difficult to read. The cardboard signs can get blown away quickly if it is windy. The corrugated plastic signs are the best material for garage sale announcements or display. They can withstand harsh weather and do not get ruined easily. The coroplast signs are durable, and you can store it for long. You can use zip ties to install them on street poles or H-stakes for placing them on the ground.
Advertising in Advance with Coroplast Signs
Promoting your garage sale in advance and making use of a free site or placing an ad with a local newspaper can make your garage sale stand out. Combine printing material with online promotions to increase the footfall of customers on your garage sale day. When you promote in advance, don't forget to print the garage sale address, the timing of the sale, and a little summary of the sale items on the coroplast signs. It will garner more views and make your garage sale stand out.
Install Several Signages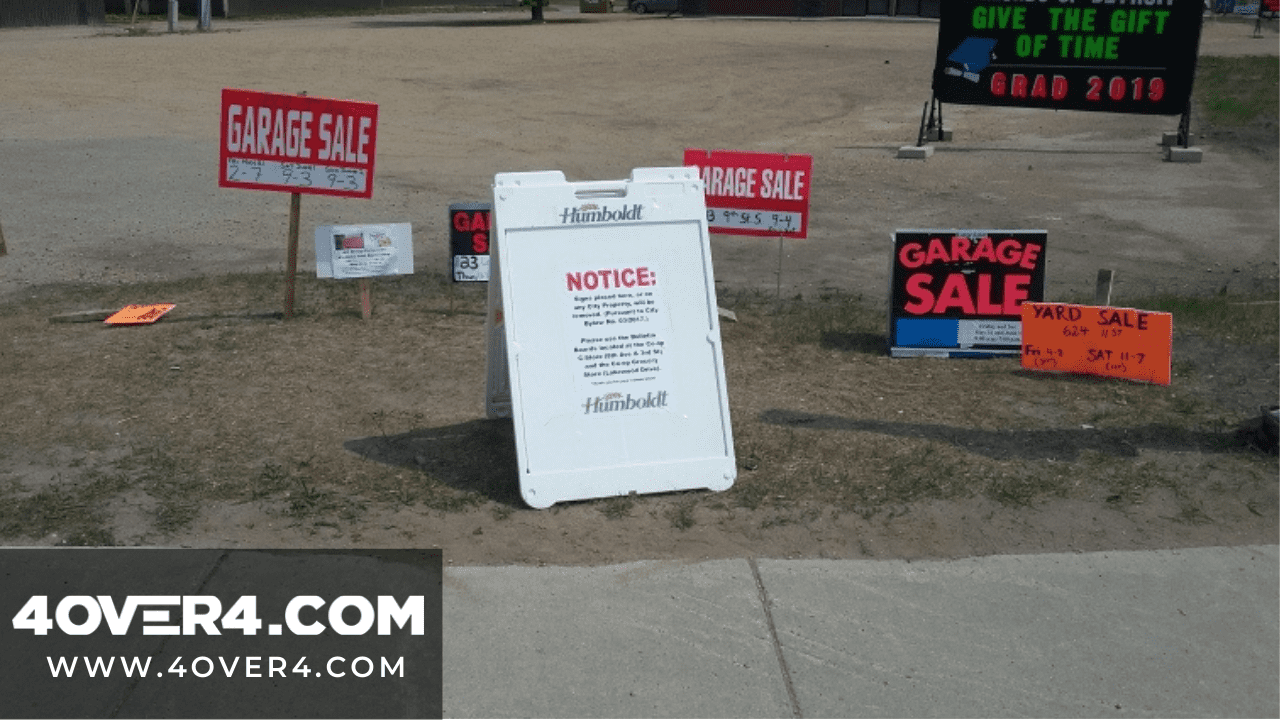 Source
To make your garage sale stand out and make it a success, install several custom coroplast signs right from the street corner to every other block in your locality. Don't forget to install signages on your premise. In my last garage sale, people got a bit confused as the signage was at an intersection about a mile from my place. So, do not forget to place coroplast lawn signs even at the farthest intersection with the correct direction signs.
Conclusion
To conclude, other than garage sales, coroplast signs can also help with bake sales, charity car washes, community picnics, etc. You may also use it for street fairs, birthday parties, and other such events. Placing an order with reliable printing companies like 4OVER4 gives you a variety of options to choose from. For instance, you can select customized shapes
dry-erase coroplast
signs, full-color reflective coroplast signs, and other customized coroplast signage that best suit your budget and needs.