Why do you need to print brochures? There are several online initiatives for marketing. Yet, brochure printing is an essential part of traditional marketing collateral. A brochure is one of the best collectible items. It is designed correctly not just to draw the attention of the clients but to create awareness about the specific products and the company.
There is a range of information about the products featured in the brochure. It is like a small booklet printing with professionally designed full-color paper stocks alluring the customers, highlighting the benefits of the products. With 4OVER4, you can come up with some of the best custom brochure designs. Let's discuss the importance of and tips to create an effective brochure.
Why Do You Need Brochure Printing?
The gatefold custom booklets or brochures are one of the best tools to captivate the attention of the customers or business prospects. If you are a small budding business on a strict budget, custom brochures are of great help. It is useful as well as pocket-friendly. Printing in newspapers and magazines are more expensive. But, when you choose the right brochure templates and printing service like 4OVER4, you can rest be assured to get noticed even in the crowd.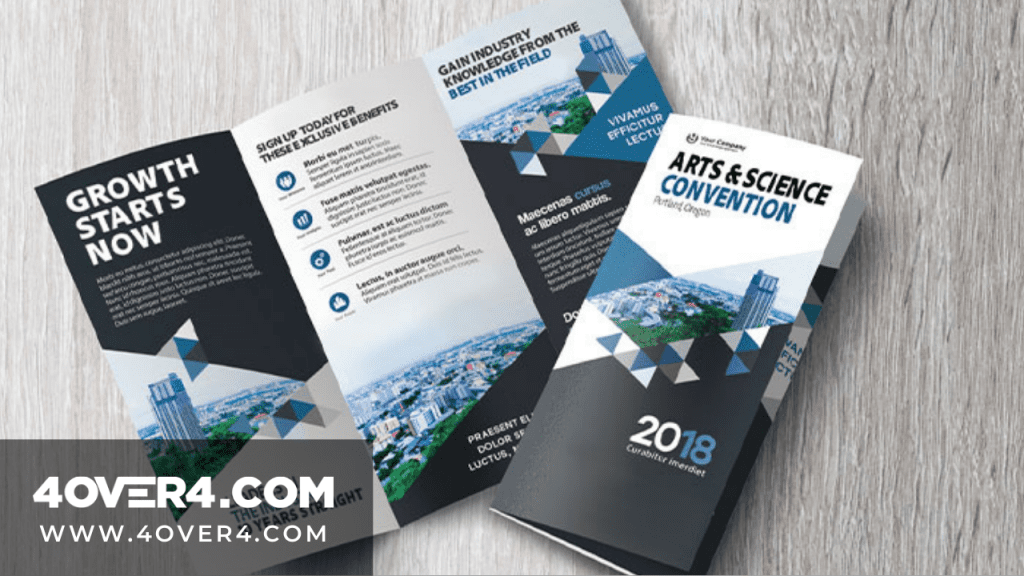 There's always a competition to gain the top advertisement spot when you choose to advertise in the magazine. With the booklet in your hand, you can entirely focus on the business and its products. So, you can ensure undivided attention from all your customers, both existing and the prospective ones, going through the brochure. Additionally, when you make your brochure content informative and interesting supported with precise images and call-to-action, it becomes a versatile piece of information.
You can find the brochures in various formats like flyers, menus, newsletters, and product guides, apart from the conventional tri-fold brochure format. You can find amazing cost-effective offers and deals on our website 4OVER4.COM with bulk printing orders. We make your brochures interactive with our professionally designed printing services like Die-Cutting, 3D Lenticular, Foldover, Spot UV, and more. When you print the 100 lb matte finish brochures, it can help you to generate leads for sales.
With multiple benefits of brochure printing for marketing, you must know how to make it useful. Let's learn a few tips to create an effective brochure for your business.
Tips to Create an Effective Brochure
You must note that the design quality, images, content, ink, and paper used in brochure printing are the critical factors for determining the effectiveness of the brochure. Let's get to the depth to learn more about the tips.
Objective
Why do you want to print a brochure? You must have a specific aim in mind before planning your brochure. Determine your brochure's goal before planning to go ahead with brochure printing. For instance, what will you include in your brochure? Will it have your company introduction, or do you want to promote your services and products? Do you wish to explain, inform, or educate people, or is it some special announcement printed on your brochure? Beginning with a clear objective and establishing it can make your brochure creation much easy and smooth.
Reach/Audience
It is essential to know your target audience. Who do you want to connect with or reach? Do you want your existing or prospective clients to know about your products and services, or do you wish to share it with the general public and some organizations? Are you targeting any particular market segment like elderly, young, thrifty, or wealthy? Are you aware if the recipient of the brochure has some prior knowledge about your product or your company? When you know your audience well, you can prepare targeted and appropriate content.
Distribution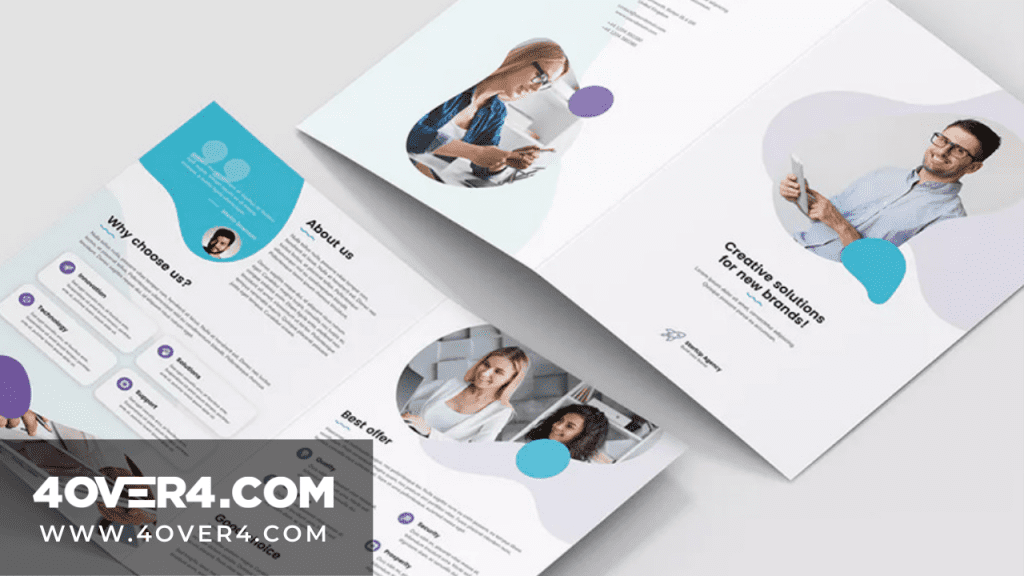 How do you want to distribute your brochure? It is essential to decide how will you distribute the brochures and reach it to your targeted customers. Do you wish to mail it to your customers, or would you like to hand it out at any event? Do you want to add your printed brochure in a sales presentation folder, or would you like to stack it on your exhibition table? Determining the ways to distribute your brochure is vital because it will help you to decide on a brochure's physical features.
Impression/Perception
Try to understand what sort of impression you want the brochure to have on your clients? What kind of feeling or perception did you want it to have on the readers? Once you know the type of impression you want to create, it becomes easier for you to design the elements accordingly. For instance, a boutique resort will have a more elegant and classier brochure design in comparison to a basic gutter cleaning company's booklet. To create an effective brochure, the overall quality, and the design must be consistent with the content of the brochure.
Format of Brochure Printing
It is vital to decide the right brochure sizes or the format according to the content or information you want to share. For instance, when a salesperson goes through a custom printed brochure along with his client, the large size brochure is the best one to use. It will help you to see the brochure at once. You may also use the 8.5 x 14 tri-fold or double gate folded or large bi-fold brochure for designing your marketing material. For sending the brochure through the mail, you may create a self-mailer or fit into a standard envelope. For a brochure with too much info can be turned into a booklet. Therefore, you need to determine the amount of information you want to share and then decide the style and size of your brochure.
4OVER4 – Your Print Partner for Brochures
In spite of being the traditional mode of marketing, brochure printing remains one of the best ways to promote your products. At 4OVER4, we offer a range of brochure templates, paper stocks, business cards, and brochure printing options. You may choose from the vast range and make your brochure, a unique marketing tool to draw the attention of your customers. Our customer service team is available 24x7 to help the customers with their queries and also deliver your orders within 3-4 business days.