Custom brochure printing is no longer a luxury for drawing just a few comments or references. It has become a professional necessity to take your business to new heights. Today, many marketers opt for saturated social media marketing options like paid ads and hashtags.
But, custom brochures come as a fresh option that is perfect to grasp the potential audience's attention. They have two basic functions. Firstly, they help create a unique brand identity. Secondly, they showcase the supreme quality of your services and products that you offer to your target audiences.
At times, marketers either fill the brochure with too much text or make it pretty boring and plain. There are a number of websites that make online brochures, so you must find the right site and know how to make your custom brochure unique and sellable before printing it.
Here are the top 7 tips to nail your brochure design and printing. Reach a new level of success in business by creating unique brochures.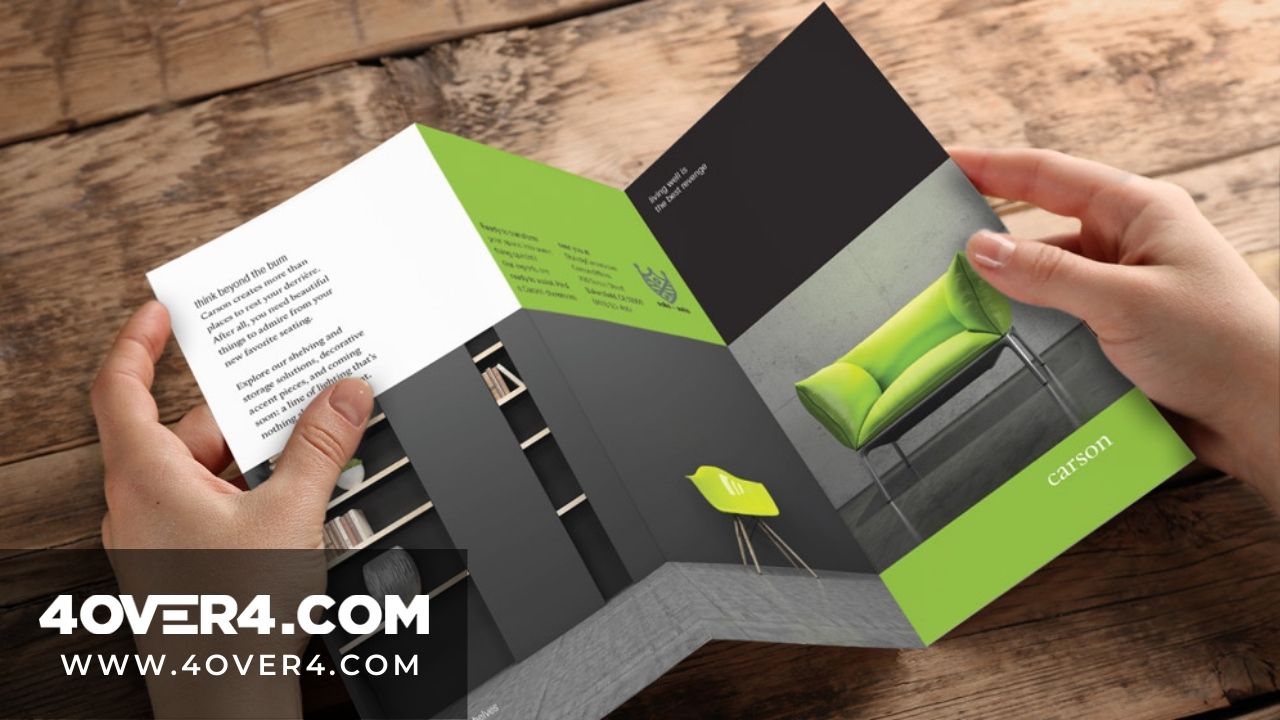 A Simple Design is Important for Brochure Printing
You may think adding several HD quality fancy images will make your brochure attractive. It may look good in a pamphlet, but to engage readers your brochure design must convey the right message in notable texts. Simple brochure design with effective fonts and a clean interface can make your marketing material hard to miss.
Apart from the design, embossed printing can give a unique texture to your brochure. If you are looking for affordable brochure printing with a high-quality product, 4OVER4.COM is one of the best places to order. We offer raised foil and raised spot UV printing for embossed texts in the brochure. There might be fewer elements but the information highlighted in this simplicity will not go unnoticed.
Shapes Impact Brochure Printing
Thinking out of the box has become a necessity today. With a number of companies eyeing the pinnacle of success, being unique and different gets your brochure noticed. Choosing earthly-shaped cutouts for your gate fold brochure gives a fun-effect to it.
The dash of color scheme touching the backdrop highlights the message beautifully. The brochure truly seems to call out and make a strong impact on your potential clients. Our custom brochure printing service can easily create the shape cut-out. It adds another interesting element by offering a cool 3D look.
Scrap the Old Folded Brochure and Opt Linear Design
Have you always come across 8.5 x 11 or 8.5 x 14 brochure sizes or tri-fold brochures? Changing designs and patterns can help you get noticed. The brochures don't always have to be center bound folded booklets. You can create a stretched out brochure or a circular brochure in various different ways.
An accordion-shaped brochure can be a good option when you want to ditch the usual tri-fold brochure. It lets you see the complete brochure without flipping it from one page to the other. 4OVER4.COM's online brochure printing service helps you with a number of options when it comes to printing your custom brochure. You may choose from the common fold types or send us your specifications to design and print it accordingly.
Explore Creativity With the Brochure Inserts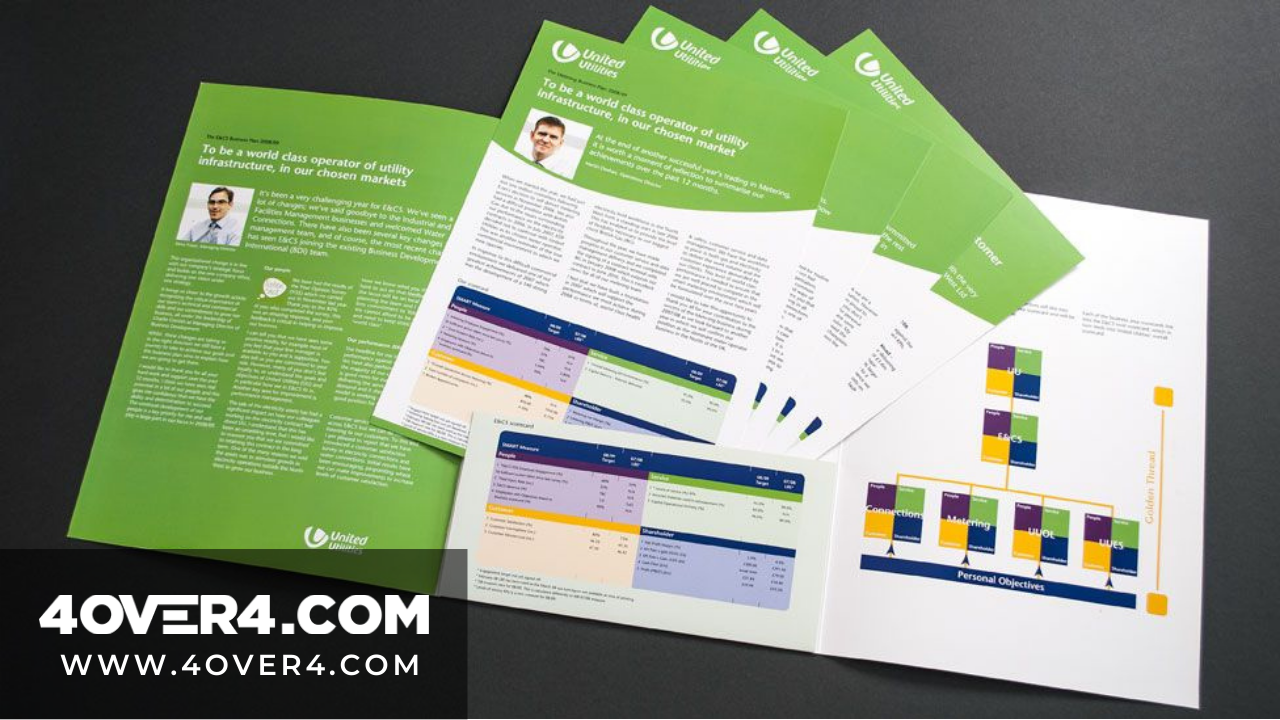 Are you planning to include any kind of physical element like a CD or DVD in your brochure designs? It can make your brochure appealing for clients visiting your station in the trade show.
Whether you are planning to add a DVD or CD or any other item, make its display attractive and interesting. A pocket at the back of the folded brochure helps to add an item that you choose as a pop-out insert. It gives some dimension to brochure interiors that would otherwise be flat.
If you are looking for brochure printing near you, look no further. 4OVER4.COM is one of the most reliable online brochure printing destinations for all kinds of printing needs. We have an amazing range of templates to choose from. Our dedicated customer service team can help you get your brochure ready with any specifications.
Think Out of the Box with Interactive 3D Brochures
Brochure design with an interactive element for potential customers can be quite an interesting option. Move away from the basic flat structure and choose a 3D and interactive structure. It can help the user engage and create an everlasting impression.
Circle or Triangle Brochure Instead of Regular Shape
It is not necessary for your brochure to be rectangular in shape. Instead of choosing the regular shapes for your brochure printing, select a circle, oval, triangle or a pentagonal brochure. It needs to create an impact and suit your business products and services, ideas and beliefs. The three-round shaped flip covers brochure can be an attractive design with lots of action.
The customer has to move each circle flipping over each other to get to the end layer. With 4OVER4.COM, brochure designing and printing have become easy and quick no matter the time or place. You don't need to be an expert to design your professional-quality brochure. Get your print-ready brochures with just a few clicks. Check out this video to learn more.
Quality of Paper and Finish Matters
There is a difference between a regular paper finish and ultra-thick prestige papers, silk laminated or 3D lenticular and matte finish. Depending on the need for your brochure, select the appropriate material. It must connect with your requirement and serve your purpose of brochure printing. The biodegradable materials can make your brochure appear green and eco-friendly.
At 4OVER4.COM, we offer green printing technology to provide an earthy feeling to your order. We use 100% recycled chlorine-free paper and non-toxic inks for printing. Our range of paper stocks and finishes make 4OVER4.COM undoubtedly the best printing company online. We offer cost-effectiveness as well as high-quality printed products delivered at your doorstep.
Brochure Printing and Designing with 4Over4
Usually, people think that any kind of effective and powerful brochure printing means a heavy expense and extreme difficulty. We provide you a range of brochure templates and tools to create stunning brochures, free of stress.
You don't have to be a graphic designer or a professional to create an attractive brochure. The number of fonts, patterns, icons, colors, and templates leaves you with endless choices.
Once the designing part is over to your satisfaction, the 4OVER4.COM team offers high-quality printing options, paper, stocks, and finishes. Select your preference and entice your customers with stunning and unique brochure designs that cannot be ignored.
Let the brochure speak volumes about your company, product configurations, and other services too with minimal effort, time, and money. We are your 24-hour online printing and design service, partner. Let our passion mix with your creativity to create the best cheap brochure printing.