For many of us, the new year means not only recharging our minds and bodies but also rejuvenating our cherished dwellings.  When you get right down to it, home is and should be a place of peace and tranquility.  It should be a place that evokes the essence of how we are and who we strive to be.
 As we move into 2014, lets take a look at some beautiful home decor ideas that will inspire a whole new outlook on life, love and family.
Designing a whole new look doesn't mean shelling out big ca$h.  Thanks to the internet, we can get inspired by both design professionals and DIY enthusiasts alike.  Both interior designers and non-professionals will tell you that the best and cheapest way to reinvent your space is decorating with wall art.  This is music to the ears for most of us who do not have the option or the means to start tearing down walls and buying new furniture.
Revisit Old Memories and Redecorate!
Sometimes the best way to show gratitude and joy 

for

 our current life is to pay tribute to treasured memories from our past.  

A terrific and simple way to do this is with canvas photo prints.

  All you need to do is go through your old family albums or digital photos and find the ones that make you smile and recall happy moments.  

Stretched canvas

 is also a great way to showcase your children's artwork and transform 

them into gallery piece

.
Take a peek at these:
[caption id="attachment_4985" align="aligncenter" width="300"]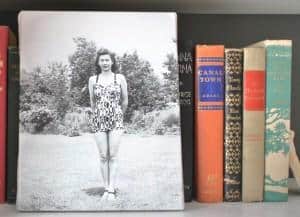 Vintage Family Photo[/caption]
Put Motivational Quotes on Your Walls
If you are the type of person who likes to surround yourself with motivational quotes and words of enlightenment, then wall graphics were made for you.  These inexpensive pieces of wall art can be easily 

place

 in any room in your home.  Whether it's lullabies for your baby's room or excerpts from your favorite 

book in

 your den, vinyl wall mounts are attractive and unique to your specifications.
Here's a sampling of wall decals (or wall graphics) to get your ideas flowing:
[caption id="attachment_4987" align="aligncenter" width="276"]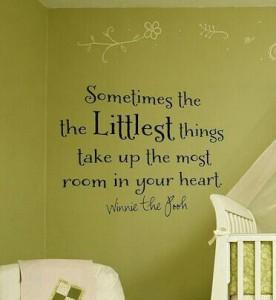 Sweet Lullaby[/caption]
Selfie-Turned-To-Art: Strike your best pose
Portraits have made a come back, and I'm not talking about your kid's class picture.  These days people are capturing the precious moments of their lives with the help of professional photographers.  From the honeymoon to the delivery room, every snapshot walks us through a chapter of a life.  Tell your story by taking several photos of varying sizes and creating a collage of 

prints on canvas

 to adorn any wall of your home.
We especially like these:
[caption id="attachment_4989" align="aligncenter" width="300"]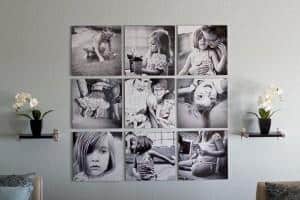 Fun Family Days[/caption]
cool DIY ideas for friends and lovers
) Beautiful home decor doesn't have to cost a fortune.  By adding personal touches and sharing things that inspire us, we can all achieve a blissful and warm home environment. How do you express your inner self through home decorating?  Let us know and share your photos with us! All images curated from Pinterest.com