A canvas print is a result of an image printed on a canvas fabric that is then stretched in a frame. It is printed using an inkjet printer. Canvas prints are a great way to display photos and give them excellent photo quality reproduction. Canvas prints look exceptionally good in any home or business. When properly framed, they elevate a room's aesthetic and are therefore great wall decorations. You can find and order printed canvas online that are vibrant, fade-resistant and add a splash of color to any room. The best part is that you do it in your comfort and time.

Our website is open 24/7 and you can place your order anytime. Our ordering process is easy and seamless. You can upload the image you want on your canvas, choose your quantity, paper type and also choose your print turnaround time! When you order canvas prints online from companies like 4OVER4 you also earn rewards that you can use to purchase more products in future.
You'll need to do a bit of research so that you get something worthwhile. Remember this is an investment you're making, meaning you will want to get the best canvas. There are different things to consider before ordering custom canvas prints. Tips for canvas prints custom include: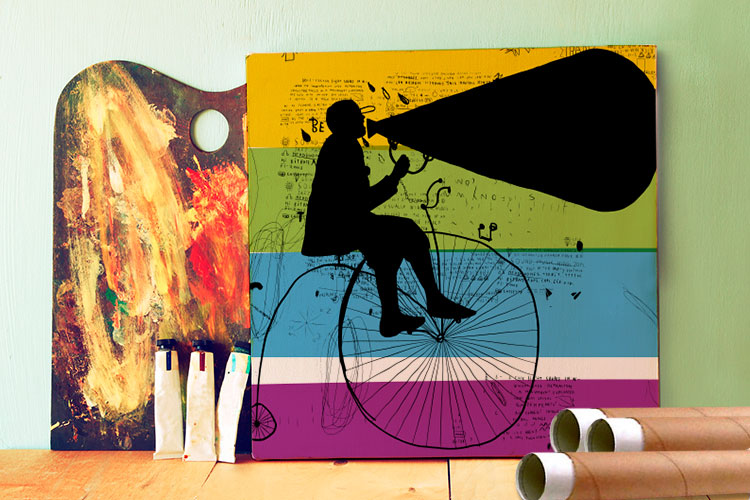 Use high-quality images- Using great quality images will help prevent your image from becoming small or poor quality when enlarged. Good quality images also help your canvas appear neat and sophisticated. You don't have to break a bank to get good quality images, there are many sites like Canva, Pixels, and Splash that have fantastic images for all niches and are of the best quality.

Consider the color to use- Most canvases are used for decorative purposes. This means you will want your canvas to blend well with the existing room color. When you consider custom canvas printing, remember to think of how well it will blend with the rest of the room decor including furniture, light fixtures and flooring. Once you've determined the most suitable color then it is easier to convert the prints into canvas. Certain colors evoke different emotions like red shows love and it's bold while blue shows calmness. Research the different colors before coming up with a final look. Your canvas color will be a reflection of your business.

Think of where your canvas will hang- When you want to order canvas prints online, be sure you are keen on their size so that they match your space. There are many different sizes that you can consider, not to mention you can also get a custom size that will be as per your specifications. If you have a big space to work with and are just hanging the canvas, then a big canvas will be ideal as it won't consume the space due to its largeness.

Get the right shape canvas- Decide on the shape you want for pictures into canvas prints so that you can know the custom size canvas prints you need. If you want to use a picture of a full-length person then a square frame canvas is ideal, for a rectangular shape is best when you want so much of your subject displayed, and if you want to showcase a panoramic photo then a long canvas shape is best. You can also get an oversized canvas if you want more space. Order printed canvas that best suit your picture.


Where canvas printing is used
A form of decoration. Canvas prints custom are used both at home and in offices to decorate rooms.

As a way to preserve art. Art can be in the form of pictures or drawings. And a good way to ensure they remain in good condition is by making them into custom canvas printing.
The most popular formats for printing on canvas
The most popular file formats for canvas prints are JPEG(Joint Photographic Experts Group) which is the most preferred but you can also use a TIF(Tagged Image File Format) file.
How to maintain canvas prints
A personalised canvas print unlike a poster can last for as long as 70 years! Yes, 70! But only if properly maintained. Ways you can maintain canvas prints include:

Clean them regularly- regularly dust your canvas with a cloth that is lightly dampened with water to avoid dust from building up. When dust builds up on canvas prints, they make them appear old.

Hang them in less dusty areas- don't hang your canvases on areas where they are prone to get dust or dirty. Not only will this make your canvas last longer but will also reduce your workload of having to clean it regularly.

In the case that you want to store them, cover the canvas with light clothes or old sheets and ensure it covers the whole canvas.
You can order printed canvas in bulk from 4OVER4.
They are affordable and you get quick delivery. With 4OVER4 you have the option to get a rolled, stretched, or framed canvas. 4OVER4 custom canvas printing is inexpensive. You can buy your canvas print for as low as the price of $25. We are selling our canvas at an affordable price because we want your business to flourish. If you are looking to order canvas prints look no further than 4OVER4 and here is why:
You don't have to get them wholesale. You can buy just one canvas.

You will get various size options for your canvas like 11" x 14", 20" x 24", 40" x 60", and you can also give the custom size you want.

You get to choose from two paper types that are semi-gloss canvas or gloss canvas.

You can choose to get a free online proof before your canvas goes into production.

You can have the same-day turnaround time.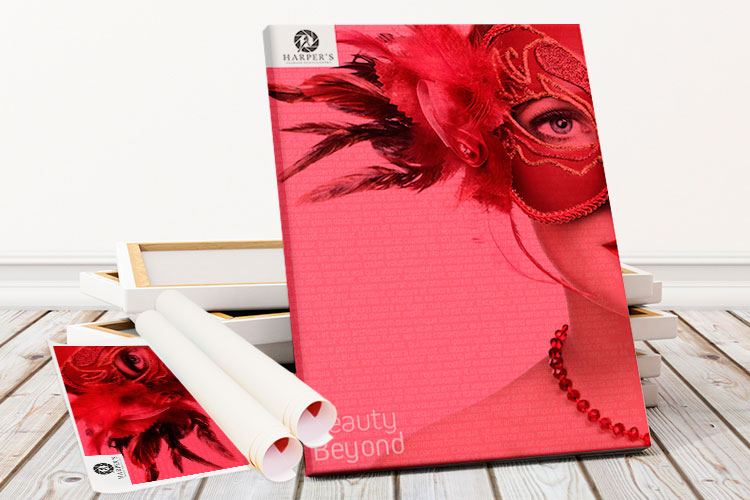 Printing canvas online can be tricky and that's why we at 4OVER4 have a team of experts that will guide you through your ordering process in case you get stuck. You can also get multi canvas prints for your wall. Order canvas print cheap online today! Remember, you get 4OVER4 rewards coins with every purchase you make. These coins will allow you to redeem free business cards, our print products, or even amazing gift cards from other stores. There's great value in shopping at 4OVER4.