There are so many great and scary options when it comes to Halloween party ideas for adults, Jack-o-Lantern being one of the most common. However, most of them involve lots of people and hours of preparation, which is not an excellent option for those of us who work the next day.
October 31st comes on Thursday this year. Although you have the opportunity to visit a bar or club during the following weekend, the Halloween spirit cannot be ignored on the day of.
No matter how old you are or how many times you've been around the block, the holiday simply never gets old. Halloween decorations are something that everyone looks forward to.
October is already teeming with amazing fall recipes, activities, and decor. Besides, who told you that only kids get all the fun? In 2005, just over 50 percent of adults celebrated Halloween. Last year that number grew to over 70 percent.
Like treats snatched from a trick-or-treat bag, adults have slowly been stealing Halloween from kids for years. Now it appears, grown-ups own the holiday.
We at 4OVER4.COM have decided to provide you with a list of 7 SMART WAYS TO SPEND HALLOWEEN AT HOME with yourself or your partner, even if you do not plan to visit or invite anyone. You will be able to enjoy a memorable and stylish evening that does not require a lot of preparation.
With that being said, let's get to the list!
1. Lights Off, Candles On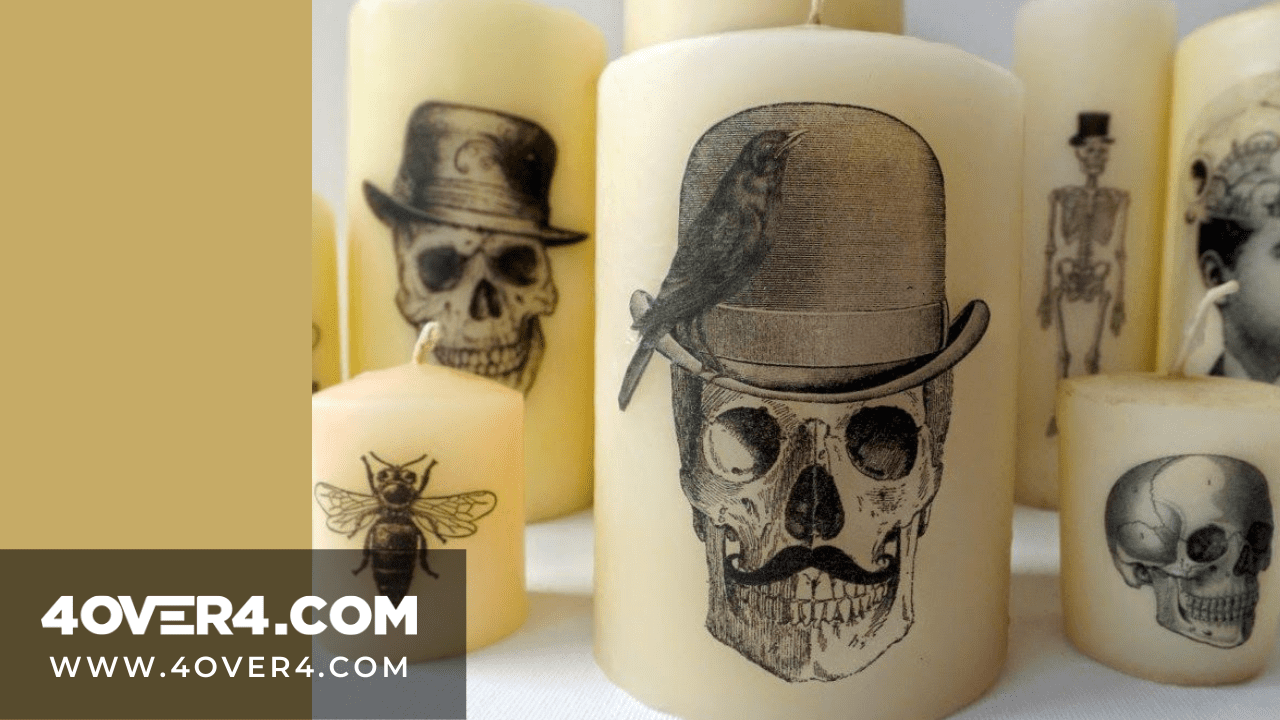 Create an environment of the 17th-century castle, with candlesticks in each room. If you have a loft-style apartment, you can get yourself white candles and put them in safe places around the room, where they can't cause a fire. By the way, if you don't plan to carve a pumpkin this year, you can get an alternative - a pumpkin candle. The main goal is to get rid of the electrical lights where you can.
2. Choose [non] Horror Movies to Watch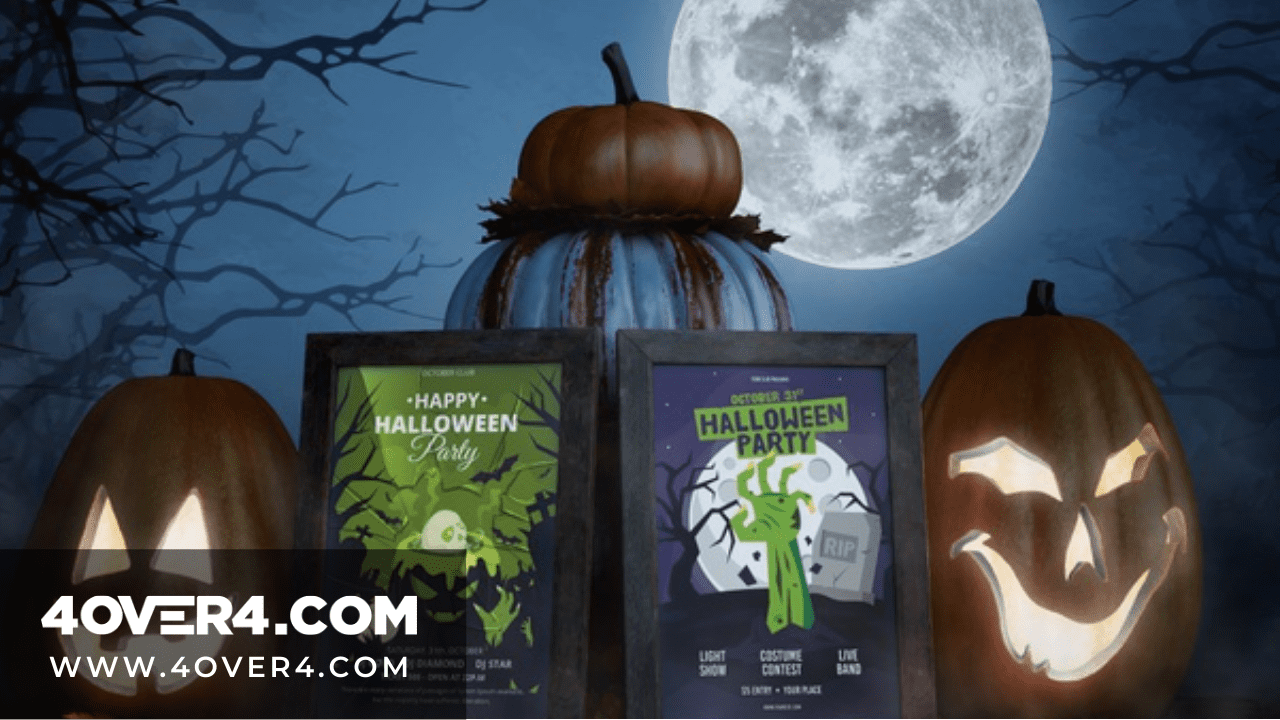 Horror movies can be perfect for Halloween night. Some people like to watch horror movies to be scared, but what if you just want to create a pleasant mood for yourself, get the Halloween experience, and enjoy the festivities?
Here's the list of non-scary Halloween movies to choose from:
The Haunted Mansion
Harry Potter
The Adams Family
Halloweentown
The Nightmare Before Christmas
Death Becomes Her
Practical Magic
Edward Scissorhands
Casper
Corpse Bride
3. Start a Halloween Celebration at Your Office
Halloween is a bonding time for people with a sense of humor and creativity. By involving your colleagues and employees in the process, you get to you ensure yourself an excellent mood for the evening. Besides, you may be able to discover a different side of your co-workers' along the way.
Get creative KRAFT or BLACK custom postcards printing from 4OVER4.COM, and choose a funny horror Halloween story to feature. Put "Trick or Treat" stickers on the table, or give everyone a Halloween Mug to remember this day.
All of the ideas above will take you 10 minutes tops: 5 minutes to search for the ideas on Google, and 5 more to make an order at 4OVER4.COM. The rest is on us! Use your promo code [SPOOKY30] for the 30% OFF on your order! Valid only on October 21, 2019.
4. Halloween-party-themed T-Shirt? Yes, please!
The "OMG-I-don't-have-a-costume" syndrome haunts adults almost every single year. It is frustrating how much pressure is put on people who have very little time for preparation. Here's a way to escape this - plus, help your friends and colleagues do the same: HALLOWEEN-THEMED T-SHIRTS!
Get them for your entire team to wear on Halloween party day. They can include funny and scary quotes or your company name and logo:
All my other T-Shirts from [company name] are covered in blood. Happy Halloween...
CREEP IT REAL with [company name]
You can't scare me. I work at [company name]
Life's a Witch, and then you Fly
[Company name] Pumpkin Squad
This is my HUMAN costume, I'm really a [insert text]
Here's a treat for you: 30% off when you use the promo code [SPOOKY30]. Only valid on October 21, 2019.
5. Listen to Horror Audiobooks
If you still want to get a bit scared on Halloween night and don't like horror movies, you can do better than that. Watch scenes in your imagination while listening to horror audiobooks.
Here's the list you will enjoy:
"Watchers" by Dean Koontz
"The Whisper Man" by Alex North
"The Silmarillion" by J.R.R. Tolkien, Martin Shaw
"The Dark Tower I: The Gunslinger" by Stephen King, George Guidall
"The Outsider" by Stephen King, Will Patton
"The Talisman" by Stephen King, Peter Straub
"Verses for the Dead: A Pendergast Novel" by Douglas Preston, Lincoln Child
"The Haunting of Hill House" by Shirley Jackson, Bernadette Dunne
6. Halloween Party Wine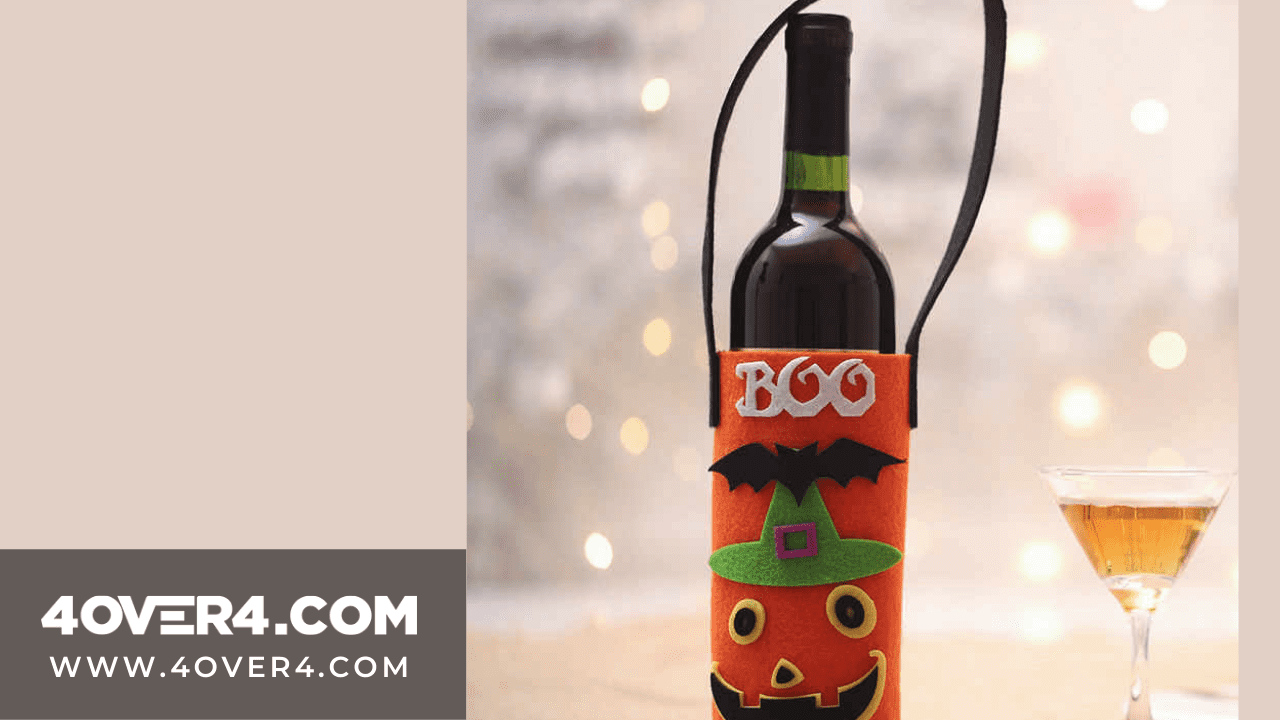 If you're a wine lover, red wine is a perfect "blood-colored" drink for your Halloween night. But did you know you can also make it unique and themed, as well as turn it into an ideal gift for your event? It's all possible with Wine Stickers from 4OVER4.COM.
You can include the quote from Saw II, "Oh yes, there will be blood." Get them for yourself, and don't forget to give it out to your wine-loving friends and family members! This is one BLOODY Halloween party gift!
7. Decorate your office or your apartment with window stickers
There's an excellent way to freak your neighbors out: put a transparent window sticker with a scary picture, and light it up from the inside. The same can be done on the office windows - both inside and outside.
The bottom line, if you follow these smart and simple steps, you will spend an enjoyable and fun Halloween day at the office. You will also create a mood for yourself in the evening, and have a comfortable T-Shirt costume that will serve you for a long time. Don't forget to scare some neighbors and uniquely congratulate your friends and colleagues.
As always, 4OVER4.COM is your companion in creating memorable moments of your life. Choose from our holiday print product sale. This Halloween HUNT our website for special deals!
Have a SCARY fantastic Halloween Party!