"How can students show off their school pride?"
"How to boost student engagement with the school?"
"How to increase student enrollment?"
As an education administrator, have you ever asked yourself one of the questions above? If so, you are probably aware of how important school pride is for students. As revealed in a recent research released by
Varsity Brands
,
students with higher levels of school spirit perform better academically, are more civically engaged, and generally happier than their less-spirited peers.
Thus, not only does school pride provide an exciting learning environment, it also fuels academic performance.
The Power of School Marketing Materials
From elementary school to college education, school spirit matters. That's why principals, teachers and students should work together toward building a strong school spirit. What's the first step?
Customize school marketing materials in unique, creative ways to encourage students to flaunt their pride,
so they
have the means to show off their passion for their school. The best part is that you don't have to worry about hurting your budget, we have an incredible offer you won't want to miss! You can get 25% OFF all school print products by using coupon code BGPRCM25 at checkout!
We want school administrators to reinforce school spirit in a cost-effective way, so we are offering discounted custom school materials including
our large selection of banners
, floor graphics and decals.
School marketing can draw interest from students, parents and the society. So, below we feature 5 key school marketing materials to increase your school pride:
#1. Customize a T-shirt That Says It All
Nothing shows support for your school like a custom school spirit t-shirt. Using
a personalized t-shirt with your school's name, logo, or mascot is one of the most common, yet effective ways for students to show off their pride.
Give them a tool to show their support
for the school's basketball team, talent show, dance competition or academic achievements.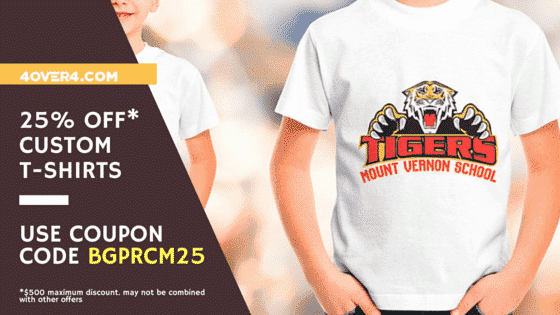 Here are some creative ideas to make your t-shirts memorable:
Create a friendly statement or fun message that breaks the mold like "keep calm and graduate," " kiss my class," or " we're kind of a big deal."

Ask students to wear their t-shirts during school events and share pictures on social media including a catchy hashtag. For example, #LoveMySchool, #schoolpride, #proudofmyschool.

Print different color t-shirts to match diverse occasions. For example, you can choose orange for the cheerleading teams and purple for a football tournament.  
#2. Motivate Students with School Event Banners
Whether you prefer outdoor banners, two-sided blockout banners or indoor banners; school banners can serve a variety of purposes, including promoting on-campus events, announcing the Prom queen and king or displaying loyalty for your alma mater.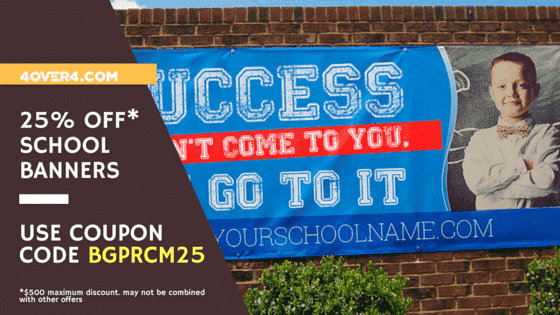 Well-thought-out school banner designs are powerful tools,
come up with a unique concept and write custom messages to get students' attention. Make sure to place them where your audience sees it; at your outdoor sporting event, halls or indoor facilities.
To effectively
communicate your school pride and spirit,
consider these three tips:
Encourage students to participate in the design process of your school banners. Ask them to create graphics, take pictures, choose font styles and write a message.

Use current student photographs so that others feel identified with the image as well as your message.

Place school banners outside the school's entrance so parents can also see them.
#3. Raise School Spirit with Tote Bags
A cost-effective way to promote your school spirit is through
our custom tote bags
. They can be used to carry books, a laptop, lunchboxes, sportswear or any school stuff. Having the ability to customize your tote bag can help you spread the word about your school in a visually appealing way. All you have to do is to place your school logo on custom tote bags and give them away to students. Chances are, they will love your custom school tote bags and increase school exposure.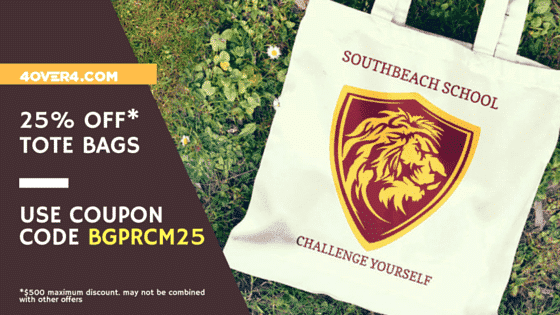 #4. Hand Out School Decals and Stickers
Custom school decals and small stickers are eye-catching, stylish and versatile
. They can be put on almost any surface, including walls, windows, desks, laptops, phone cases, binder covers, notebooks, bicycles, helmets and lockers. In short: possibilities are endless.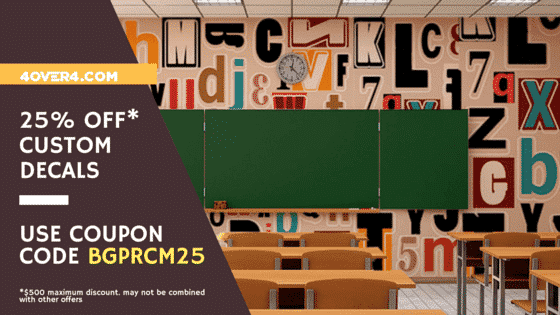 When it comes to custom decals, the first thing that matters is that your design matches your school's unique style. Some of their most common uses are sports decals, spirit decals, school mascot decals and fundraising decals. They are a great solution to advertise your cause without spending big bucks.
Not only are large-size decals powerful marketing tools, they are also the means that transmit how much students love their school
.
In elementary school, custom stickers are often used as rewards. However, custom stickers are also used in high schools and colleges to promote clubs, sporting events and the school itself.
They elicit a sense of unity with your cause while boosting morale and loyalty
. Give your stickers an original twist so they stick in your audience's mind. Remember: Cool, original stickers stand out from the rest.
#5. Generate A+ Awareness With Floor Graphics
Floor graphics make it simple to make a big impact. Customize oversized floor graphics to display your school spirit in high foot traffic areas where students and visitors won't miss your message.
Floor decals are great marketing tools as they are durable, slip-resistant and removable.
By putting your school mascot or a cool message along with your logo on your floor decal, you will be able to grab students attention as well as boosting a sense of belonging.
Original floor graphics maximize your school awareness
.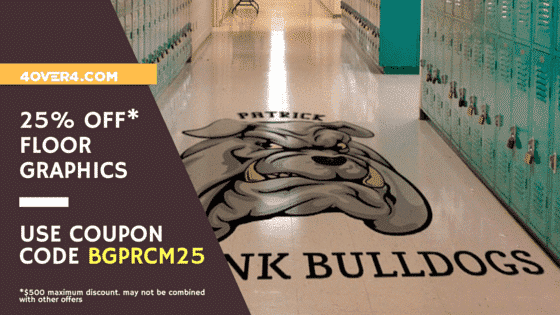 We are offering educational institutions a limited-time promotion:
25% OFF on any print product by using coupon code BGPRCM25 at checkout
. Additionally, schools that sign up get a 30% discount for life on all 4OVER4.COM products.
Are you ready to plan your next print strategy to promote school pride? Let us know! Please share your thoughts in the comments section below.