One thing stands true for both your private and professional life, first impressions are everything! Just like you would not go to an interview in a pair of jeans, your business envelopes also need to look sharp and ready to impress perspective customers. For many small businesses, envelopes are the first point of contact with customers which is why they need to stand out and be appealing to the eye. After all, you don't want them to get tossed in the trash without a second glance.
Express yourself!
Business envelopes are a relatively inexpensive investment for a small business that wants to exude a polished and expert appearance. "Your envelope is about your personality, integrity, and humanity," Jim Harris OCDQ Blog. Don't stick with the standard blank white envelopes; create customized business envelopes using your company logo and a catchy phrase.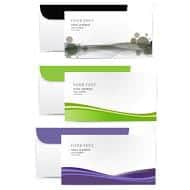 Dress them up!
Let's face facts, no one wants to tear open an envelope that looks like little or no thought was put into it. Make your business envelopes attractive to the target audience you are trying to appeal to by using vibrant colors. Give current and potential customers a hint as to what they might find inside using a creative slogan.
Make it personal!
We live in a primarily digital age where a handwritten envelope is slowly going the way of the dinosaur. Set your business apart from the rest and handwrite your customers address on your business envelopes for a personal touch. This simple act makes customers feel appreciated and implies that a respected business relationship exists between the two parties. Handwriting an envelope takes little time to do, but sends a lasting impact on clients. Handwritten envelopes suggest that even during a busy work day, time is set aside to personally address every envelope that leaves your office. This little act speaks volumes about how you value your customers and your business ethics.
No need to break the bank!
Business stationery is an integral part of communicating with clients in order to announce new services, products and special promotions. Direct mail companies, in particularly, not only have to devote time and attention to assembling an attractive catalog, they also need to design a beautiful envelope. Luckily for small businesses trying to get a foothold in their respective industries, the internet has made purchasing customized business envelope printing affordable. Businesses can design a unique logo to be used on not only for their envelopes, but also business cards, stationery, brochures and more.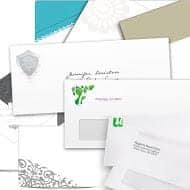 Branding successfully!
"The medium is as important as the message," so don't' miss an opportunity to market your business, Jim Harris OCDQ Blog. You have put some much thought and attention into every detail of your brand and that needs to get carried through in every aspect of your business. Printing Business Envelope is another way to successfully brand your name and products. When customers see your envelopes they will make an immediate association with your products and services, building everlasting brand awareness. Be smart and take advantage of every opportunity to market your business in style all the while staying in budget. Come up with an original design for all your business envelopes from commercial envelopes to brochure envelopes with the guidance of online printing firm 40VER4.COM. So how about you, do you think it's important now? Let us know in the comments below!