We are edging towards a completely virtual world where the physical elements are mostly non-existent. In spite of all such promises and challenges, business cards are consistently staying popular, and C Suite Executives need it the most. What are the best business card examples?
A card that has an equal balance of white space, color, contact information, along with a great logo, is the best business card design. Whether you are using the best inexpensive business cards or premium card stock creative business cards, the unstable business card ruins the first impression. 4OVER4.COM is the leading business card printing service online with the best knowledge of printing custom design high-quality business cards at all levels. Let's learn the right business card styles for C Suite Executives.
Business Card Requisites for C Suite Executives
Add Personal Pitch Instead of Your Image on Business Card
The C Suite Executive cards are not the place to display your image. Although it helps to remember your face but also categorizes against you. So, business card style with images is not preferred for executive cards. Instead, you may include a solid pitch that is more important to get your business. For instance, a confident tagline "Five Listed Skills that can Propel a Young Business into Profitability."
Avoid Slippery Shiny Visiting Cards Style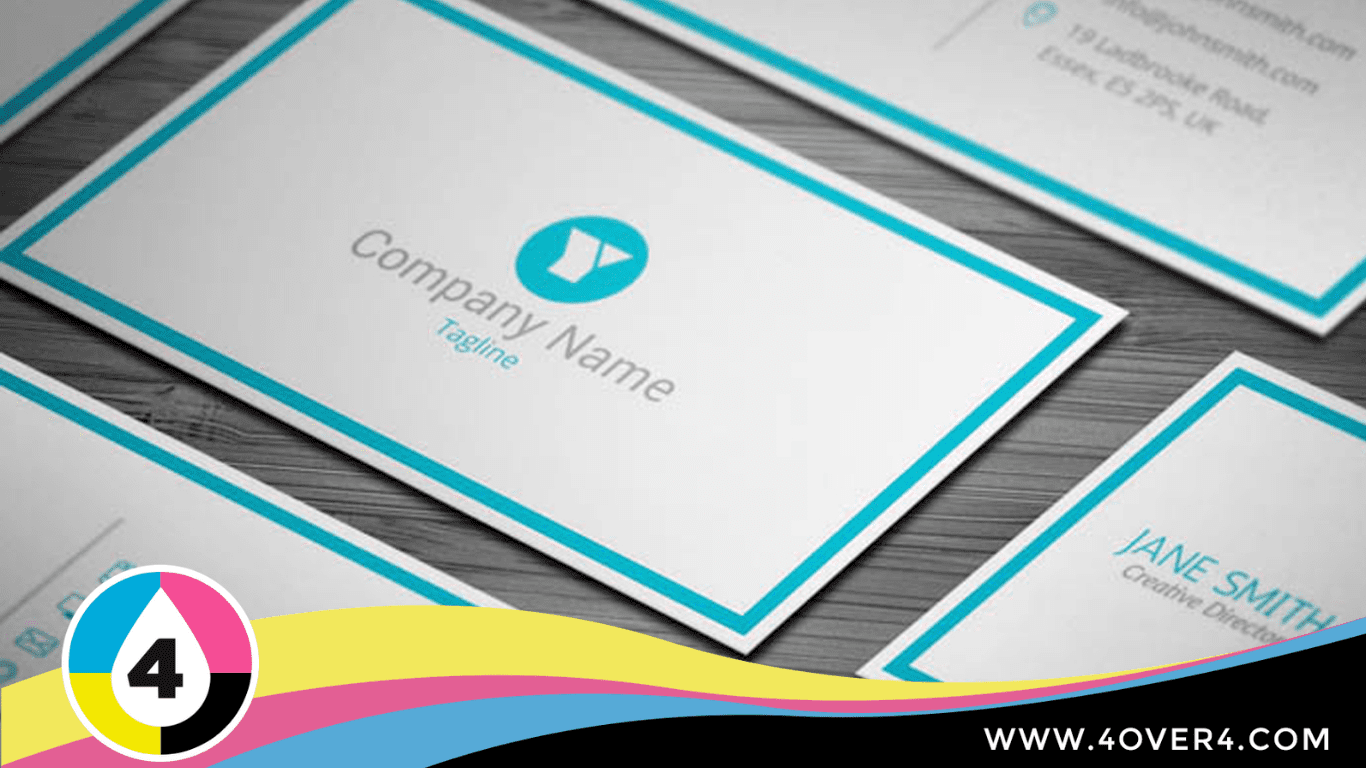 White business card template with blue border line
You might consider the shiny paper printing distinct and compelling. But it doesn't meet the purpose of the business cards near you. Moreover, the shiny business cards cheap quality makes it unattractive and distasteful. For example, extra information scribbled on the shiny slippery card can get smeared easily.
Use Elegant Design and Simple Typeface
The C-Suite Executive card style has to be elegant and classy. Any random color or shape can hamper the exclusivity of the card. Keep it minimal by choosing the right colors, and keep it to two or three shades. The colors should not be loud. The simple, the better is your card. Over saturating a card with unnecessary information can take simplicity away. Always take a minimalistic approach to business cards, creating a sophisticated feel. For the minimalist design, you may look out for out-of-the-box detailing template like graphic element offer an appealing layout.
Use of Premium and High-Quality Card Stock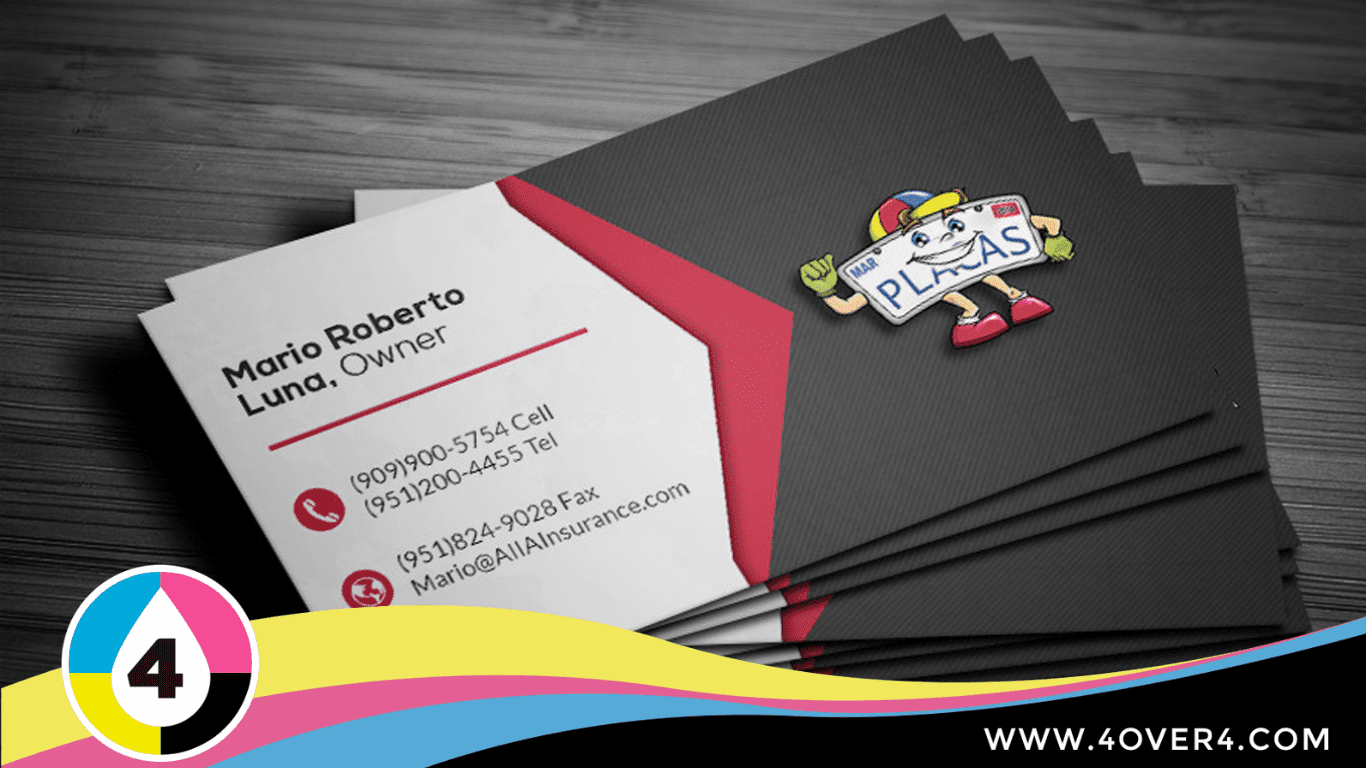 Source Using 20 pt or 28pt or 56pt premium card stock can make your business card design alluring and exciting. So, the C Suite executive must reflect class with premium card stocks. The premium range of paper stock from 4OVER4 helps you to create the best designs that people are sure to notice. It also lets the C Suite executives create interactive card designs or perforated business cards that can surely attract the attention of the recipients.
Create Different Cards for Diverse Opportunities
If you are a multi-talented personality with several designations, you can create a different card for different opportunities. For instance, if you are great at product planning, strategic management, and contract negotiation, you should create multiple card designs to justify each role that you cater to in the business or office.
Examples of Business Card Design of the C Suite Executive's
Aroma Corporate Card Style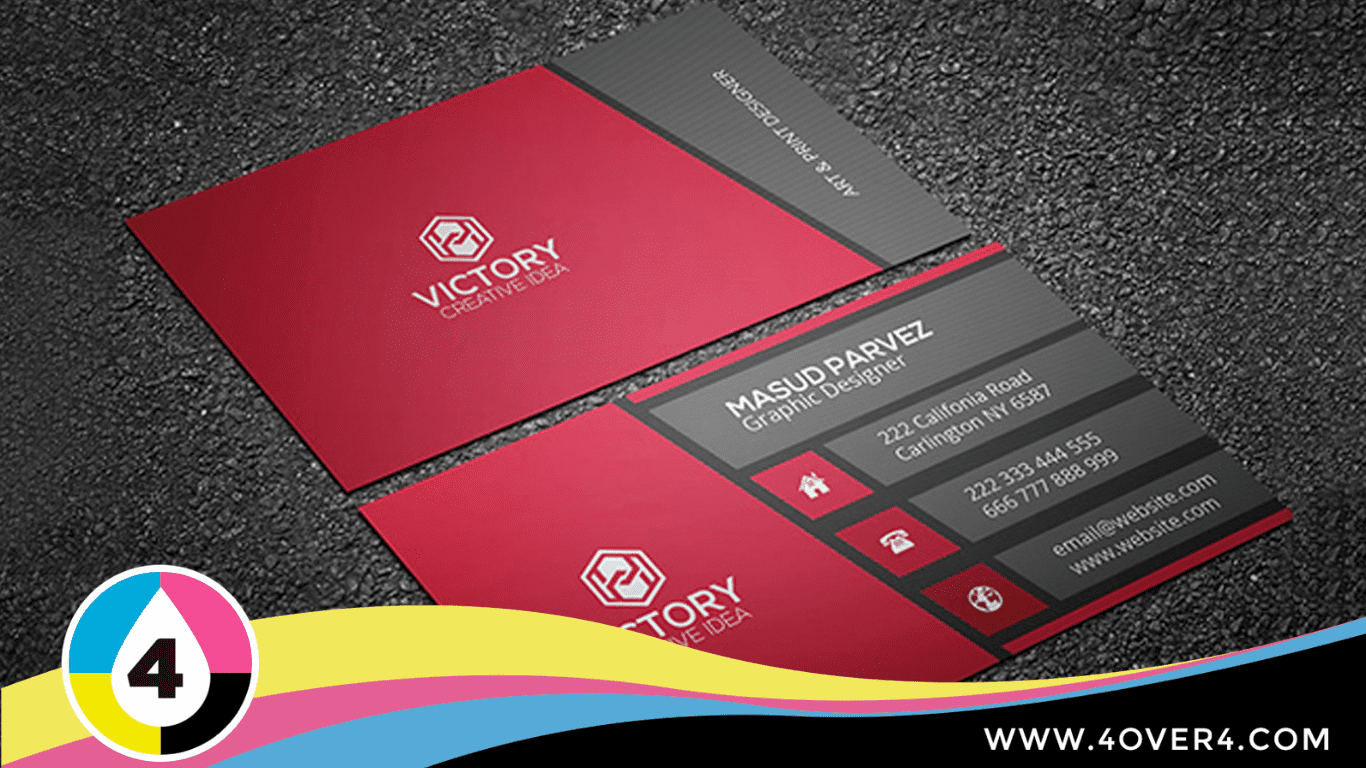 Aroma corporate style visiting card in black and maroon color[/caption] It is one of the best C Suite Executive card styles with a natural and exclusive combination of colors. The right placement of the major elements on the card makes it appear exceptional, trustworthy, and professional.
Square C Suite Business Cards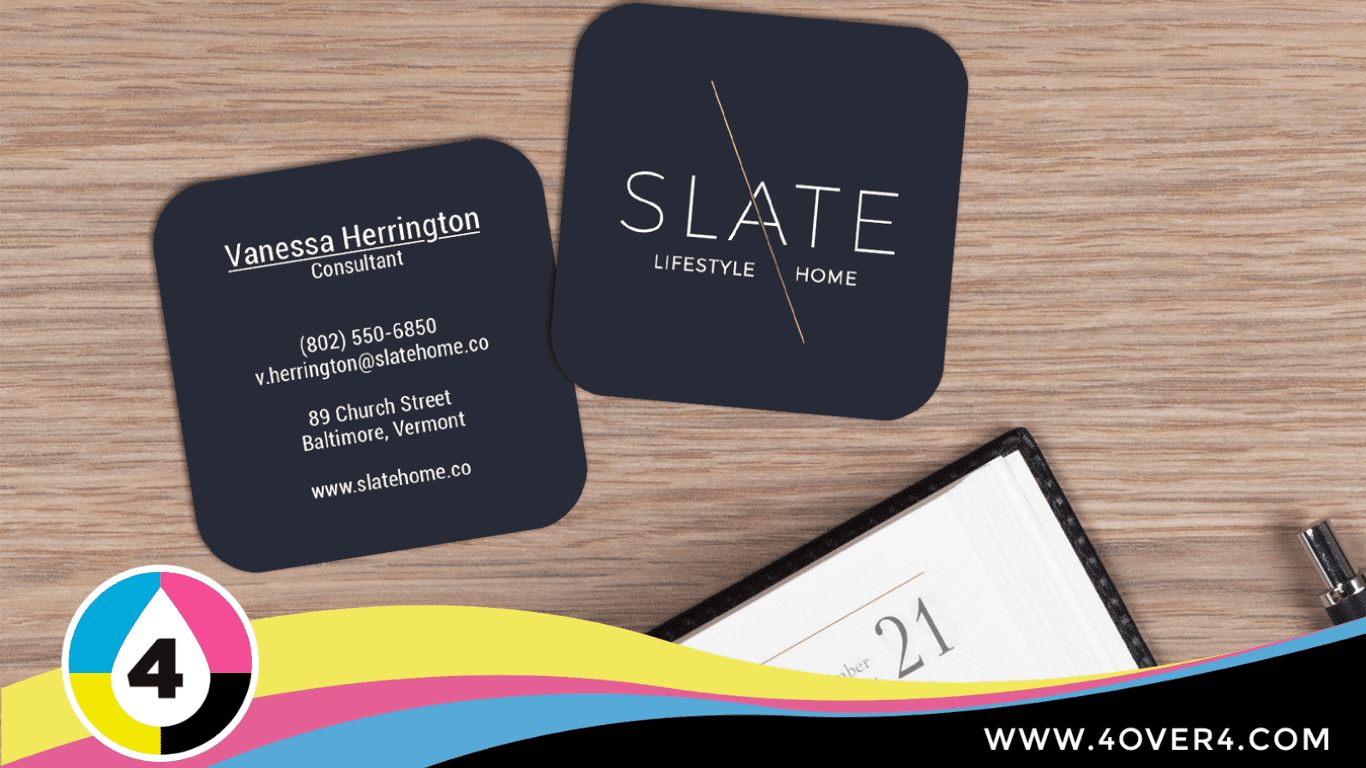 Rounded edges, solid color square business card If you are looking for a minimalist visiting card with some change, square business cards or mini cards are the best way to go. The evolution of shape from a regular rectangle to the square can make it interesting as well as add some freshness to the concept of C Suite visiting cards. There's no difference, other than the layout of the card. It is ideal for high-class executives.
Vintage Visiting Cards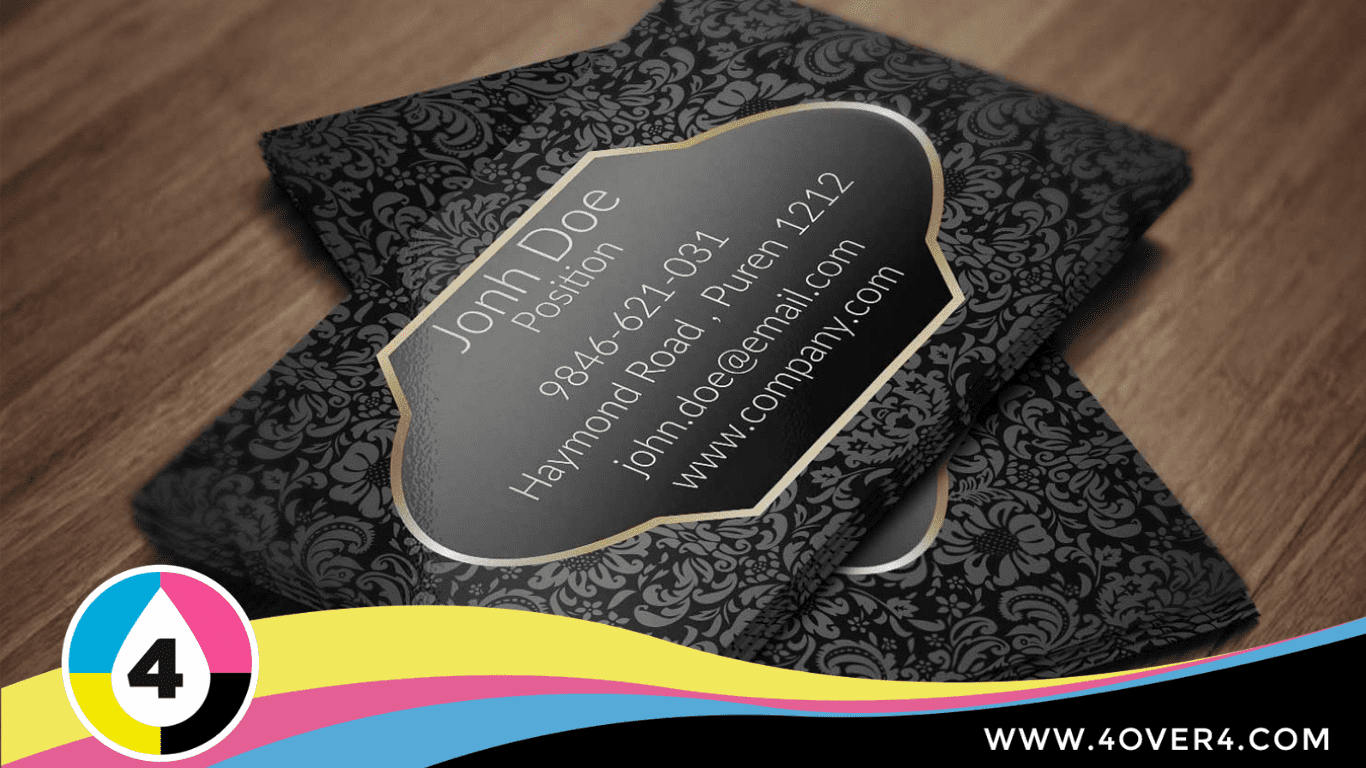 Vintage black and golden premium-quality visiting card Ideal for executives, the vintage cards are the simplest of the lot. Choose from 4OVER4 premium recycled paper stock range and give your cards a classic twist. Our customer service team is always at your support to guide you in the best possible ways with your right card design and quality.
QR Code on Refreshing Green Card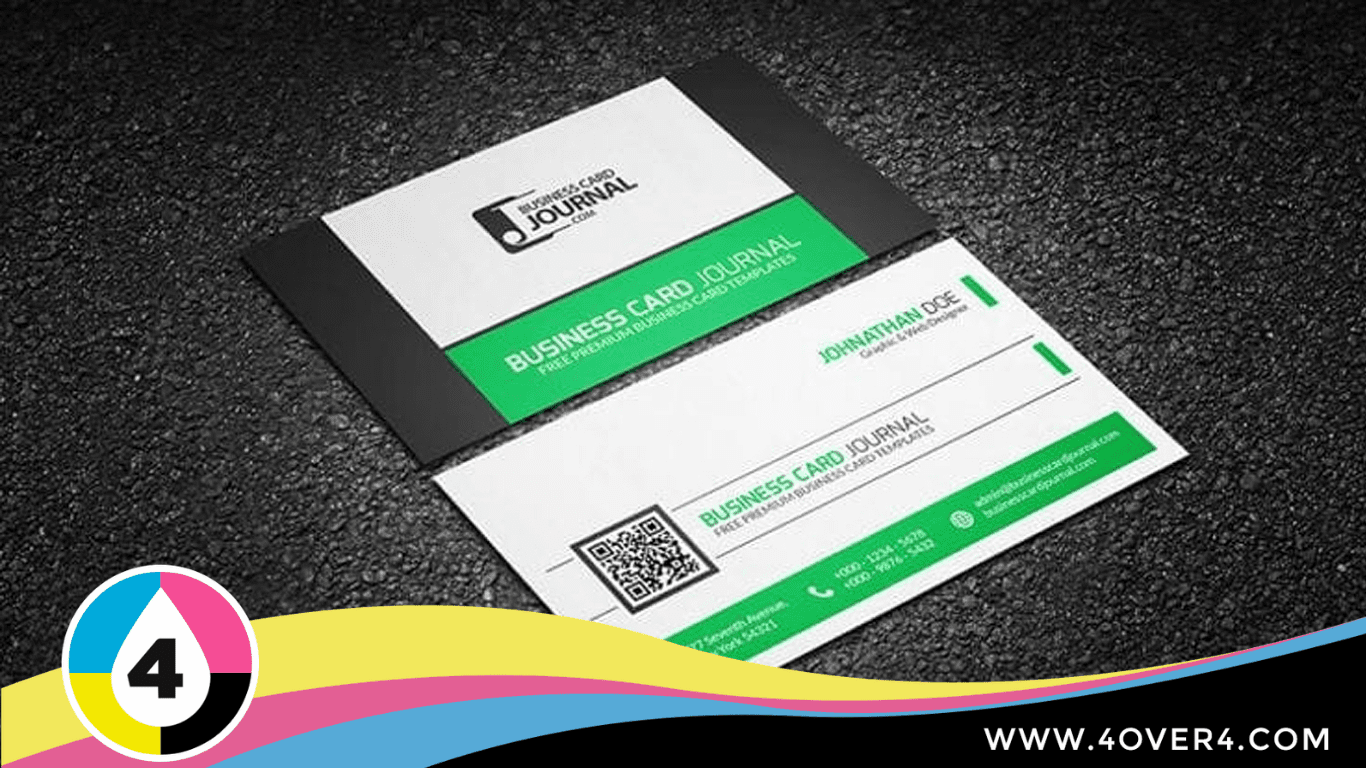 Simple and elegant black, white, and green color card with QR code printed If you are looking for a modern touch to your C Suite executive business card, the refreshing green color along with white and black combination is the best bet. The QR code printed on the card makes you appear modern, stylish, and trendy.
Dark Theme With Green Business Card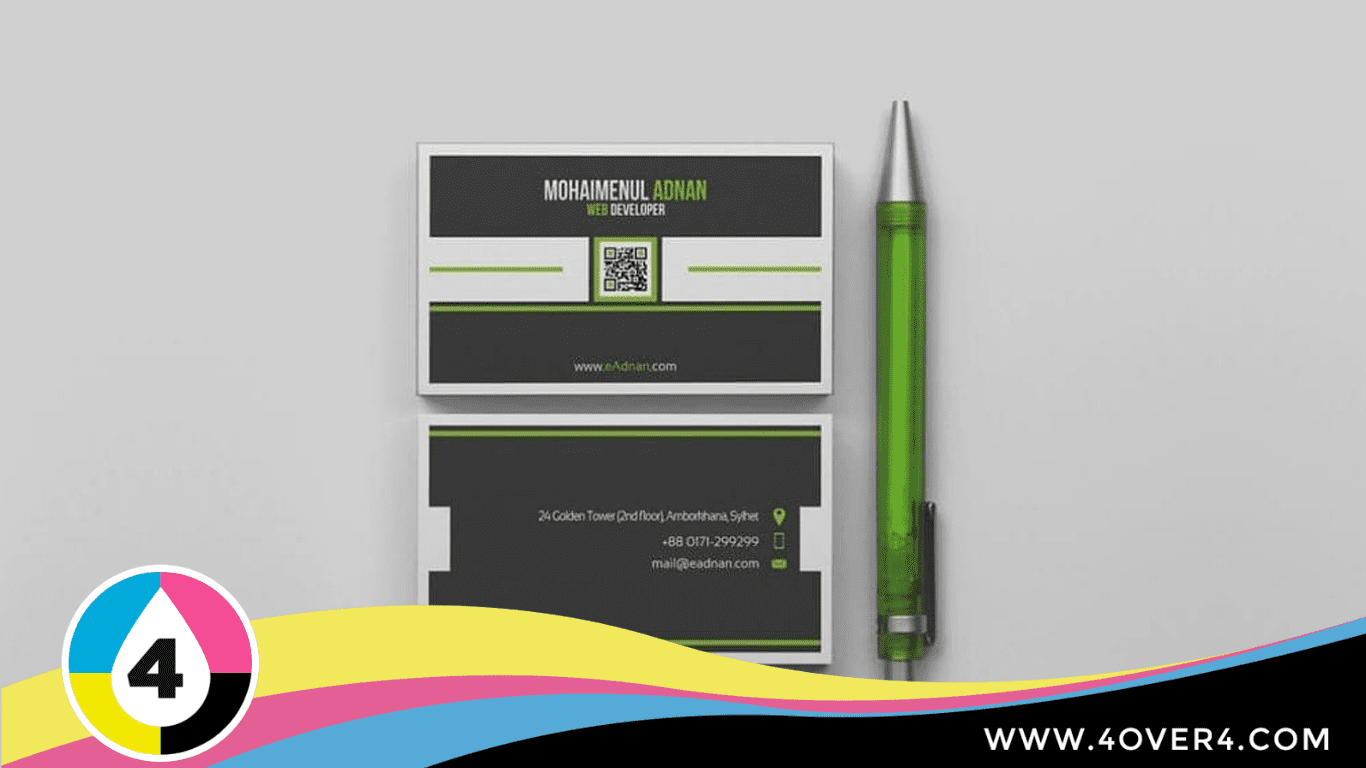 Solid black color card with green border and QR code in the middle For a classy and sharp design, this shade of green is the right fit as it blends nicely with the dark theme used on the card. This is a unique corporate full color business card that consists of the QR code in the middle of the flip side on the card. The front of the card contains the contact information.
2D Pyramid Visiting Cards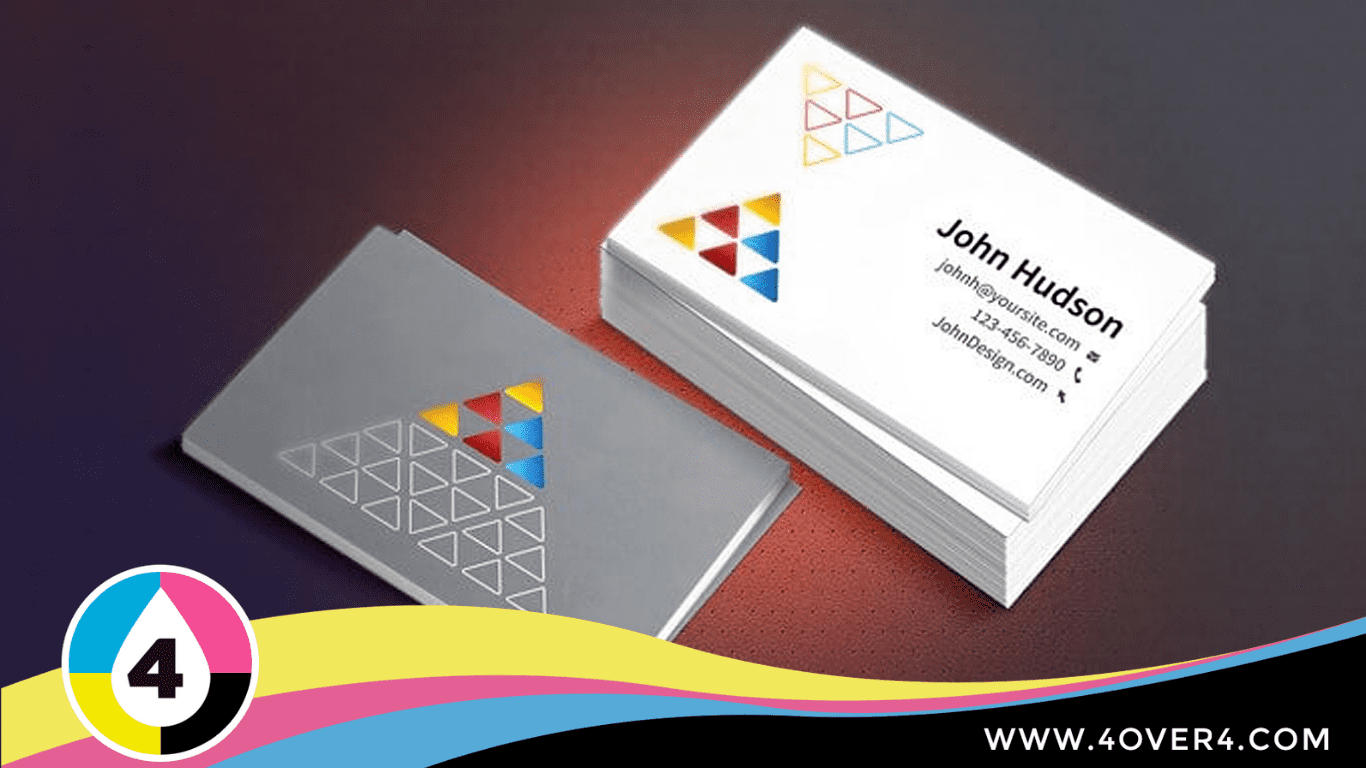 Face to face colored pyramids printed on the card For all the corporate world executives, the 2D pyramid card is the best design of all. The colored 2D triangles on both side facing each other make this card look professional, reliable, and sharp. 4OVER4 can offer you the best quality along with a range of printing options like spot UV, die-cut, colored edges, metallic foil, and more. Please choose the right card stock for your professional C Suite executive business cards, and we print and deliver it to you within 4-5 days turnaround time.
Premium Distraction Free Visiting Cards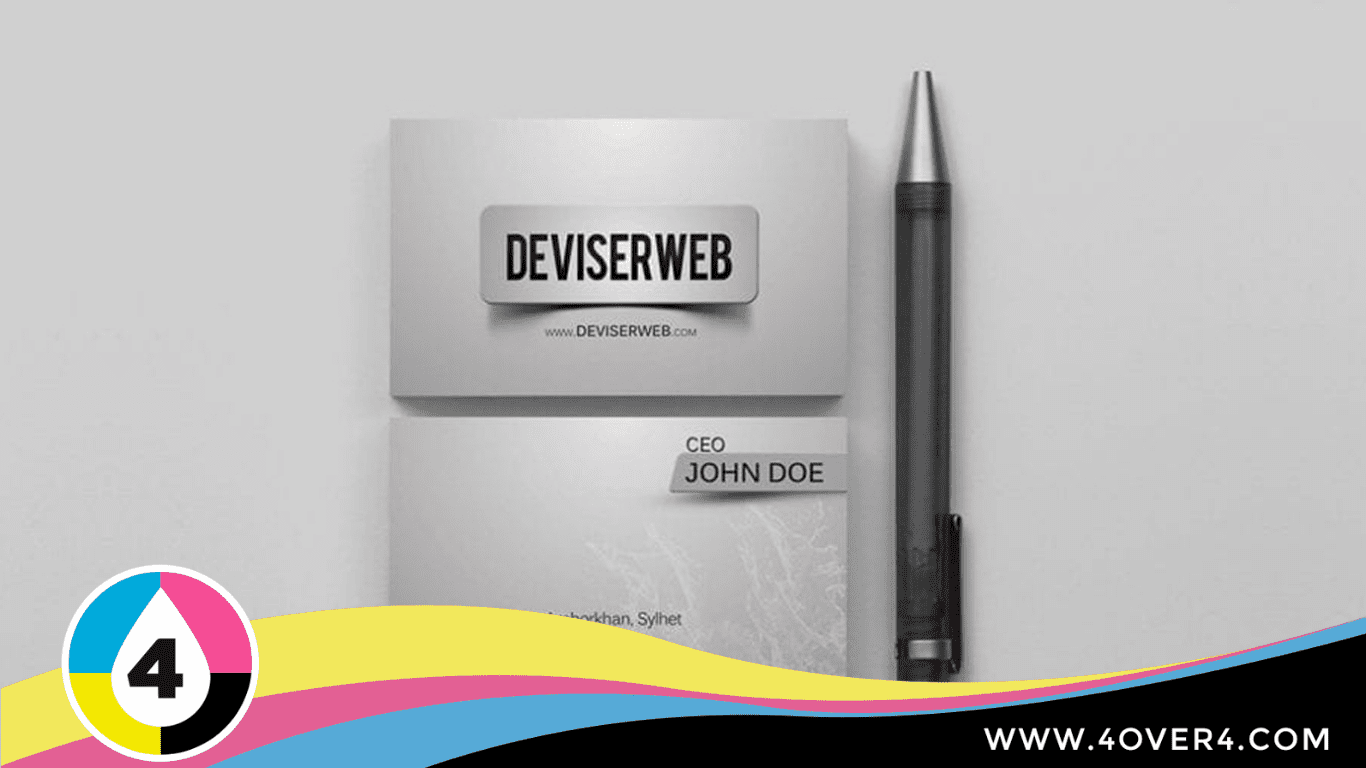 C Suite Executive visiting card and pen The simplicity of this card can never fool you. It reflects nothing but sheer elegance. There's no space for distraction and has enough room for contact detail. For every C Suite Executive, this is the perfect design for its professional and elegant look.
Black/White Design Professional Cards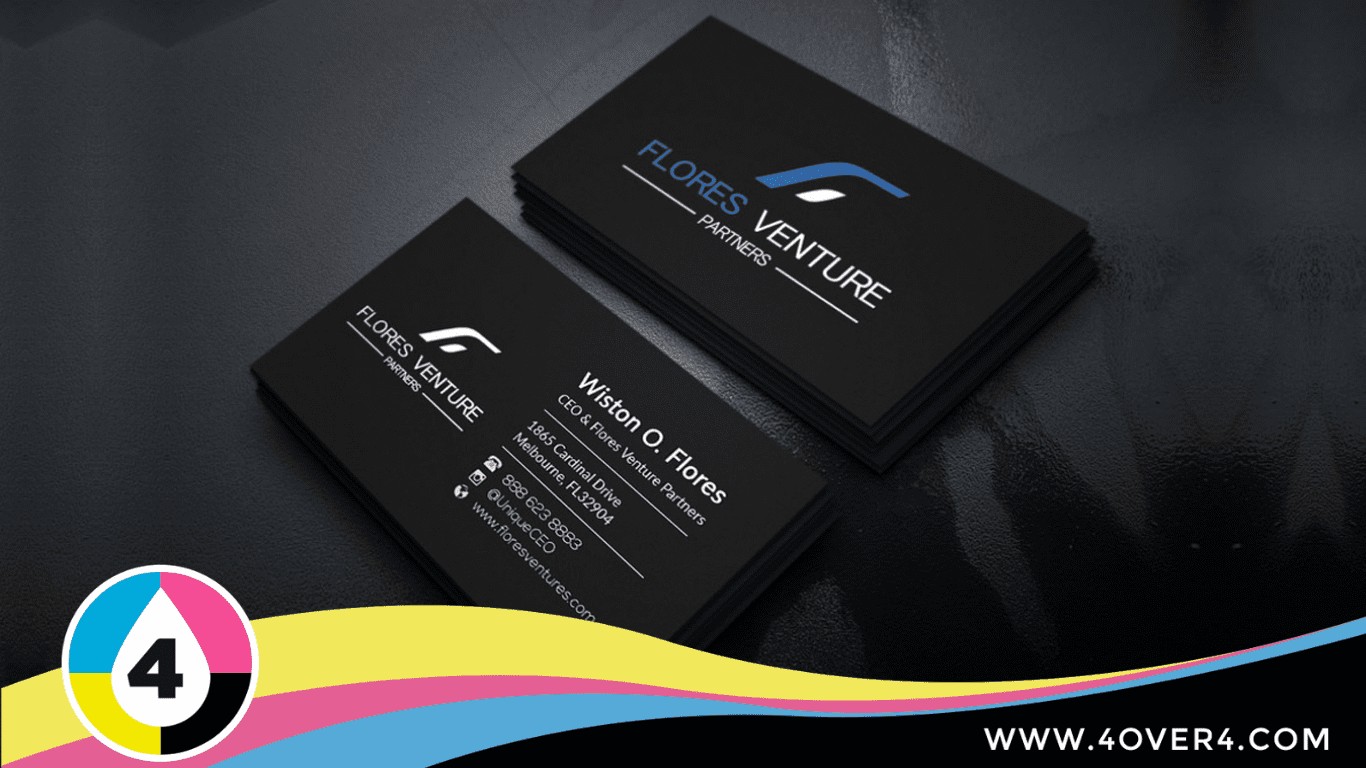 Black color clean logo premium quality card All black or all white card with a string of color element, makes it perfectly professional looking for the C Suite Executives. Select from our range of high-quality printing and design templates to make your visiting card perfect as per your designation.
Conclusion
4OVER4.COM is one of the most preferred trusted online printing platforms for the quality and range of printing options that we offer. You can be as creative as you want. Our graphic designers and printing professionals never fail to create exactly what you send, and you are looking for. If you cannot find your choice of business card free design from our templates, send us your specifications. Order your business cards quickly, our team is highly skilled in offering you the best at most affordable rates.