Are you a graphic designer, an artist, or a photographer? Whatever creative profession you may be in, your business cards must be simple enough to show your skills and talent. It must reflect your creativity and out-of-the-box thinking ability. Whether online or offline assets, make your cards as creative as possible. By working rightly on your product branding, you can highlight your experience and let the prospects know why they should hire you. Business cards are one of the best ways to describe your business as well as yourself. You need not spend hours to make it unique or get the nuances right. 4OVER4 is one of the leading business card printing service that can help you to create unique cards in simple ways. Here are some of the best inexpensive business card styles or ways that you can work on to make the card for creatives stand out.
Play with Business Cards Shapes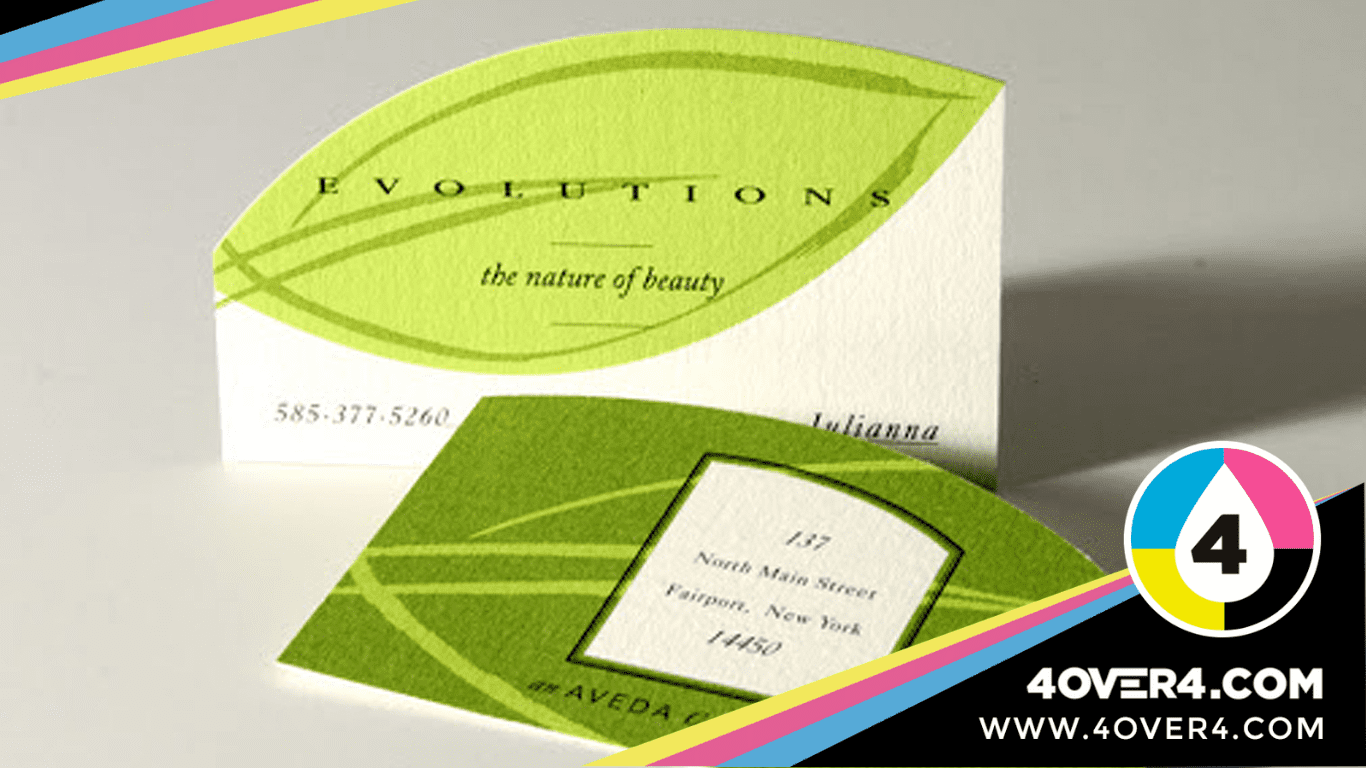 Did someone ever say that your business card needs to be a rectangle? No, it need not be because you can give any shape to your cards. It can be small business cards, oversized cards, heart-shaped, or leaf-shaped mini cards. It can be anything other than rectangle if you want. But, one thing that you must remember is to keep the card shape simple. Never make it complicated as the intricately designed card can fold or wrinkle and give a messy appearance when you hand it over. The die-cut quality business card style is one of the best ways to enhance the cards for creative professionals.
Right Blend and Dash of Color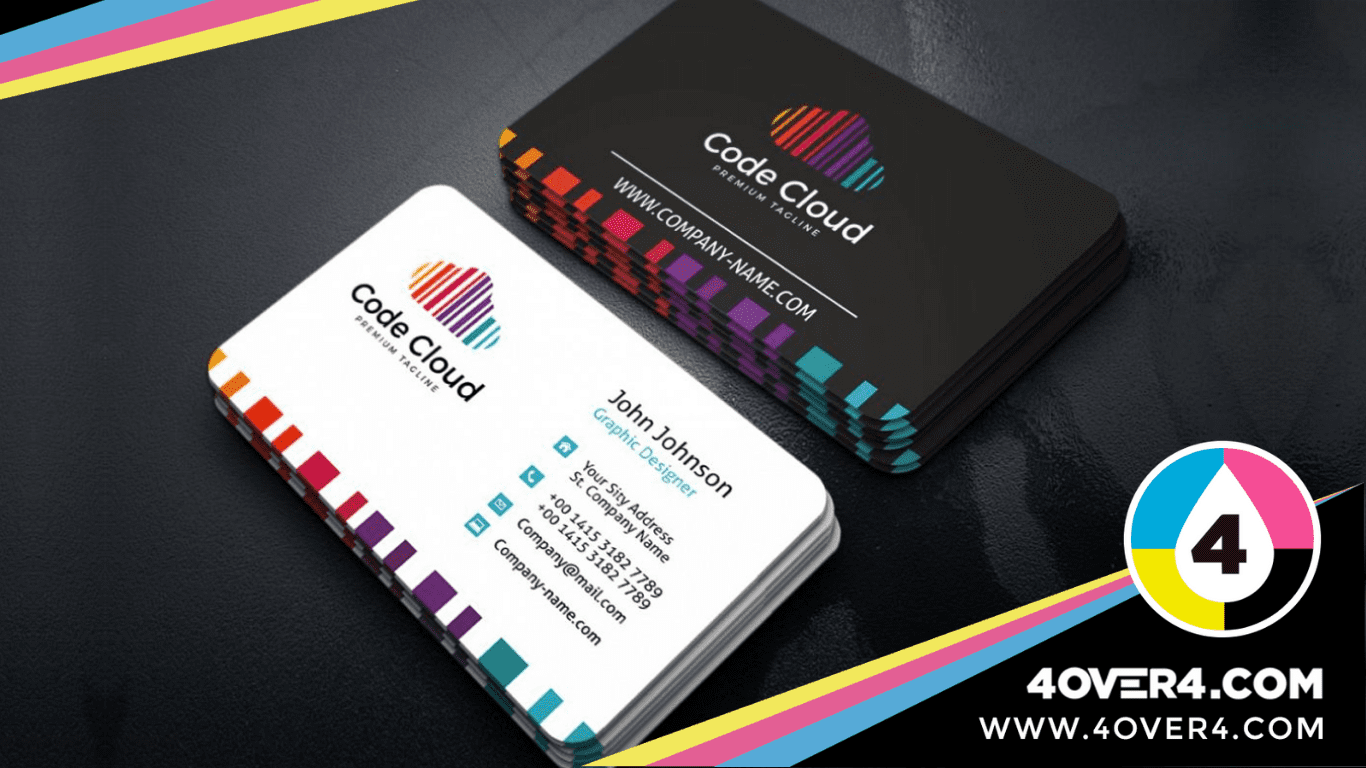 Pop of color on boring black and white cards
You must be aware that the artists never go crazy on every visual asset they work. Simple and minimal designs and styles with a pop of color is the best option for business cards of creative professionals. When you add a dash of color, plain and boring. You may use two to three contrasting colors to offer a fresh and upbeat look and design to your cards. The full-color custom design creative business cards style is another way to make the cards for creatives, unique. Contrasting pastel colors make the best business card examples for creatives.
Clean Yet Unusual Typography on Your Card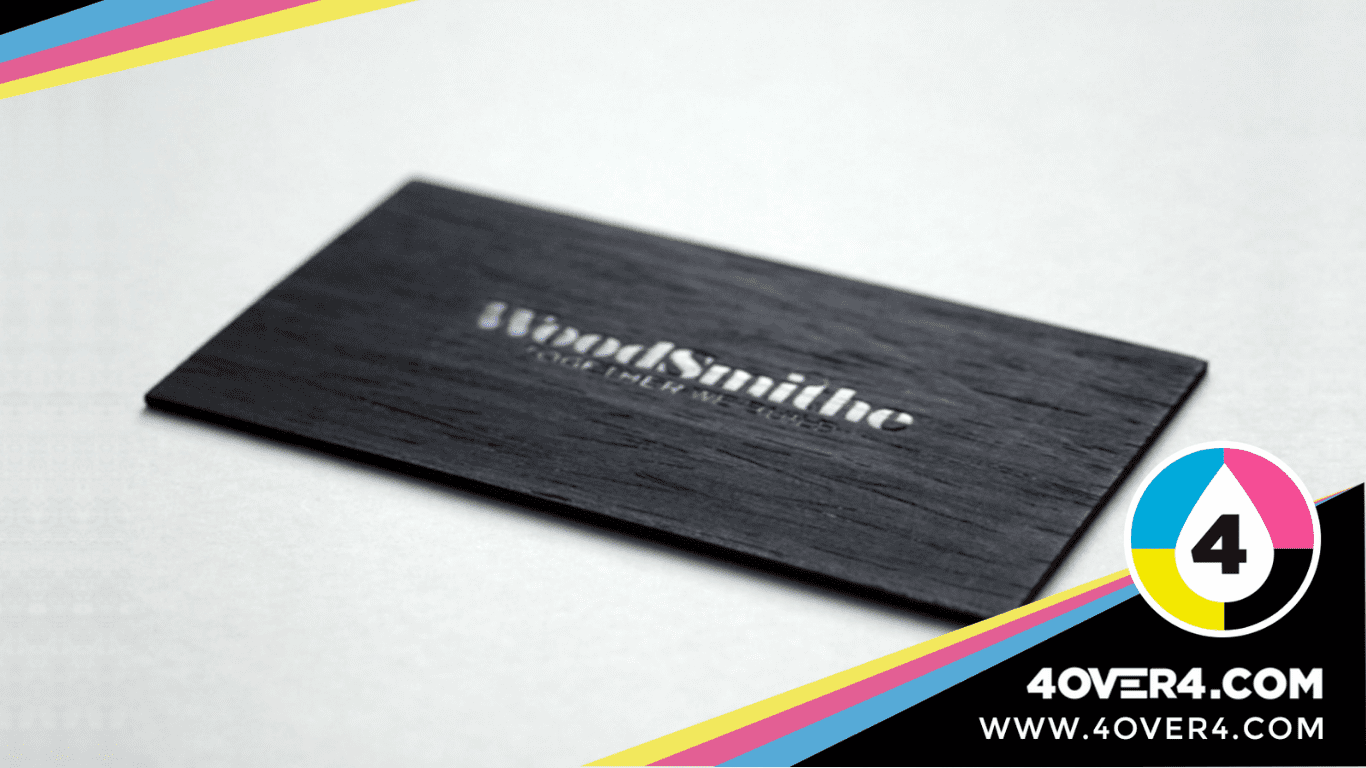 Wooden texture black color visiting card
Creative professionals can even show their creativity using unique fonts. Rare or uncommon typography can create a vast difference in making your business cards design exclusive. When you add your contact information and other detail without over-boarding, it creates a unique style in itself. The use of any two rare fonts can make your printed material appear crisp and perfect. Gothic is one ideal typography for creative professionals that you may use to make your visiting cards noteworthy. By choosing the right typography, you can even make your cheap business card attractive. Custom business cards free or business cards cheap, you can find several business cards near you, but choose the right color, font, texture, and shapes to stand out.
Use Images on Business Card to Divulge Your Style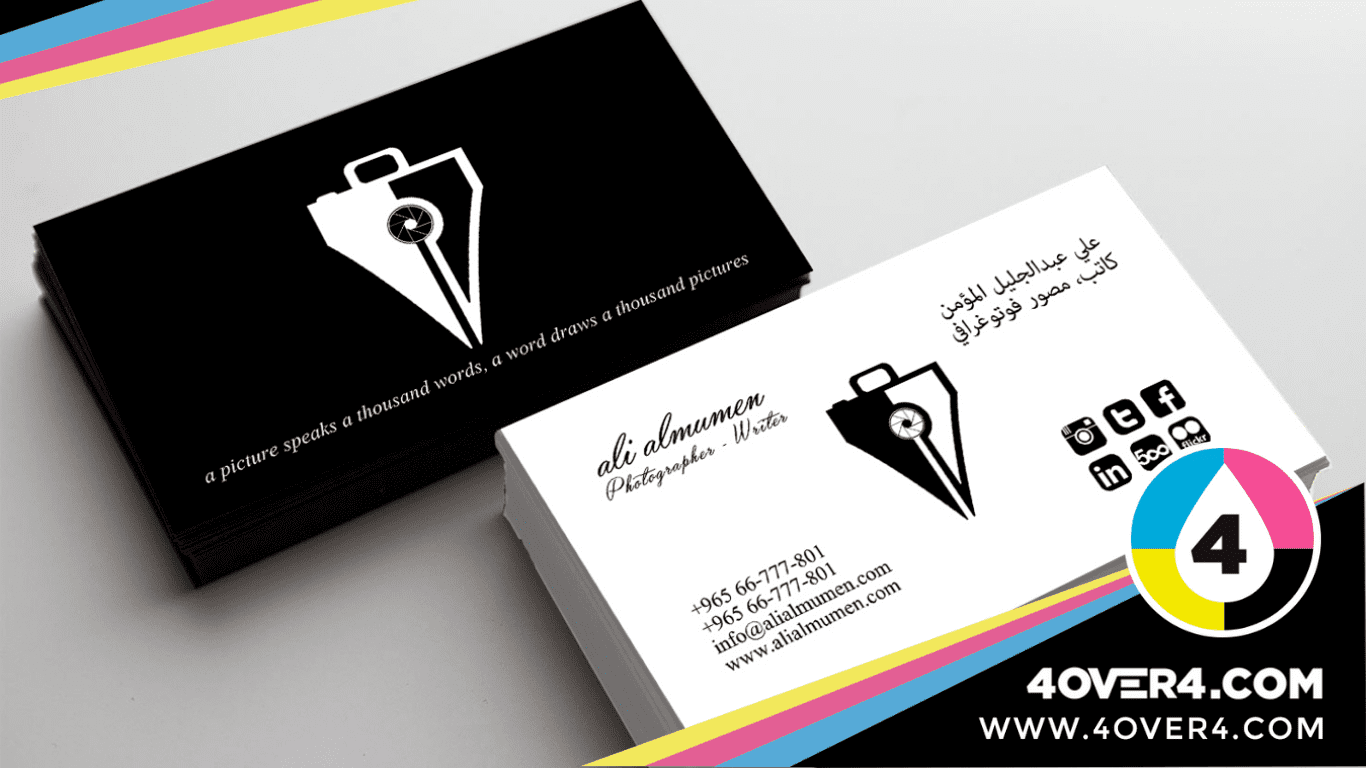 Writer's visiting card with a nib shaped logo
When you are an expert at what you do, for example, a writer weaving words, you can give a pictorial representation of your style. You may come up with a fun illustration or a logo that best describes your profession or style. An author creating fictions related to history can use a picture like a knight with a spear or similar. If you are a writer, such abstract images are something very prevalent in your mind. It shouldn't be difficult for you. Choose minimalistic designs with artistic and bold logo to highlight your creativity to its best.
On One Side of the Business Card Print Your Best Work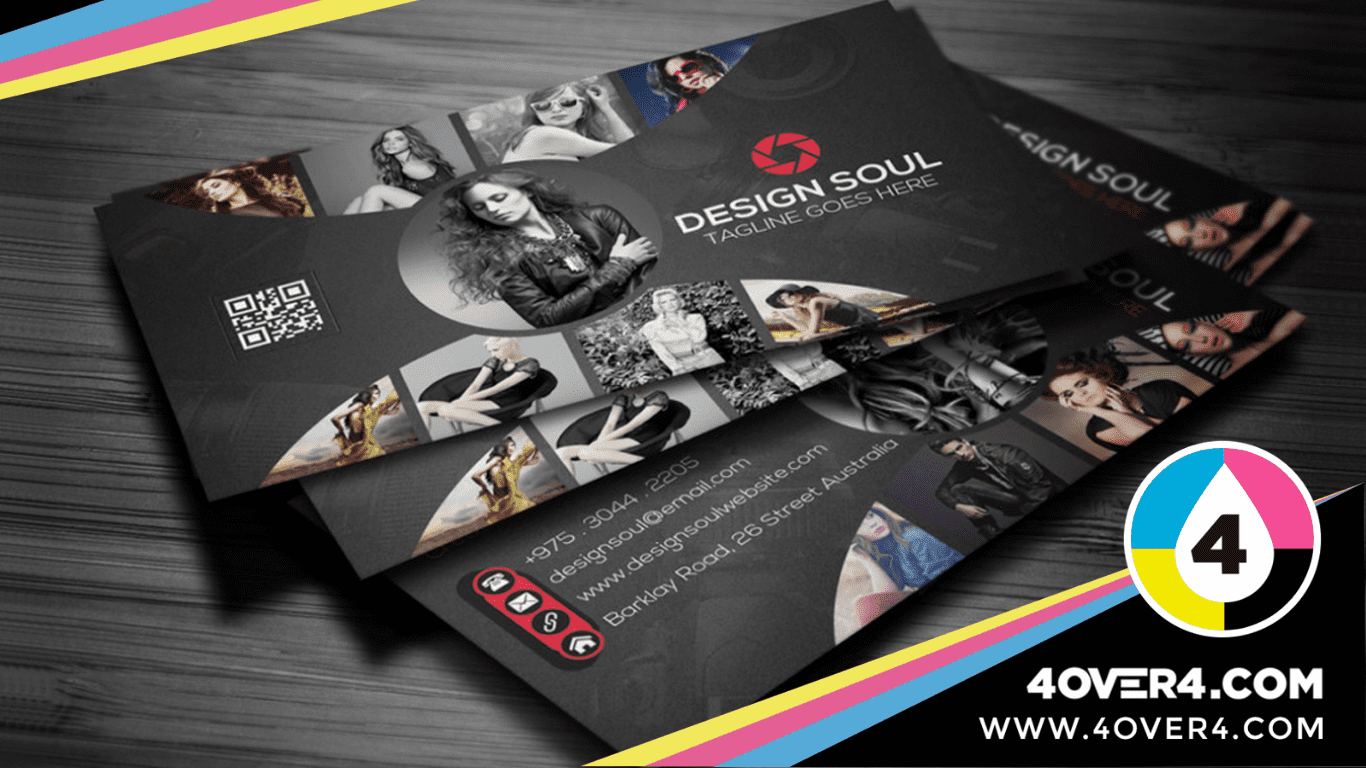 Photographer's visiting card with the best work printed on it
Printing your best work on one side of your card style can be opted by creative professionals like illustrator, photographer, or graphic designers. Showcase the best work you have done to date and establish your skill in front of your prospective clients. Visiting cards can never be your complete portfolio, but when you print your best work with 4OVER4, the receiver of the card get a brief idea of your unique skills and talent. Order business cards as per your choice and our customer service team is always willing to lend a helping hand to make your journey with us pleasurable.
When Unable to Get the Right Design, Work on Textures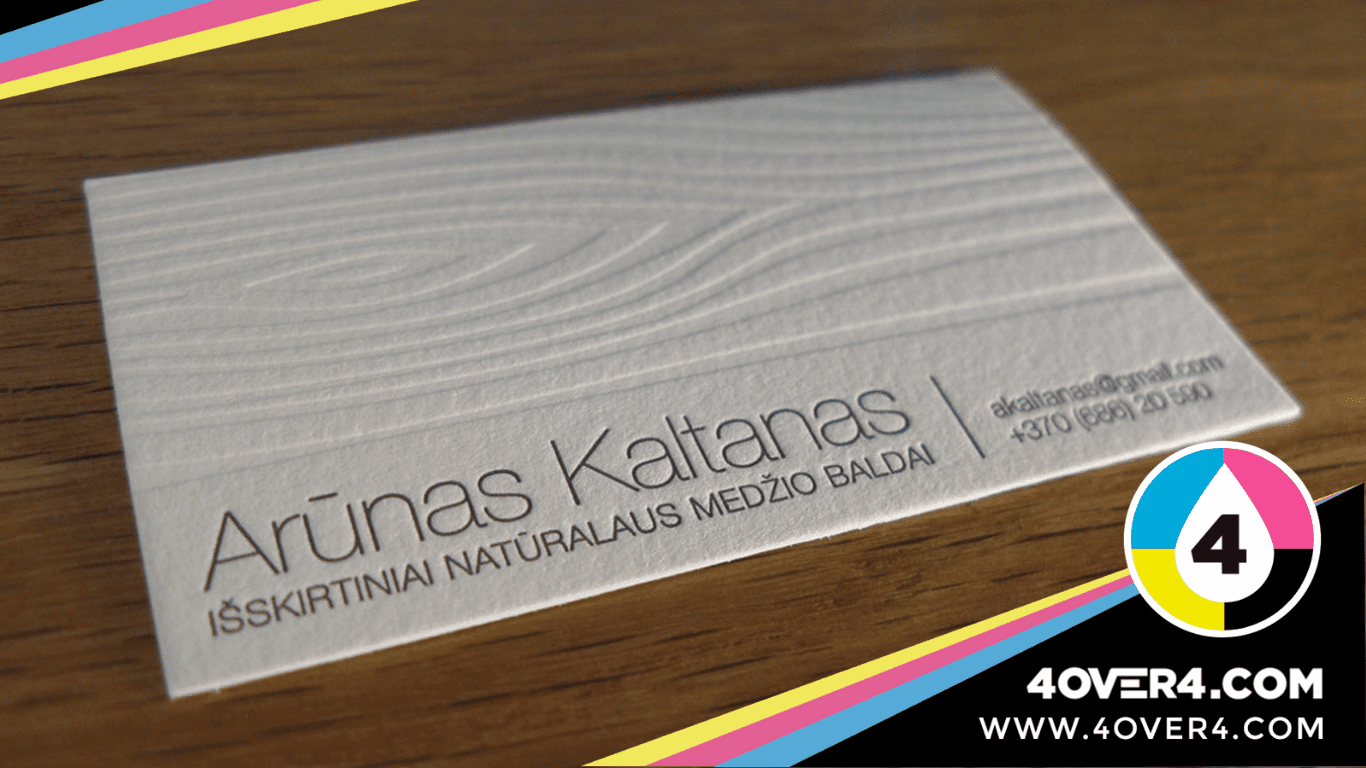 White color unique rare texture visiting card
When you are confused about the right design to showcase your creativity, any unique and rare material can make your card stand out. A simple plastic business card or minimal design card when combined with the right texture, it becomes attractive and different. Add a foil stamped or spot UV lamination to give your card a high-quality premium feel. 4OVER4, fortunately, have the right products and services to offer you comprehensive and best always. You may also use biodegradable recycled paper from 4OVER4 for your designer business cards.
Conclusion
Business card designing is not so easy if you are not sure about the style that best suits your profession. Luckily, 4OVER4.COM has come up with several marketing materials, textures, finishes, and card stocks to make your journey smooth and productive. Check out our range of premium card stocks and, an array of lamination finishes to make the best cards for all the Creative Professionals.