Struggling to stand out or position your brand is a thing of the past. Now, you can grab attention with ease using three-dimensional (3D) lenticular printing!
What is a lenticular? It is a material with different angles of reflection. This attribute of lenticulars makes them unique and impressive when used for prints. Multiple images combine in one lenticular print to give an illusion of a moving or 3D object when viewed from a different angle. Let us take a deeper dive to understand what is lenticular printing.
What is Lenticular Printing?
Lenticular printing refers to specially prepared graphics designed to work alongside a lenticular lens. This allows viewers to see different images depending on the angle they view from. Designing graphics to give this effect is known as "interlacing." Interlaced images are a set of multiple images in their desired sequence used to create the illusion of motion or 3D.
Everyday products printed in lenticular include business cards, postcards, bookmarks, greeting cards, notebooks, posters, stickers, and magnets.
Lenticular prints grab the attention of everyone who comes across them. That is why they are used for movie posters. They are also great for child audiences and printing materials for schools.
Lenticular Printing Technology
How does lenticular printing work? This technology allows for the creation of 3D images. The process begins with capturing two or more images from different perspectives. These images are then printed on a special lenticular lens sheet. When viewed from different angles, the images appear to move or change. For example, a lenticular image of a person might appear to be smiling when viewed from one angle and frowning when viewed from another.
They can be used to create a wide variety of 3D effects, including animation, zoom, and rotation. The technology is often used for marketing purposes, as it can help make products more eye-catching and memorable. However, it also has a wide range of applications.
How to Сreate a Lenticular Print Design
When creating a design, the first thing is to decide on the effect you want. The list of effects isn't inexhaustible, but they're enough to get you noticed. After that, you'd only need to choose between animation and 3D.
The zoom, flip, and morph effects are under the animation category. The zoom effect makes an object appear nearer or farther, as the case may be. Tilting or flipping the art activates the flip effect. Lastly, the morph effect transforms the object or image into something entirely different or partly similar. This transformation can be dramatic.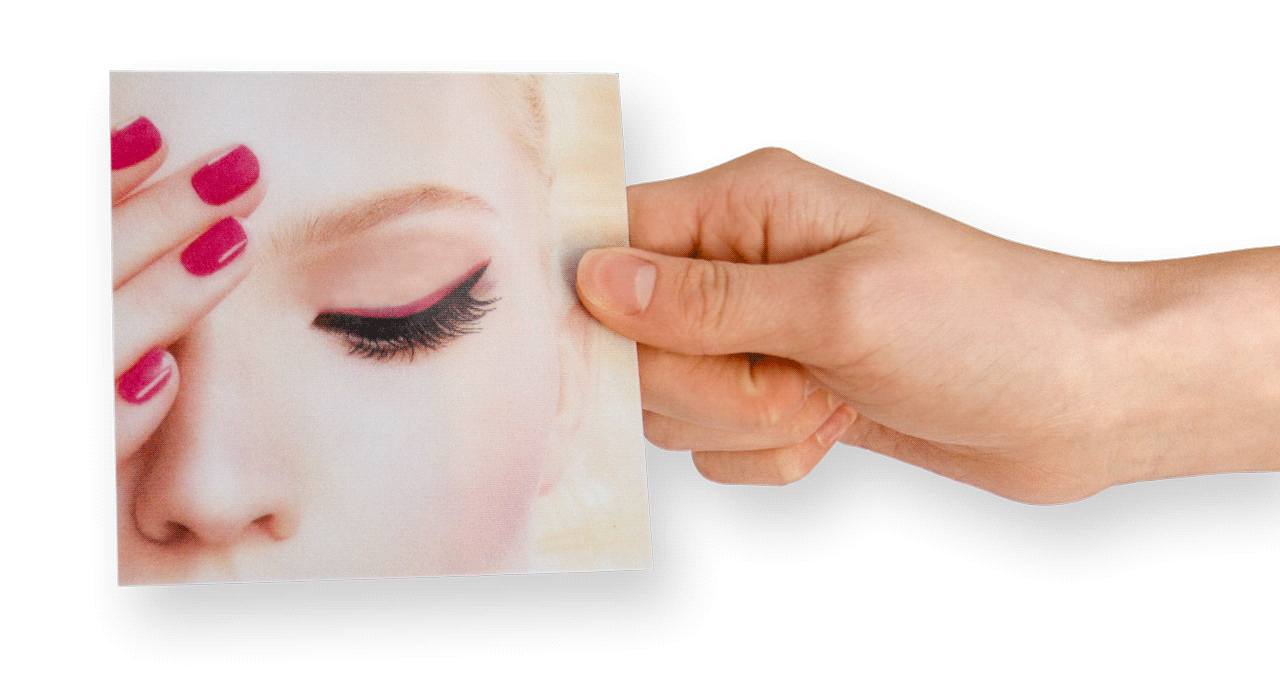 What Is 3D Lenticular Printing?
3D lenticular is made from 3D art. Therefore, they have a certain depth that makes them look realistic. Although you do not need to add depth files to your 3D art, including them will make your prints mirror real-life objects better.
That said, there are things you'd want to avoid when designing for a 3D print. These includes:
A white or light-colored background: images and transformations become difficult to notice

An overly complex animation: they are challenging to recreate, and there's a good chance you won't get the desired outcome. The best designs are usually subtle and not overt.

Difficult to read fonts: some font types are not the easiest to read and should be avoided. These include tiny fonts, serif or italicized fonts, and fanciful fonts.

Only use hi-resolution images, at least 300dpi. Using quality images will ensure your prints are quality.
What to Look for in a Lenticular Printing Service
When searching for a lenticular printing service, the most important thing to ensure is that the printing company has a history of previous jobs you can look up. Prints like this can be challenging to recreate. As such, only do business with a company that has a proven record of delivering quality.
Usually, these companies have in-house experts vet your artwork to ensure they are up to standards and will only print if this is the case. Some printing services offer free online proof and will only print when they give you the nod and you approve.
4over4.com is one of the few 3D printing services that fit the bill. We have been around for over 20 years and are vastly experienced in all kinds of prints.
To order your prints, visit our page., choose the lenticular product you want to print. You'd get a price estimate before checking out. Finally, upload your design in EPS or vector format.
If you are wondering how to make a lenticular card or how to make lenticular photocards, we'd be happy to help. Talk to us now.