Do you wish to take your business procedures and practices one step higher with some alternative resources? Are you searching for something unique that can get your company noticed in the crowd? Brown Kraft Paper is one of the most durable and efficient products to boost the workplace.
From industrial packaging to commercial paper bags, kraft paper thickness makes it ideal for creating any innovative packaging and marketing materials. 4OVER4.COM creatively uses Kraft paper sheets to create the best custom printed business cards, postcards, and hangtags. What is Kraft? What are its uses and benefits? Let's get deeper into the topic to learn more.
Kraft Process Overview
The Kraft process was invented by Carl F. Dahl in the year 1879. In German, the word Kraft means strength, and the environmentally-friendly brown Kraft paper type is one of the sturdiest and robust resources to create innovative items. The reliable and robust kraft paper properties make it a noteworthy benefit for choosing the Kraft products.
Do you know the process of Kraft making? It is made from the woodchips typically generated from the sawmill by-products, which itself explains its appeal and charm to the companies. The woodchip turns into pulp fiber that is a method producing cardboard or paper.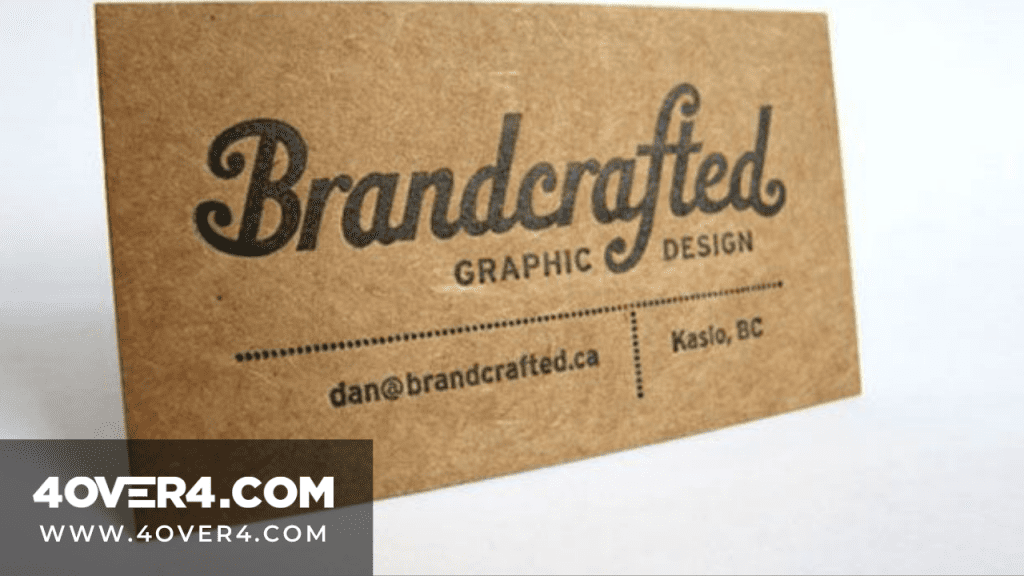 The chemical pulp is durable and has the tear-resistance power that results from the lignin's removal from the wood. The lignin's level describes the color of the Kraft. It may be white or brown, depending on the processing remnants. 4OVER4 is one of the best online destinations if you are looking for unique and thick Kraft business cards and other Kraft items.
Benefits of Brown Kraft Paper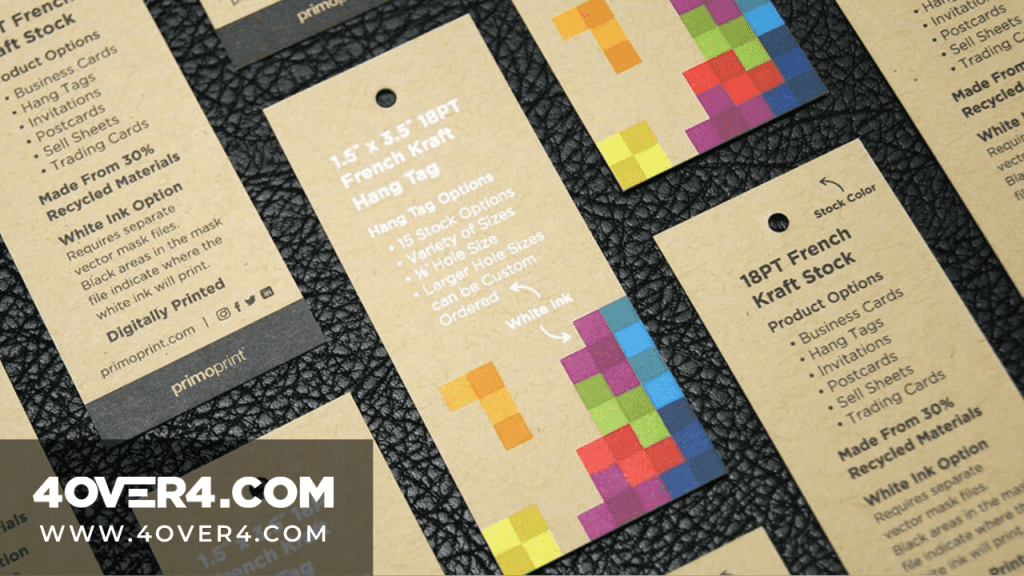 Usually, the light-colored brown Kraft paper with woodchips fiber and flecks presence is ideal for obtaining an organic and natural look in the products. The consumers prefer the light brown colored paper type when it comes to designing their business cards and other marketing stuff. 4OVER4.COM is specialized, experienced, and uses high-quality Kraft paper rolls for printing the exclusive Kraft postcards, hangtags, etc.
Kraft products are known for their exceptional quality
Uniquely processed to produce a brown aesthetic that creates a rustic feel
Create different tear-resistant materials to target a new customer base
Personalize and build a relationship by printing on a natural-looking Kraft paper
Authentically conveys your story as customers witnesses your commitment toward the environment
You can easily choose from the ultra-thick paper to custom and standard sizes to full-color or optional edge painting when you customize your marketing materials with 4OVER4.COM
Types of Kraft Paper
Custom Printed Kraft Paper –You can customize the brown printed kraft paper and broadly use it in various industries for its versatility and quality. The custom printed kraft paper is majorly used for wrapping, branding, and packaging. You may also use it for display in the stores. For instance, pack a particular product in your store and add a brown Kraft hangtag with your contact info and Logo printed on it. It is one of the best and affordable forms of advertising.
Virgin Natural Kraft Paper – It is the resilience and sturdiness that makes the virgin natural Kraft paper high in demand in several industries. Also known as the heavy lifter, the virgin natural Kraft paper is tear-resistant and perfect brown. You may use it for heavy-duty applications. It is the most sought-after Kraft due to its low cost and clean brown fiber. You can easily print on virgin natural Kraft and reinforce your branding. For all your Kraft paper requirements, get in touch with 4OVER4.COM.
Natural Recycled Kraft Paper – The natural brown color kraft paper is made out of the wood pulp, whereas the recycled Kraft is made from the recycled pulp. Therefore, the recycled Kraft paper is usually greyish brown. In recent times, the companies prefer natural options of packaging, and also the recycled kraft paper that fits into the bill. The recycled Kraft is as strong as the virgin natural brown kraft paper. You may also use it for void filling purposes.
We ensure not to use any bleached Kraft paper so that the products are biodegradable and recyclable. You can find a range of options with 4OVER4 when it comes to printing on Kraft paper.
Uses of Brown Kraft Paper
Brown Kraft Business Cards: Every customer has a separate taste and choice for things. For businesses, establishing their identity is the most vital, and printing business cards are the best way to do it. When you choose the brown Kraft business cards for creating the identity of your brand, any customer will love the natural organic look of the Kraft paper cards. They are simple, elegant, highly durable, and tear-resistant.
Kraft Hangtags: Hangtags are one of the most simple and cost-effective ways to display your brand and create awareness among people. It serves several business functions. You may use it to print pricing info or special instruction, clothing labels, etc. that is directly contributing to sales.
Kraft Postcards: Postcards are the best way to naturally promote your business. Due to the environment-friendly Kraft paper production, it is the best way to connect with nature and also enhance your brand organically.
Kraft Rack Cards: Rack Cards can be used in a range of industries that offers service or product info to the customers. It may be brochures or bookmarks; the brown Kraft paper always finds the right balance for all campaigns.
https://www.youtube.com/watch?v=4NHTTcx8Vak
Kraft Sheets: Whether the regular business practice or marketing, the 8.5x11, 9x12, or 11x17 brown Kraft sheets can enhance your product and its packaging in multiple ways. 4OVER4 offers a range of paper sizes for business cards, postcards, hangtags, etc. which makes it easier to print and perform various activities using the Kraft sheet.
4OVER4 – Kraft For the Creative Craft
The Kraft paper uses and benefits make it one of the most alluring marketing materials for printing. If you are looking for various sizes or colors in Kraft sheets, look no further. 4OVER4.COM is your destination where we offer ultra-thick premium Kraft cardstock and up to 80pt paper types with free online or next day delivery hard copy sample. Yes!!! Feel it and be satisfied before placing your bulk order. You can ensure quality marketing products at the best affordable rate with 4OVER4 as your printing partner.