Business cards are class personified in the world of marketing, and colors play an essential role in strengthening the business identity. What does the color of your business card suggest? Understanding color psychology is vital for your company, and if you want to create the right impact with your business cards. The color of your business card identifies your business instantly and creates a substantial influence on their minds. The colors remind people of your brand. Even when they see your products after a long time, people recognize it without a second thought. 4OVER4 prints high-quality full-color business cards to add a personality to your cards.
How Does Colors Offer Personality to Your Cards?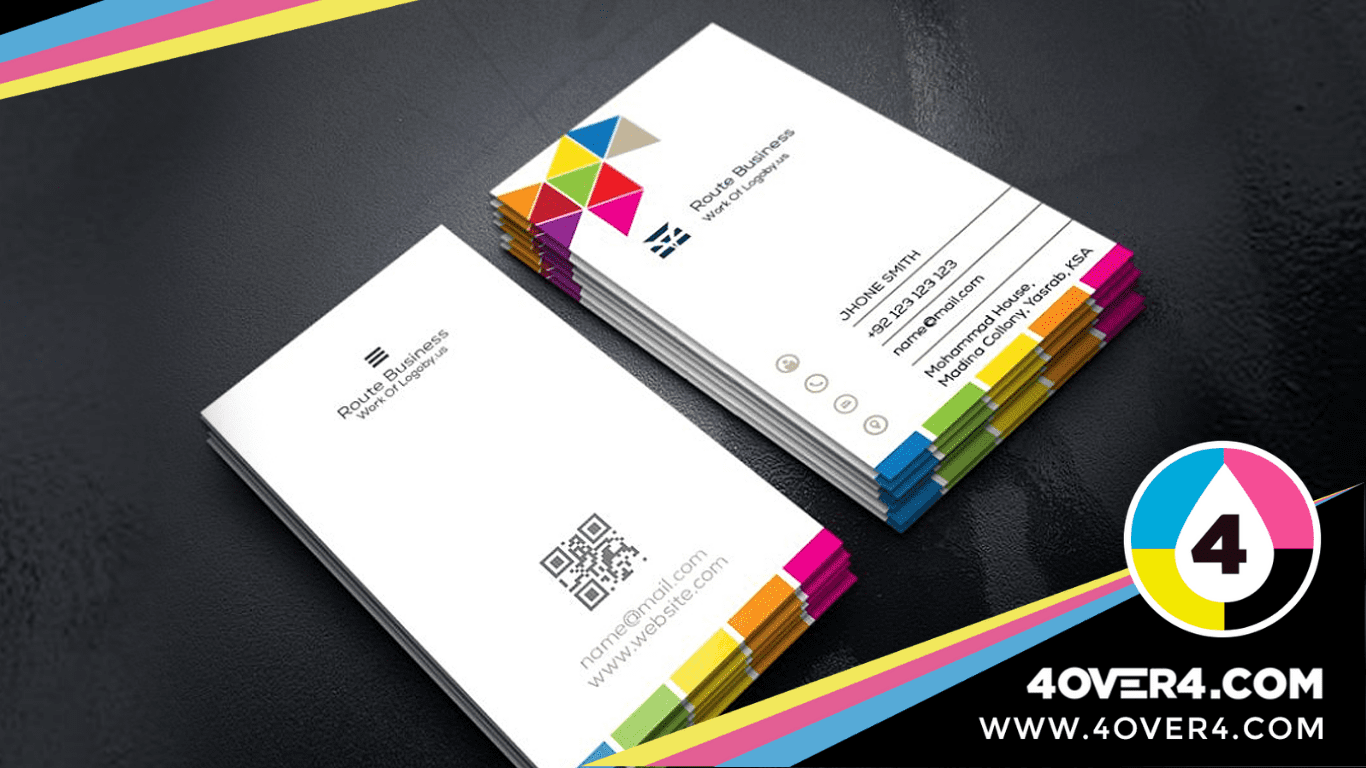 Colorful touch to a white card - simple yet elegant How do you choose your creative business card or logo colors? Do you pick the colors just because you like them? Then, you are wrong because colors must match your brand personality and the company values that you offer. Keep in mind that your business cards will be distributed and may travel from one hand to the other. For all business events, conferences, trade shows, seminars, you need to handoff your cards with right contact information. Are you aware of what you want to show to your customers or how you want your business to be seen by others? Even clean and minimal shades can get a visual dimension with modern day tint overlapping and color degradation. While designing, think again and again about the colors that can-do justice to your brand and also represent it perfectly on the visiting card. It must relate to the services and products that your business offer. For instance, if you have a tech-based company, the globally associated colors like shades of blue, black, grey, white or the combination of these colors are the best choice for business card color.
How Colors Impact Your Business Cards?
Colors refer to the various moods, feelings, behavior, and emotions. The colors can impact your daily decisions. This is what is analyzed with the help of psychology involved in colors. For instance, supporting a particular brand according to color or buying a specific product. So, while designing your business cards, color psychology is essential. Which color represents your brand and company values as well as also has the power to attract the customers? Determining the right colors for your business cards is an important strategy that you need to make. When you have the right colors for the right viewers, nothing can stop you from impressing and creating an impact. What are the things you need to consider while choosing the right colors for your visiting cards?
Examine the color of your competitors' business cards, and come up with the unique shade that makes your business stand out
Consider your target audiences so that you know which age group you are targeting
Different people have a different set of choices so interpret the colors that your target audience will associate with
Color must be compatible with the type of paper you are using for your business cards
Check your brand personality and select the best color that fits your brand identity
Role of Each Color in Business Cards

Standard black and white card It is vital to know the purpose of each color for delivering the right messages to your customers and audiences. Let us learn what does each color means when you use it in business cards.
White Business Cards
Majorly, the businesses use white color in business stationery as it is safe, standard, and traditional color. The business cards base color is always white, so if you want to remain unique, white is not the best color choice for your business. Although white base logo and colors printed on cards can make you stand out. You can just pour your creativity on the blank white canvas and make your card exclusive from your competitors. White is definitely the most popular and preferred choice for all business cards, but if you wish to stand out, it may not be your best choice.
Black Cards
Black symbolizes seriousness and power. On the one hand, it can reflect sophistication and class, and on the another hand, black can be intimidating and mysterious. When black is combined with white, gold, or silver, a black card gets enhanced. It can make one of the most impressive cards until you print in the right message and get a response as per your expectations. You can even use other darker shades like yellow, orange, blue, green, turquoise, magenta, pink, light purple, etc. to make your black cards effective for your business. 4OVER4 offers black business cards with optional colored edges that will always remain the perfect match for your branding needs.
Blue Cards
The blue color gives a message of trust and honesty. It refers to tranquillity, calmness, reliability, and liberalism. The serenity in the blue color promotes mental as well as physical relaxation. If you are a financial advisor, psychologist, counselor, or accountant, the blue card is the right fit as it enhances one-to-one communication. When you choose the darker blue shades, it gives a more authoritative and professional look. Whereas, the lighter blue shades are free-flowing and for creative professions. If you wish to give off a dependable and reliable, yet determined and ambitious look, choose the mid to darker blue shades for your business cards.
Red Business Cards

Source If you are passionate and action-oriented, red is the color for your business. Red color stimulate senses and grabs attention instantly. Any company that involves fast action or speed-oriented like fast food chains can use red color business cards. On the other hand, red also refers to revenge, aggression, or anger. If you are using a brighter red color for your visiting card, you must be an assertive and confident person. Little shades of red in your logo can add a dash of excitement and passion for your business. The stockbrokers or lawyers, who have a serious yet dramatic look can go with the darker shades of red. If you are looking for business cards near you service, look no further and visit 4OVER4.COM
Green Cards
Whether the best inexpensive business cards, cheap ones, or premium card stock, green color suggests security, balance, growth, and wealth. 4OVER4 uses recycled paper and Green Printing technology, which are the best business card examples associated with green color. It symbolizes healing, health, environment, and nature that has a sense of compassion. The wealthier section uses darker shades of green. It shows wealth creation and expertise. The medium green tones show harmony and balance. It is one of the best choices for visiting cards if you have environment-related business-like social workers, gardening, charity workers, or golfing, etc. Even though green is a universal color, many people respond negatively to it.
Orange Cards

Bright orange color card Orange is the vibrant shade that reflects positivity and optimism. Without compromising on quality, you can print the orange cards. It stimulates senses, so if you are in the food business, communication, or social business, orange color can be a great choice. For adventure companies like travel business, mountaineers, gym, etc. also, orange is the best choice. When you add other shades to Orange color business cards, you can alter the message as per your needs. For instance, to add honesty to your business cards, you can mix blue with orange.
Yellow Business Cards
Yellow cards stimulate and uplift the mind of the people. It is an enthusiastic and playful color yet, reflects a logical mind. Yellow color help your audiences to make the right decision in your business's favor. For entertainers, conversationalists, networkers, teachers, or journalists, yellow business cards are the perfect match. It is the color of communication. Combining the gray, black, green, or blue shades with yellow can reduce the amount of anxiety or criticism associated with this color when used on business cards.
Turquoise Cards
Turquoise business cards with silver foil printing It is a versatile and right fit for both women and men dominated worlds. Turquoise refers to inspiration, optimism, and uplifts your spirits easily. Ideally, for speakers, trainers, teachers, media personalities, or computer-related industries, turquoise business cards balances and calms the emotions. It is also suitable for health practitioners or water product companies. When combined with lavender or pale pink and lemon, turquoise reflects feminine energy that is best suited for the beauty business, fashion, homewares, or gift stores.
Pink Business Cards
Pinks suggest compassion and care and, therefore, more suitable for women-oriented products and businesses. From beauty salons to cosmetic brands, fashion to beauty, pink visiting cards are the most suitable ones for these industries. Any sweet selling shops or candy stores business cards should be pink as it reflects sweetness as well as softness. When you add darker shades of red, grey, blue, or black to the pink color, it shows both strength and sophistication at the same time.
Gold Cards
The gold cards look classy and expensive and stand for achievement and victory. It reflects opulence, luxury, and high-quality. However, every business cannot choose gold cards as their visiting cards. It is because too much golden color can make you appear forceful and pretentious, which can harm your business identity. When you use gold printing on black, white, ivory, or any other darker shades, it reflects prosperity, excellence, and class. Blue mixed with gold suggests reliability and honesty, whereas purple combined with pink reflects luxury, beauty, and wealth. The metallic foil cards from 4OVER4 are the best examples of the gold foil printed cards. Our customer service team guides you with every aspect of our printing technology and suggest you the right fit for your needs and choices.
Silver Business Cards
Silver cards with small design at one corner These cards are gentle, and any type of printing enhances the cards when it is silver in color. Silver foil printing makes the card appear elegant and sophisticated when printed on darker shades like green, red, blue, or black. When silver is combined with turquoise, light or dark blue, or any color, it reflects a high-tech and modern look mixed with trustworthiness and liberalism.
Gray Cards
The grey cards are usually traditional, impartial, and earmarked. It is one of the safest colors to use in business cards. You can combine it with any color and convey various messages at varied markets targeted by you. Being a neutral shade, the grey background in business cards let the full-color printing take the prominence. You can add energy, passion, and life to your grey business cards when combined with the right colors. Combining it with gold suggests high-quality professionalism, and blue indicates reliability and trust. It is best suited for financial or legal company custom design business cards.
Conclusion
Your style is evident in the way you use colors for branding and business card designing. You must think about your company, logo, products, and services to decide the best style that will suit your business perfectly. You may even order business card free sample to check if the shades chosen by you does justice to your card design. Our team at 4OVER4 is experienced, knowledgeable, and highly creative to guide you with the right colors for your business card. Visit us, choose from our design templates or send us your specs, place your order or free business card sample online, and get it delivered at your doorstep in 4-5 business days. Whatever maybe the card size, mini cards or oversized cards, 4OVER4 business card printing service have the expertise to skillfully create and deliver the best.