Embossed Gloss business cards look sophisticated and visually appealing. As a result, they help you make a memorable first impression and stand out from the crowd even in our fast-paced business world. But just what is embossed gloss business cards? And how can you order them?
Elevate Your Brand with Embossed Gloss Business Cards
Embossed printing allows you to raise certain elements from the card's surface, like a logo or brand name. This technique emphasizes and beautifies the raised part. In contrast, the glossy finish polishes your design, making it radiant and attractive.
This combination of texture and shine means they are like nothing else. Furthermore, its unique benefits mean they are ideal for the following businesses and industries:
Marketing and advertising: With embossed gloss design, marketing, and advertising professionals can showcase their creativity and attention to detail. Thus, inspiring trust in their competence and impressing potential clients and collaborators.
Events and public relations (PR): Making a memorable impression in these industries is critical. These cards help events and PR experts convey professionalism.
Administration and C-level departments: Professionals can benefit from embossed gloss business cards. It helps to project authority and expertise.
Small businesses and start-ups: They help these businesses establish credibility and stand out in a competitive market. They showcase your quality and attention to detail—two crucial qualities when building customer trust.
Creative industries: Designers, architects, and photographers rely on visual appeal and creativity. Embossed Gloss business cards allow professionals in these fields to showcase their artistic flair and unique style.
Luxury and high-end brands: Brands that cater to luxury markets can benefit. These cards' tactile and visual impact aligns well with the upscale image associated with luxury brands.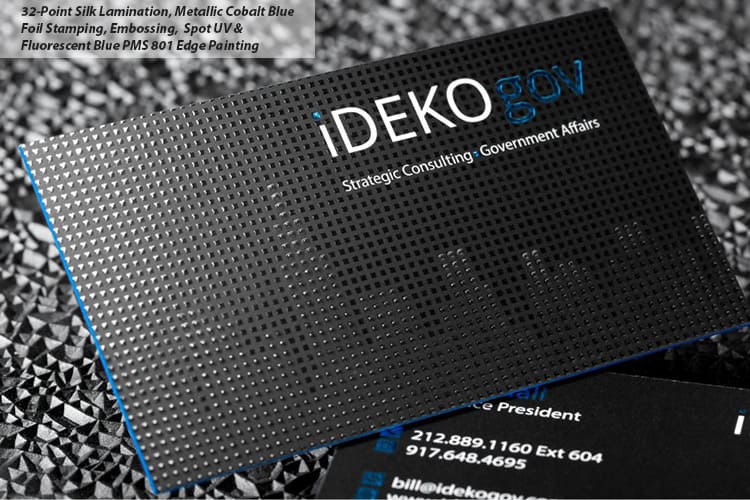 Exploring the Gloss Finish: Enhancing Visual Appeal and Durability
The glossy finish enhances your card's visual appeal and durability, ensuring it's pristine, even with frequent handling. In addition, your card has a vibrant and saturated appearance that makes text, color, and images pop.
The Benefits of Embossed Gloss Business Cards
Embossed Gloss business cards have several benefits, namely:
The striking design helps you make a memorable first impression.

These cards' tactile and visual appeal helps elevate your brand image.

The gloss finish provides a protective layer that prevents scratches and preserves the card's quality.

They are a versatile choice for professionals, small businesses, and start-up owners.
Popular Styles and Trends
You now know what is embossed gloss business cards. Are you considering making the switch? Here are some ideas that can help you stand out further:
Minimalistic elegance: Minimalistic designs have fewer elements on the card and utilize white spaces. This approach leaves you with a sophisticated yet subtle and modern design.
Bold and eye-catching: Using vibrant colors will help to create attention-grabbing designs that leave a memorable impression.
Texture play: You can experiment with raised letters or unique patterns to add visual and tactile interest to your card.
Metallic foil: Emboss metallic accents add glamour and elegance to your design.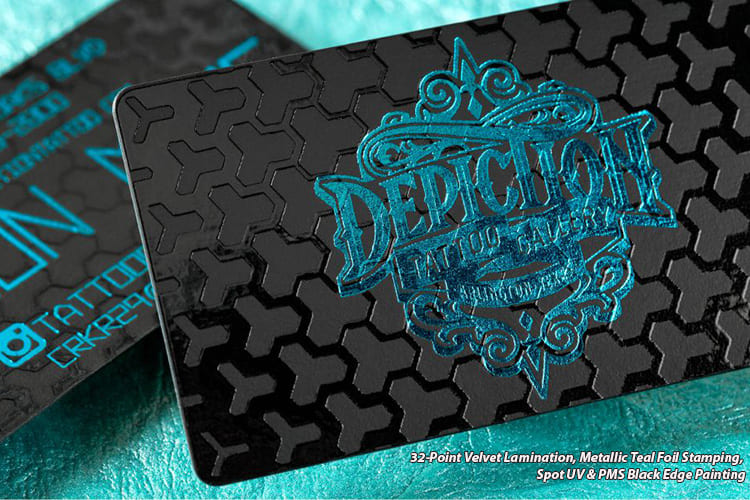 Conclusion
What is embossed gloss business cards? These are powerful tools for professionals and small business owners to make a memorable impact. The unique combination of embossing and glossy finish help to project positivity and elevate your brand image.
Are you shopping for a business card? Then look through our catalog of impressive business card products. If you're keen on standing out, unique designs like Spot UV or Velvet Laminated business cards will help you achieve this.
Finally, 4OVER4 assures great products at cost-effective prices and fast turnaround times. Also, you can count on our reliable support services to help you at every step.
Create buzz for your business when you order this promotional item today.