Have you ever seen business flyers without images or a proper layout? A professional flyer is eye-catching because of its design. If there was no proper business flyer design, it would have been completely ignored by the customers. You or I will never like a black and white, boring text-filled flyer with little or no information. The small business owners depend on this cost-effective tool to promote their products and brand. People love spice and hate bland stuff. Design is like some spice added to the flyer that enhances the beauty of the business flyer printing. According to a Direct Marketing Association report, it is seen that 48% of the customers receiving flyers respond to them, and 78% share, retain, or look at them. Do you think if your business flyer ideas are vague, and without a proper design that anyone will want to have a look at it? The Statista 2016 survey report shows that 79% SME owners include flyers in their marketing activities. Check out the business flyer examples below and see the colors, fonts, and layouts that make them flawless. I bet you can imagine how boring it would be to look at just texts on it.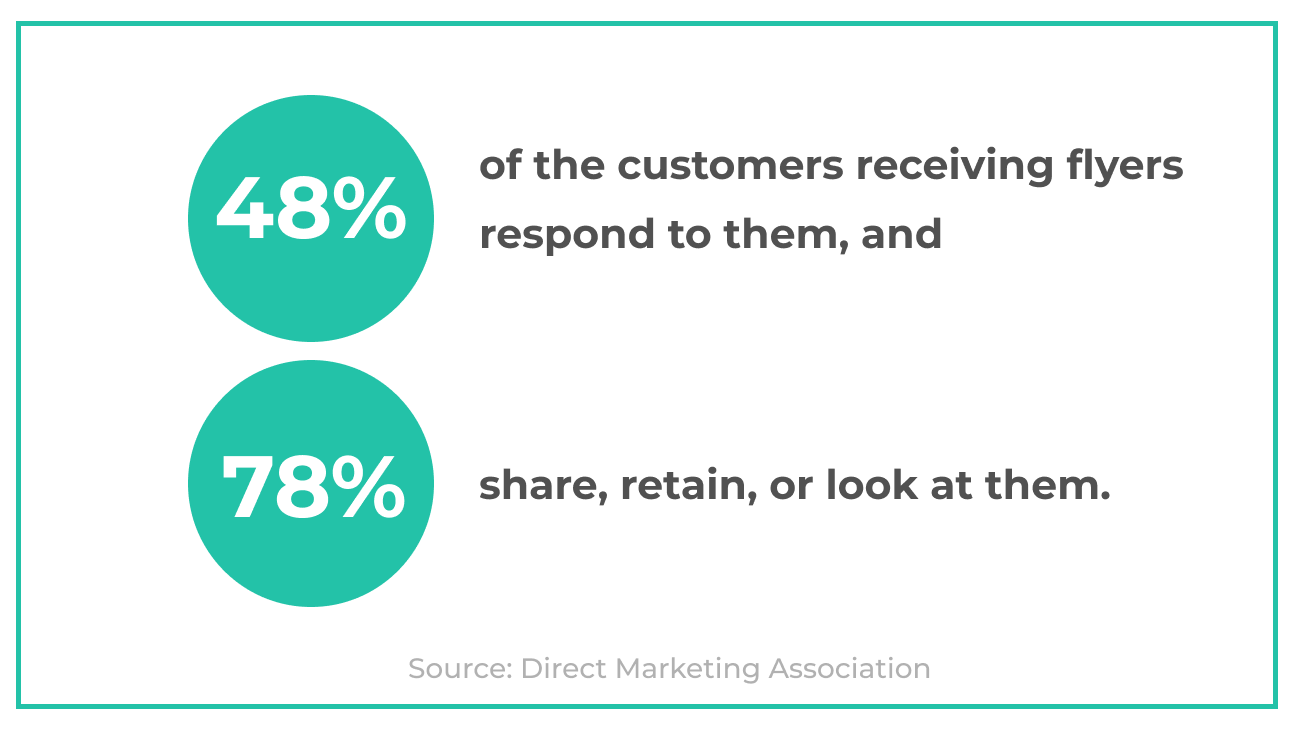 Importance of Business Flyer Design
Engage and Enhance
The custom flyer designs help to create a significant impression and draw the customer's attention quickly. A survey shows that people spend about 30 minutes per week reading the flyer ad. The tactile feature and design of the business flyers online engage the readers and help them interact with your brand. For instance, choosing an oval-shaped business flyer can attract the customer and motivate them to act upon your call of action. Whether you wish to increase your website traffic or want the customer to turn up for your upcoming sale, a flyer design can motivate customers to read and act on your wishes.
User-Centred Design
A practical design of a business flyer can encourage people to buy from you instead of your competitors. It makes your products and services stand out owing to its user-centered design. What is user-centered design? It is a technique where user feedback and engagement are the base of research and a flyer's creation. When you design a flyer that includes the customers' needs and choices, they are automatically attracted to it. User-centered flyers reduce risks, increases cost-efficiency, and enhances sales.
Strengthen Identity and Create Value
When you strategically print product designs on the flyers, customers find it valuable and even consider paying more to buy it. The people must feel the need to purchase the product, and only a flawless design can provoke them and make them think so. Combining great design with relevant text on your flyers can highlight the appearance, functionality, and usability of your products and services. A robust flyer design can strengthen the identity of your business and boost customer loyalty.
How to Create Business Flyers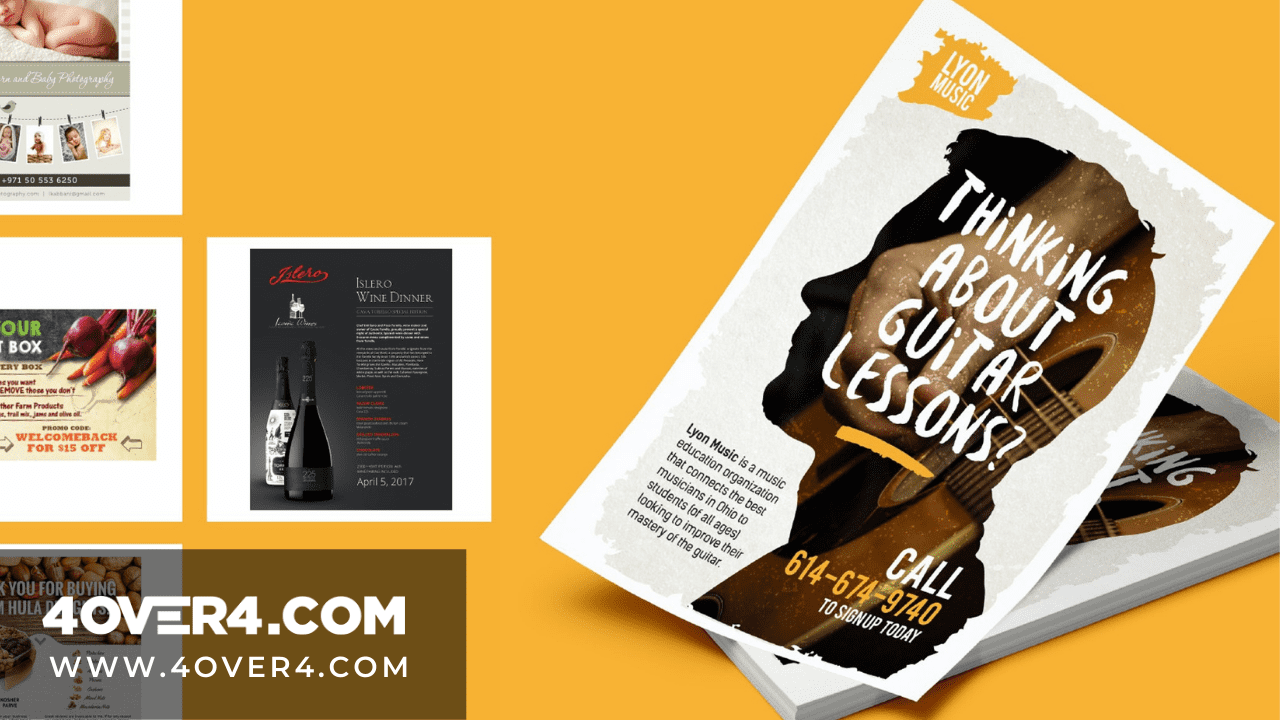 Source
Business Flyer Templates
If you are a small business owner with financial constraints, you may use business flyer templates instead of spending on resources or hiring a designer. I opted for 4OVER4 flyer printing templates for my business and printed it on 100# silk/matte cover paper type. It helped me to reduce the burden of paying a designer and I saved a good amount of money by printing flyers in bulk quantity. When you are not sure about your flyer design and do not wish to pay a designer and increase your expenses, go with business flyer templates from reliable and trusted printers like 4OVER4. It will help you save money and design a flyer as per your choice of colors and fonts with guidance from experts. You can also add images and graphics to make your corporate flyers attractive.
Hire a Designer
The second option is to hire a designer, share your ideas and requirements for how you want your flyers, and let them come up with appropriate designs. If you need changes, you can ask for it and get exact file specifications for printing. Once the flyer design is final, send the design file to a trusted printing service for custom printing. When you hire a designer, you don't have to worry about designing and printing. You are sure that experts and knowledgeable professionals are working on it, and the output will be excellent. You also get suggestions from the experts to make your business flyers as professional and eye-catching as possible.
Key Elements of Business Flyer Designs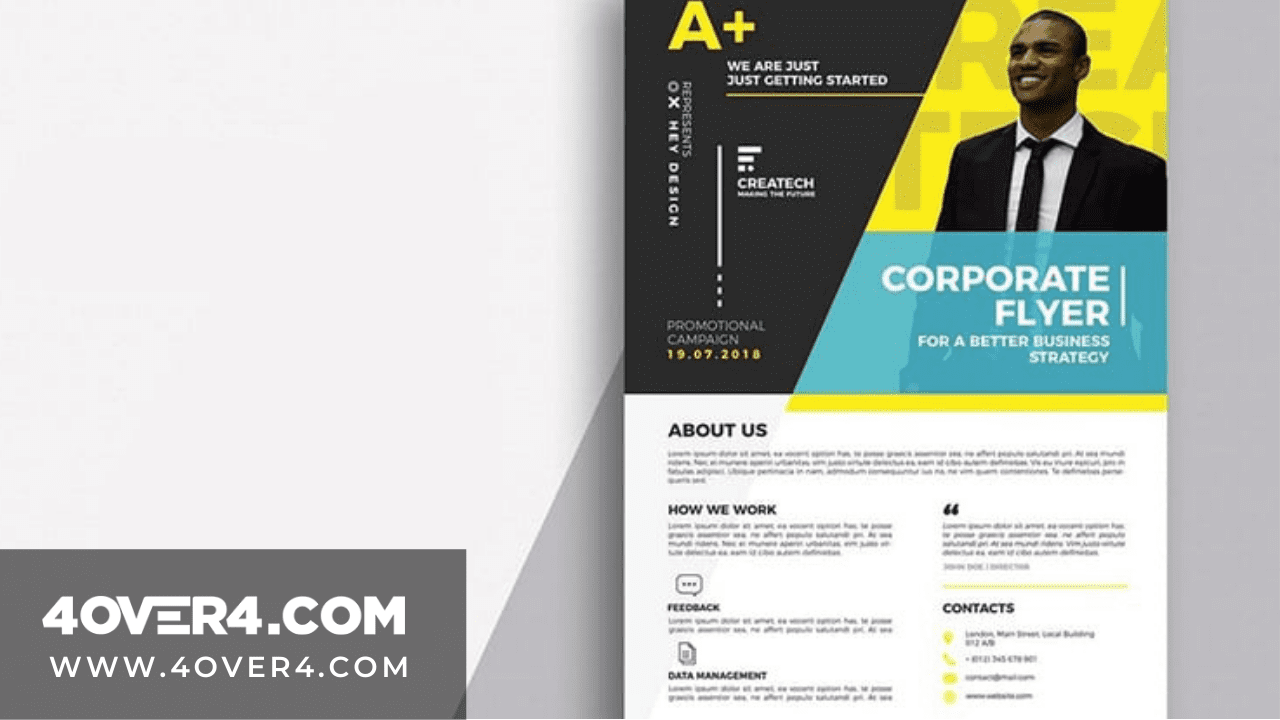 Source
Precise Information
Remember, we have already discussed people spend just 30minutes per week checking flyers. According to the statistics, your flyer design info must be exact and to the point. Adding too much information about your brand or marketing gimmicks in your business flyer can turn off your customers. Try to jot down the points that you would like the people to know and your offerings and incentives to keep them glued to your business flyer. Precise information is one of the vital aspects of great business flyer design that ensure customers do not divert their attention.
Unique Layout of Business Flyers
The business flyers have a minimal space to display info as they are small in size. Your flyer design must be able to explore every corner of the leaflet within the 148 mm x 210 mm or 105 mm x 148 mm space. Choose a creative layout that will distribute your content uniformly and make your business flyer design unique and attractive. You need to select a plan that can accommodate all the key points that you want your customers to know. But at the same time, it should be clean and crisp with a proportionate and uncluttered look.
Simple Business Flyers Design
People hate intricate designs. Keeping it simple with the right mix of colors and novelty fonts can create an overall impression on the customers. Aesthetic design with subtle and minimalist content makes a corporate flyer design work to your satisfaction. Please keep it to one or two colors and avoid several typefaces. Corporate colors like white, gray, and black can rule the design of your business flyers.
Avoid Making Business Flyers Boring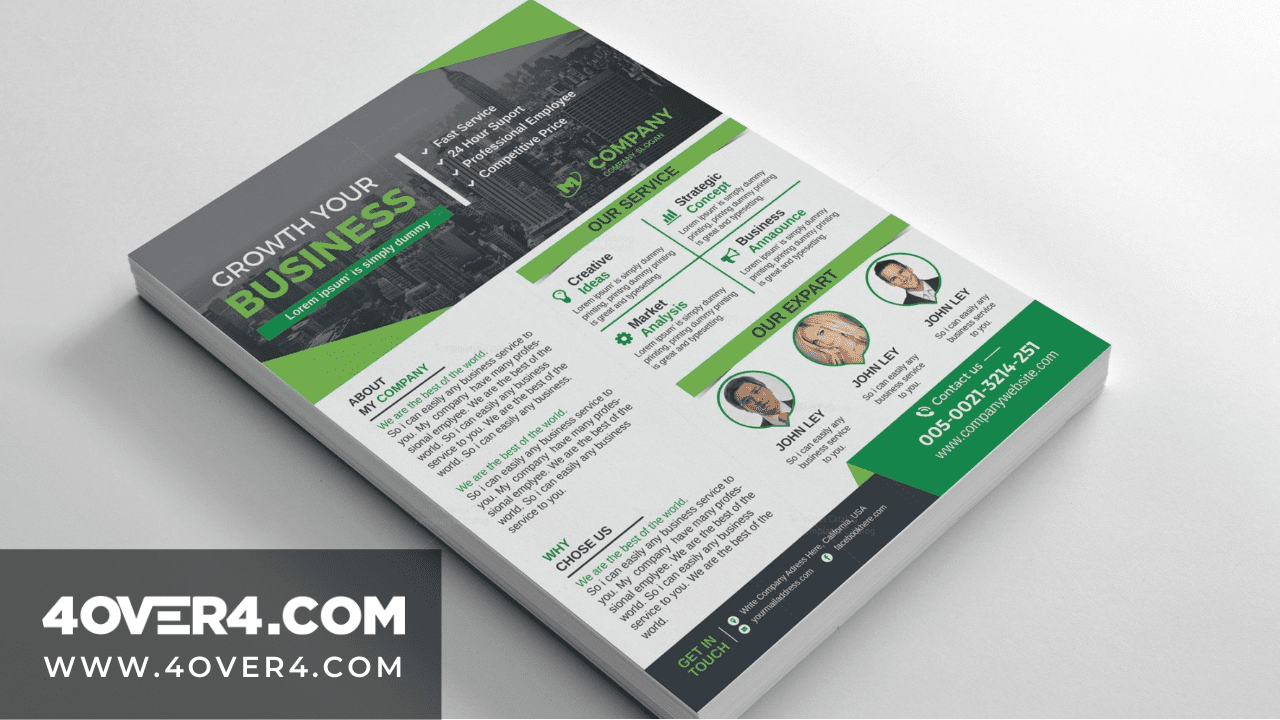 Source In order to attract the attention of potential customers, your flyer must be attractive. Whether you wish to make a moderate or bold statement with your flyers, it must excite the customers to go through it. A business flyer design must represent the spirit of an event, such as discounts, festival, etc. Bold-tones, bright colors, eye-catching images, and an attention-grabbing header can make your business flyers design striking.
Final thoughts
According to a FedEx survey, 4 out of 5 business owners agree that a professional printing service is required to help them stand out. It is well-known that a professional printing service like 4OVER4 can help you with the design of the corporate flyers. Even if you use a regular flyer template, only a printing service can help you choose paper stock, colors, and finishes. So, the design is a vital element in making business flyers.