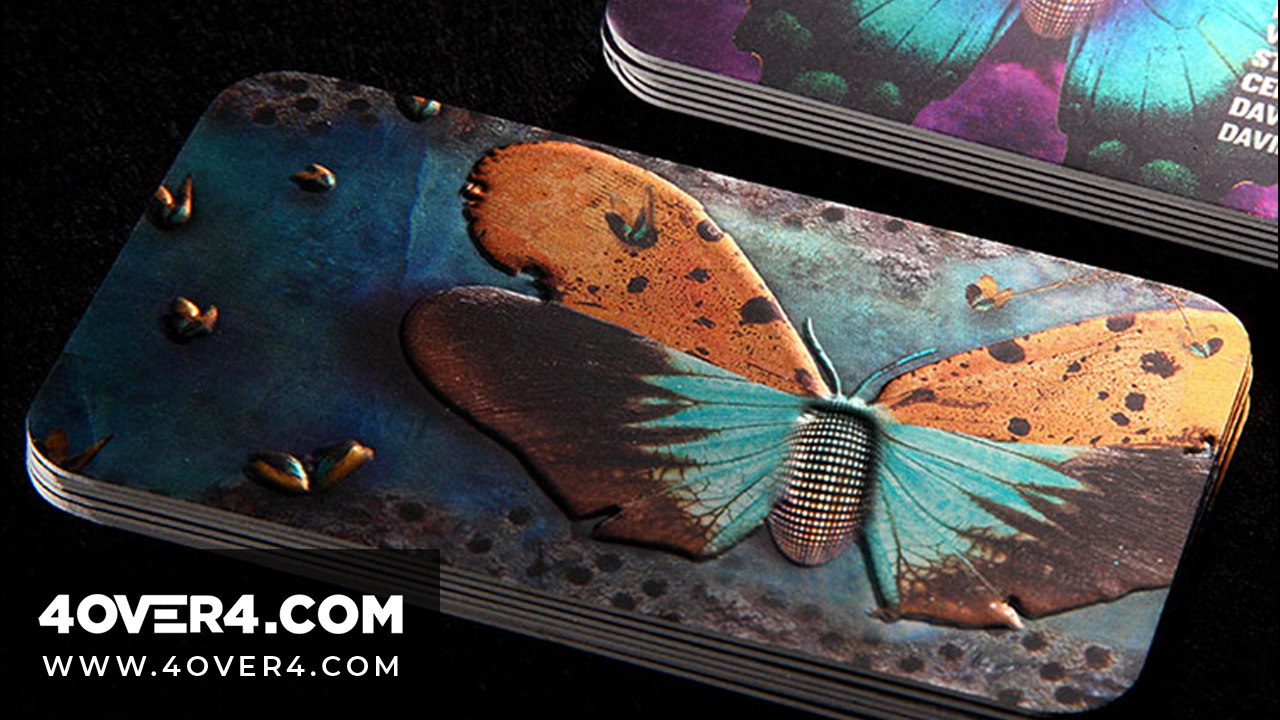 In a day and age when business cards are exchanged often and stored away in dark desk drawers, it's more important than ever to have creative, unique business cards that effectively convey your message. People are less likely to regard-and-discard when your business card piques their interest using design elements like composition, texture, shape, and color.
Make a statement that sticks in the minds of your potential customers by capitalizing on the power of the unique. There are countless ways to make your business cards pop—and 4OVER4 is a pioneer in innovative, creative techniques that will help both inspire you and bring your existing ideas to life.
Unique Professional Business Card Designs
Your professional business card should clearly convey your brand's image as well as the value of your offering. Typically they include some contact information such as an email address, the company logo, and any other important details. When brainstorming unique business card ideas, keep your brand image in mind. What are your colors? What fonts are associated with your brand? Are you more serious or playful? Modern or traditional? Answering these questions will help you to craft a card that reflects your business. Before you begin crafting the perfect unique business cards, make sure you have a solid understanding of your brand's tone, style, and overall personality. The Modern Tech Startup A company that wants to use their business cards to communicate cutting-edge innovation might consider clean fonts with sharp edges and artfully minimalist composition. To position themselves above the competition, the modern tech startup might consider plastic business cards that offer a weighty hand feel and spark feelings of modernity. This type of creative thinking will help potential customers to associate this brand with the feelings that the business card elicits. When the time comes to call on the products or services of a modern tech startup, this card is likely to be the one pulled among a pile of paper cards. The Creative Consultant Handing out unique business cards is especially important in a creative industry. The business card is often times the first sampling of a creative professional's work, so this tiny portfolio needs to pack a punch. A creative consultant may opt for die-cut business cards to show off their artistic prowess or highlight their business logo. Die cut business cards are cut with a razor-sharp blade called a "die" that can create a plethora of appealing shapes. These cards can come in all sorts of shapes, including half circle, circle and oval, and even leaf. 4over4 also offers custom die cut business cards for those who have a specific vision in mind. Die cut business cards open up a world of design possibilities, perfect for those looking to exhibit their creative craft. The Detail-Oriented Craftsman When facing heavy competition for jobs, the craftsman may opt for edge-painted business cards to show off their attention to detail. Not only does this type of unique business card pop in a stack of cards, but it also communicates an expert level of craftsmanship in which no detail is too small. This shows your potential customer that you go the extra distance to provide an exceptional product.
Unique Personal Business Card Designs
If professional business cards are a reflection of your brand, personal business cards are a reflection of you. Communicate your personal brand with finesse with unique personal business cards. Your personal card should capture what you're about using word choice, design, and special techniques. Have fun while brainstorming unique business card ideas and take into consideration what kind of message you want to send with it's design. Gold Foil Business Cards to Communicate Pizzazz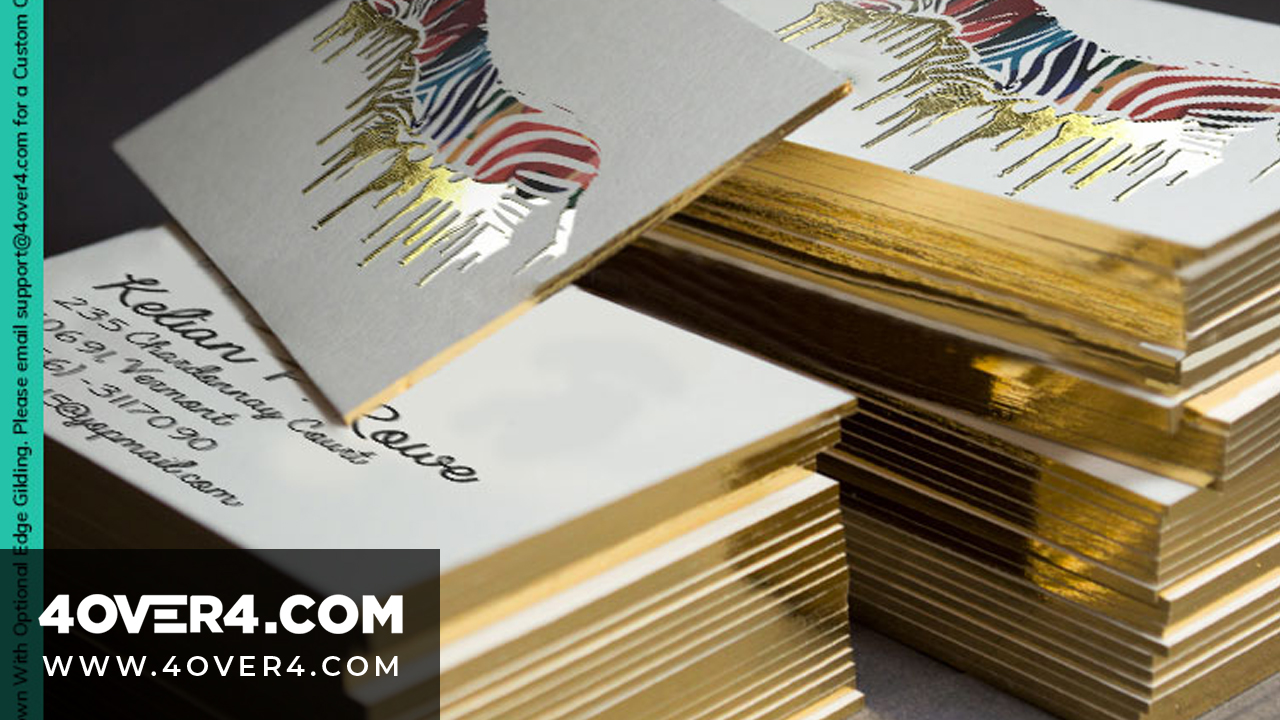 Those who crave a bit of sparkle would benefit from metallic foil business cards. These cards captivate the eye and convey a clear message to the beholder: you are anything but ordinary. Choose from gold, copper, silver, red, black, and blue metallic finishes and let your personality shine with these unique business cards. Silk Laminated Business Cards to Communicate Sophistication Those who wish to communicate an air of refinery may want to opt for silk laminated business cards. Your business card beholder will be able to feel just how to put together and sophisticated you are thanks to the sumptuous sensation on their fingertips. The silky smooth matte finish won't soon be forgotten, resulting in the lasting impression you're going for. Folded Business Cards to Communicate Leadership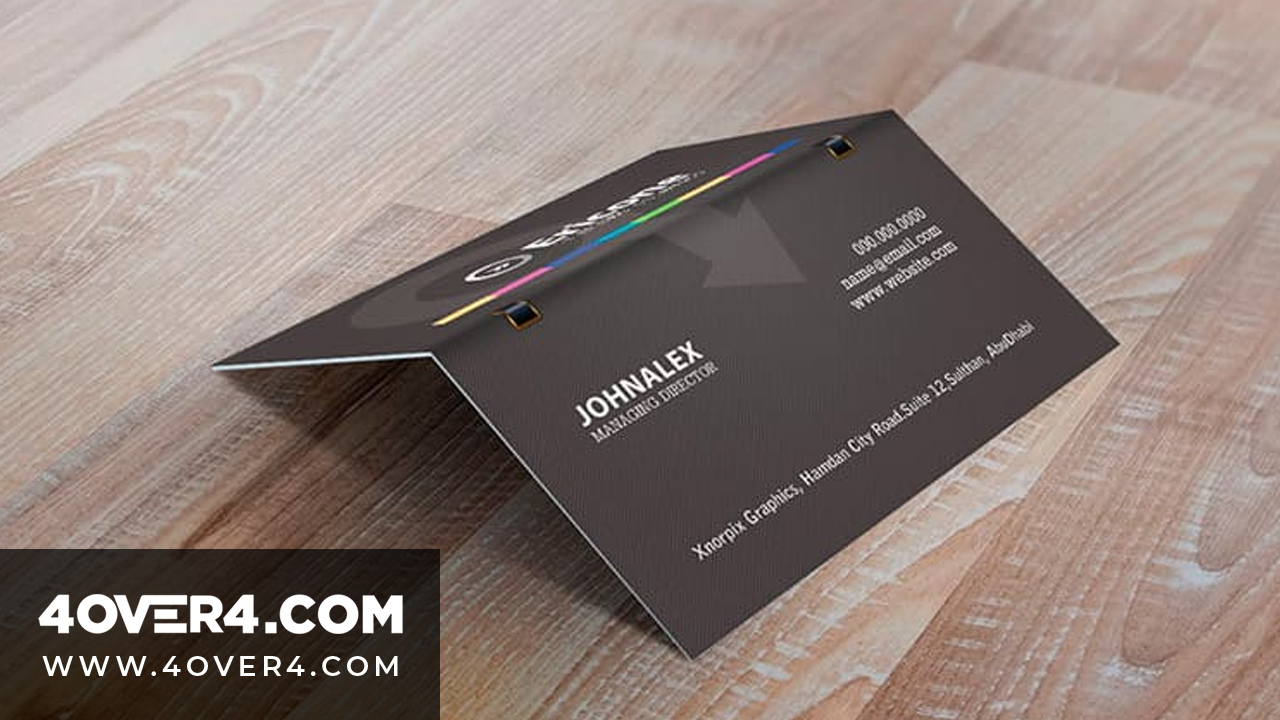 Your unique business card ideas should play on your strengths. Let your card beholder know that you're large and in charge with folded business cards. You want to make it known that you stand out as a leader in your field - and what better way for your business card to stand out than for it to stand up? Folded business cards stand tall on a desk while generic paper business cards find themselves in the dreaded bottom desk drawer. The leader in this equation is apparent.
Creative Business Card Designs
Any artistic professional is aware of the importance of first impressions - and a unique business card can help you leave a great one. A graphic designer's email layout, a photographer's social media accounts, a writer's sentences; all of these first impressions, whether it's subconscious or not, are imperative when it comes to landing new opportunities. A business card is the perfect blank canvas for a creative to display just that - their creativity. Use Wonderfoil Cards to Elicit Whimsy Highlight your expertise in dazzling color with Wonderfoil business cards. Your potential customers will be greeted with a kaleidoscope of metallic colors as well as with the knowledge that you're capable of producing impactful visual works. Wonderfoil business cards are the perfect way to shine a spotlight on your artistic abilities so that you can be better equipped to attract new opportunities. Use Velvet Laminated Business Cards to Impress Nothing says "creative professional" like the soft, suede-like feel of velvet laminated business cards. Tap into the tactile side of your potential customers by delighting their senses. Velvet Laminated Business cards also tend to last longer since the luxurious coating acts as a protectant against scratches and abrasions. This finish gives your unique business cards an edge by utilizing multiple elements of design. Use Layer Cake Cards to Stand Out in a Stack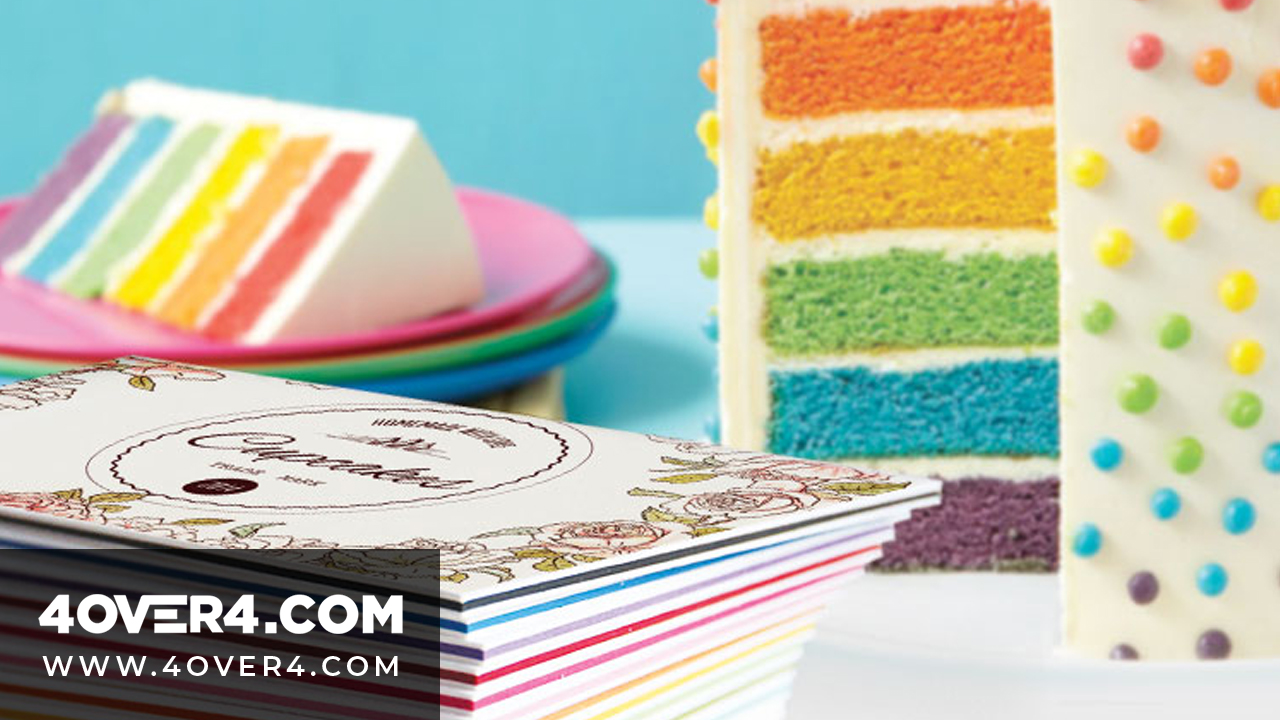 Do you have a signature color? Do you like to let the details do the talking? Layer Cake cards may be just what your business needs to make a lasting first impression. Crafted with quality, these ultra-thick cards feature a beautiful strip of color down the middle, standing out in a pile thanks to both the thickness and the pop of color. Handing out unique business cards is the perfect way to leave a lasting impression on your potential customers. When your business cards communicate your offering effectively and in a way that no one else has ever done before, you set yourself up for new opportunities. 4OVER4 has a long history of bringing unique business card ideas to life at an affordable rate so you can put your best foot (and card) forward to potential clients! Discover all of our business card printing options and design services today to find your next standout design.