Did you know 40% of tourists have changed their vacation itinerary after reading a brochure (Brochuremanagement.com)? Tourism is only one of the many industries that use brochures as a powerful marketing tool. The truth is, the format allows large amounts of content, with a friendly distribution that people cannot avoid reading. It is a great medium for including detailed information without overpowering the design. And because they are fully customizable, there is really no limit as to how you decide to use them. The tricky part is how to stand out when there are many other companies promoting their services using brochures. First, making them visually appealing is a great start. That includes to-the-point content, eye-catching design, and high-quality brochure folding. And when we say folding, it is not just about ensuring even panel folds, we mean super creative folding!
Tri-Fold Brochures Vs. Z Fold Brochures: The Details
A tri-fold is probably the most common folding style there is. In fact, tri-fold brochures printing provide marketing teams with six sections to strategically display all relevant information. Sheet edges are folded towards the center, so one side is on top of the other, opening to the opposite sides. The goal of a successful brochure is to make customers want to keep on reading. At the same time, each section should be rich enough to captivate the audience independently. [caption id="attachment_8374" align="aligncenter" width="800"]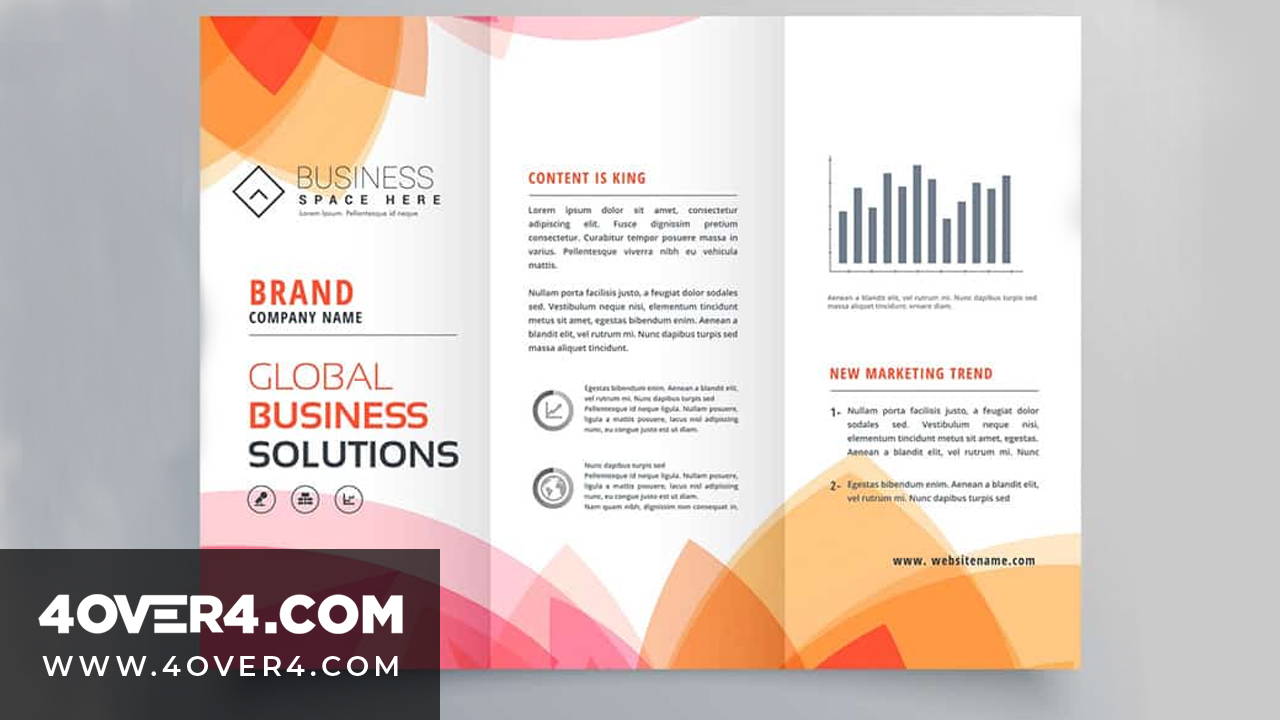 Trifold Brochure[/caption] Tri-Fold Brochure Design Recommendations:
Make sure to use graphic elements to separate the sections, try decorative lines or color blocks to help the reader.
Use a simple font, so it will be easy to read even at a small size. Complex fonts will make it harder to read, and ruin the effect of your content.
Check that both sides of your design feature your business logo.
Distribute content in a logical order.
Leave enough bleeding and trimming space, the folding line should never break your text. This is only okay if you feel your design should be read with the brochure wide open).
Include an interactive promotion or a QR code, so it gives you a greater chance of captivating the target audience.
The perfect brochure style for interactive graphics and charts, the Z fold brochure is also folded into three parts. The difference is that it opens the same way an accordion would. It offers more design flexibility, because the complete sheet inevitably opens once you unfold. So it is not as necessary to separate content panels. Z fold brochure printing allows the possibility for large flow charts, graphs, maps, or any image centered design. [caption id="attachment_8373" align="aligncenter" width="800"] Z Fold Brochure[/caption] Z Fold Brochure Design Recommendations:
Since all folding sides are the same size, make smart use of the space to create an eye-catching design.
Use high resolution images to get customers' attention.
Both sides should feature your logo and company name.
Leave enough bleeding and trimming space to avoid content loss.
Just as the tri-fold brochure, include an interactive promotion or a QR code in order to captivate your target audience.
Other Formats to Consider
Regardless of the folding style, it is extremely important to express your business personality on the brochures. They are smart branding techniques for higher involvement. Visual appeal is critical to differentiate from the many other competitive print products out there. You can consider gatefold and no fold brochures for more shocking or immediate attention-grabbing campaigns.
Gatefold Brochures
Gatefold brochure printing is ideal for building expectations. You can get readers curious and make them want to open the brochure. You still have 6 sections, but the style allows you for something unique.
You can leave an incomplete idea or question in the front, which will be answered once opened. The inner panel is larger and it provides greater space for more extensive content or eye-catching graphics.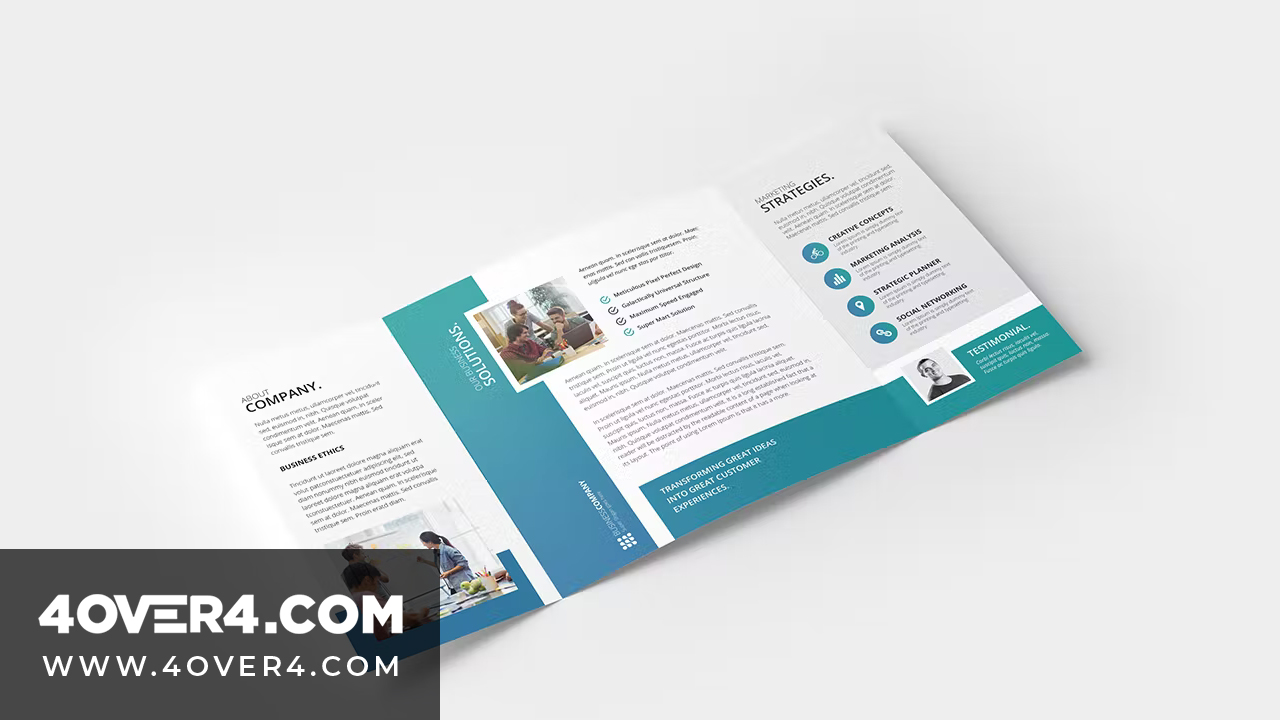 Flat or No Fold Brochure
This style is most commonly known as a flyer. It provides great flexibility in terms of design space. The difference between an informal flyer and a more complex marketing brochure relies on content.
Text distribution and division elements are key to getting the message across. Similarly, bleeding, trimming space, and image quality are essential to consider prior to placing professional printing orders.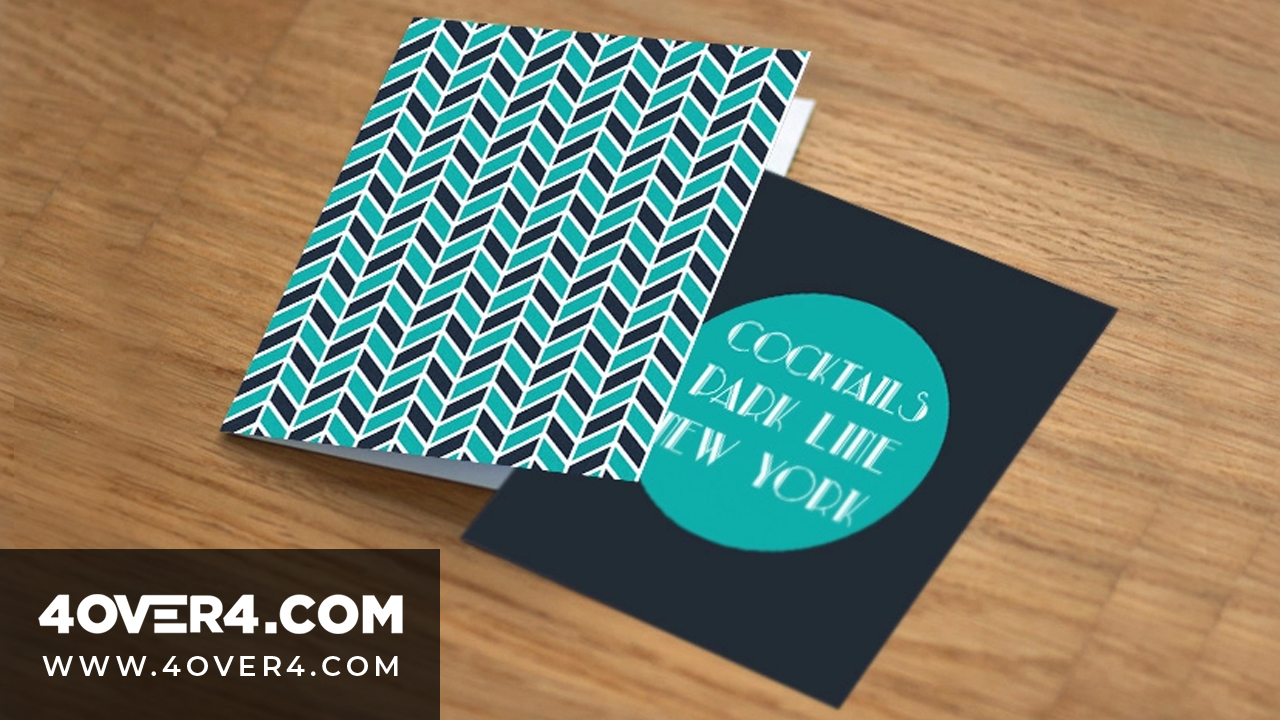 Brochure Test
Be sure to print and fold a sample of your brochure prior to sending it off to the professional printer. It may look perfect on your screen, but may not be once you print it. You may notice spacing issues once folded, especially when the design is not adjusted for the panel sizes.
To beta test your brochure, give it to a few individuals. Just watch them while they move through the sample brochure, to ensure that they instinctively know where to read next. You want to make sure the reading experience is natural and that the reader can truly focus on your content. Otherwise, the reader will be trying to figure out how to navigate through the sample brochure.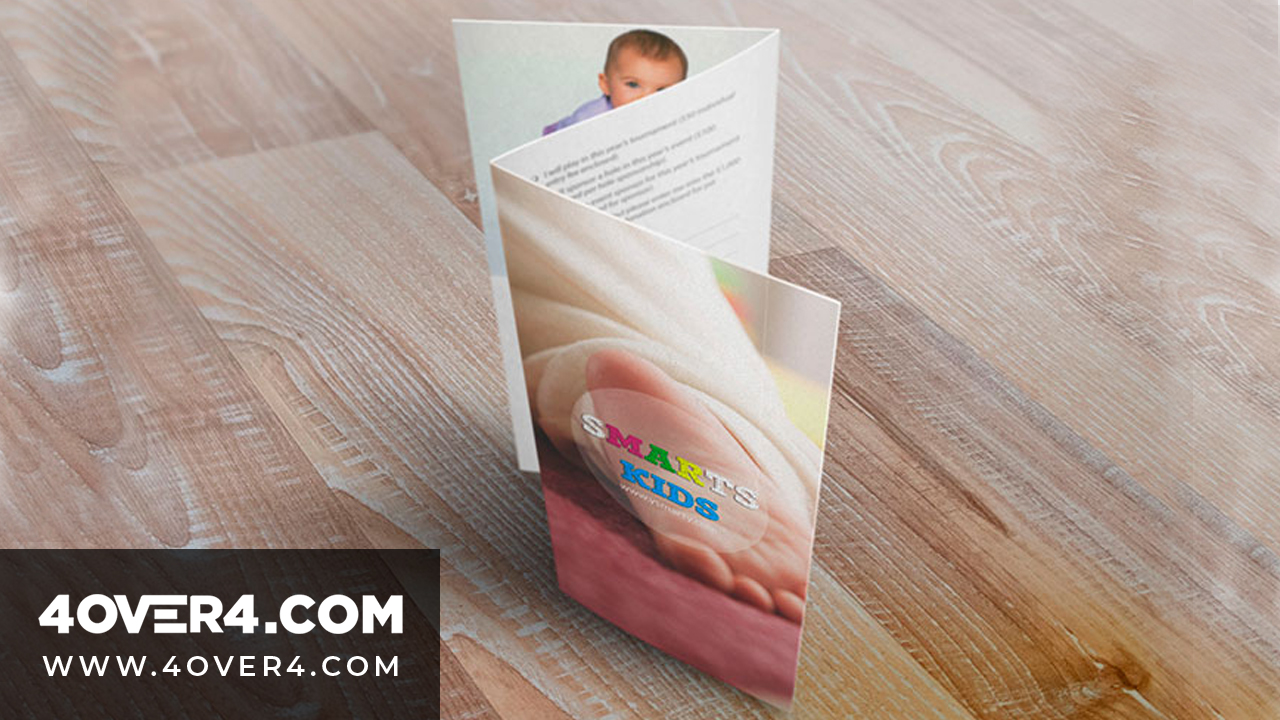 Tri-Fold Brochures Vs. Z Fold Brochures: Which Will You Pick?
We hope this information comes in handy. As you can see, choosing the perfect brochure depends on your objective and specifications like size and folding. Start browsing 4OVER4.COM for new brochure printing ideas for inspiration today!
Look to 4OVER4.COM for all of your high quality printing needs. We offer many products or services, business cards, printing turnaround, print services, custom brochures, free proofing, and much more. Please reach out to our customer service team if you need any help with your print job!
Don't forget to sign up to get 30% OFF your first 4OVER4.COM order.