What do you understand by the term vinyl banners? It is a type of advertising multi-use signs that can be seen across the city. From departmental or grocery stores to car washes, city lanterns to special events and trade shows, the custom vinyl banner printing can be seen everywhere. The custom vinyl banners are an inexpensive way to advertise your business or highlight your already existing brands and products according to the seasonal demands.
The custom banners look professional and make a strong statement for your business at a nominal price. Are you looking for professionally printed vinyl banners near you? 4Over4.com is one of the best online destinations to create excellent custom vinyl banners easily. Every season needs different types of advertising. Learn how you can customize vinyl banners according to seasons and top 10 ways of advertising with vinyl banner printing.
How to Customize Custom Vinyl Banner Printing with Seasons?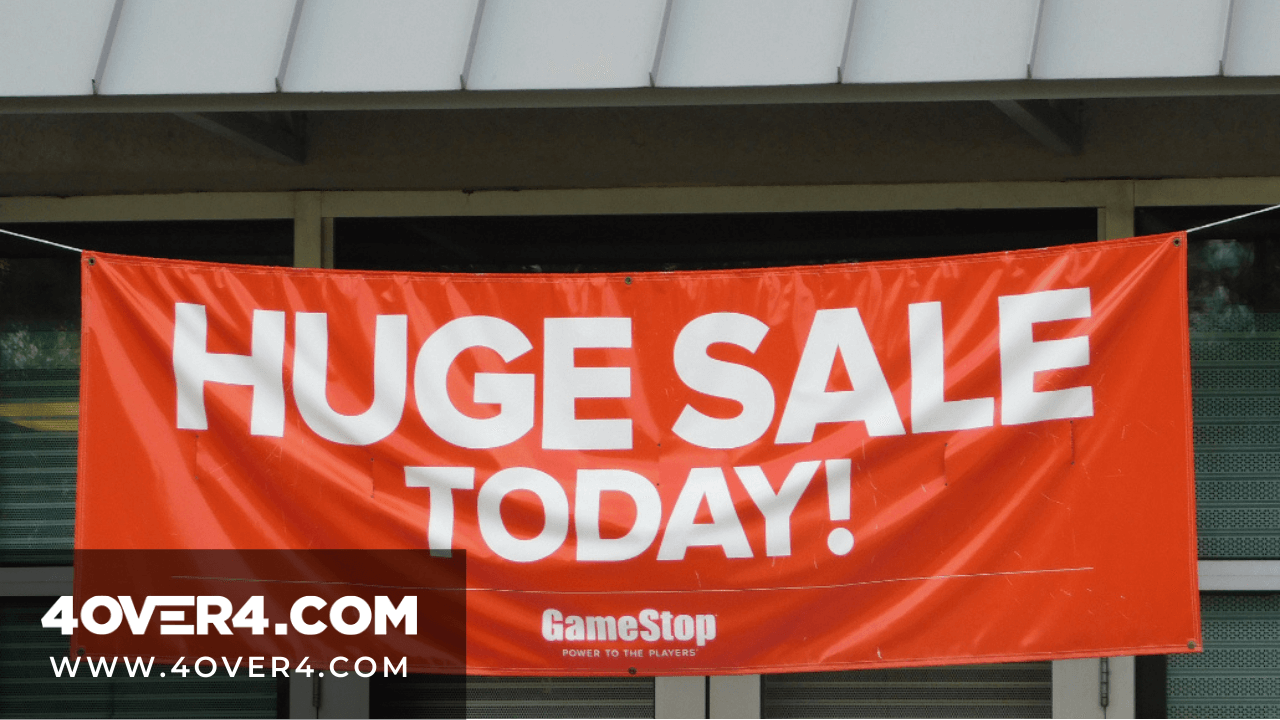 Every season has a set of demands. For instance, summers are for ice-cream promotions but in winters, you strictly need to avoid it. Gone are the days when you need to think about how to get the promotional banners ready. With the technological advancements, you can get the vinyl banners printed at any time of the day. So, the first and foremost important thing is planning.
You must decide the theme or the flavor of the season and accordingly place the vinyl banner printing order. It is important that you know how to attract your customers. Instead of just printing your products on the vinyl banner, you can use a backdrop that is relevant to the season.
For instance, falling leaves for autumn or snow for the winter. The message must be clear and attractive to draw the customer's attention.
How to make your viny banner attractive?
The promotional offers and discounts are something that people look forward to. When you customize the vinyl banner by highlighting discount offers and schemes according to various seasons, the people get attracted towards it.
In order to make sure that people know about your marketing offers, it must be visible to the customers. The vinyl banner printing with bright colors can prominently highlight the offer as well as create greater exposure for your targeted audience.
We offer a range of options in vinyl banner printing. From outdoor vinyl banners to indoor banner stands, 2 sided block out banners, and mesh banners, 4Over4 has a great variety to offer.
6 Benefits of Custom Vinyl Banners Printing
The vinyl banners are highly effective for advertising. The durable, cost-effective and light-weight nature of the vinyl banners makes it an ideal marketing material for businesses. Do you know how to use them or how can it be of help? Here are 10 benefits of custom vinyl banner printing.
Quick Solution to be Visible in Crowd
Whether a fabric banner or perforated vinyl banners, these custom banners reach your doorstep easily and are much faster than any other signs. 4Over4 not only ship your banner orders quickly but also give you what you require at the least time possible. The customized banners or the hanging ones are visible from a far off distance and are easily recognizable.
Our banners reach you complete with hem and grommets or pole pockets for hanging. You have to choose the options when you place the order. If you are using outdoor banners for an extensive period, the hems prevent it from fraying and the grommets keep the rope from tearing.
Full Color Custom Vinyl Banner Printing
The best part of the vinyl banner is it's easy to customize. From size to color and design, you can customize it all. In the trade shows and events, it is important to stand out amongst your competitors.
The high-quality, full-color custom vinyl banner printing gives you the freedom to convey and make a solid statement in exactly the way you want to draw your customer's attention. A colorful and brightly printed custom vinyl banners make you stand out completely.
Perfect Choice for Any Kind of Events
The vinyl banners are a great choice for transitional signage. It is cost-effective and the fast shipping with 4Over4 printing makes it the perfect pick for all kinds of events. A yearly conference, a sale or a family reunion and trade events, custom vinyl banners can be your best professional and customized signs.
The Versatility of the Vinyl Banners
The versatile vinyl banners can be easily stored and moved one by one as per requirement. You can hang it outdoors and indoors. It's lightweight makes the vinyl banners easy to move. Such banners are durable, can be stored without taking up much space, can be used repetitively, and a great signage choice.
Reinforce Your Brand with Custom Vinyl Banner Printing
If your brand gets recognition, half of the battle is won. The large-format personalized banners help in reinforcing your brand and logo design. Get it printed for sharing information with your customers for new products, location, sale, etc. Your logo and brand get featured on the banners making it easily recognizable.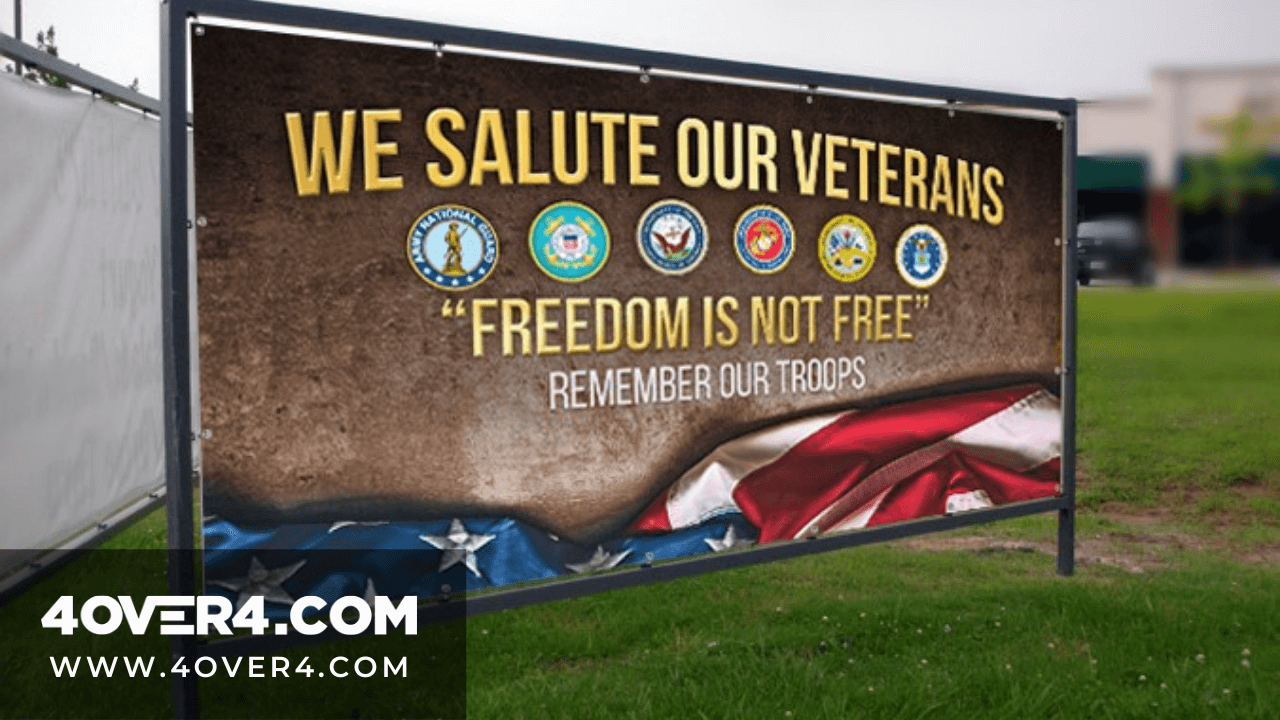 Track Vinyl Banner Effectiveness
The custom vinyl banners allow you to track their effectiveness and check from which area you are getting the most traffic. Are you wondering how to do this? Please note, you can track which location is getting the best visibility and responses by creating a unique number or website for each vinyl banner.
Design and Get Your Custom Vinyl Banner Printing Done with 4Over4
Give your red carpet photos or the trade show booths, an eye-catching backdrop that perfectly identifies with your business. Whether you want a matte-finish print to avoid the trade show lighting glare or a glossy and perforated print finish, 4Over4 team offers a range of options in custom print services, materials as well as finish.
You can choose from the various vinyl banner templates available on our site and use the design tool to fill in the message, logo, address, etc. or send us your specifications to receive your fully custom vinyl banner printing.
Our shipping cost is low and the customer service team is well adept in helping you out with all your queries within 24 hours. Just choose the right color, fonts, banner sizes, and finishes to get your quality print vinyl banner at your doorstep within a turnaround time of 5-7 business days.