The letterpress printing technique first emerged in the 15th century. Nearly 600 years after these designs surfaced, brands and professionals still rely on this antique art for making modern business cards.
Letterpress cards add irreplicable appeal and significance to your marketing. But why are these cards so effective?
The Beauty of Letterpress: An Ancient Technique for Modern Cards
Many brands today use a business card. So, just printing another business card won't get you noticed. Instead, a letterpress card with dainty impressions will impress any audience. Alternatively, some people refer to letterpress printing as debossing. With these cards, recipients are tempted to run their fingers through them while noticing your attention to detail and high standards.
The design blends ancient techniques and contemporary styles to create appealing aesthetics. Our customers remark that these art pieces have started many business conversations. The subtle ink impression, paper, and distinct typography help to reveal your attention to detail, excellence, and class. Letterpress is an ancient printing technique for expressing your craft and artistry.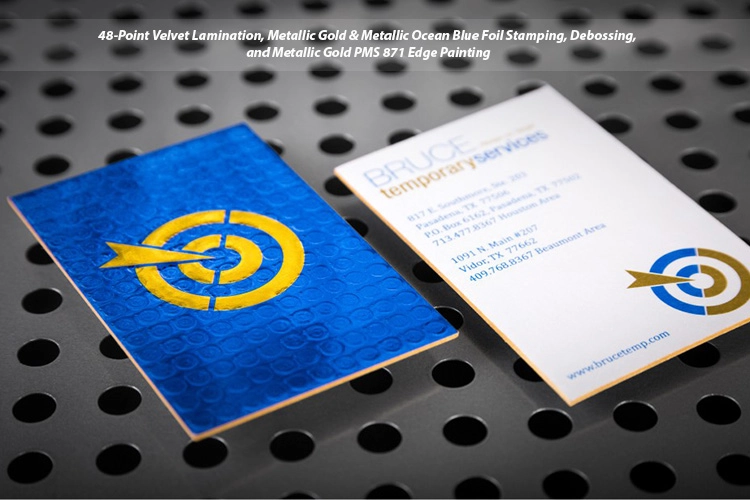 Choosing the Right Paper: Enhancing the Letterpress Effect
The right paper type will enhance your letterpress effect. When choosing paper for this design, we recommend you consider these factors:
Texture: A tactile paper with a pronounced texture can help you achieve an amazing finish. These papers are best suited for letterpress designs and can turn a good design into a work of art.
Weight: Sturdy or weighty papers give a refined finish to your letterpress design. Your impressions then convey quality, class, and style.
Color: Inking your letterpress elements can help the design stand out further. However, a blind deboss is another option that doesn't require ink. Instead, we press the letters on the card to create a subtle, visible depth. Your choice of colors (or lack thereof) can complement your overall design and brand.
Classic Elegance: Designing Timeless Letterpress Business Cards
The following tips will help you achieve the desired result when designing a letterpress card:
Keep it simple: A simple, minimalistic design with bold typography and limited visual elements will help highlight the letterpress's intricate details.
Focus on typography: Legible and elegant typography adds sophistication and timelessness to your business cards.
Consider other enhancements: Blind embossing, foil stamping, or edge painting are ways to elevate your design further. You can get these options by ordering our Majestic business cards.
The Printing Process Unveiled: Understanding Letterpress Production
For the printing process, we create a hollow image by stamping the paper with a die. For the debossing effect, the paper is stamped to the bottom. We apply ink or foil to the die as appropriate. The entire process is precise, so you have immaculate cards.
Expressing Individuality: Customizing Letterpress for Your Brand
The debossed effect works for more than just text elements. Also, you can use this technique to print your logo or brand name on the design.
As a result, you can customize your cards and draw attention to your brand.
The Nostalgic Appeal: Why Letterpress Makes a Lasting Impression
The letterpress technique uses vintage technology to produce modern business cards that leave a magnetic impression on your audience. Our letterpress operators pay keen attention to your design, striving for the highest level of artistry and workmanship.
Furthermore, letterpress printing is an antique printing technique. Several brands are revisiting this printing style to incorporate timelessness and tradition into their brand image.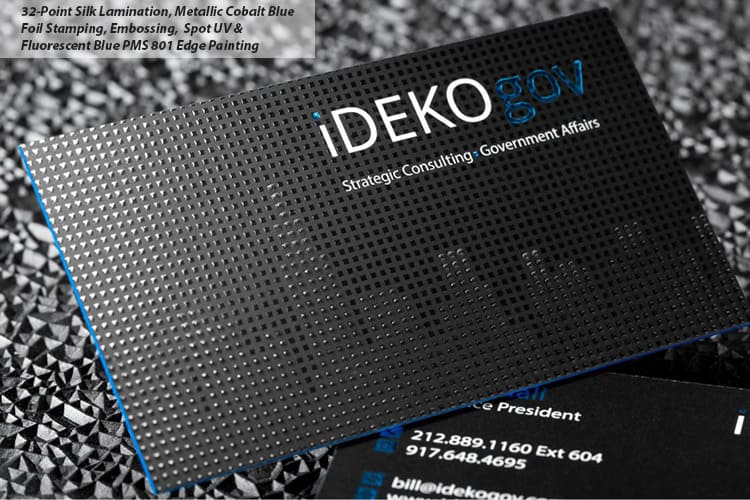 Sustainability in Letterpress: Eco-Friendly Practices for Conscious Brand
We produce letterpress cards using sustainably sourced paper and eco-friendly materials. In addition, our business cards are recyclable. Therefore, we prioritize environmental safety when making these elegant cards.
In conclusion
At 4OVER4, we produce letterpress cards that feel just right. Our tested printing process gives your card a professional and clean look. You can boss your market by ordering these well-crafted art pieces.
You can view our business cards 4OVER4 catalog to choose any other design.