Nov 15, 2023 Clap 199 ViewCopy Link
High-quality but affordable business cards are a bargain! These cards are just as effective for marketing as their high-end alternatives. So, before splurging on a business card, consider our best tips on designing and printing high-quality cards for cheap.
Quality Meets Affordability: Finding the Sweet Spot
Affordable business cards are better value for money. After all, these cards have moderate cost. So, businesses can earn a profitable return on investment (ROI). At the same time, the cards maintain their high quality and visual appeal. So you won't lose business from hard-to-please clients.
But how do you find this balance between affordability and quality? Designing your business card will drive down costs significantly. Let's talk about how you can get professional-looking cards at zero cost.
DIY Design: Easy Tools to Create Your Own Business Cards
Granted, business owners don't always make the best designers. However, businesses operating on a budget can profit from our free business card maker tool. We made the tool for non-designers. The interface allows drag-and-drop actions. So, you move the elements as you please. Therefore, business owners can enjoy complete creative control.
But you must not design from scratch. You can choose from hundreds of expertly done templates. We've organized these templates by industry. Therefore, you can find a design to create your own business cards.
Additionally, you can access thousands of fonts, icons, photographs, and shapes for free. You can import unique resources like your logo or picture on the platform. You're ready to order online printing after completing your design.
The Value of a Memorable Logo: Building Brand Recognition on a Budget
Logos are the face of any brand, so they're a critical branding element. A great logo is unique, memorable, and appealing. Hence, investing thought, time, and money in your logo design is sensible. You can talk to a reasonably priced designer about your idea.
Choosing Wisely: Selecting the Best Cheap Business Card Services
Many printing services claim to produce affordable business cards. However, the card's quality is sometimes less than desirable. So you end up losing clients for looking cheap. But you can avoid this outcome with a trusted online printing service like 4OVER4. Most of our customers are repeat buyers. We know the importance of retaining clients through high-quality work. Also, we allow you to choose the printing timeframe for your job. This way, you're always on schedule.
Additionally, we offer a range of affordable business card products. Therefore, you will get several options that are within your budget. For example, products like our Standard cards start at just $16! The Standard card is what many businesses need to promote their offers. Also, the Prestige Ultra Thick and Black business cards are equally affordable.
But you don't have to choose any of these recommendations. You can create your own business cards from scratch with our Majestic business card product. Even though these cards cost significantly more, you'll get value for your money.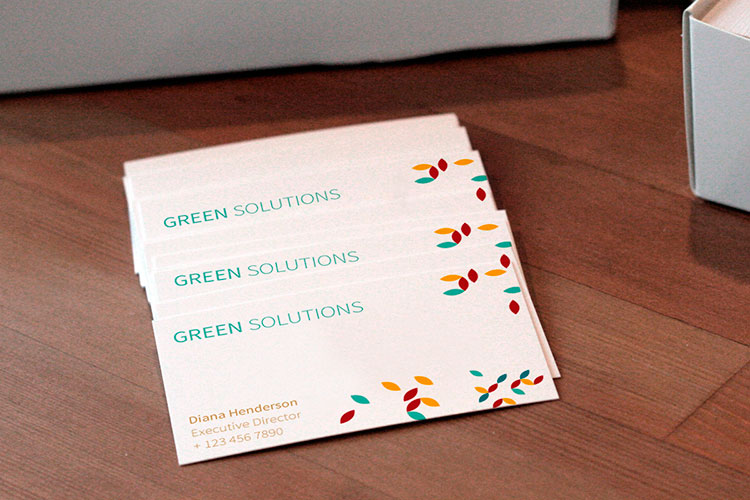 Eco-Friendly Business Cards: Sustainability that Won't Break the Bank
Our eco-friendly business card range is just as affordable. You can save money and the planet by ordering these products. We print Kraft business cards on recycled kraft paper. Also, our Cotton card is gotten from otherwise disposed cotton linters.
We use sustainable wood sources for our operations. Finally, we use printing materials such as inks that are safe for the environment.
In Conclusion
You can order cheap business cards online on 4OVER4. While it's cheaper to create your own business cards, you can save stress by hiring a professional. Afterward, choose your preferred product and select customization options.
Finally, upload the artwork and input your delivery address to complete the order. Ordering prints on 4OVER4 is easy. Get high-quality but affordable cards today.