A thank you business card can help you build strong connections with your customers. It doesn't matter if you have a small or large business.
A professional-looking thank you business card ideas can create a lasting impression with your loyal customers. It also makes them feel loved and appreciated while increasing the chance of customer loyalty.
Importance of Thank You Business Cards
Thank yous are rare commodities in business places. So, imagine what gorgeous thank you business card ideas will do for you in the minds of your customers.
Sending Thank You cards after closing a deal boosts your brand, strengthens business relationships, and enhances your reputation. Now, let's take a quick look at the importance of a thank you card.
Personal touch: In an era dominated by digital communication, receiving a physical card can demonstrate how much you value your customers. This Is a nice way to add genuine human elements to business relationships.
Professionalism: A well-designed thank you card instantly conveys your professionalism and attention to detail. People will feel more relaxed about doing business with you.
Strengthen Relationships: Great businesses are largely built on solid relationships. And what better way to do that than with top-notch thank you business card ideas? Recipients are more likely to continue their relationship with you.
Brand Promotion: When you give out a thank you business card, you expand the frontiers of your brand recognition and growth.
Differentiation: In a crowded marketplace, a thank you card is an easy way to stand out from the competition. It's a nice strategy to establish strong emotional bonding.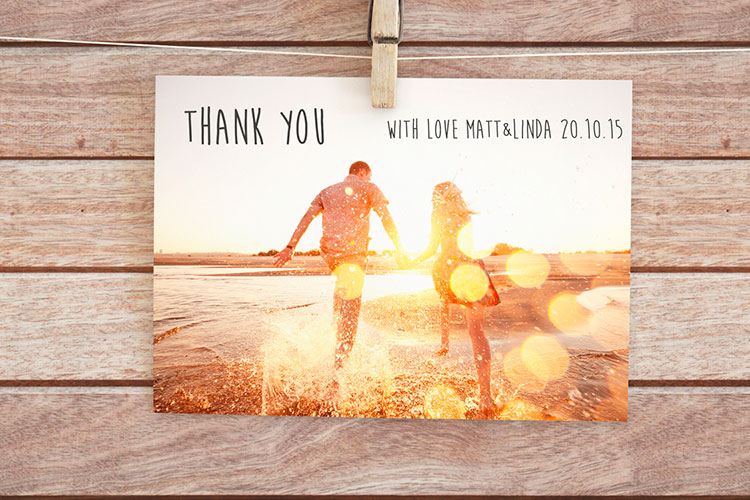 Creative Designs and Layouts
So, you want to be exceptional, right? Then, plain generic cards are not your friends. You don't want to look like another me-too business.
Think outside the box by opting for creative designs and layouts that will differentiate you at first glance. You can also check out our card templates for easy customizations.
Here are some inspiring design and layout ideas.
Minimalist: Simplicity is not the same as boring. Yet, you must avoid the temptation to cluster your cards with too many details. A simple typography printed on a thick matte cardstock conveys a message that you are sleek, dependable and professional.
Branding: Remember that thank you message cards are an extension of your brand. So, ensure consistent designs.
Unique shapes and sizes: It's okay to make normal rectangular shapes. But remember you want to stand out from the crowd. So, consider square, circular, or die-cut cards. Keep in mind that unconventional shapes will cost you more, but they will be worth the additional cost.
Custom illustrations or artwork: This is a good idea if you are in the creativity business. Custom illustrations or artwork underline your brand essence and reflect your business' value proposition.
Storytelling: Everyone loves a good story. So with your thank you card, take recipients on a brief value-driven journey about your business history.
Thank You Business Card Ideas
4OVER4.COM offers a range of colors, materials, styles, and finishes, helping you make a lasting impact. You may check out our collection for top-quality designs that you can customize to meet your needs.
Unique Materials and Finishes
At this point, your thank you card ideas for business are fast taking shape. But if you want your card to leave a lasting smile on customers, you need unique materials and finishes to go with it.
But whatever you do, never underestimate the sense of touch. Soft-touch coating, embossing, and lamination can trigger subtle emotions and communicate values differently.
Few finishes surprise and delight more than our velvet laminate, which replicates the feeling of suede.
Regardless of how you want to make your mark, you can find a wide selection of magnificent materials and finishes at 4OVER4.COM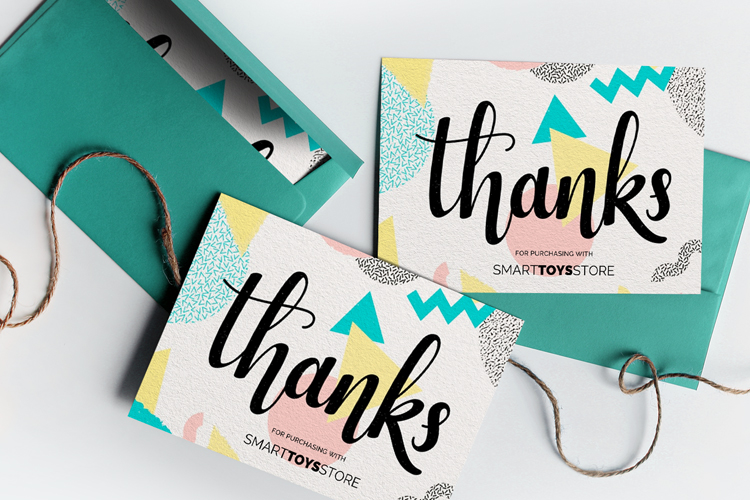 Printing and Production Tips
A good design can be messed up at the point of printing. That is why you need a trusted printing service with a track record for quality service. Online services like 4OVER4 are generally more reliable and affordable than their brick-and-mortar counterparts
The best way to avoid a bloody nose in your printing is by asking around. Seek out testimonials from existing customers.
Better still, check out their portfolio to see if they're a good fit for your brand.
Conclusion: Leave a Lasting Impression with Gratitude
Remember, your thank you business card ideas reflect you and your company. It tells a story about who you are and what your business is all about. So make sure your thank you card ideas for business convey more than your sense of gratitude. It should be a testimonial on your brand proposition.