If you think that the traditional way of exchanging business cards is outdated, consider spot UV business cards. According to the business card statistics, there's an increase of 2.5% in company sales for every 2000 business card distribution. Do you know that 72% of the companies are judged on the basis of business card quality?
Yes!!! The business cards have covered a long distance, and to stand out in the millions of business cards, your printing choice must be unique. This is where a Spot UV business card can leave its mark and create memories. Let's delve deeper into the UV Spot business cards finish.
What are Spot UV Business Cards?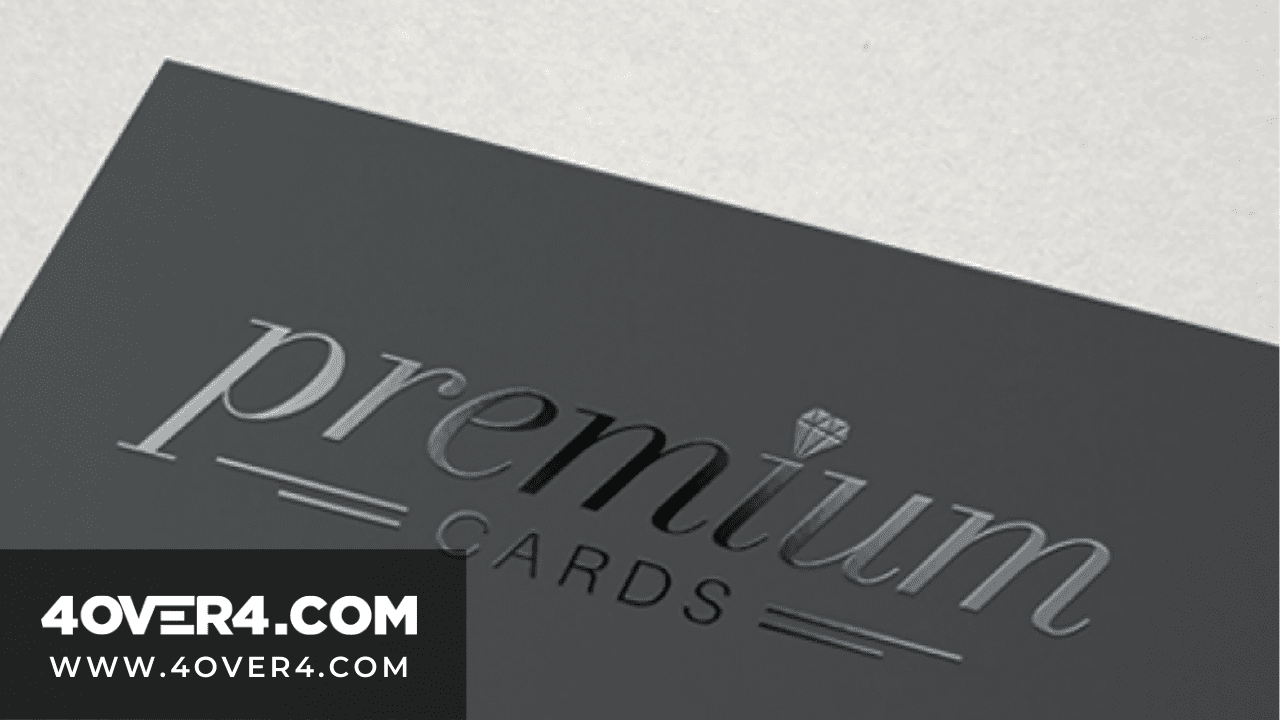 The Spot UV business card printing can subtly add gloss and shine to your matte finish card. With the spot UV coating, you can give a modern twist to your traditional custom business cards. The UV coating is a varnish to provide a glossy texture and look to your card. In regular business cards, the UV coating is applied evenly, whereas, in the spot UV cards, a gloss effect is used to highlight a specific spot carefully. Whether patterns or texts, spot UV finish business card printing can accentuate whichever area you want to.
There are various names for Spot UV. It may be called embossed business cards, raised print business cards, spot varnish, UV spot, spot gloss, etc. There might be a range of names, but the result is just one, and that's stunning.
The UV spot cards can be printed in matte or silk satin. You can also print spot UV metallic finish business cards that elevate the luxury factor and highlight the glossy raised parts.
You will want your business card to make a great impression and turn heads. But, do you know what is so special about the Spot UV business cards.
Exclusive Possibilities for Designing with Spot UV Printing
The spot UV cards are the best way to elevate your business card design to a higher level. You can take a minimal approach and create a professional and sleek looking business card design. The use of abstract designs and the raised print looks real. Do you know how to optimize your spot UV design for the best results? Here are three ways to create the maximum impact.
Create a Pattern for the Spot UV Business Cards Background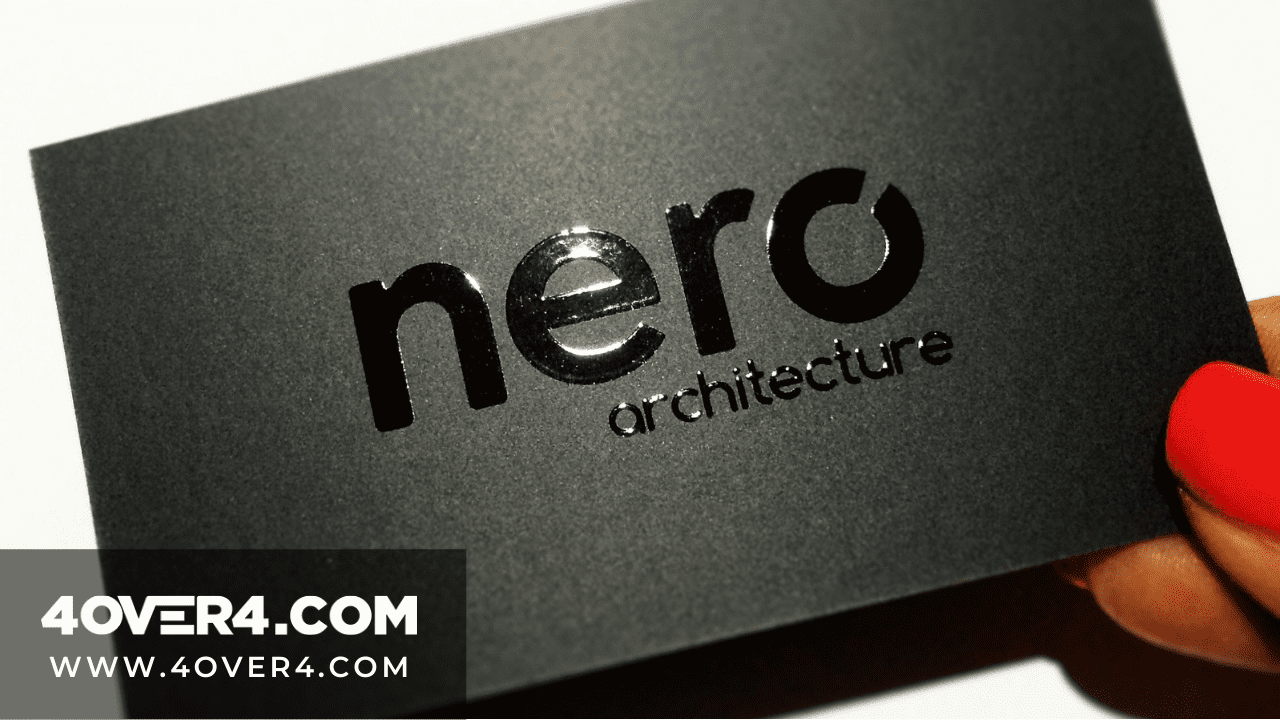 In design, the most attention-grabbing and attractive element is the pattern. If you have a cluttered and disrupted pattern on your business card design, it will make you appear unprofessional. It is the last thing that you would want for your business card design.
With the spot UV matte or metallic business card finish, you can easily select a specific spot color for a part of your card design. You can also apply the spot varnish to patterns on the card design without disturbing the vital info on your business card.
Your card gets a pleasant texture when you choose the varnished patterns, and people love to hold and retain such full color raised ink paper stock. When people hold a beautifully designed spot UV business card, they are less likely to throw it in the bin.
Apply the "Ghost" Effect on Spot UV Coated Cards
The "Ghost" effect is one of the coolest applications of UV coating.
There are specific lighting and angles from which the UV varnish coating is not visible unless there's some print under it. But when you tilt it slightly, the light passes through the gloss, and the coated design becomes visible over the business card. This ghosting effect can be easily achieved and brings in a wow-factor when you hand it over to your prospective clients. You need to choose specific areas to apply the UV coating without printing anything under it and, you're done.
The ghost effect on the metal foil business card can interestingly spark communication and get your client hooked on to playing with the card. Spot UV is the best for patterns, photos, logos, and other info that doesn't require constant visibility.
Restrict Your Color Palette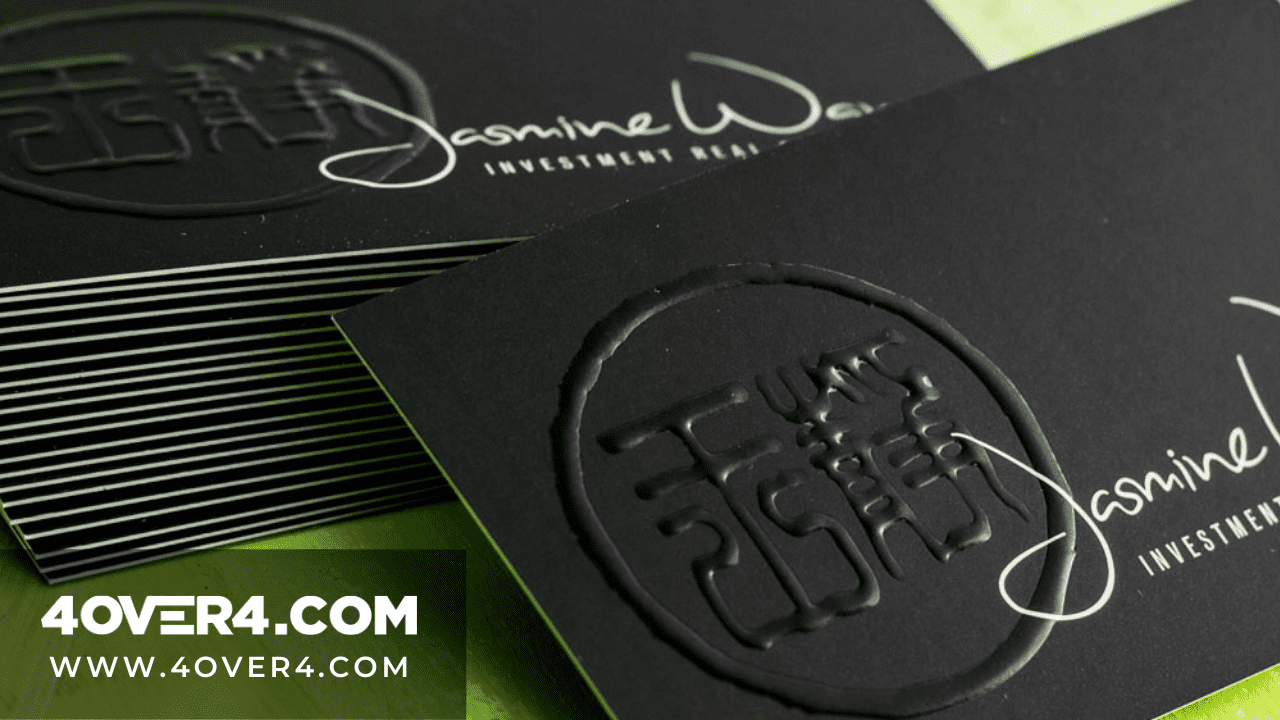 For a half gloss and half matte Spot UV foil business card designs, never choose too many colors. Try to restrict your selection because people already get absorbed into two different textures of the card. When you add too many colors, it can distract your customers from focusing on the primary and vital info on the card.
Any plain white card is not the solution. Over 78% of the people believe that the colored cards are more memorable.
They hold colored cards ten times longer than they hold the white ones. Any three colors are enough for your spot UV business cards design's optimal results.
4OVER4.COM is an ideal platform to get your raised print cards online. From the choice of card stocks to printing options, we offer a fantastic range of business cards at best and cost-effective rates.
Create Spot UV Design
Seeking the help of a professional printing service like 4OVER4 is the best way to optimize and create your spot UV business card design. Being the experts in a range of printing services, 4OVER4.COM professionals are knowledgeable and skilled, and they understand how the design works.
You can ask for visuals and mocks to ensure that your ideas are reflected clearly in the spot UV design. When you choose to print Spot UV business cards, it is a little different from the regular cards. You need two separate files for these business cards, printed area, and spot UV area.
The printed area doesn't require any layers or special effects. It just conveys what ink to be used on the card while printing. For the ghost effect, you must leave the areas or elements that need to be spot coated. It offers an illusioned look and a clear coat to the rest of the area without any ink print underneath.
For the UV spot area, the design must be in pure white and black where the white areas will be left out, and the black areas will be varnished.
It can be a better idea to add a layer over your design and understand the area to be UV spot varnished. You can also layer it over your other design for a better idea of what will be UV spot coated.
Spot UV Business Cards Printing with 4OVER4
Do you need help with custom design printing choices? Our range of customizing and creative printing services make us one of the most preferred choices for online business card printing. If you want to choose from our range of emboss and deboss or Spot UV business cards online or to look for foil color options, rounded corners, and highest-quality printing services, visit us now. Throughout the year, we offer fantastic deals to make your purchase experience with us pleasurable.