Whether you're supporting an elementary school or high school fundraising is imperative for all educational institutions to financially support class trips, sports teams, events, clubs, expansions and repairs. Even if school fundraising has been around for several decades, there are always new ideas to revamp previous projects. If you are a school administrator or even a parent, it's no surprise that almost all organizations are in need of some monetary assistance.
Since selecting the best school fundraising idea can be a challenge, we've compiled a shortlist of ten ideas, from selling bumper stickers to hosting scavenger hunts. These clever initiatives are great for schools of all sizes that could use a little more help funding anything from football games to field trips. Give it a try and help raise bucks for your school.
Tip 1: Print School Banners
Fundraising and branding go hand in hand. In fact, well-branded schools have a better chance of success in fundraising and enrollment events. Therefore, you should place eye-catching school banners throughout your community and on campus to get the word out. When passersby see them, they'll immediately be intrigued.
Our experience with custom print products tells us banners are, hands down, one of the most effective branding tools available. Large custom banners help spread the message and reach the right audience. That's why we offer several indoor and outdoor banner options to fit the most varied purposes. Take a look at our banner catalog and get some ideas for your next fundraising event.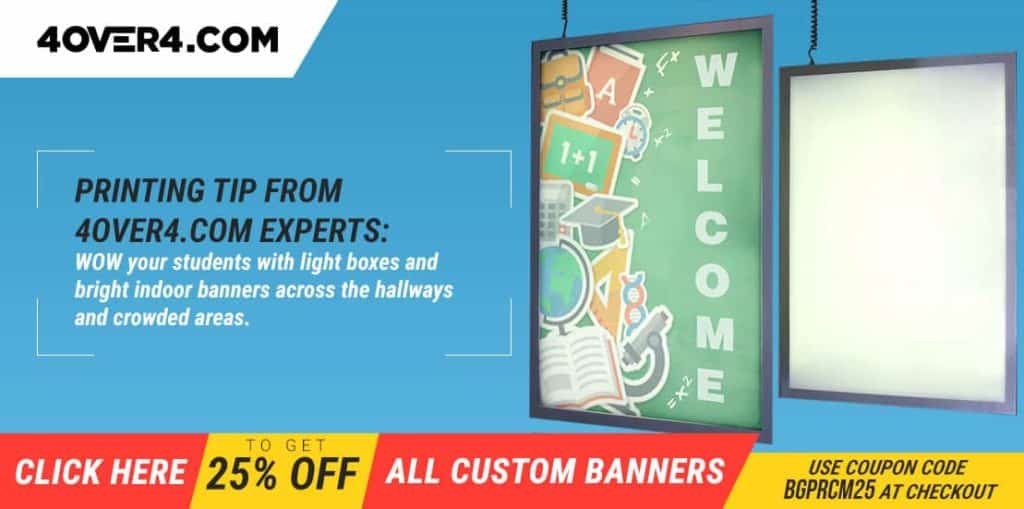 Tip 2: Sell Bumper Stickers to Alumni
Let your former students get the word out about how great your school. Bumper stickers can turn into a very simple, yet effective way to market your organization and give everyone a reason to support it. Use bumper stickers to promote school pride, advertising your students' achievements or social involvement.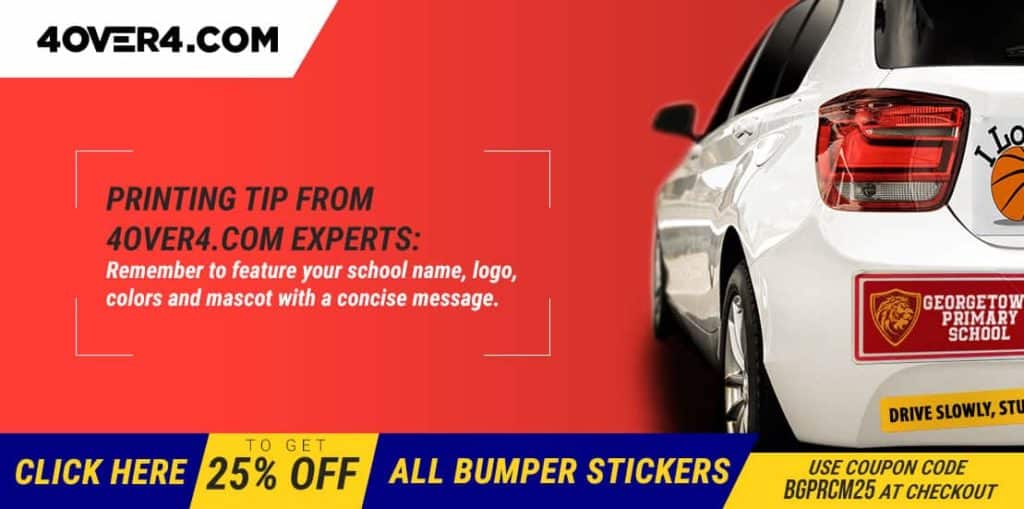 Bumper stickers are a great way to get the community involved as well as raise money for your school. Often times, alumni are more than happy to support their school by purchasing bumper stickers and placing them on their vehicles.
Tip 3: Arrange a Tag Sale Saturday in Your Community
Tag sales have long been one of the most successful school fundraising ideas. Before the day of the special tag sale, make sure to advertise the event by having students distribute flyers featuring the event info throughout the community. During the tag sale, rent spaces in your school parking lot or gym on a first-come, first-served basis. If you want to raise extra money, sell cold drinks and food items or snacks. Last but not least, make sure to seek student volunteers to help with cleanup.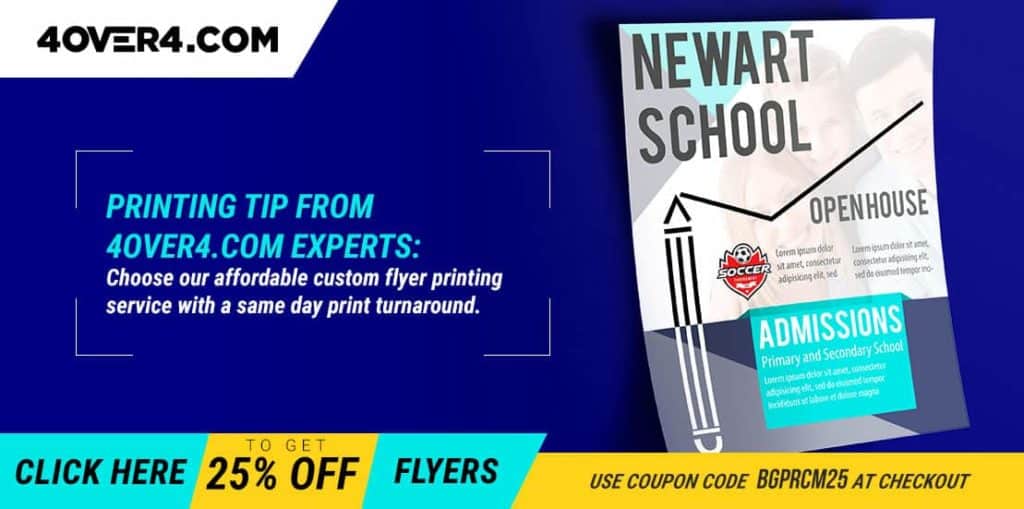 Tip 4: Hold a Summer Carnival
Get together a team of high school students and teachers to help run several activities and games for students and their families to enjoy. Keep in mind that summer carnival tickets must be sold ahead of time. During the event, have each activity priced at a certain number of tickets (envelope game = 1 ticket, balloon toss = 3 tickets).
Tip 5: Host a Scavenger Hunt
Another unique school fundraising idea is to host a scavenger hunt. Place uncommon, fun items around your school, throughout your community or in a local park. Then, invite parents and students to take part in your school's scavenger hunt. To raise money, charge a participation fee per family or get prize donations. Bear in mind that you must promote your scavenger hunt with the aforementioned school banners.
Tip 6: Team Up With Local Stores and Restaurants
Check with local retailers, movie theaters and fast-food restaurants in your community as most of them provide schools with ways to raise money. Partner with a local restaurant to host a benefit night. A percentage of each ticket must be donated to your school on the night of the event. Before the event, have students distribute flyers featuring your school name and colors to advertise your benefit night.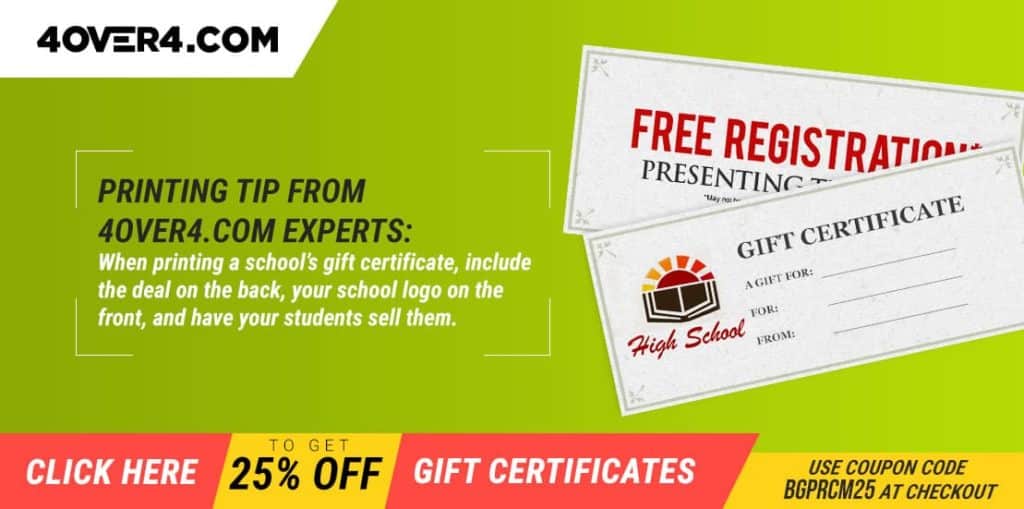 Tip 7: Hold a Bake Sale
Popular amongst elementary school, middle school and high schools, a bake sale is one of the most long-standing school fundraising ideas. Just ask staff, students and parents to contribute delicious baked goods for your sale. Invite the children and parents to buy these treats. As mentioned earlier, make sure to advertise the event with school banners or flyers.
Tip 8: Organize a Community Car Wash
One of the most traditional fundraisers with a record of success is a car wash – they provide fun opportunities for student and family bonding. Have the car wash on the school grounds or at a local business that has high-visibility. Once again, make sure you take advantage of flyers to promote your school's car wash.
Tip 9: Have a Book Sale
A book sale is not only an awesome way to raise money, but it also has the benefit of encouraging reading amongst the kids at your school. Ask parent, teachers in addition to local businesses to donate books for sale at your school to further increase donations. Any books that aren't sold may be used in the school classrooms or library.
Tip 10: Make a Big Effort to Be Inclusive
The best way to build school-wide camaraderie is through common initiatives. It's extremely important that everyone in school feels like they are involved. That is, find a way to include teachers, students, parents and janitors in your fundraising efforts. Make sure you structure events and price tickets so that no one feels excluded. Everyone should have an equal opportunity to participate. For example, at the school auction, auction off-dates with your teachers, raising significant amounts of money.
Keep in mind that, even if you don't make quite as much money, you can also sell cheap raffle tickets for those who can't afford to bid high on the auction such as students and janitors.
School fundraisers are so important for the success of extracurricular activities and enhanced learning for students. Unfortunately, fundraisers are only as successful as the promotion or effort that is put into the events. Luckily, 4OVER4 is here to help. Whether you need cheap flyers printed or large promotional banners, we've got you covered to help make your event the school fundraising event of the century.
What are the most successful school fundraising ideas you have used in your school? Please share them in the comments section below. We are offering educational institutions an extraordinary promotion: 25% OFF on any print product by using coupon code BGPRCM25 at checkout.