He may be your best friend, but for some reason, you find yourself racking your brain to think of a gift your husband will like. Personalized gift ideas for husband, such as custom bookmarks, personalized keychains, or even custom picture puzzles, can make your husband– or any man in your life – feel special and loved. Fortunately, we've scoured the web to find unique and personalized gift ideas for husbands of every personality and for all occasions. These fresh ideas will surely put a smile on his face.
A Cool Decanter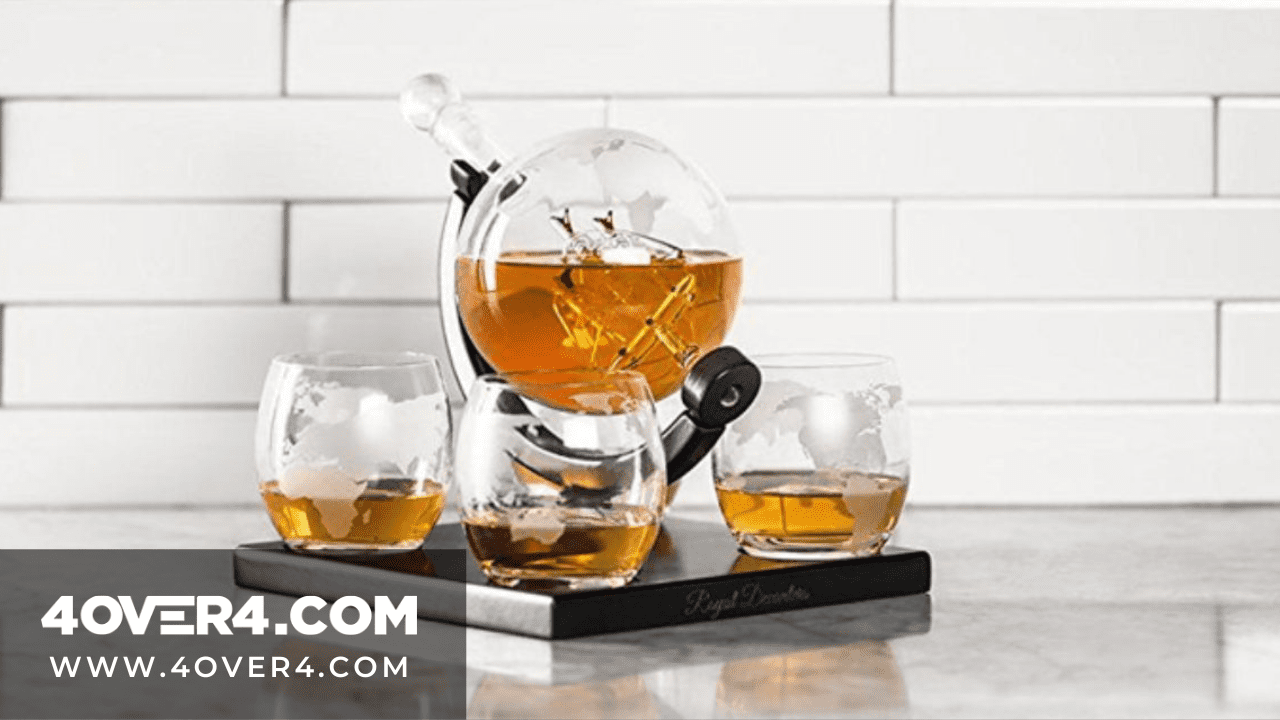 Source If you're married to a whiskey lover or a wine connoisseur, he'll need a proper decanter to enjoy his favorite beverage. Consider this etched globe shaped decanter that you can use for wine, whiskey, scotch, or bourbon. It's made from lead-free, Borosilicate glass that'll open up the flavor of any wine or spirit. It also comes with two globe glasses and whiskey stones to complete the set. The Wine Savant World Decanter, $50, Amazon.com
Personalized Whiskey Glass and Cigar Case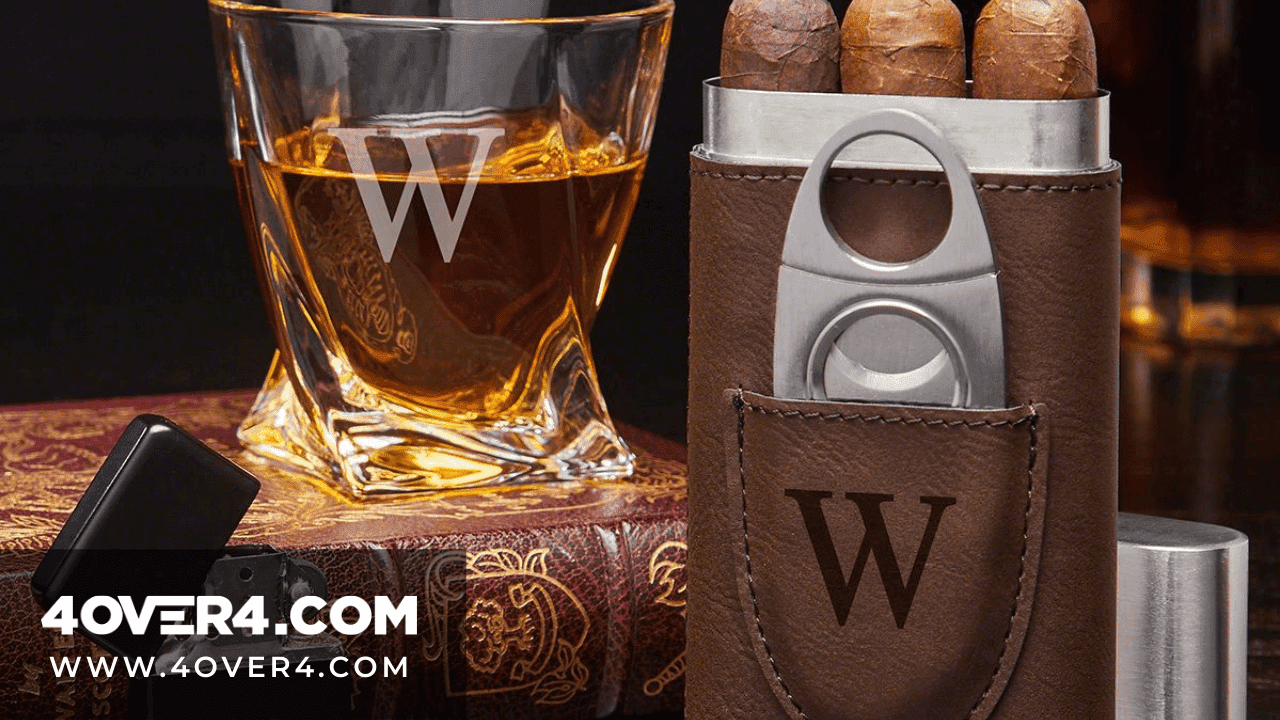 Source Some men indulge in whiskey and cigars when it's time to wind down and relax. This old-fashioned whiskey glass is designed to hold a cigar on the side. Now, he'll be able to sip and smoke with ease. Keep everything in one place with the personalized cigar case. The case comes equipped with a cigar cutter so he can take his cigars on the go. Personalized Cigar Case and Whiskey Cigar Glass, $80, Homewetbar.com
A Fun Well-Traveled Luggage Tag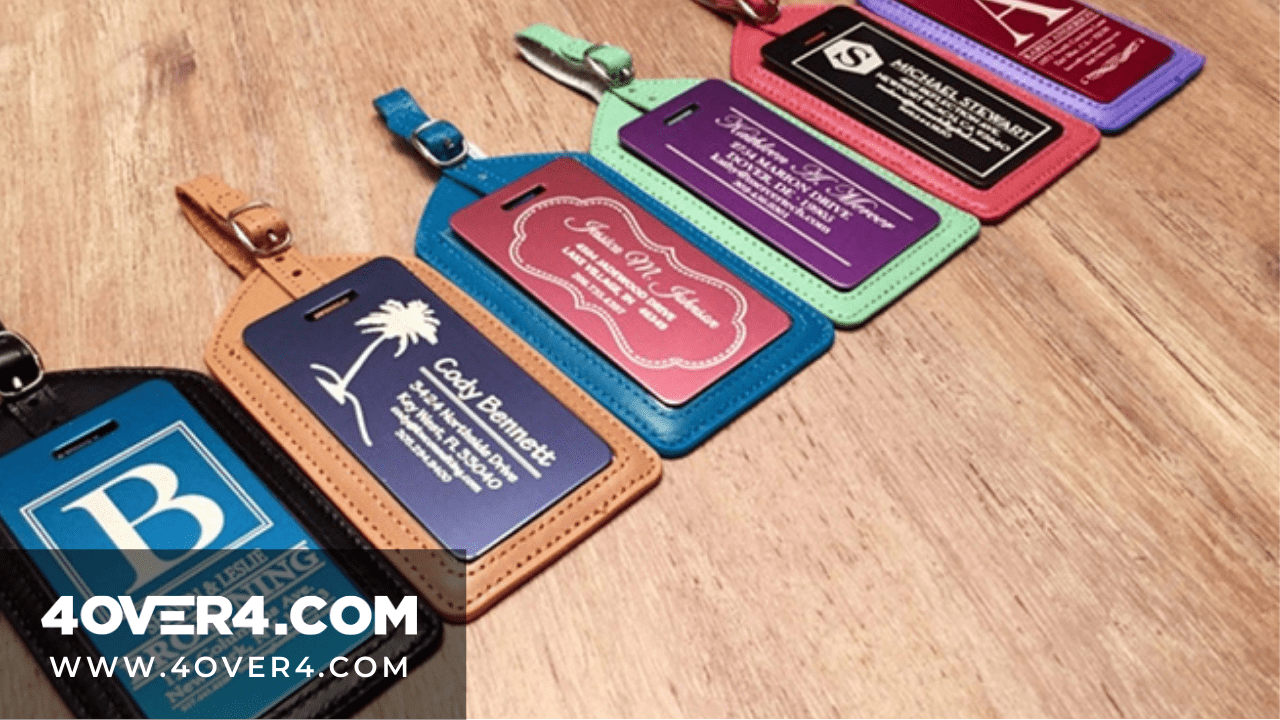 If your husband or fiancé travels a lot, nothing screams well-traveled and adventurous like a customized luggage tag. Plus, you can add your contact information on the inside, so you'll never lose a bag again. This personalized tag would pair nicely with a surprise vacation or a second honeymoon. Grant Leather Luggage Tag, $20, Potterybarn.com
A Secret Message Necktie
For the well-dressed man who loves his suits, a necktie is the perfect personalized gift idea for your husband. Now, you can add a secret message on the back of his tie. This handmade personalized gift for husband, father, boy friend, or brother has many colors to choose from and three different fonts for your special message so the important man in your life can have a few options, if you choose. Secret Message Tie, $30, Etsy.com
Personalized Tie Bar
A tie bar is a small, yet fashionable and practical accessory for the modern man. You can choose the type of metal that best suits your man's style – from stainless steel to gunmetal-plated options. For a small fee, you can engrave a short message on the front or back of the tie bar. You may also consider a tie clip with his favorite superheroes, such as Ironman, or his favorite sports team. Either way, he'll be well-dressed, and his tie bar can help keep his necktie in place so he is always looking sharp. Stainless Steel Engravable Tie Bar, $35, Cufflinks.com
Personalized Meat Branding Iron
For the man who likes to show off his grilling skills, you should consider getting him a personalized steak branding iron. This DIY kit comes with 55 A-Z letters and eight spaces so he can write whatever he wants. He'll be able to brand his initials or support his favorite sports team at the next tailgate party. Personalized Meat Branding BBQ Grill Tool, $25, Etsy.com
Personalized Bottle Opener and Magnetic Cap Catcher
A cool wall-mounted bottle opener will make every beer even more satisfying. You may personalize the wood by having your husband's name engraved. Plus, the powerful magnets can effortlessly catch and hold the loose bottle camps. This brilliant gift comes with mounting screws for the wall, or if he can't wait to start using it, you can just put it on the fridge. Personalized Wall Mount Bottle Opener Magnet Cap Catcher, $35, Amazon.com
Personalized Amp Doormat
A cool guitar amplifier doormat is perfect for the musician in your life. You can customize it with his name, your family, or any word of your choice. It can be perfect gifts for dad or boy friend. Personalized Amp Doormat, $35, Uncommongoods.com
Personalized Cooler and Chair
A cooler and chair combo is the perfect personalized gift idea for a husband that loves fishing. The insulated cooler can hold up to 24 cans, while the padded seat can withstand up to 200 pounds while providing comfort. This portable chair is great for tailgates, fishing, and anything outdoors. Sit n' Fish Personalized Cooler and Chair, $50, Personalizationmall.com
A Luxurious Comforter
Nothing is better than a night in, snuggled with your partner, under a toasty comforter. This down comforter is responsibly sourced with a fill power of 550. Plus, it has a baffle box construction –a checkered pattern that prevents the down from clumping – so no cold spots for either of you. Home Decorators Collection Lightweight Down White Cotton Full/Queen Comforter, $119, Homedepot.com
Bourbon Maple Syrup
People love to welcome the lazy weekend mornings with a stack of flapjacks. To level up his breakfast, try this organic barrel-aged bourbon maple syrup. This kettle-cooked syrup is aged in 12- to 18-year-old casks that were once used to make bourbon. The process infuses the syrup with vanilla, butterscotch, charred oak, and bourbon – minus the alcohol. He'll want to drizzle this on his pancakes, fruit, or dare we say, drink it straight from the bottle. Bourbon Barrel-Aged Pure Maple Syrup, $30, Williams-Sonoma.com
A Monogrammed Shaving Kit
A monogrammed shaving kit is a great personalized gift for boyfriend or husbands that want to turn their ordinary routine into something extraordinary. This unique set of shaving tools come with a customized message in the lid of a handcrafted wood grain box. Personalized Monogrammed Shaving Kit, $46, Etsy.com
Personalized Playing Cards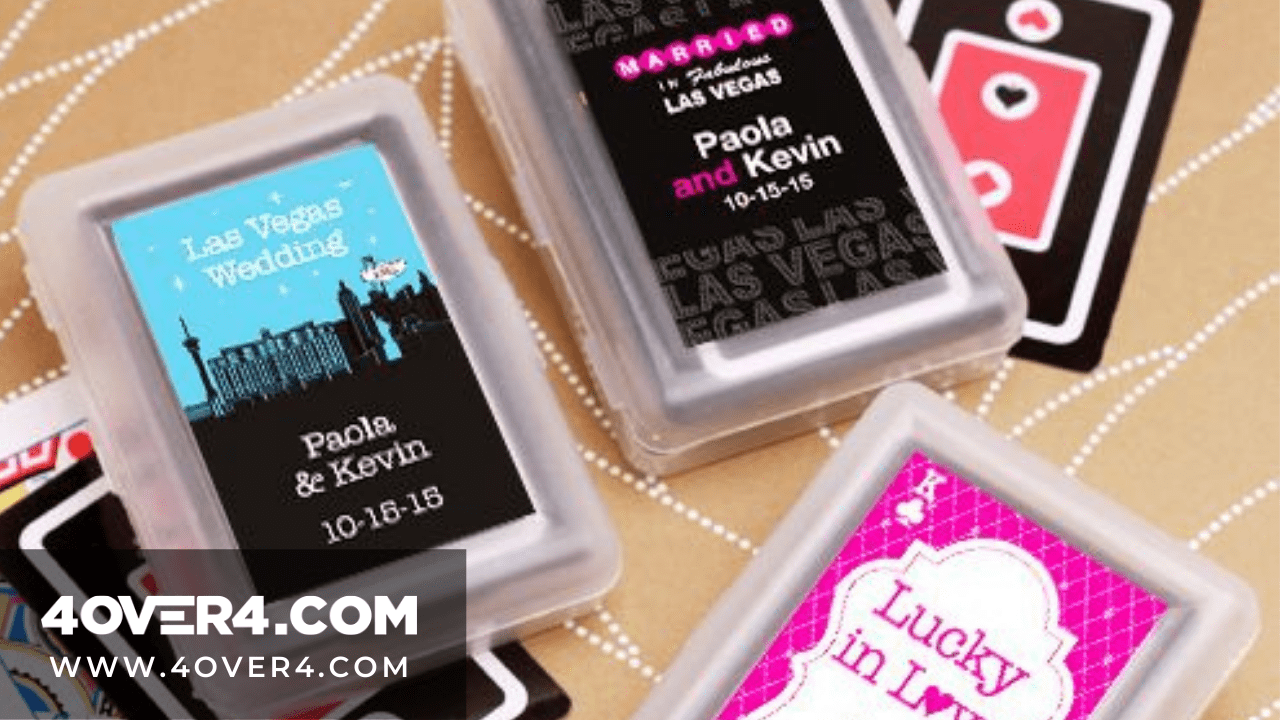 Source Let your husband impress his friends the next time they come over for poker night with these personalized playing cards. The deck arrives in a clear playing card box with the matching playing card case sold separately. Customize the card with two lines of text for a serious poker night. Poker Night Personalized Playing Cards, $19, PersonalizationMall.com
Wireless Headphones
Wires are a thing of the past. For the music and tech lover in your life, you should consider these wireless on-ear headphones. You can get up to 40 hours of battery life on one charge. Your husband also won't miss a beat because he can take calls, control his music, and activate Siri with on-ear controls. Beats Solo3 Wireless On-Ear Headphones, $150, Amazon.com
Wireless Earphones
If your special someone wants something a bit more minimalist, these wireless earphones are a convenient option for authentic, clear sound. It is one of the best personalized gifts for men. You can get up to 8 hours of battery life and choose from a variety of ear tip options for personalized comfort. An added bonus is the Flex-Form cable that lets him carry his earphones comfortably in his pocket. Beats by Dr. Dre BeatsX Wireless Earphones, $100, Bestbuy.com
A Phone Docking Station
A phone docking station is a fantastic personalized gift idea for your husband-to-be as a wedding or Christmas gift. Give him a docking station that lets him empty and fill his pockets with all of his essentials in one centralized location in your new home together. This phone docking station has an area to charge his phone and watch. Plus, you can personalize the station with a variety of engraving options. Wooden Docking Station, $39+, Etsy.com
Personalized Pocket Knife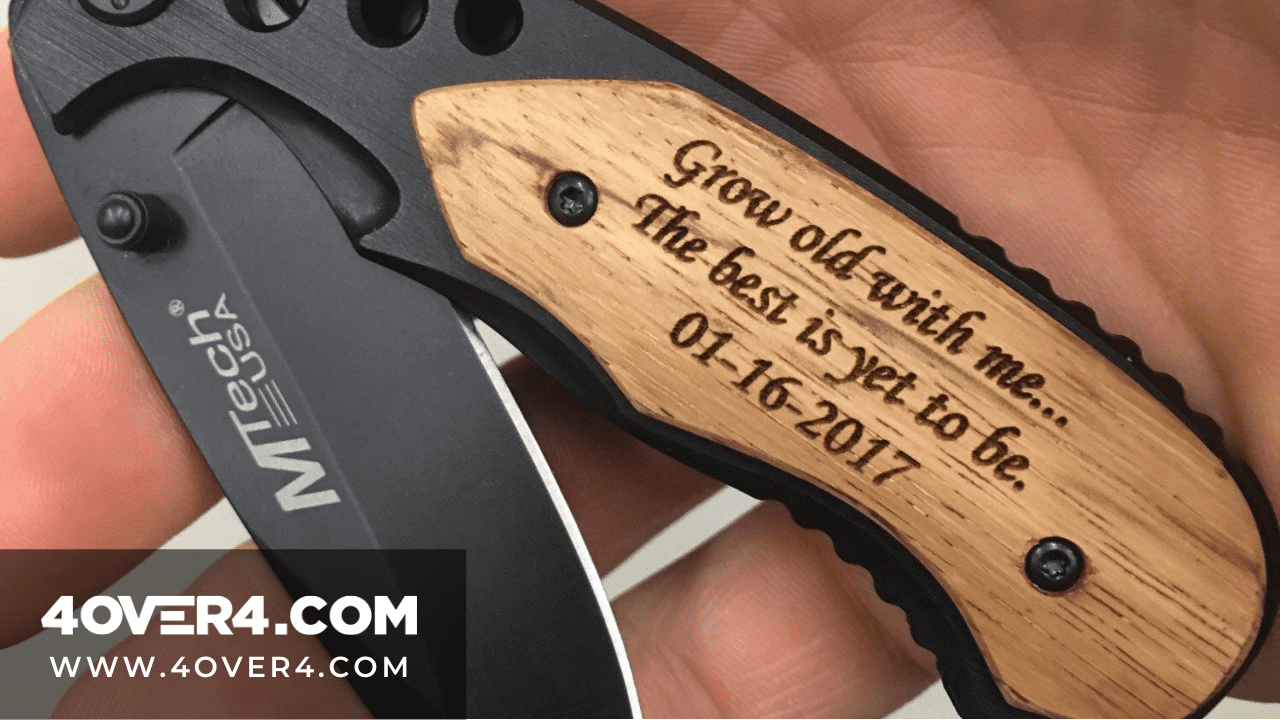 Source For the outdoorsman in your life, consider a personalized pocketknife with a lock-back serrated blade. It measures 8 inches when fully opened as well as a seatbelt cutter feature for emergencies. Engrave up to two lines of text on the sleek black finish. Survivor Personalized Lock-back Knife, $37, Personalizatiomall.com
Indoor Putting Green
For the golfer in your family, consider an indoor putting green perfect for the house or office. This large 11 foot by 36-inch putting area will let your significant other practice his follow-through for the green. It comes with two movable putting cups to let you putt from different angles. Putt-A-Bout Golf Putting Mat, $59, Amazon.com
Final Thoughts
When choosing a unique or personalized anniversary or birthday gift for your husband, make sure it shows how much you care and cherish him. Personalization can elevate some of the most basic custom gift ideas and make them unique, maybe even unforgettable. For more inspiration, offers, and discounts, browse 4OVER4.com. Our excellent customer service team can help design and execute your personalized vision.