Planning the spring wedding of your dreams? Working as a wedding planner for the first time? Recruited as maid of honor?
Spring weddings are the most in-demand ones because the breezy weather is perfect for outdoor parties in beautiful natural settings.
It's a no-brainer but you must bear in mind that wedding invitations should reflect the style of the upcoming reception, so guests know what to expect. Which is why, before thinking of ordering your print invitations, you should take your time to think of the overall style of the special day -in addition to some basic printing tips that will guarantee a hassle-free process. To get the perfect one down, take the following tips into consideration before you place an order for your invitations:
1. Get The Spring Colors
Spring is a season of flowers, fresh grass, warm breeze, and nature at its best. A spring event should be rich in pastels and natural colors. Think of lilac, pink, light green, coral, and yellow. This is also a great opportunity to try eco-friendly invitations (which does not mean you have to go for crude or rough, even though those are lovely for the season, the 4over4 Metallic Pearl paper is a great, shimmering, option). Read our previous post: 4over4 Metallic Pearl paper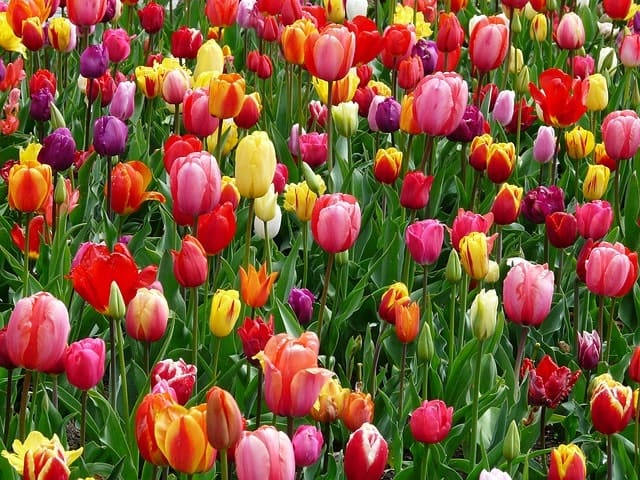 Bear in mind that colors can vary from screen to print. It is recommended that you get a sample before making a print order. You should also consider that ink can look different when printed on white or color paper, and that Pantone colors are printed with special ink and that give you the most consistent results. Ask a professional for color advice, graphic designers and printers deal with these issues regularly. (If you want a special color, PANTONE swatches are usually your safest choice).
2. Choose the Material
Linens are spring wedding invitation favorites, the example below looks great in that slightly textured paper that is just fancy enough to meet your special day's demands. You can always get different color options (it's fun to have several sets of invites for different groups, same theme, different looks) and gloss or matte finish to set your event apart from the rest.
At 4over4.com we have lots of paper options to choose from (check out our selection of printing papers when you have a chance). If you're looking for luxurious print invitations look for the metallic pearl paper, mentioned above, or the ultra thick prestige collection. Their shiny looks and rich texture will immediately add that extra je-ne-sais-quoi to your design.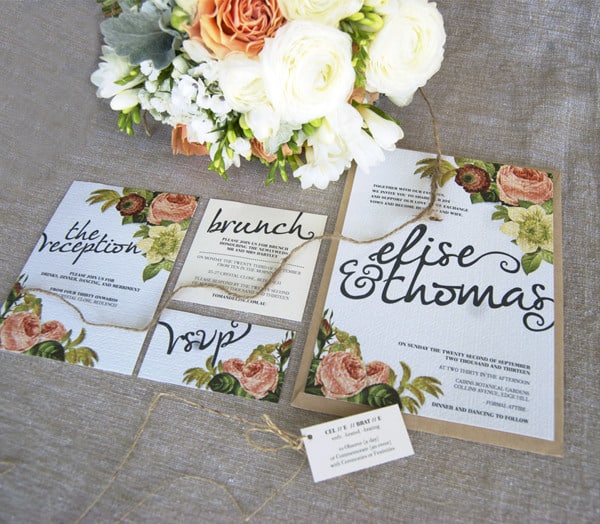 Photo shared on Behance.net by Etch Design Group
Don't forget about the invitation envelope! It is just as important. Beautifully wrapped gifts create anticipation, and so do our personalized wedding invitation envelopes. They tell your guests you really want them to be a part of your love celebration.
3. Choose Fabulous Fonts
They can change the entire look of your invitation. Take a look at these free wedding invitation font favorites, that go great with spring weddings: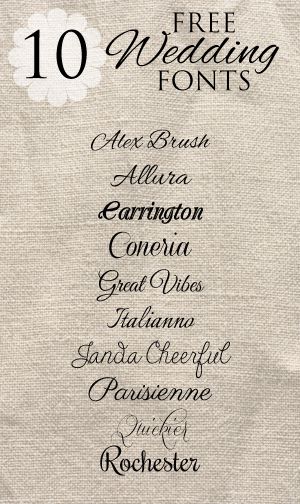 Photo shared on Pinterest by Jacquie Neill
Something very important that people don't usually take into consideration is that fonts on their computers are not necessarily installed on other computers. So if you send an editable file, fonts may change and therefore the result won't be the one you expected. As a precaution, always make sure to send the font file to the printer or have your designer rasterize it, it will save time and trouble.
4. The Message
Beautiful spring wedding invitation designs could be easily ruined by the wrong words. Check for grammar and spelling! Your professional printer might catch a typo, but it's your duty to proofread your invites prior to placing an order.
You should also consider styling. A poem is suitable for traditional and romantic weddings. While an edgier couple might go for an original text to show their personalities. Once again, don't forget the invitation envelopes, try to use the same fonts to write your guest's names, or at least a similar style.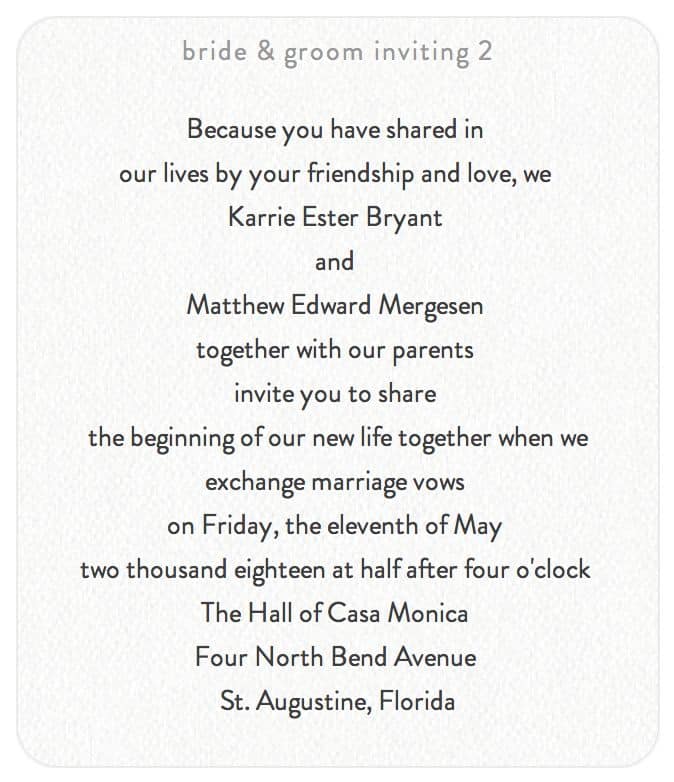 Photo shared on Pinterest by J & E Wedding
Here's where you need to be extra careful; your design requires enough bleed and trim space so no part of the text gets be cut off. Work with your approximate end product dimensions from the beginning to avoid future hassles. Think of margins, distribution and font size. Get a proof before you print!
5. Prepare Your File for Professional Printing
Create a print-ready file considering masks for printing effects (like Spot UV or Wonderfoil layers), including bleeds, trims. Send the fonts if not rasterized. Keep a backup package with:
The final file ready to print, considering color, fonts, and file setup as mentioned above.
A non-editable copy of what the end product should look like. Basically, an image to show the printer in case some issues come up.
The font file
A copy of the text as a backup
Any images included in the design. With the proper resolution to fit the printing size.
High-resolution files are not always the largest ones, check the printing quality before to avoid pixelated images. Now that you know what spring wedding invitation printing involves, it is time to have a chat with your designer and work on the details. Create the perfect invitation for your dream wedding and surprise your guests. Don't forget to send them out on time! Start browsing 4OVER4.COM for more invitation printing ideas and let us know what you think of our invitation checklist. What other details are you concerned about? Feel free to go to the comment section below and let us know.