Aug 24, 2023 Clap 197 ViewCopy Link
A well-designed and professional business card is a great way to promote your HVAC business and stay ahead of the competition.
But how do you know what HVAC business card idea is perfect for your business and personal brand? That is what you are about to find out in this article.
Introduction to HVAC Business Cards
As an HVAC professional, standing out from the crowd is essential for attracting and retaining clients. That is why you need HVAC business card ideas that scream professionalism at first glance, offering you an edge over the competition.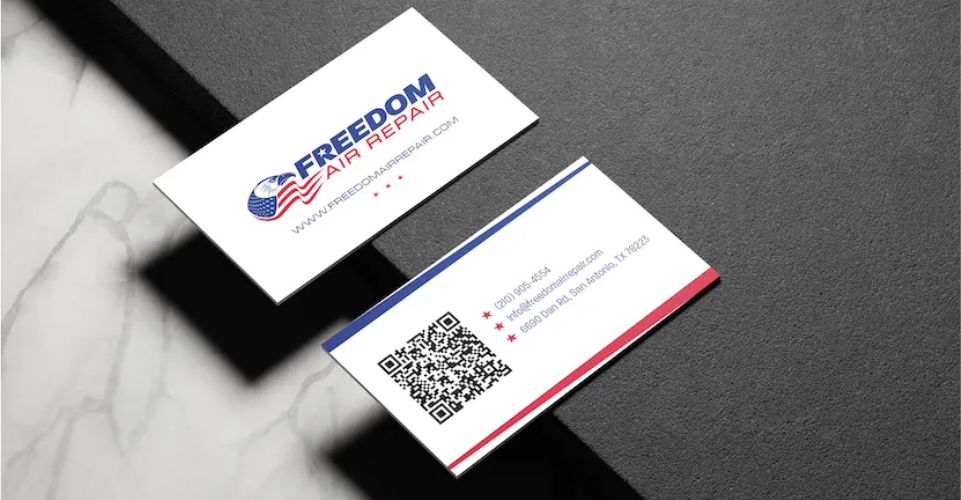 HVAC Business Card Ideas: Creative Designs
Not all cards are remarkable. Most end up in the trash can when recipients leave the room. So, are you wondering how to get HVAC business card ideas that guarantee impact? Here are some ideas that will get you along that path. 
Residential HVAC Services: If your speciality is residential services, you need a design that conveys reliability and professionalism. Go for a clear, easy-to-read font. A touch of personalisation, such as a photo of your team, will be a great addition.

Sustainable HVAC Specialists: So you belong in the sustainability arena. Use earthy tones like green and brown to evoke eco-consciousness. Your prospects will love it. You may consider using recycled or eco-friendly cardstock like Kraft.

Smart HVAC Innovators: A futuristic card will swiftly communicate your expertise. You may incorporate abstract geometric shapes or circuit patterns to represent technology and connectivity.

Residential Maintenance Services: If residential maintenance service is your forte, Including charming illustrations of tools like wrenches, thermometers, or air filters to showcase your services is a good way to impress. Be sure to use a casual yet legible font.
Contact Information and Branding tips
If you want your card to be as cool as your expertise, take note of these branding tips.
Keep it simple and clear: when adding contact information, you can never go wrong with simple designs. Go for texts that are neither too small nor too cluttered and fonts that are easy to read. Clarity ensures that recipients can quickly find the information they need.
Emphasize Your Logo: The logo's placement should complement the overall design and not overcrowd the card.
Choose Consistent Brand Colors: Consistent colors build recognition and convey professionalism.
Include Relevant Imagery: Depending on your specialization, this could be icons of cooling systems, heating elements, air vents, or other HVAC equipment. Such imagery not only adds visual interest but also gives recipients an instant idea of your field and expertise.
Incorporating Visuals and Graphics
Visuals and graphics are ways you can effectively enhance the impact of your HVAC business cards ideas. But here are factors you must lose sight of.
Choose high-quality, crisp images that are easily recognizable, even on a small scale.

Ensure that the visuals and graphics you choose align with your brand's identity and overall aesthetic. 

Whitespace is your ally when incorporating visuals and graphics.

If you have specific HVAC specializations, consider using visuals and graphics to showcase them
 Unique Materials and Finishes
Are you already in the market for HVAC business cards examples that fit your brand? Remember to pay close attention to the materials and finishes of your card.
You can find a wide selection of exquisite materials and finishes at 4OVER4.COM, regardless of what your design preference is.
For example, if you want a design that exudes power, professionalism, and prestige, opt for our Black business cards. You can find many more HVAC business cards examples on our website. 
Tips for Creating Memorable HVAC Business Cards
Invest in a professional design that reflects the essence of your HVAC business. You can get help from any reputable online printer like 4over4.com or use our free online designer tool with thousands of templates to choose from. 

The tactile experience matters. Opt for high-quality materials such as thick cardstock or textured paper. 

If your HVAC business specializes in certain services or has unique offerings, highlight them.

Incorporate QR codes that lead to your website or online portfolio.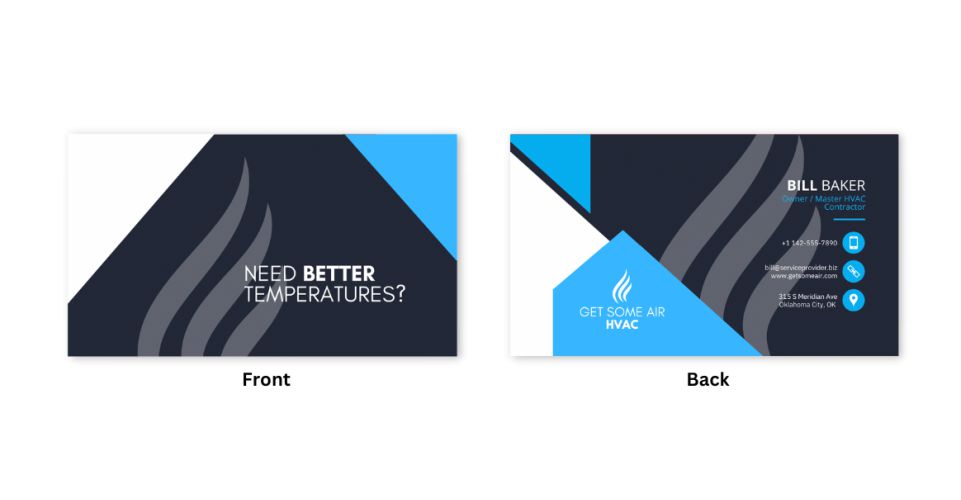 Real-Life HVAC Business Cards Examples
4over4.com offers a diverse range of impressive business card categories that can elevate your HVAC business's branding and professionalism. Browse all our business cards today to make a better first impression on your clients and customers.
Conclusions
So, it's time to elevate your HVAC business card ideas by investing in eye-catching designs that reflect your essence. Start printing today