The business cards are like small brochures that you hand out even without comprehending it. Just check out the stash on your desk and stacks lying in the drawer or wallet. You can find the cards in all places. Whether mini cards or over-sized ones, round-oval, or red-blue, they are available in various shapes, sizes, and colors everywhere. The common fact is business cards are a necessity and although people realize it, they fail to see it as the promotional material. It is time to leave your thoughts at bay and get into the action with the small slip of paper. The business cards are the best way to promote yourself and your business to the targeted audiences as you hand off the card in person with a proper reason in mind. 4OVER4.COM is a leading online platform for creating high-quality, interactive, and attractive business cards online at affordable rates. Here are some of the ways to ensure that your business cards collect sales instead of collecting dust.
Add a Tracking Code to Your Business Cards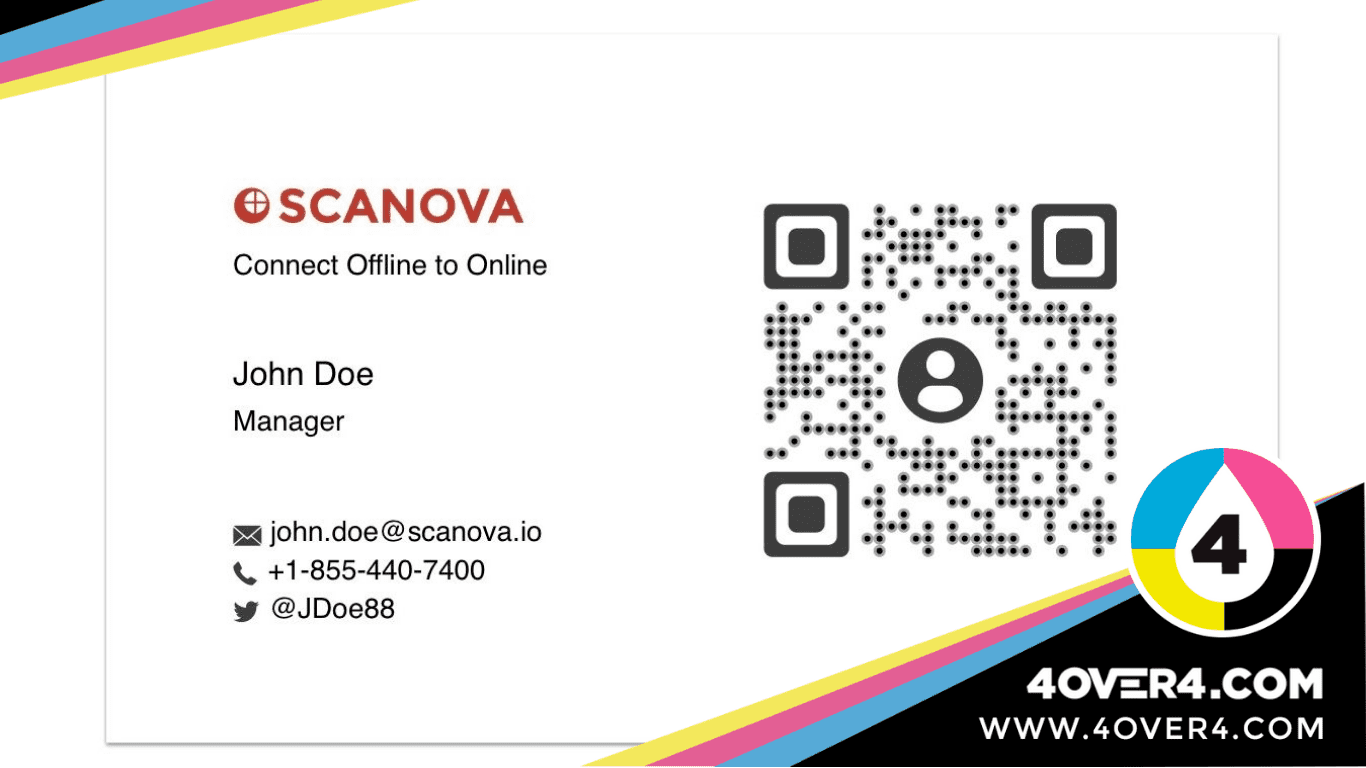 A plain and simple white color visiting card with a QR code Add SKU or QR Code on your creative business card and offer coupons or discounts as an incentive to the card's recipient for checking your site. In such ways, you can persuade people to take action and track how many customers visited your website. In case this method does not turn out to be beneficial, you always have a chance to try other ways to turn your card into a promotional item.
Give a Purpose to Your Card
A business card without any purpose can turn out to be boring and end up in the trash. It is not just about making the communication. You can turn your card into a multi-functional item that will be loved by your customers. Transforming your business card into a scratch card, an event ticket, a notecard, or a bookmark can be some of the best ideas of turning business cards into marketing materials. When you make your card interactive, automatically, it becomes a part of your conversation. Our die-cut custom design cards are a great way to add a purpose to your card. Whatever shape you want, the 4OVER4 team of experts is highly skilled in printing any shape you wish with amazing finishes like metallic, spot UV, glossy, matte, etc.
Include Testimonials for Enhancing Credibility
It is a common tendency among people to check the reviews added by other customers before tying up with a company or purchasing things. They relate to the words of old customers, and their feedback matters a lot for the new clients. This is what the testimonials are all about, and it speaks volumes. Adding a link to a quote or a brief quotation on the rear side of the visiting card helps to enhance the value of the card and use the space wisely.
Challenge People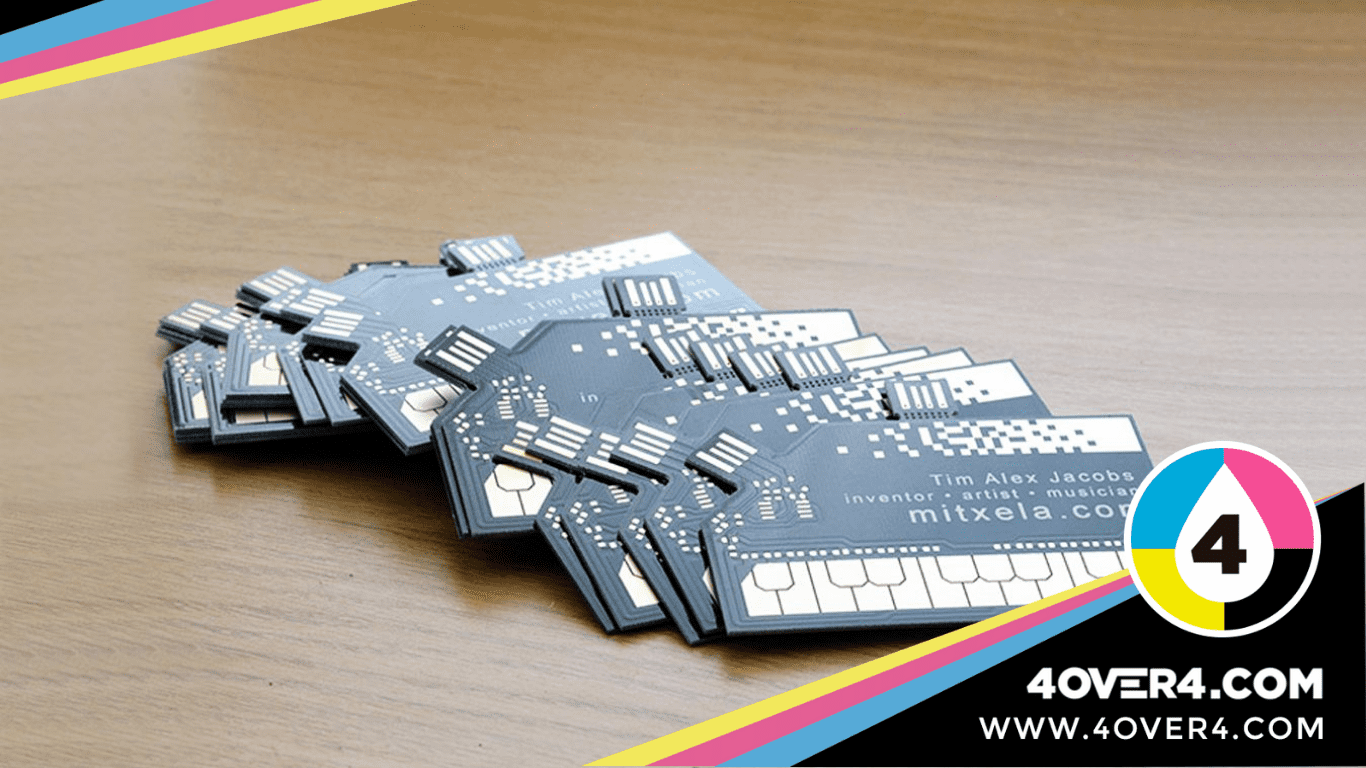 A simple and engaging tagline on the card that will compel people to think can be an exciting idea to turn your card into a promotional item. The addition of fun, facts, or figures on the visiting card can also surprise people. A trivia question related to business on the card can be quite exciting for the people and spur communication about fresh strategies and channels. Give something to the customers that will amuse and engage them while holding business cards near you. Make your business stand out.
Work for a Cause
What are the causes that drive your business? Today the companies and social impact go side by side. You can help your customers understand the drive in your life as a professional and as a person by making your business card design, a vehicle for adding difference. Letting the people understand your cause can help the people get a clear picture of you as well as your business. When your target audience feels connected to your roots or objectives, whether environmental conservation or charitable causes, they are automatically drawn towards your business. You may also choose 4OVER4's Green Printing technology and opt for premium collection recycled paper stock to convince people about your dedication towards the cause. Our customer service team helps you with the business cards free or custom business cards printing process. If you have any queries and problems, connect with our team to make your journey with us smooth and easy-going.
Add Your Face to Your Name and Role on Business Cards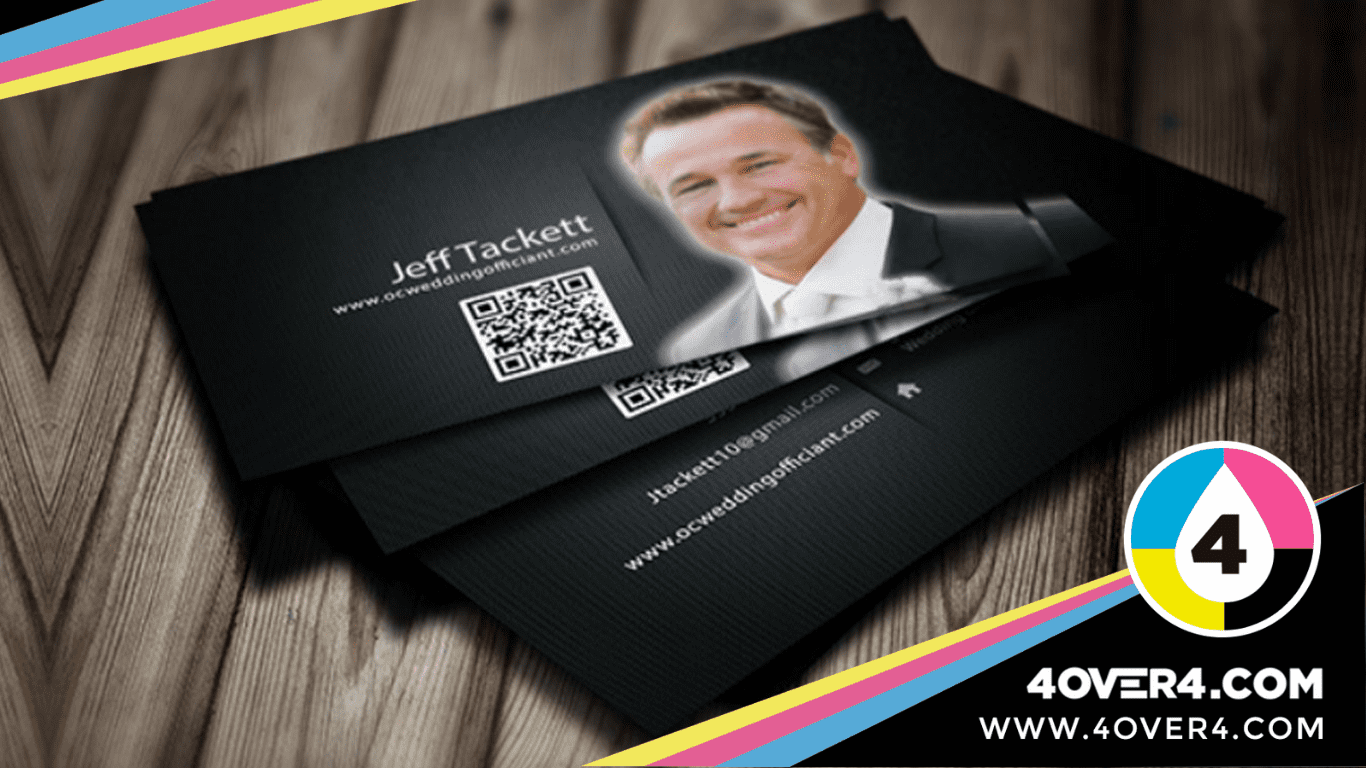 Premium quality black color visiting card with a face and QR code It is not very easy to remember the faces you met and exchanged cards with after some time. There are so many cards lying on your desk. Do you remember the face of each person who handed over the card to you? It applies both ways. Consider adding your image on the card so that people can remember each other even after a long time. A photo will increase the familiarity of your business and also enhance your friendliness factor. Amongst your competitors, you will be easily recognized when you add your face to the business card. Printing with 4OVER4 takes your cards to the next level of sophistication and class. From full-color vibrant to soft colors pastel hues, our comprehensive range of printing service NYC offers you all.
Add the Social Media Handles on Your Business Card
People cannot think of marketing without social media in recent times. The networking platforms are indeed great marketing tools, and adding a few social media handles on your business card can add value in promotions. When you add social handles on the card, it becomes easier for your customers and prospects to follow you there. They can obtain more info about your business products, brands, and services. When the visiting card and social channels are combined, your prospects get to learn a bigger picture of your business and you.
High-Quality Material to Turn Cards into Marketing Asset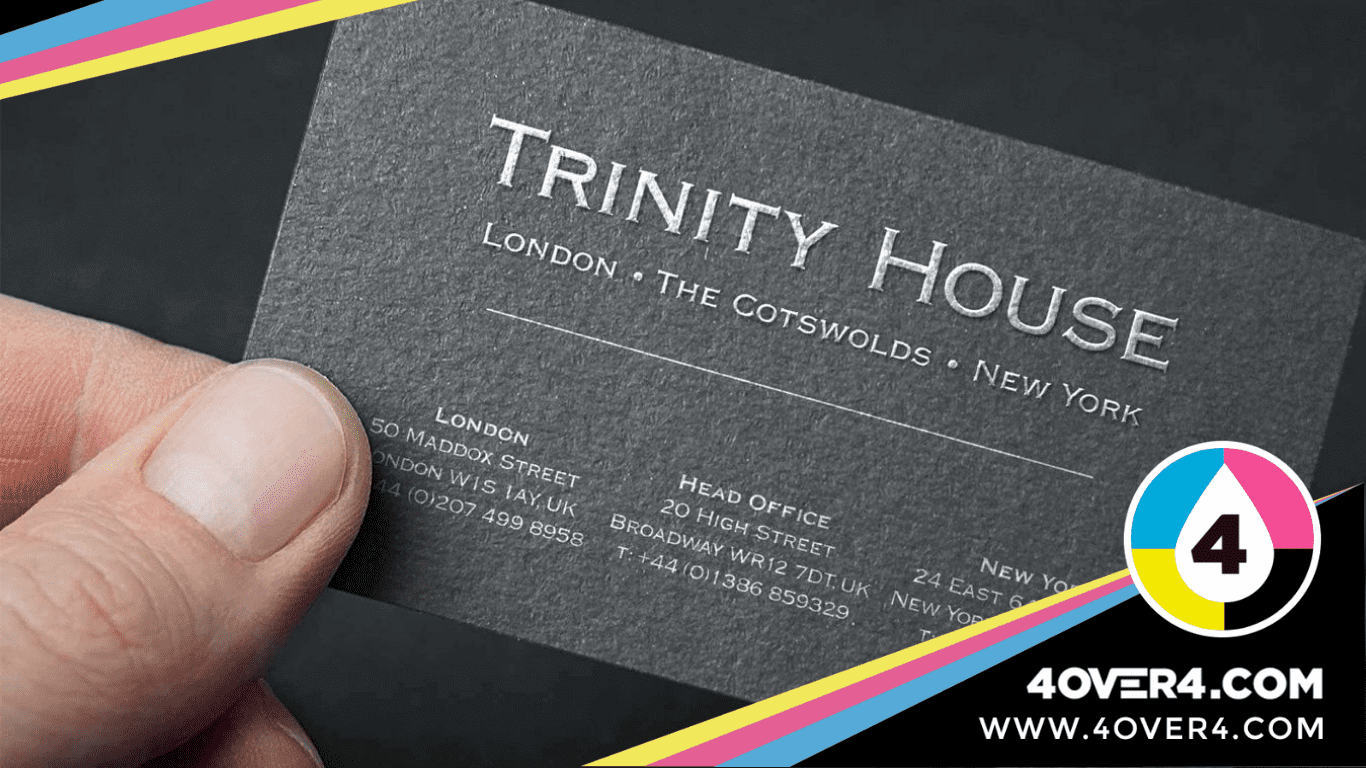 Premium collection matte finish cardstock with silver printing For generating leads, the quality of the business card is equally crucial as the contact information printed on it. Even if you choose best inexpensive business card, it must be of supreme quality. To cut costs, many people turn to business cards cheap quality material. It can spoil your reputation, and mostly the mediocre cards end up in the trash. When you use low-quality card stock, your prospect judges your services and products at the same level.
Handing Over the Card Must Be Memorable
Are you wondering how hand-off can turn a business card into promotional material? It is one of the best ways of all because when you exchange card in person, it adds value to the card in a big way. You may use a card as a conversation starter. It will help you in understanding the hobbies, interests and needs of your prospect. While handing over the card, mentioning that you will be following up helps to reinforce your business value. 4OVER4 tips and tricks to make your business card a great promotional material always works for our customers. When you make small changes, and additions to the premium card, it can transform into a power-packed promotional tool. We offer several business card examples that are the key to making your brand memorable and foster long-term relations and deeper connections between your prospect and your brand. Order business cards with 4OVER4, the business card printing services to ensure quality and affordable prices.